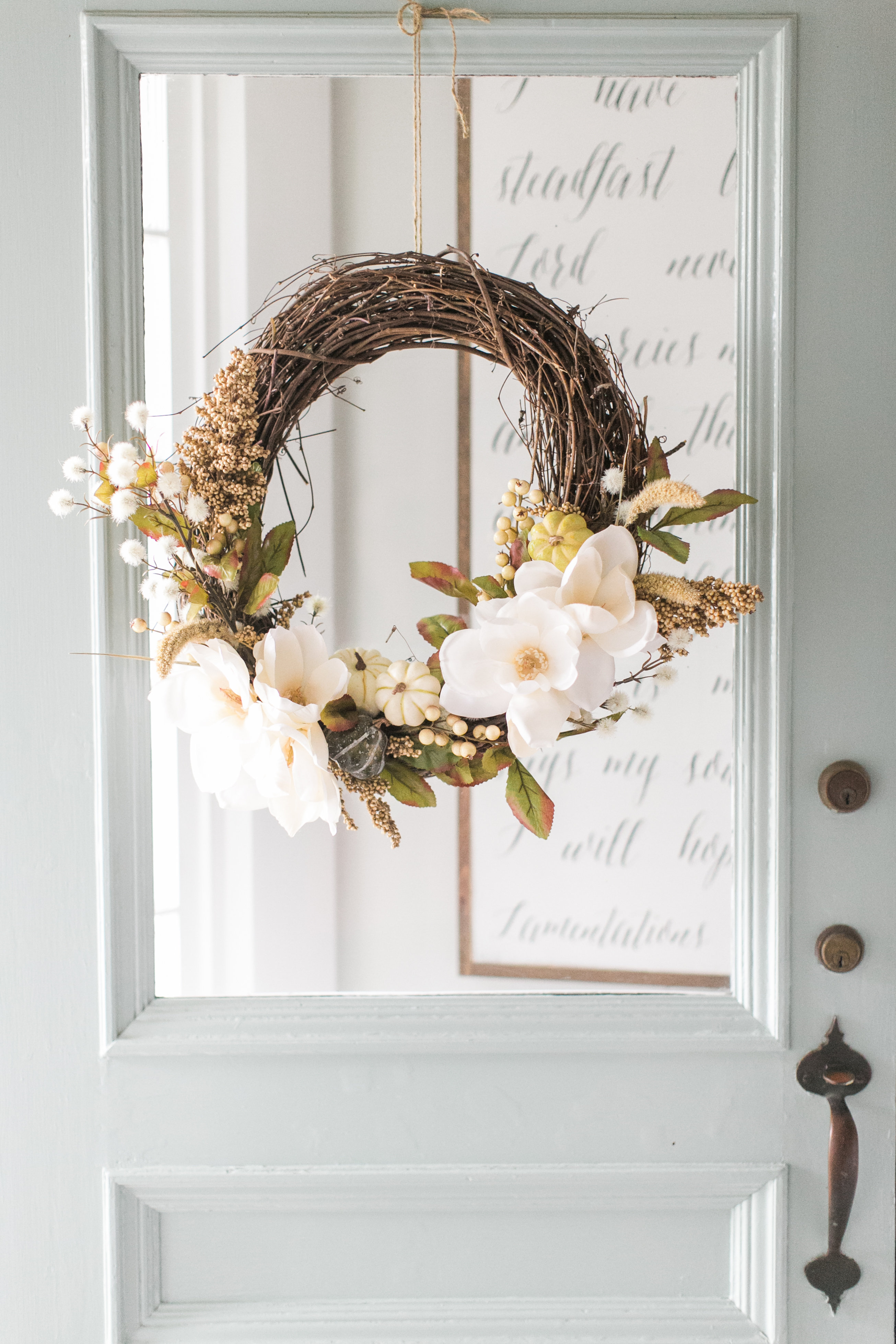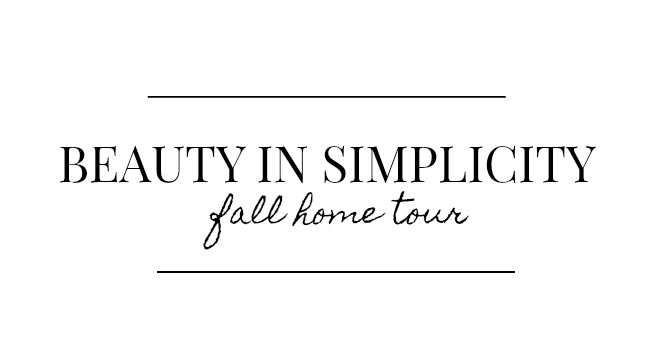 I'm thrilled to join some lovely and talented bloggers for the Beauty in Simplicity Fall Home Tour. We wanted to focus on simple touches that can transition our spaces into fall. This is my first blog hop as a newbie blogger so I'm so glad you're here. My sweet friend Ruthie from Ruth Eileen Photography captured these images, on a cloudy day no less…she's like a photography wizard!
If you're joining me from sweet Shelley's @crazywonderfulblog beautiful home, welcome! Aren't you just in love with her subtle fall touches, amazing DIYs and light-filled home? I'm ready to move to Texas so I can be Shelley's neighbor.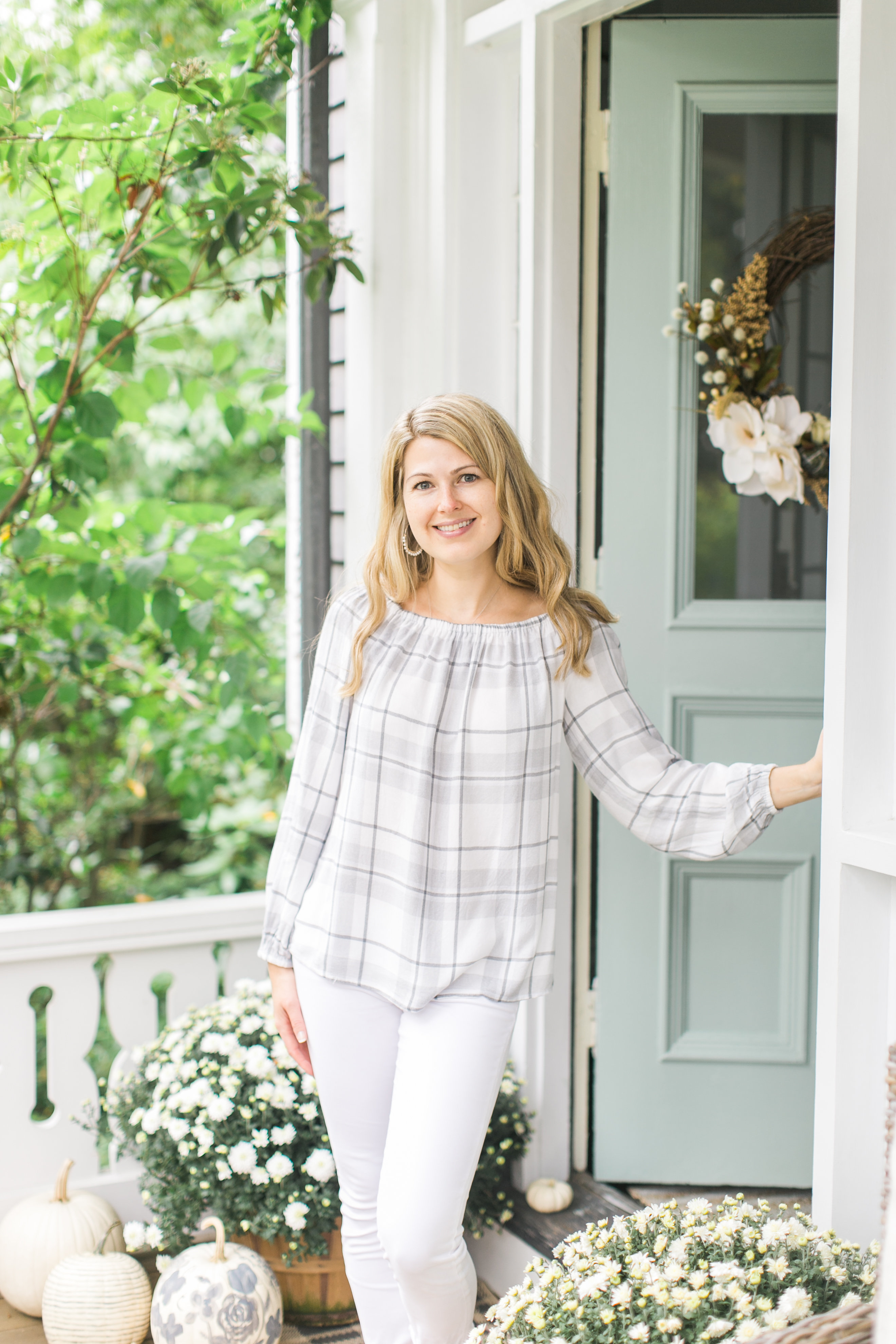 I like to slip gently into fall, like those leaves drifting down outside. It just feels right. My California heart wants to hang on to those light and airy summertime vibes–so they've snuck their way right on in to our fall decor (shhh don't tell fall)…neutrals, natural elements and some favorite blue hues. With a remodel looming just days away, the budget for fall decor was teeny tiny. Which frankly makes you get creative. I made my own decorations–I painted pumpkins and hot glued fingers together (on accident of course) to make all those wreaths, I rearranged, scoured the forest and bought sparingly. All you really need are some simple touches to fall-ify your space.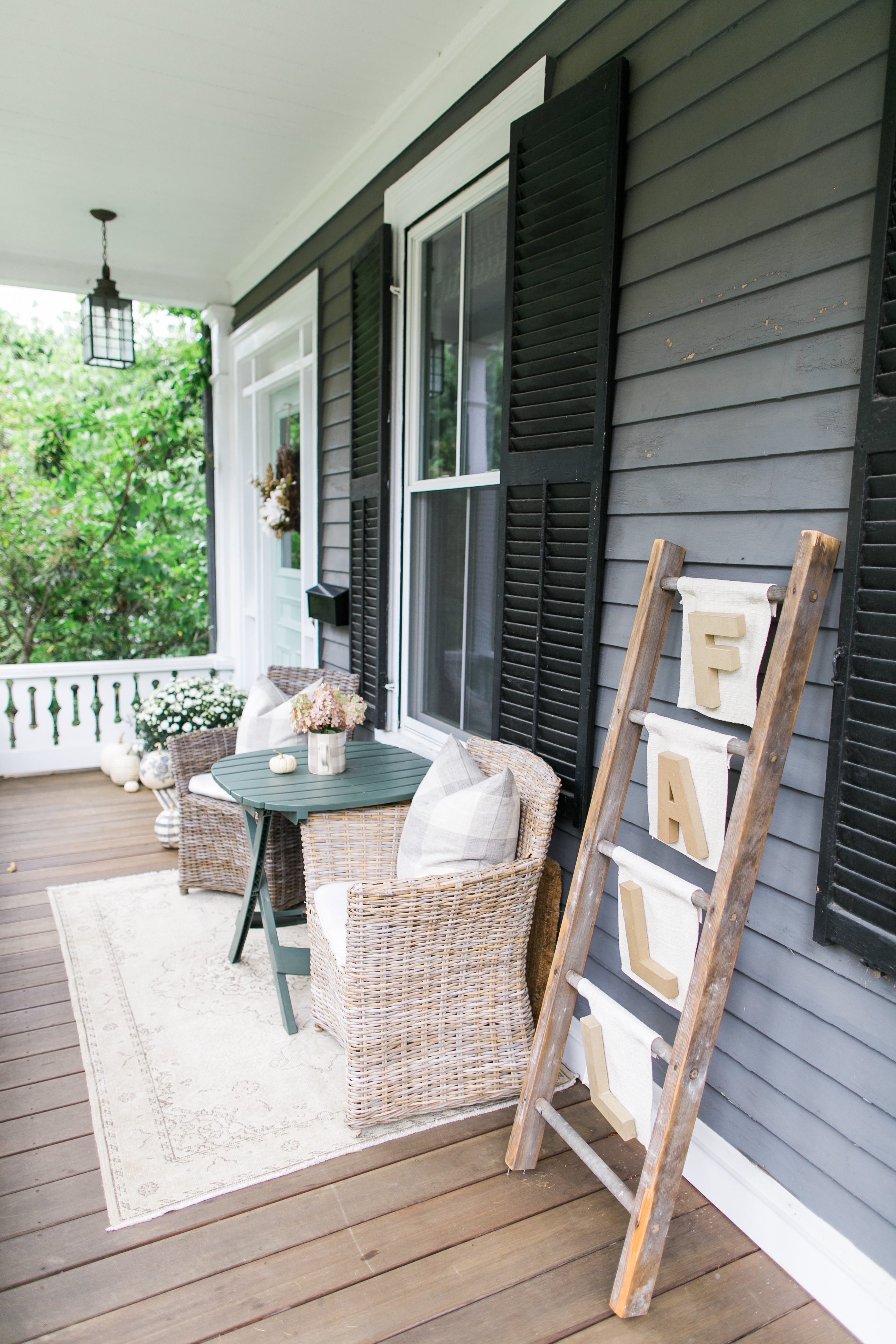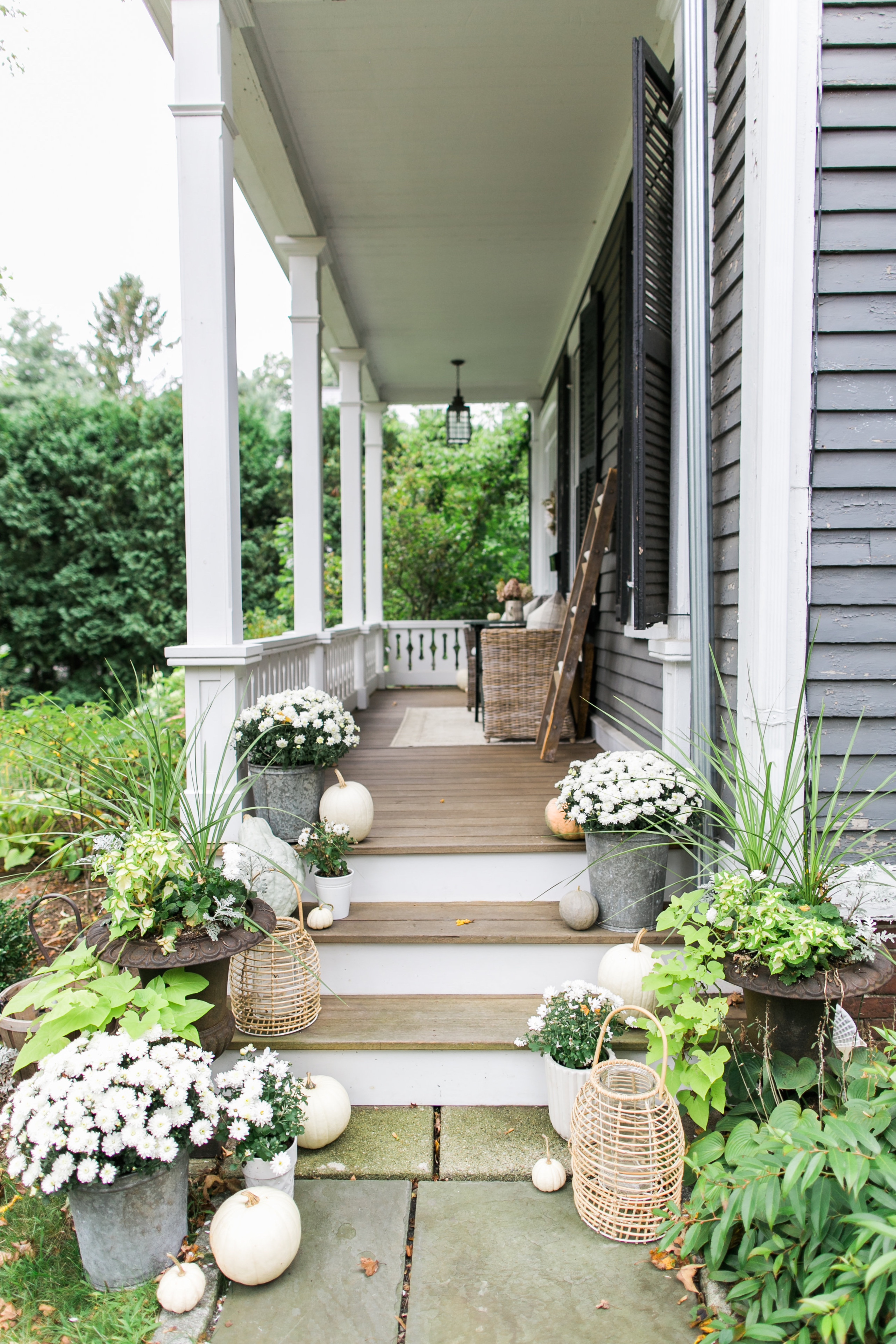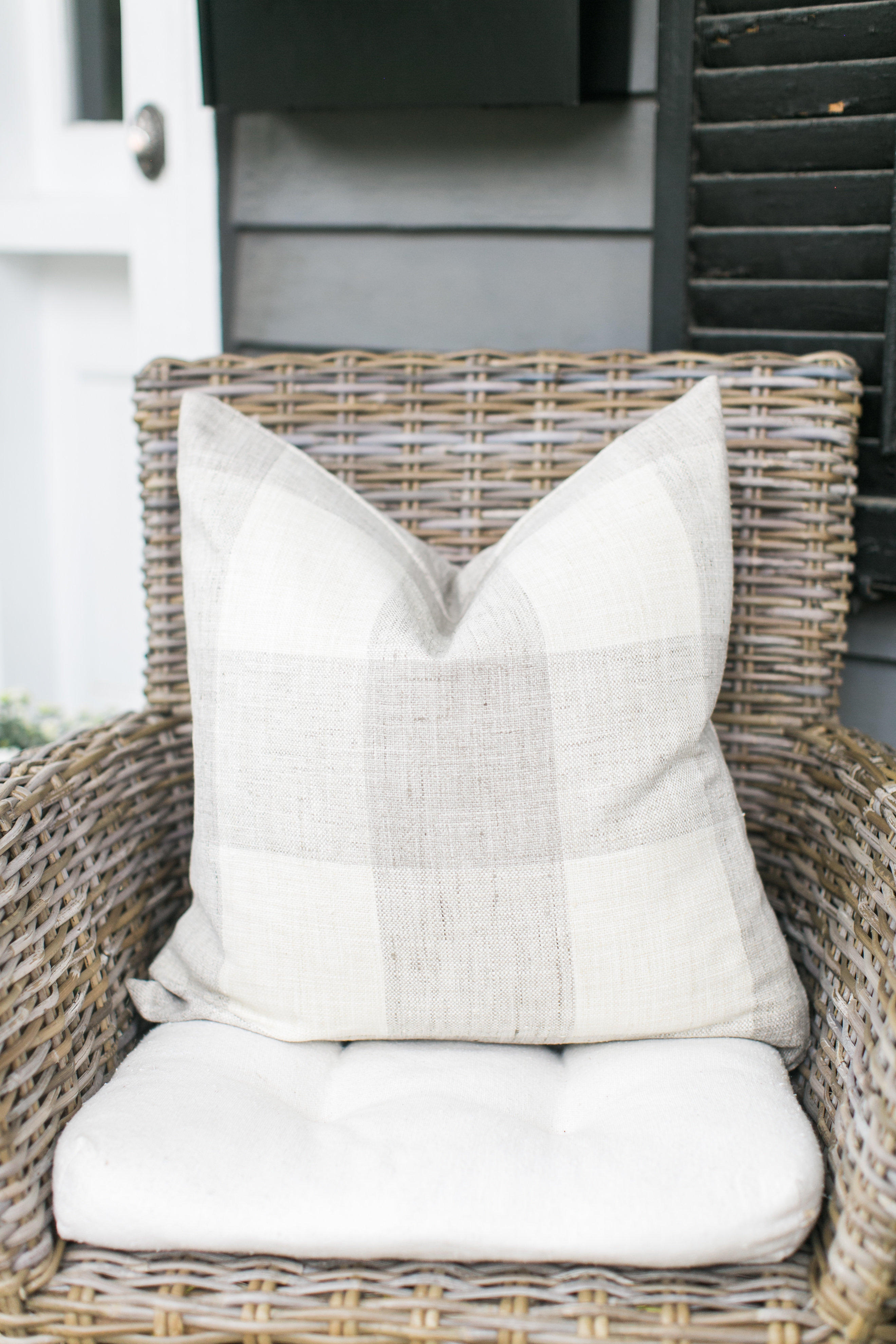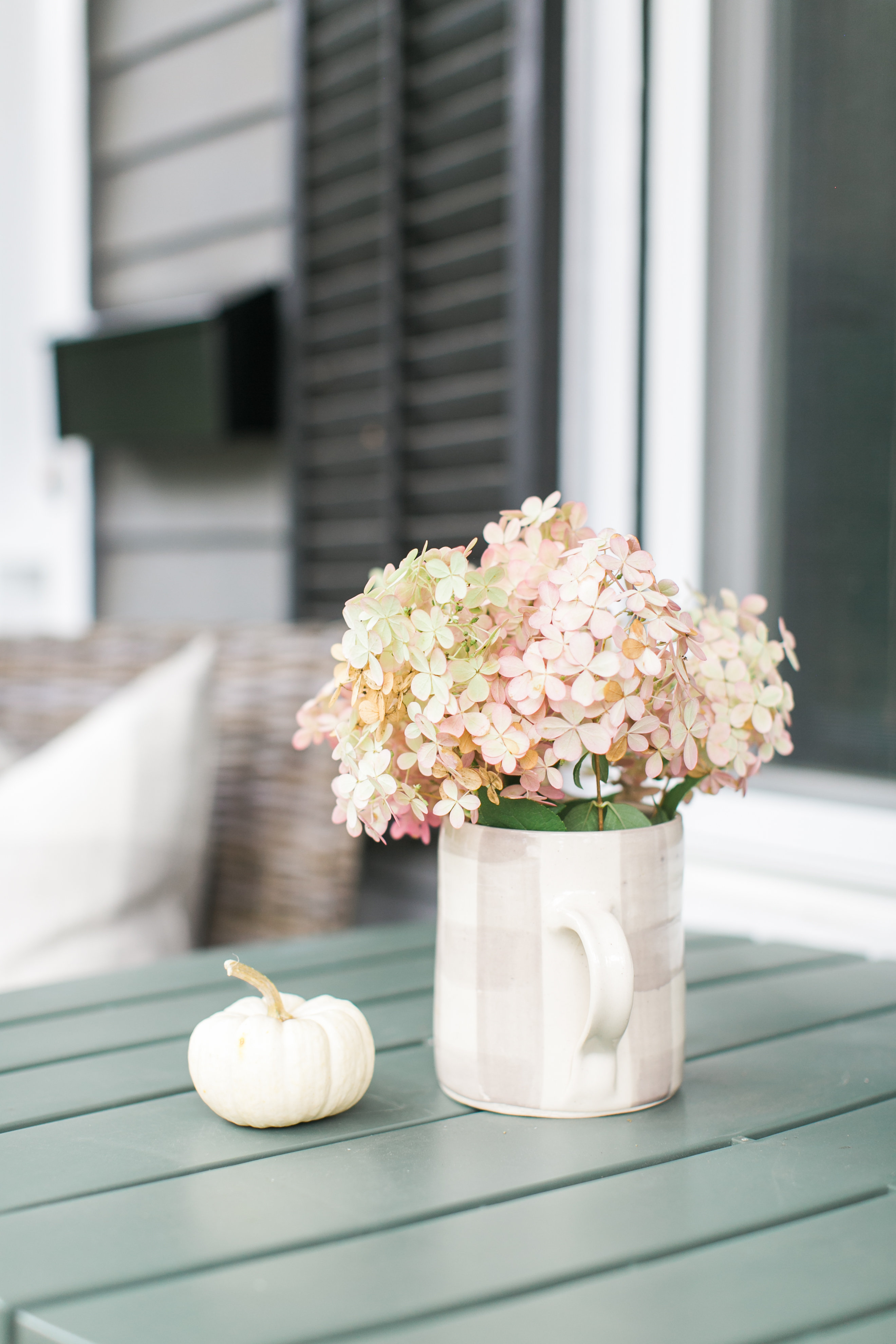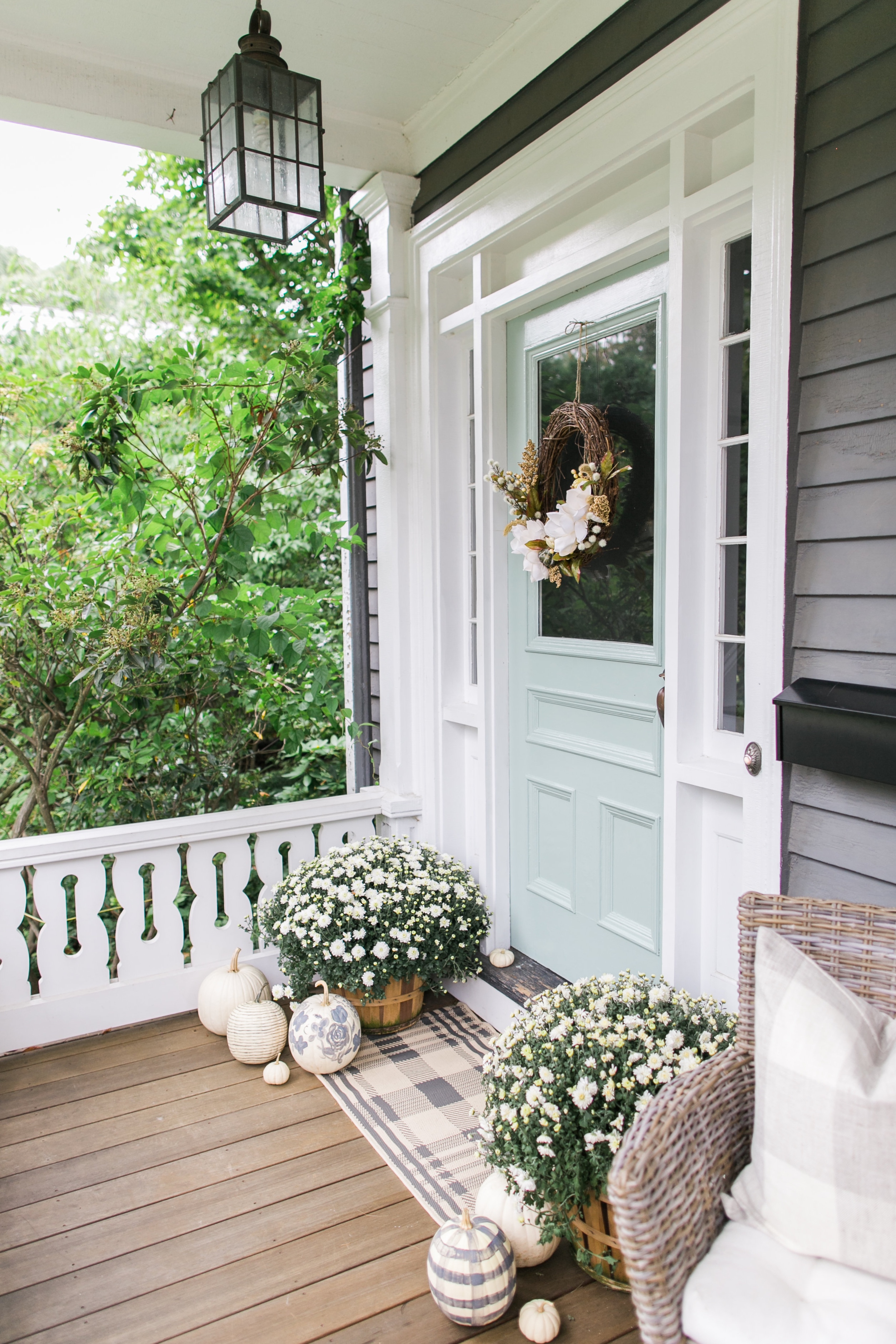 This was my first attempt at making a front door wreath with faux flowers. I tend to shy away from faux anything but I knew I didn't want any of my orange faux flower wreaths up quite yet. I'm still clinging onto the last golden rays of warmth. So I perused the aisles of Michaels on Labor Day (to take advantage of those sales prices mind you) and found these real dried bundles of grasses and seed pods which added that natural element I was after. The white flowers are faux magnolias and they are just lovely. I ripped the faded orange flowers right off an old wreath to reuse the grapevine frame. Amazing how many fingers you can burn with hot glue and still keep going…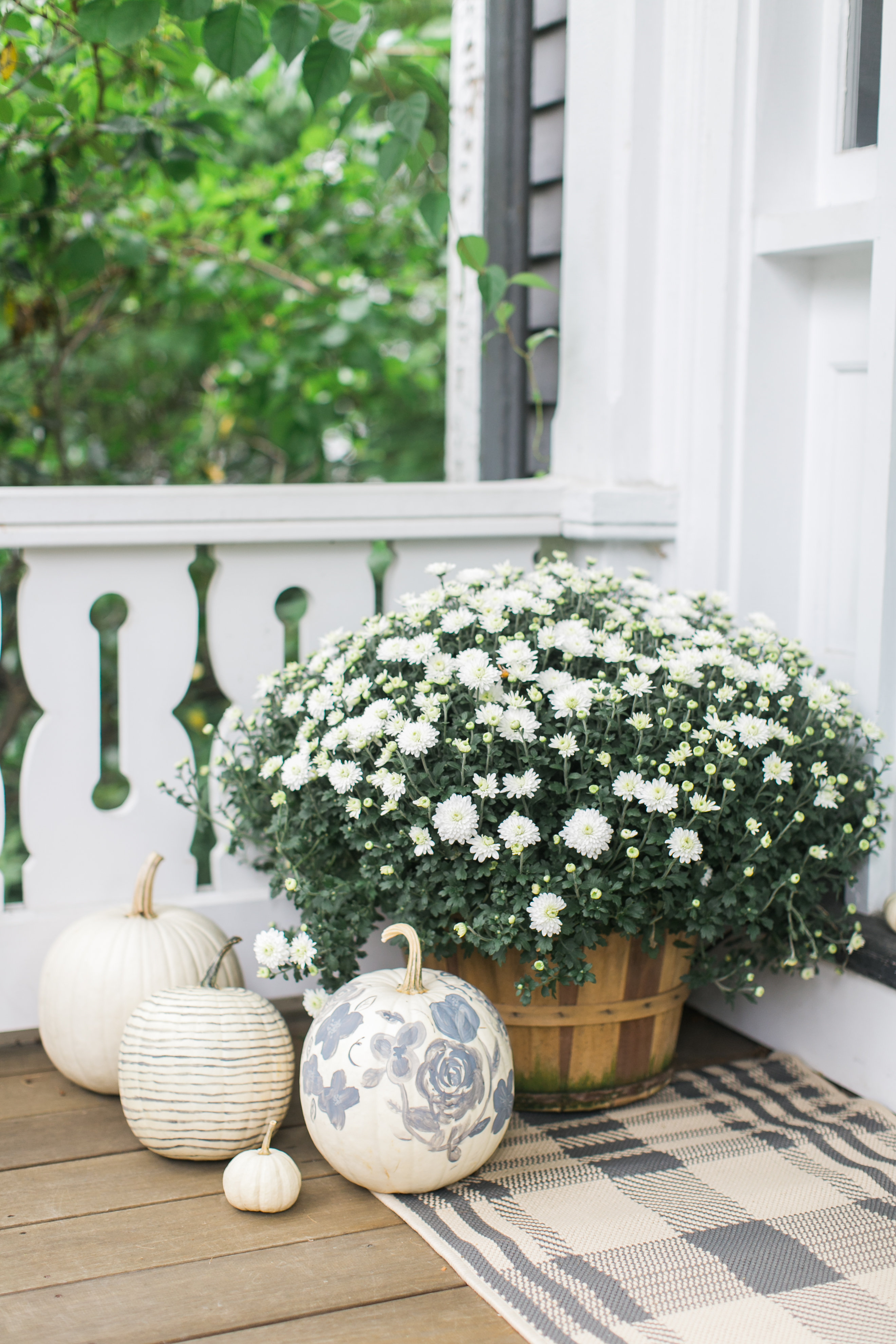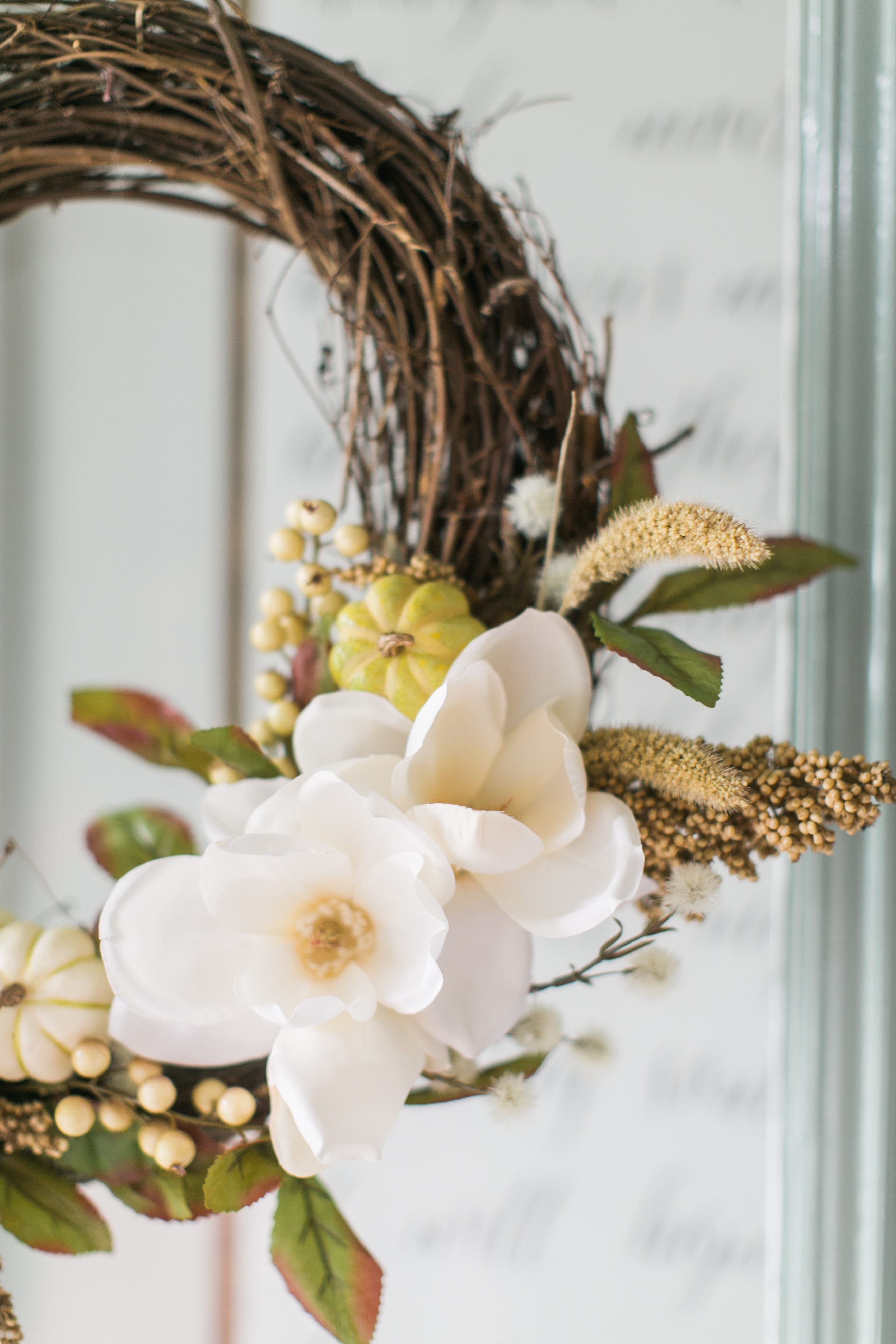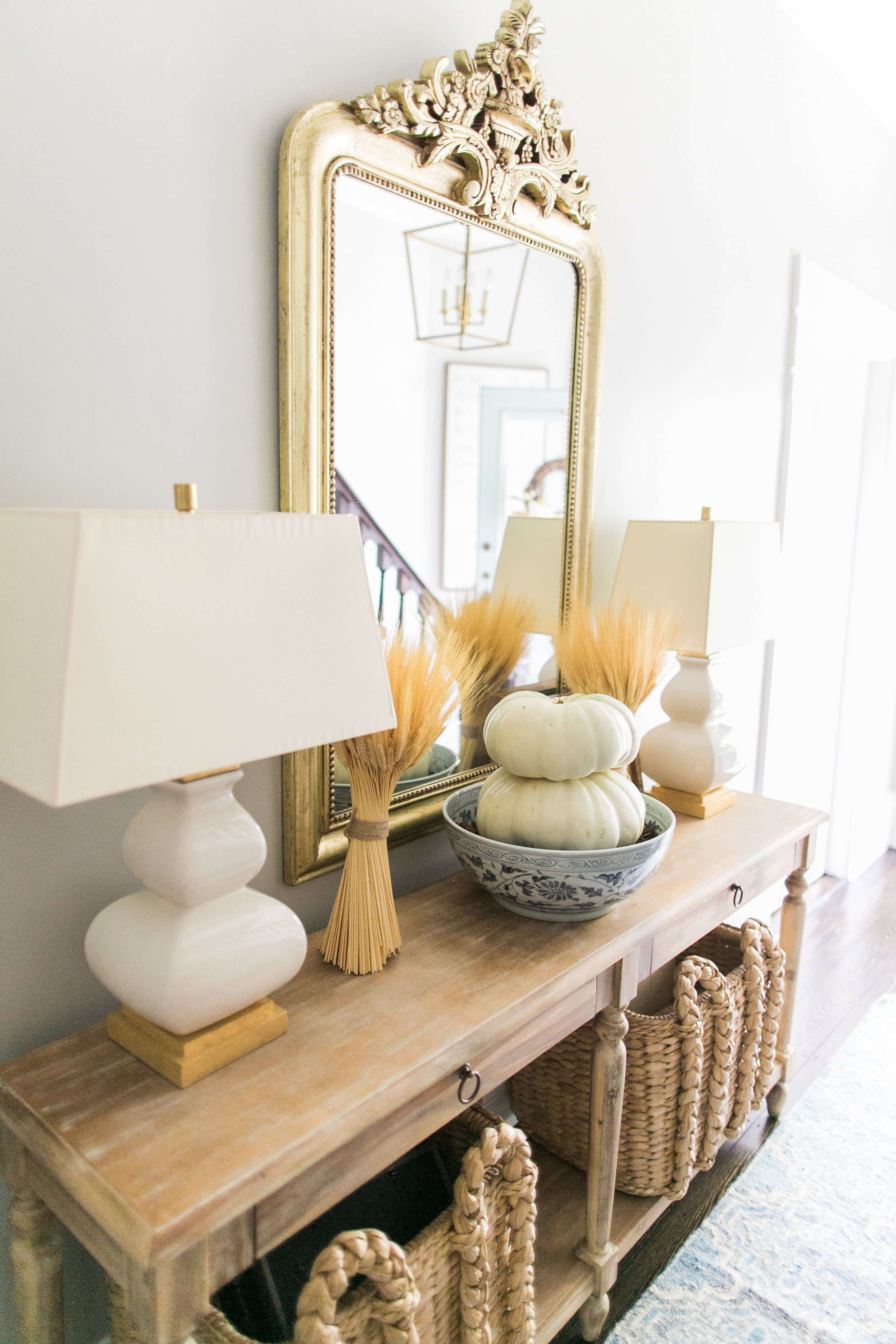 All the entry needed were some wheat bundles which I already had and some real pumpkins and foraged leaves. Am I the only crazy person that takes a pair of clippers with them on walks?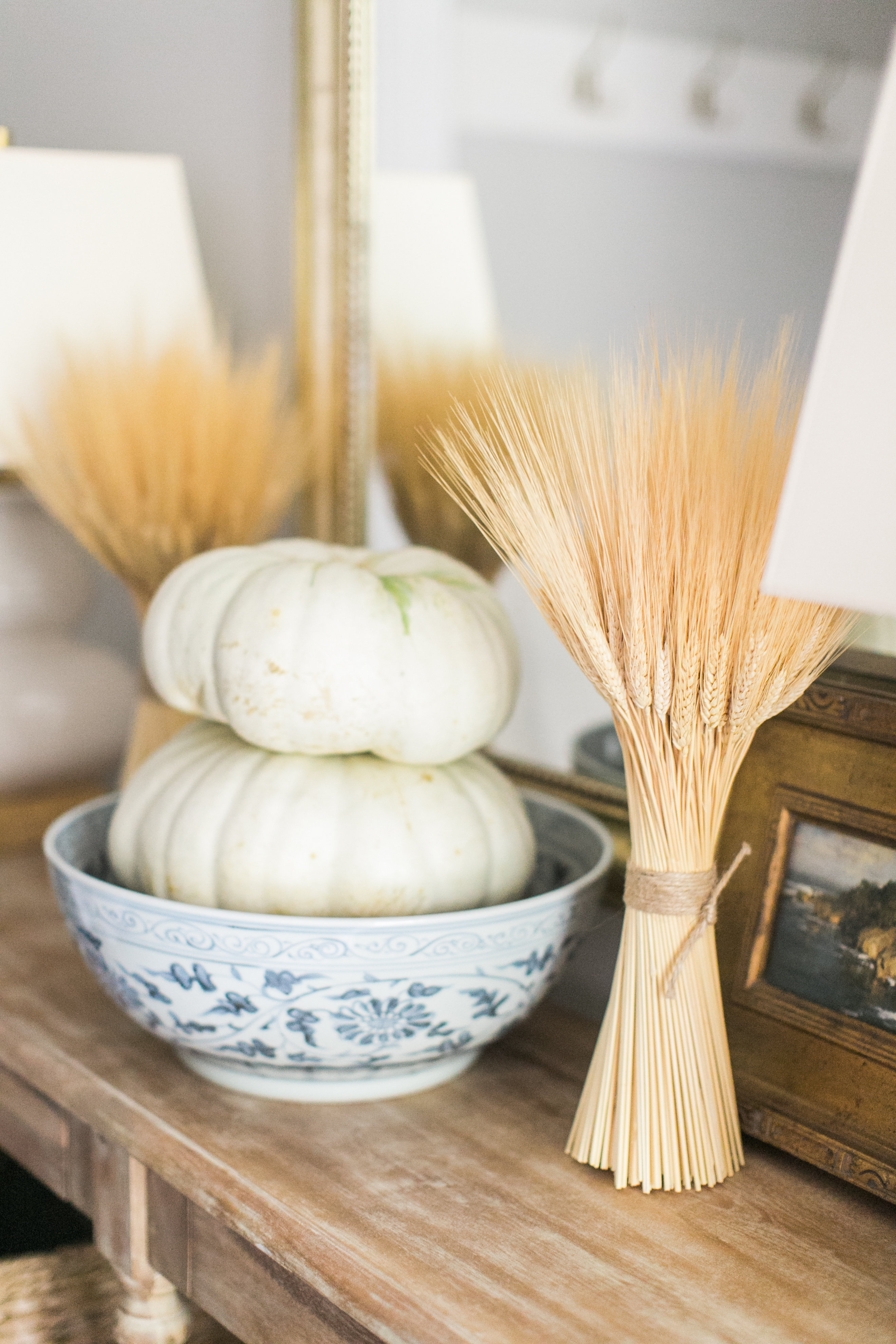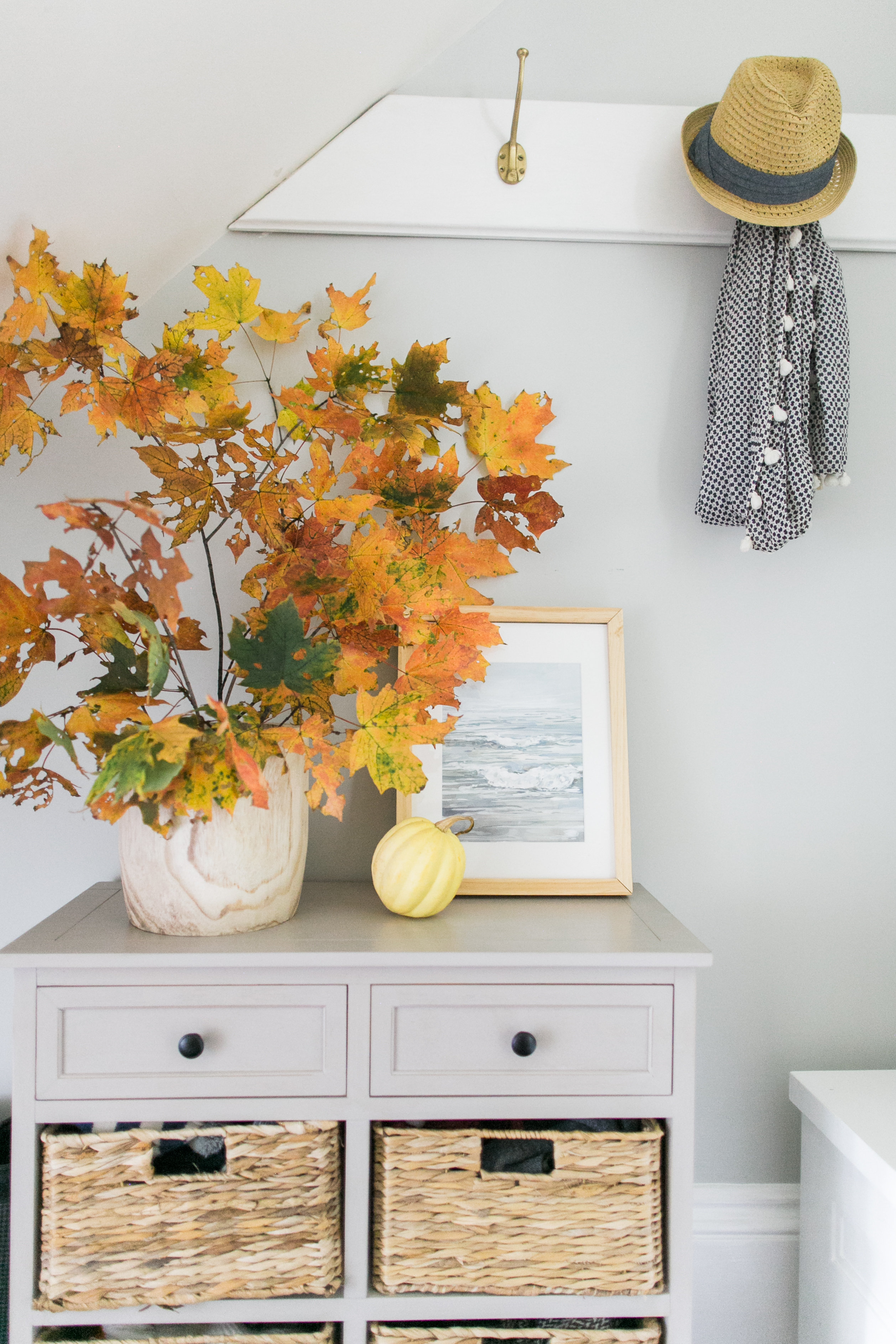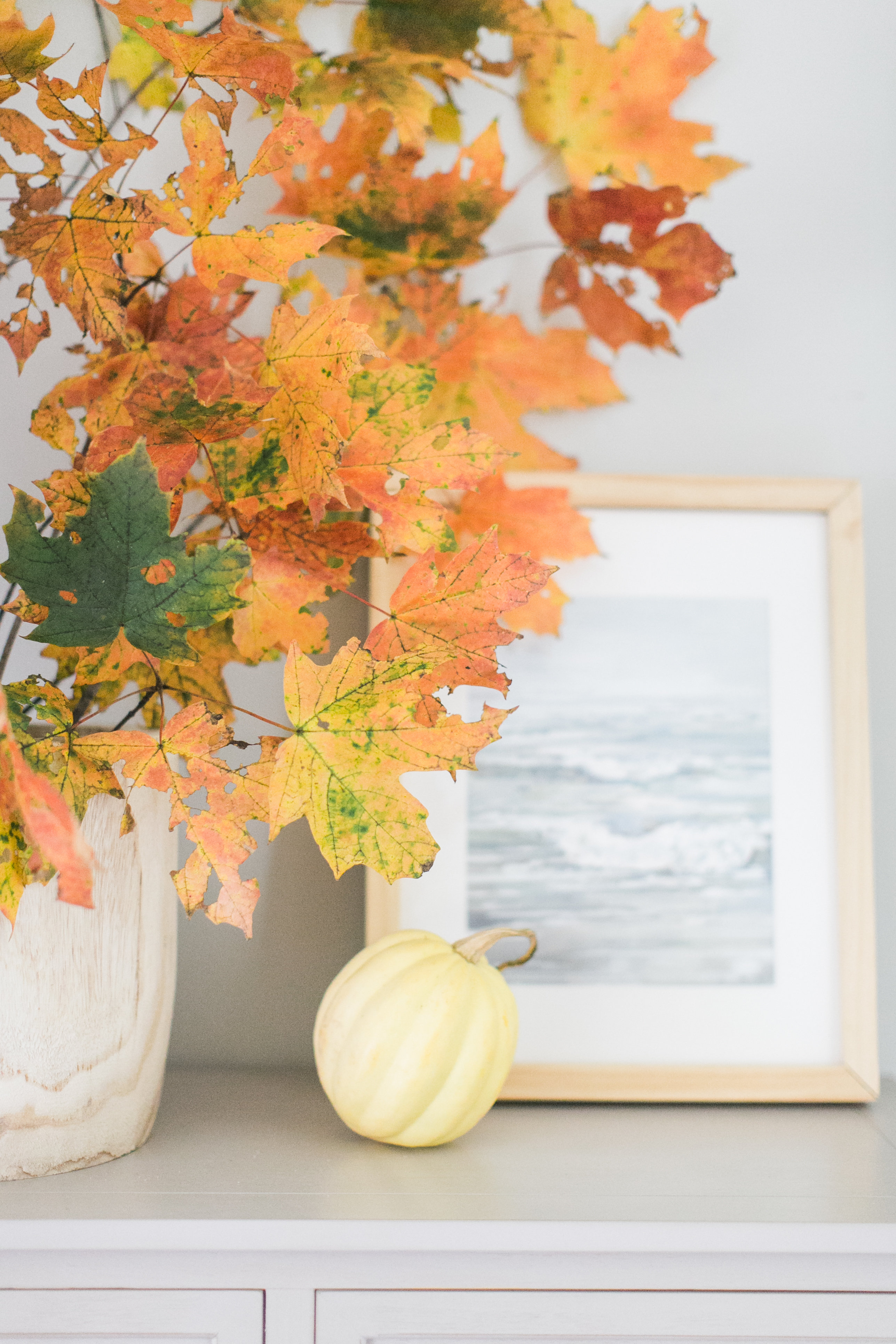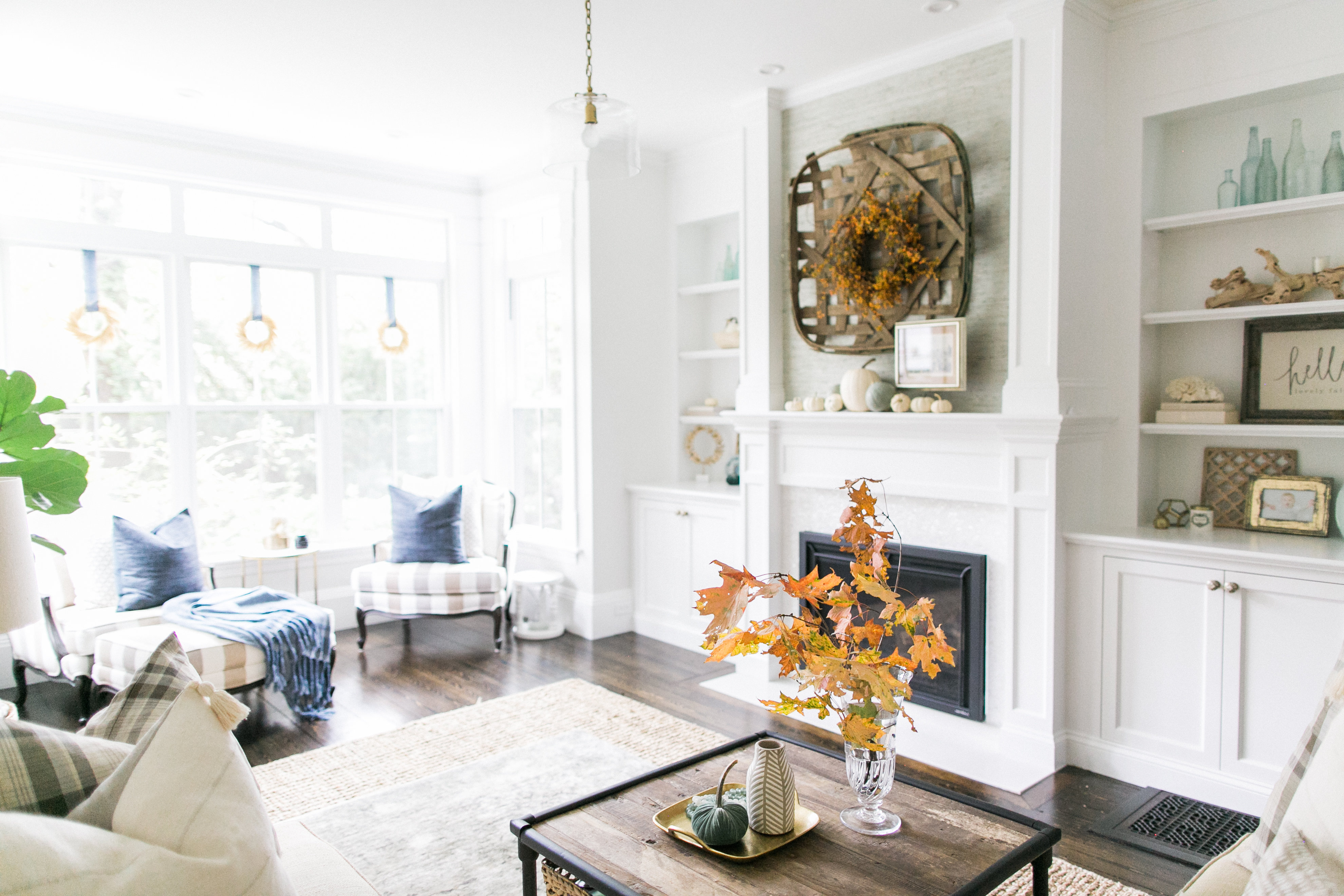 The family room is my happy place. It's where we spend our time, where I cuddle babies and read them books and (believe it or not) watch tv from that sneaky hidden tv. It's light and bright and full of comfort. I loved the idea of pulling in my favorite blues with the oh-so-fall pops of wheat yellow.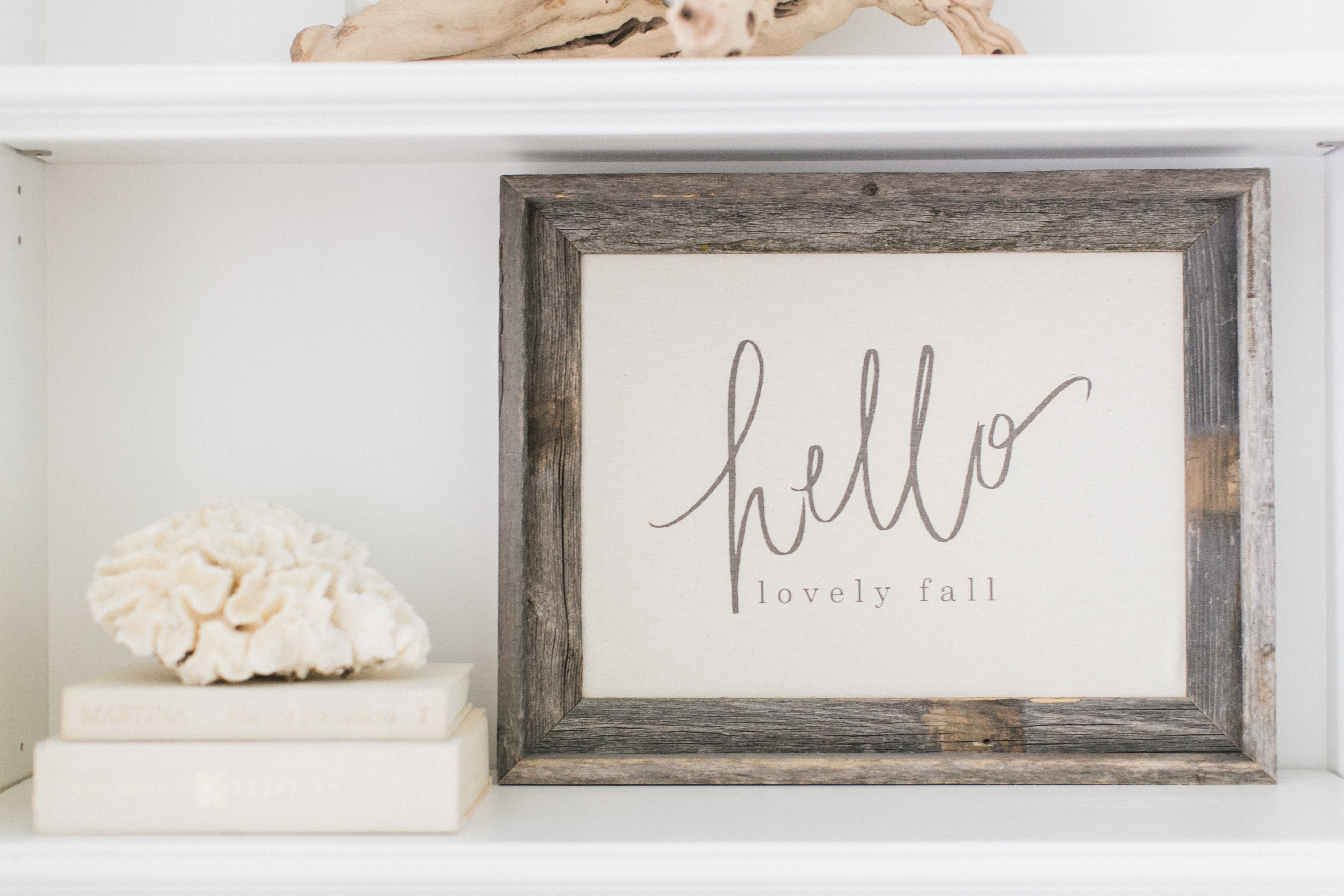 This was one of my few fall purchases and it's just perfect. My sweet friends at PCB Home custom made this sign for me. I wanted to incorporate my favorite word "lovely" into a fall sign. Didn't it turn out perfectly?
This beautiful fresh wreath is by ScarletSmile on Etsy. I sprayed mine with a clear spray lacquer to better keep the berries in place. But if you store this properly, ie don't let you're husband stack Christmas decorations on top of it, it will last year after year.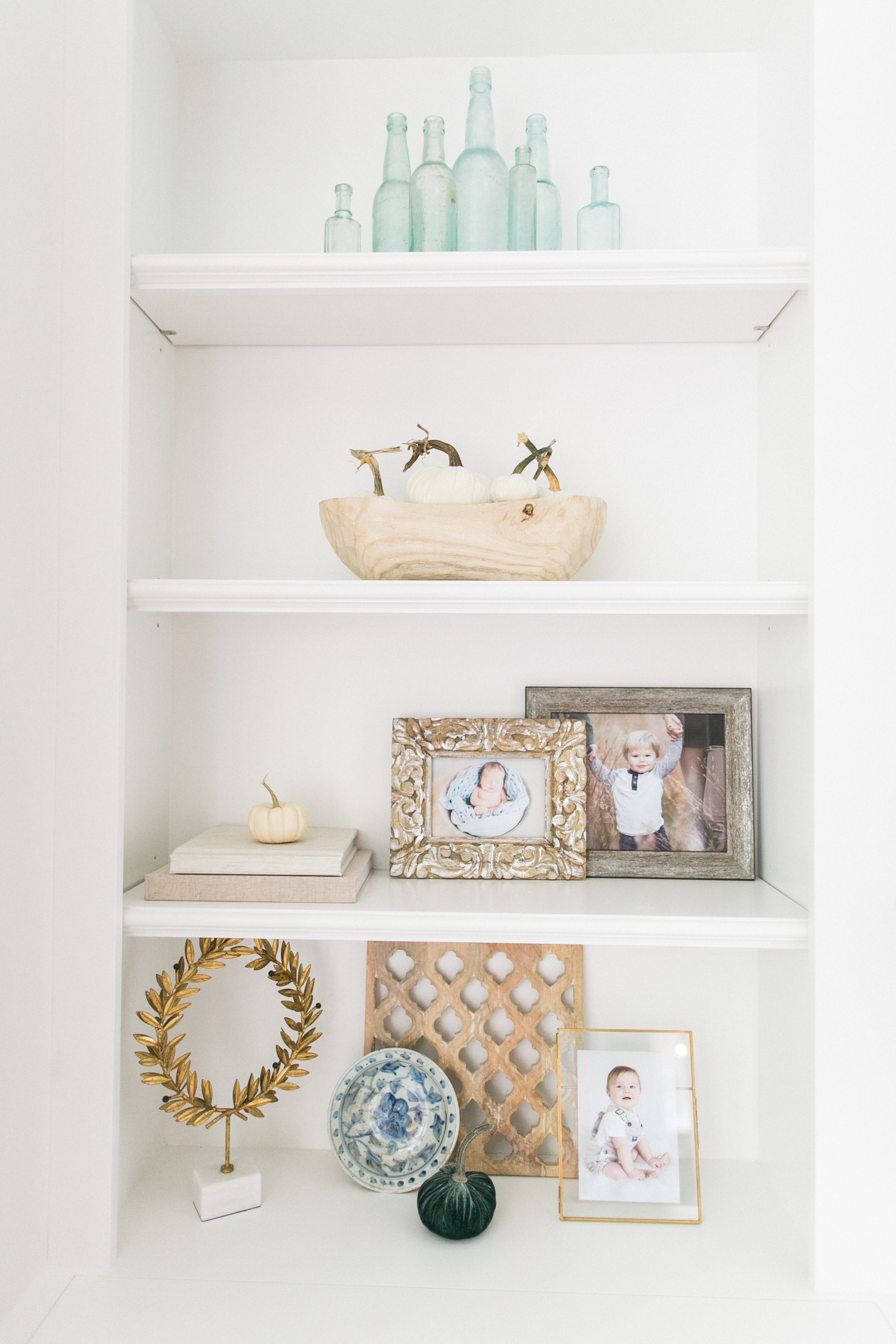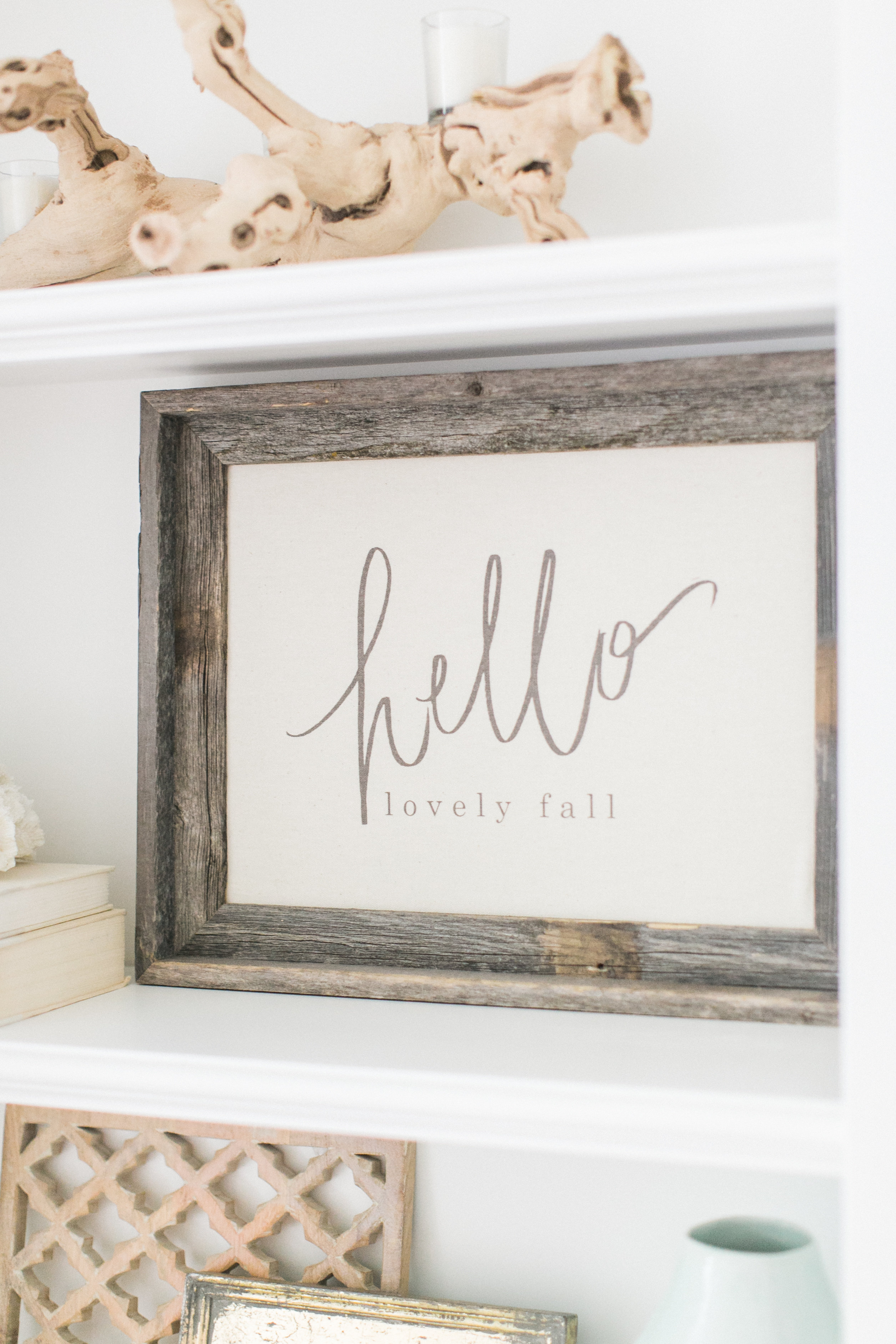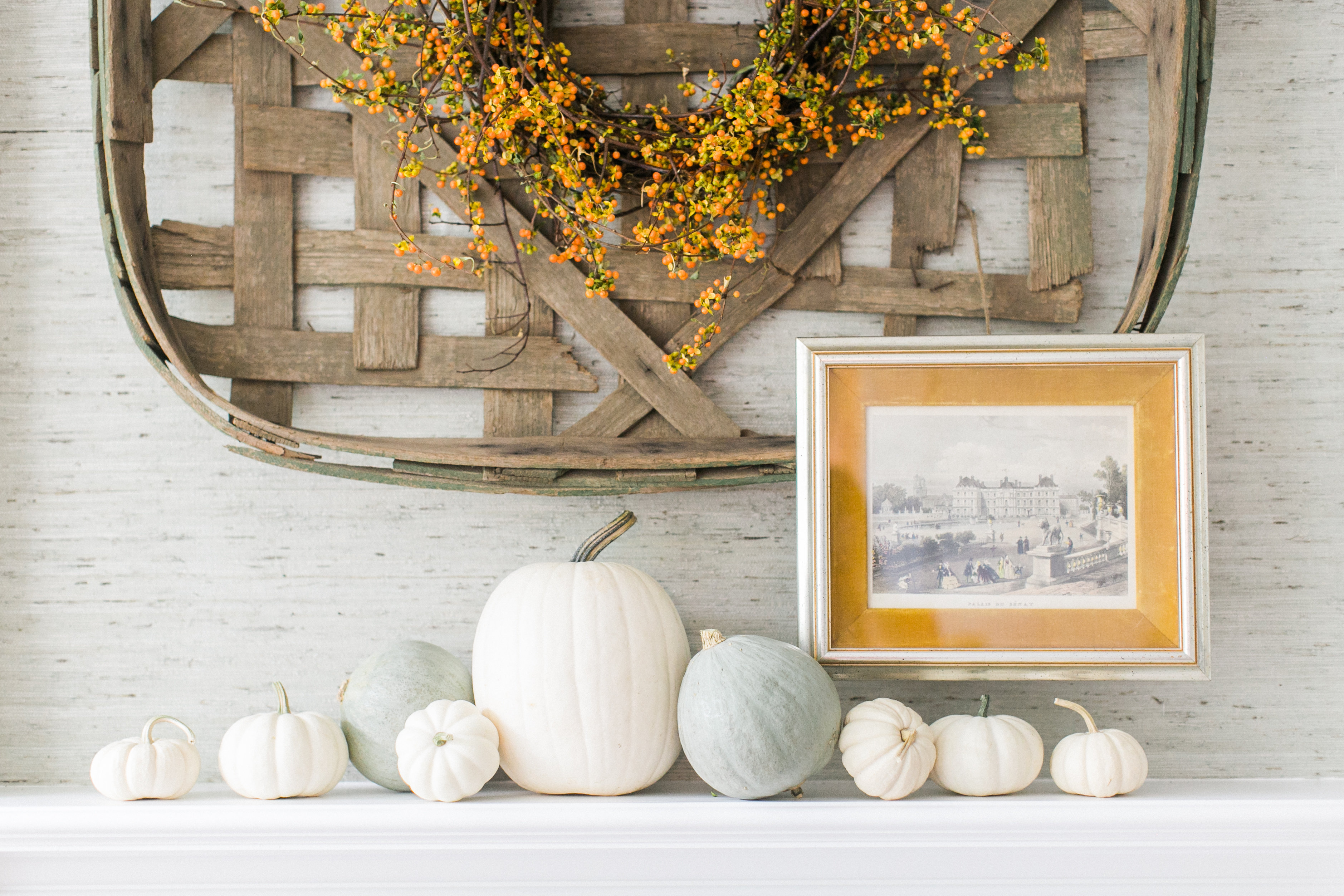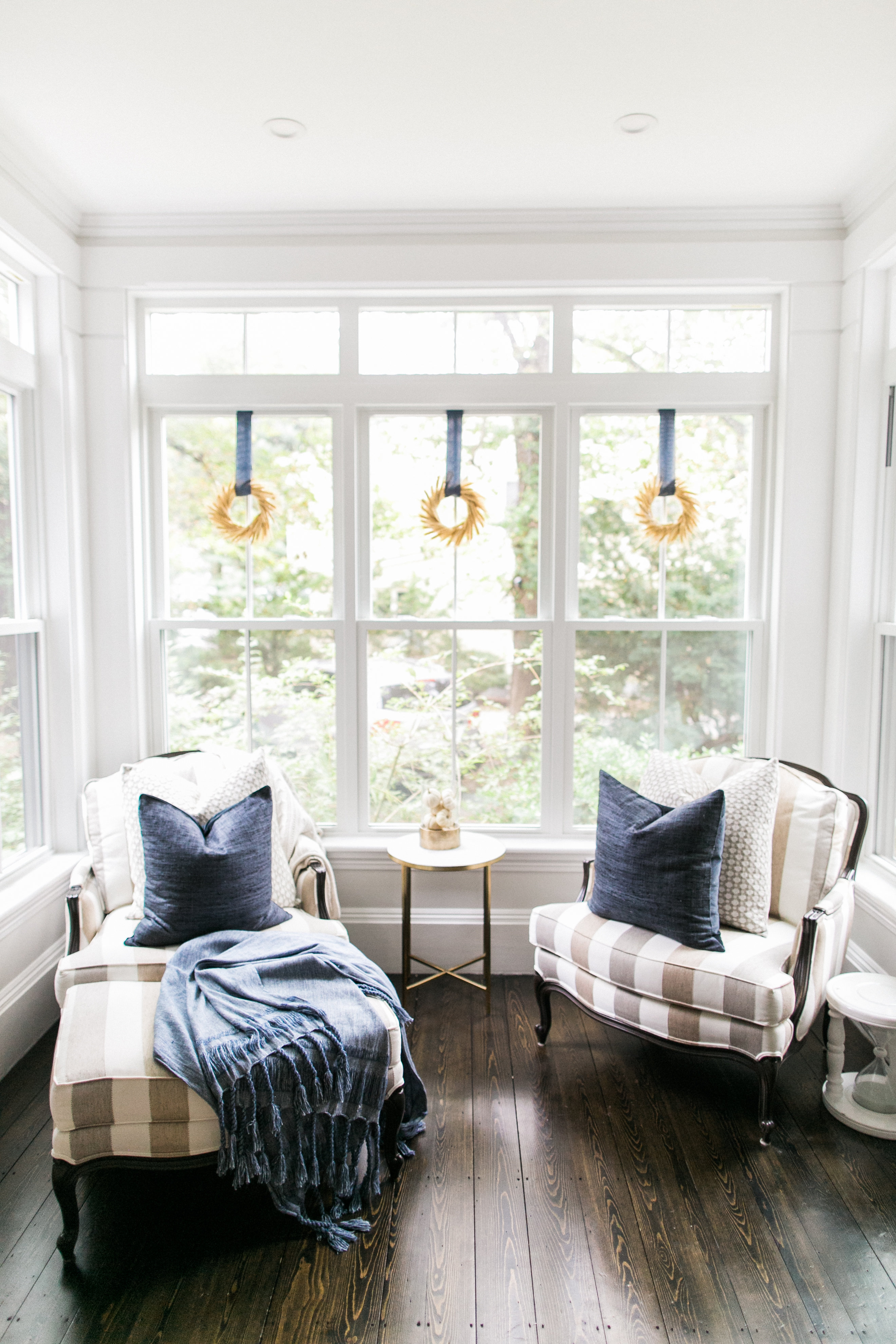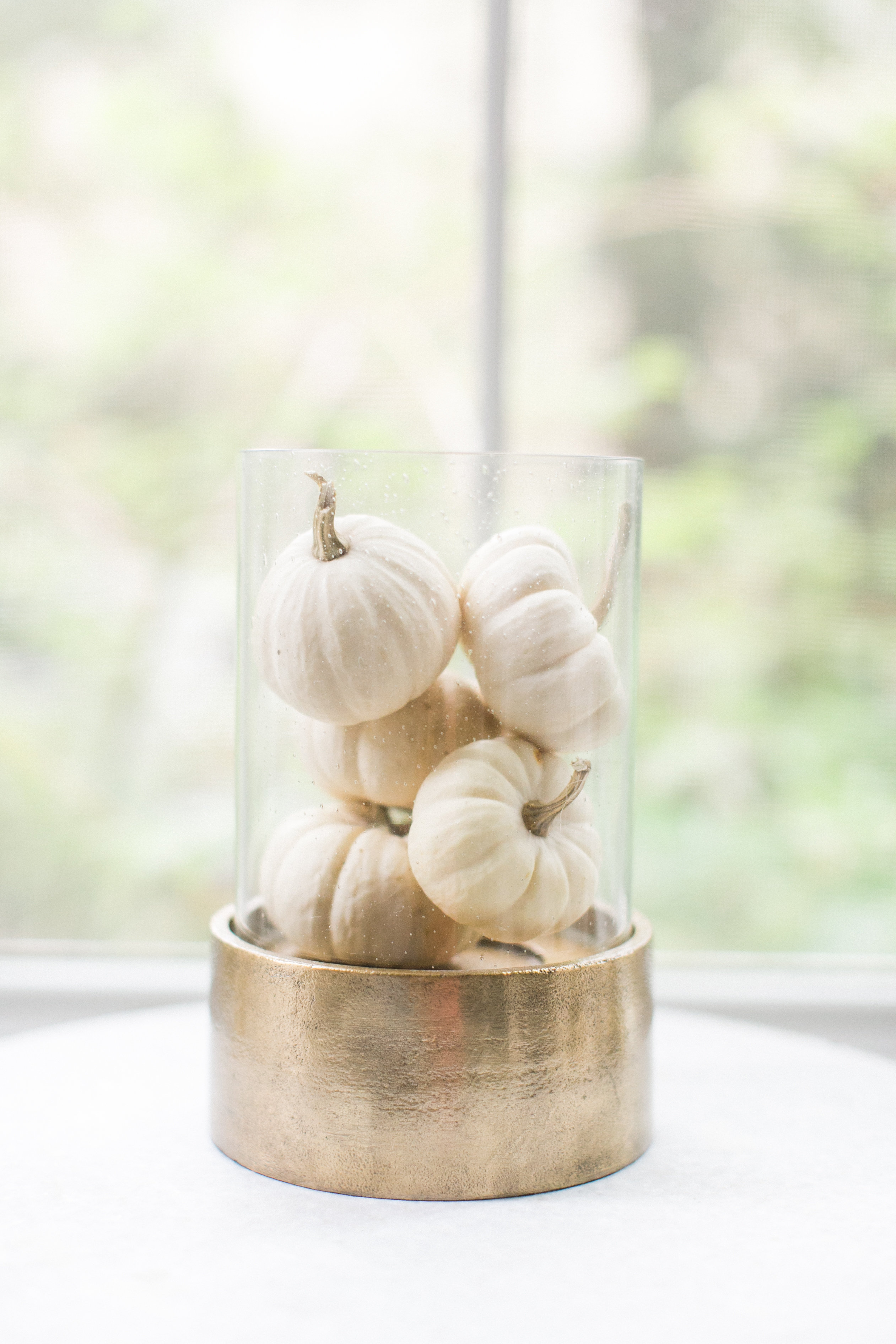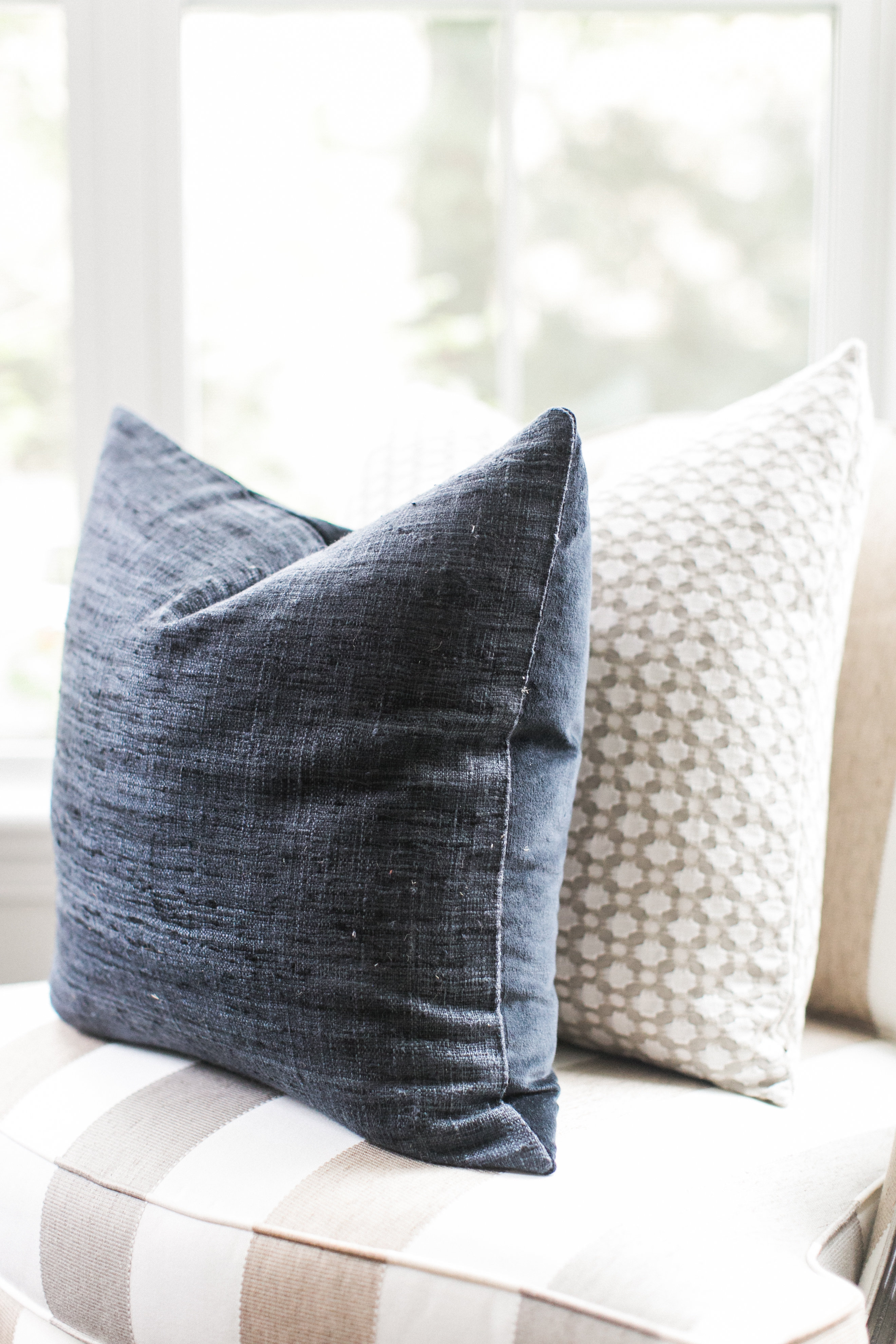 A sweet little grouping of white pumpkins in a glass vase is all this space really needed and one of my favorite fall tricks. When in doubt, stack white pumpkins.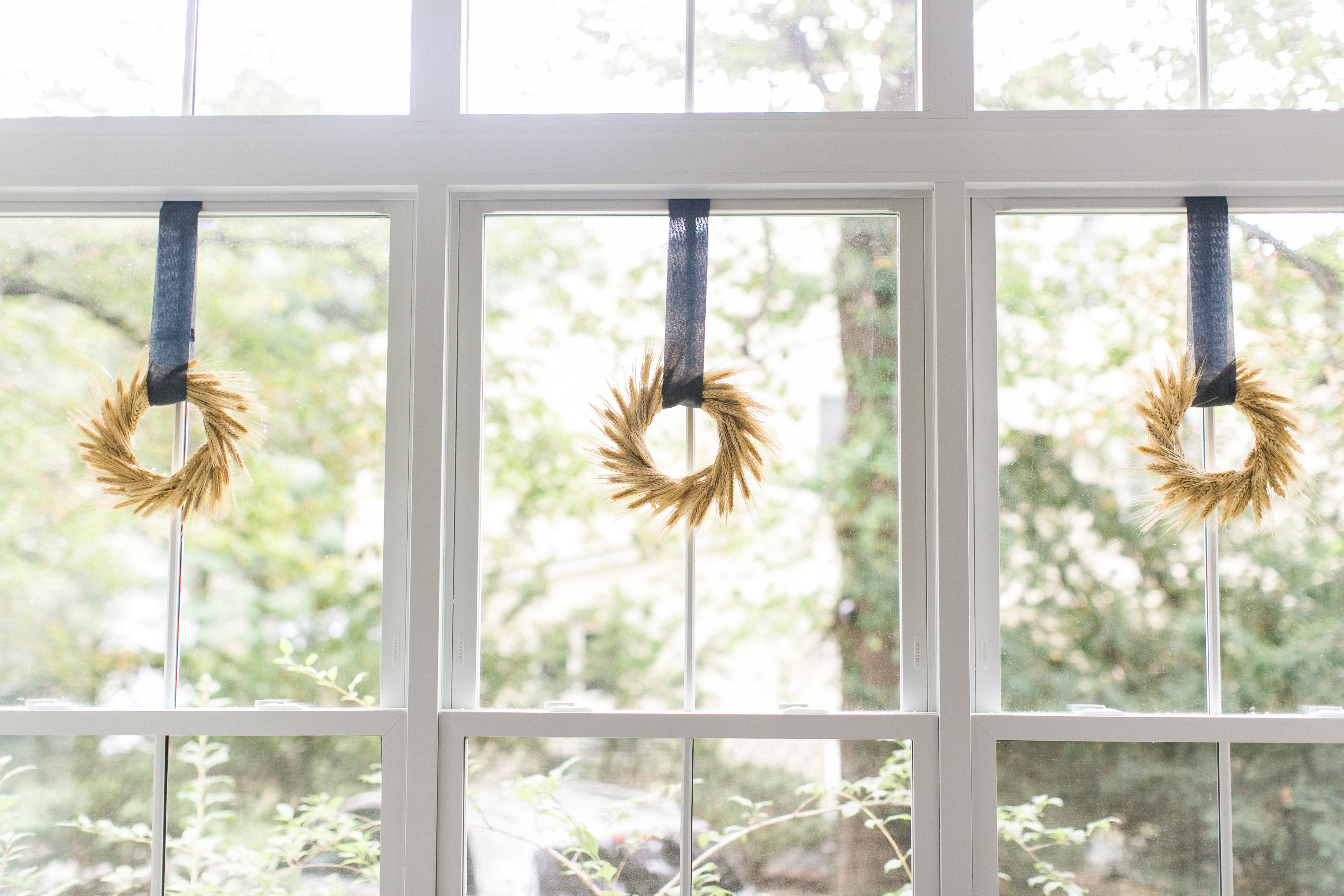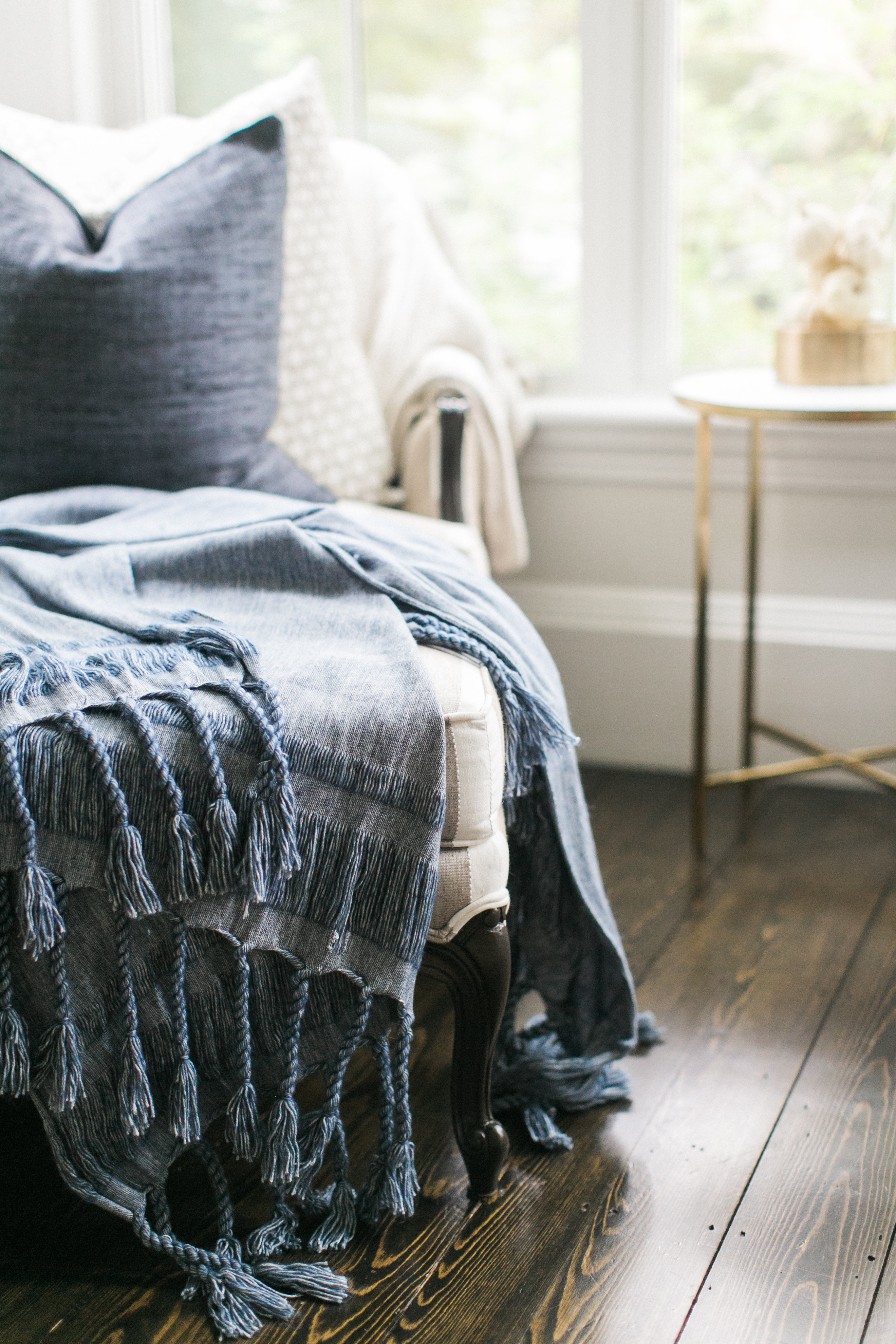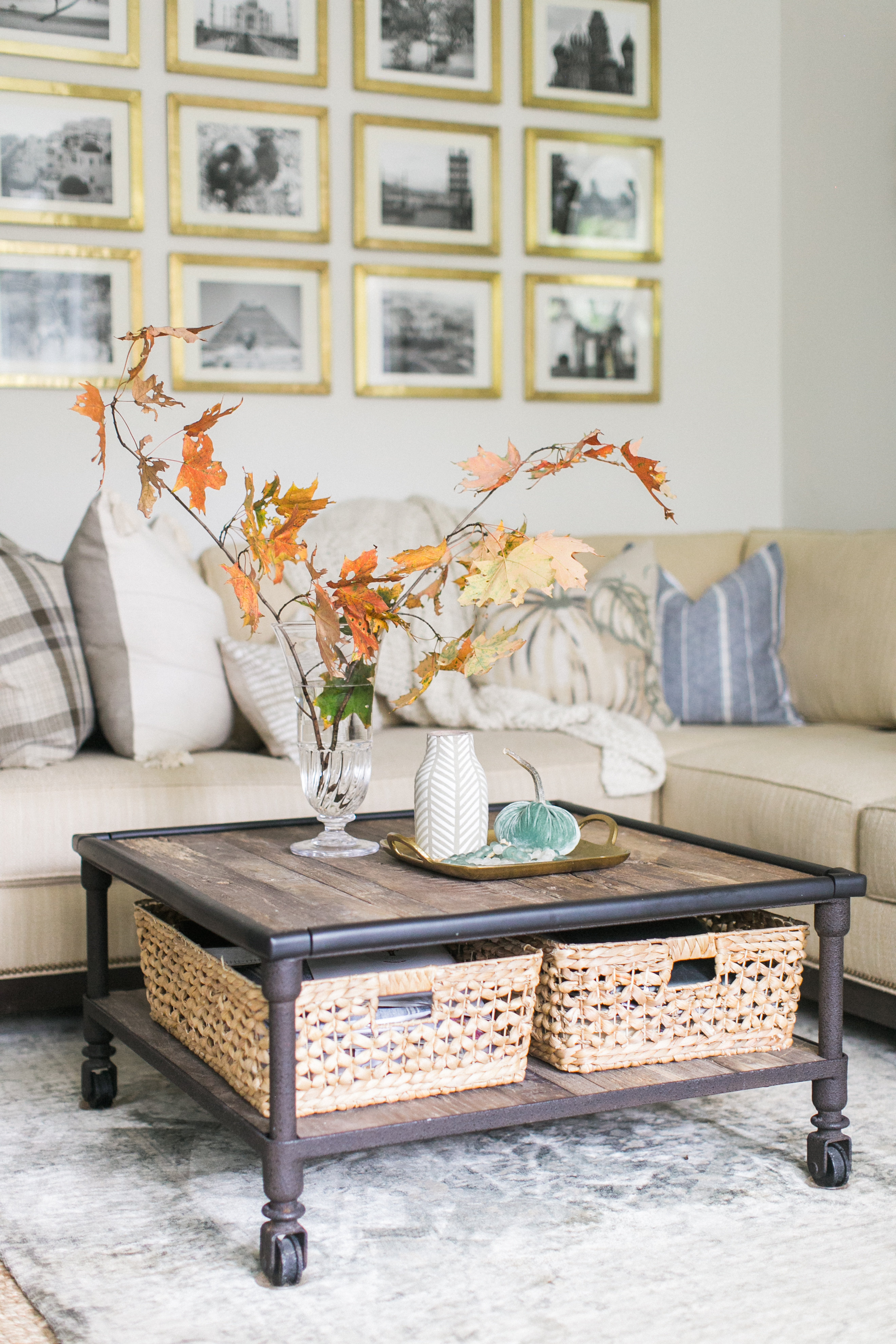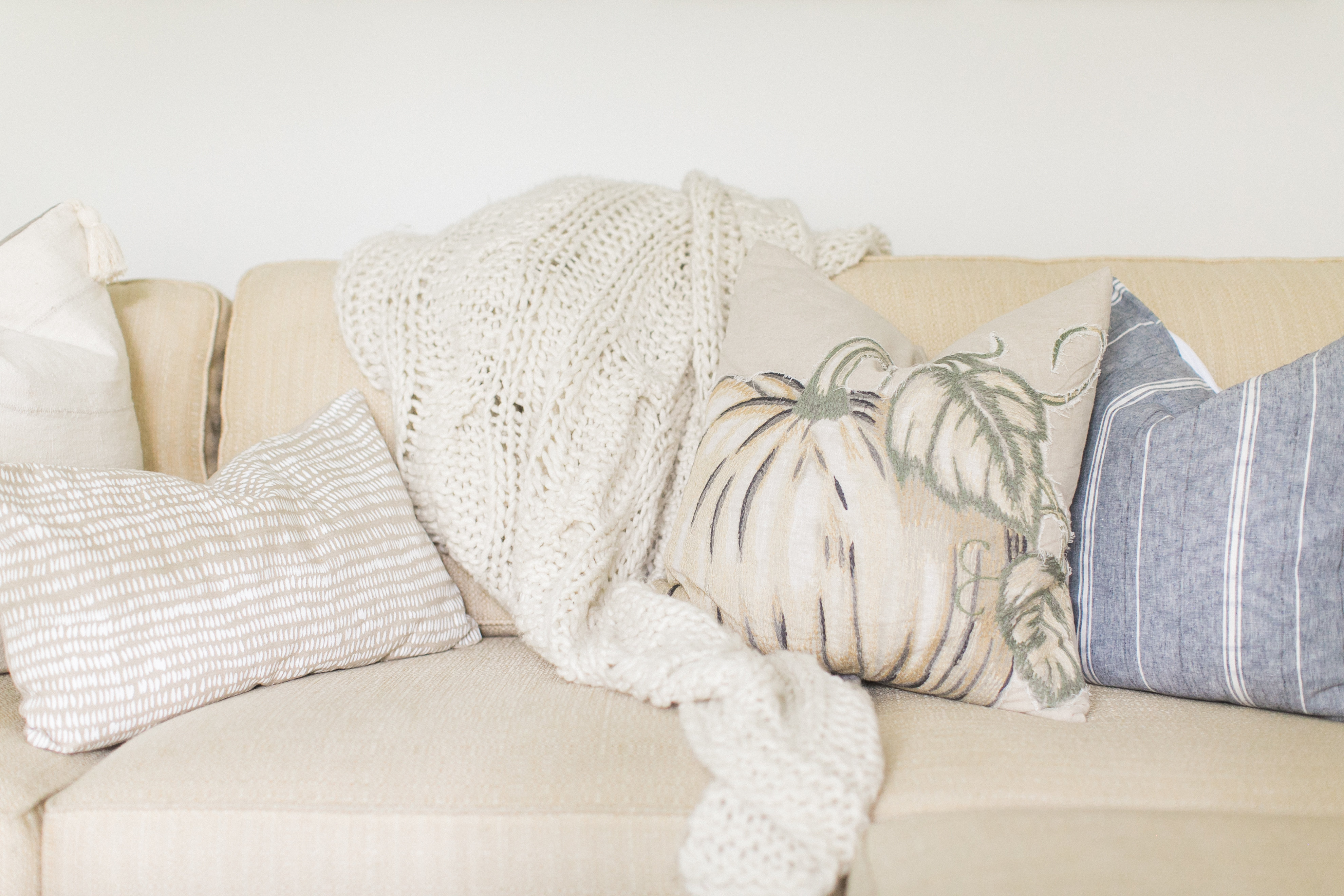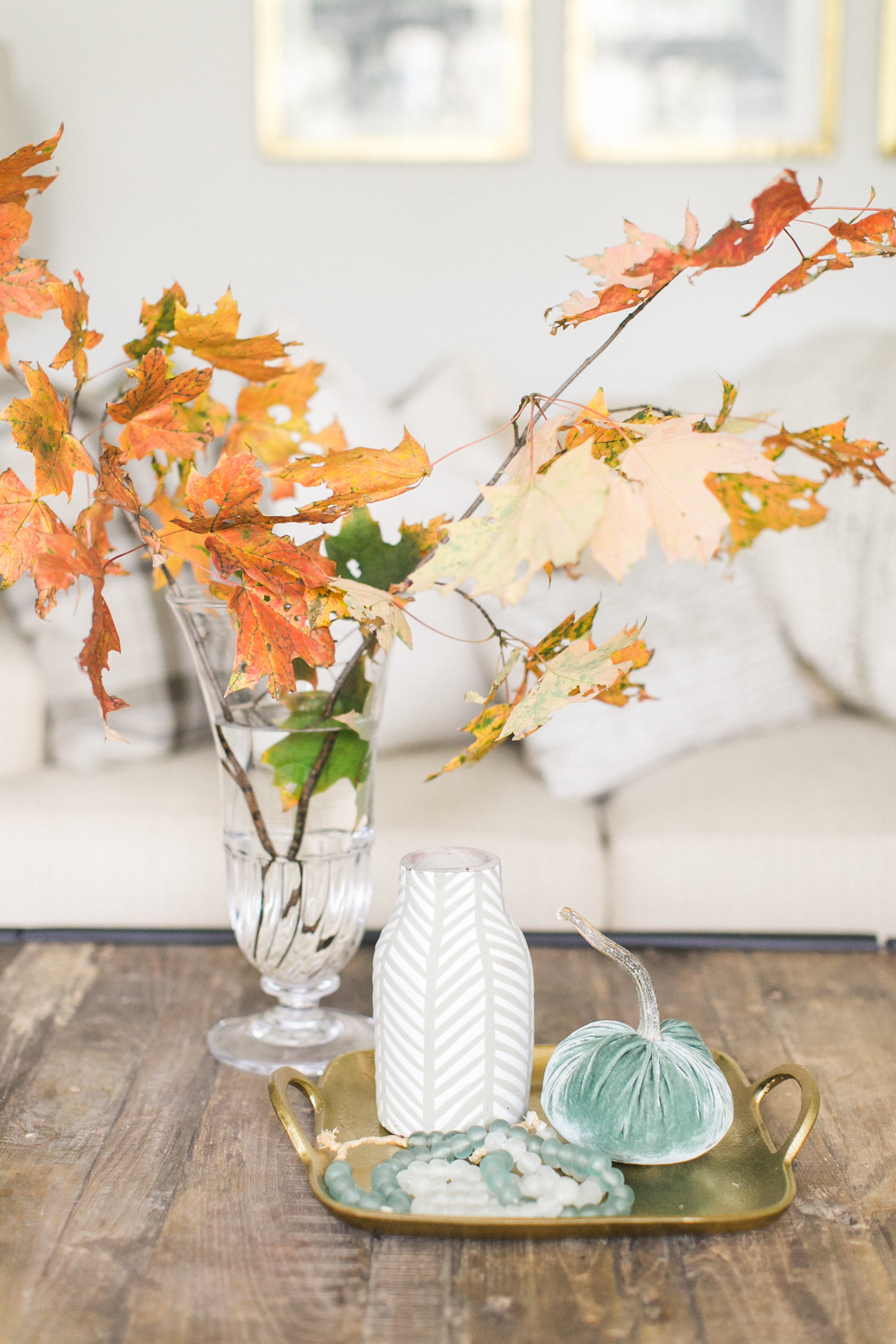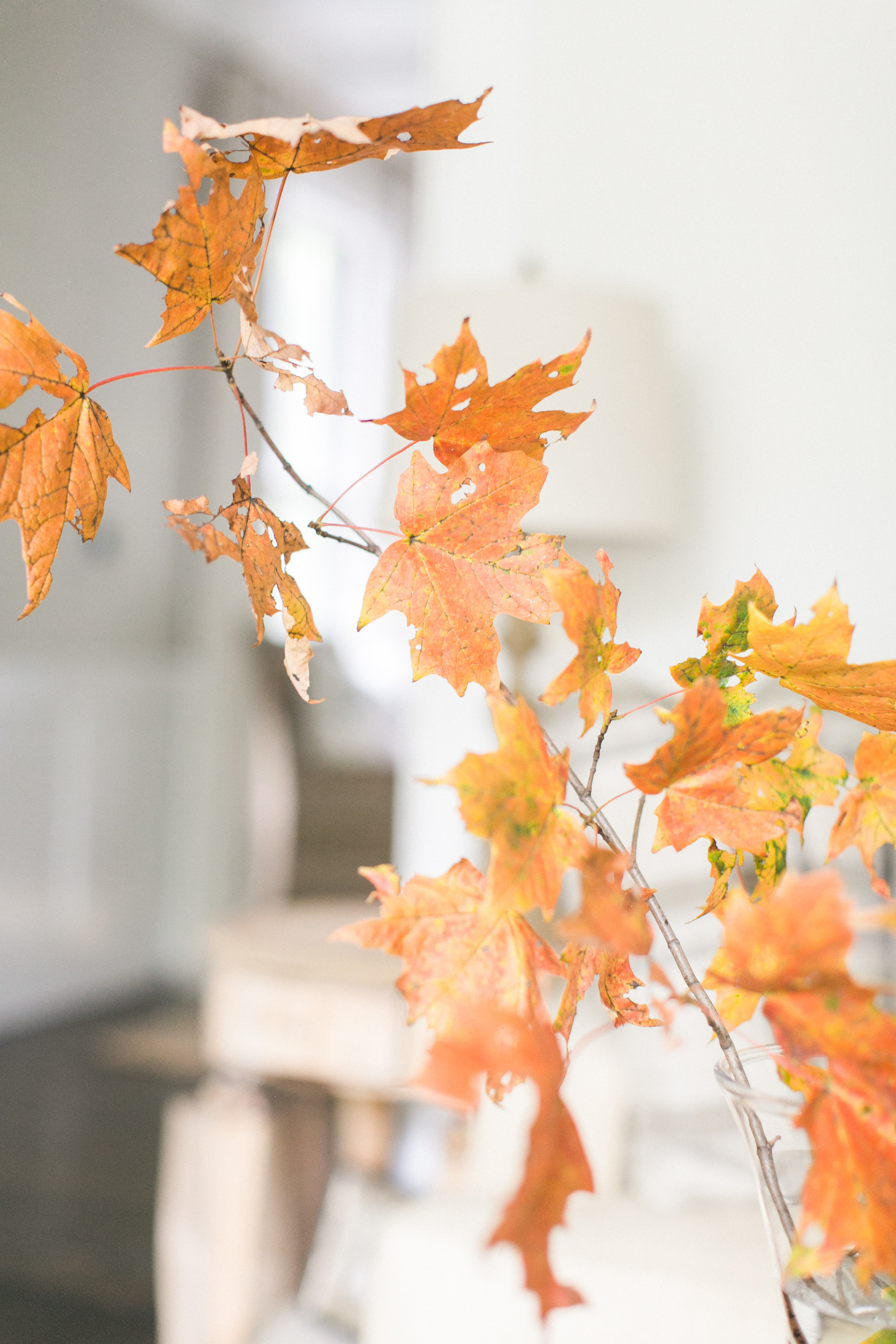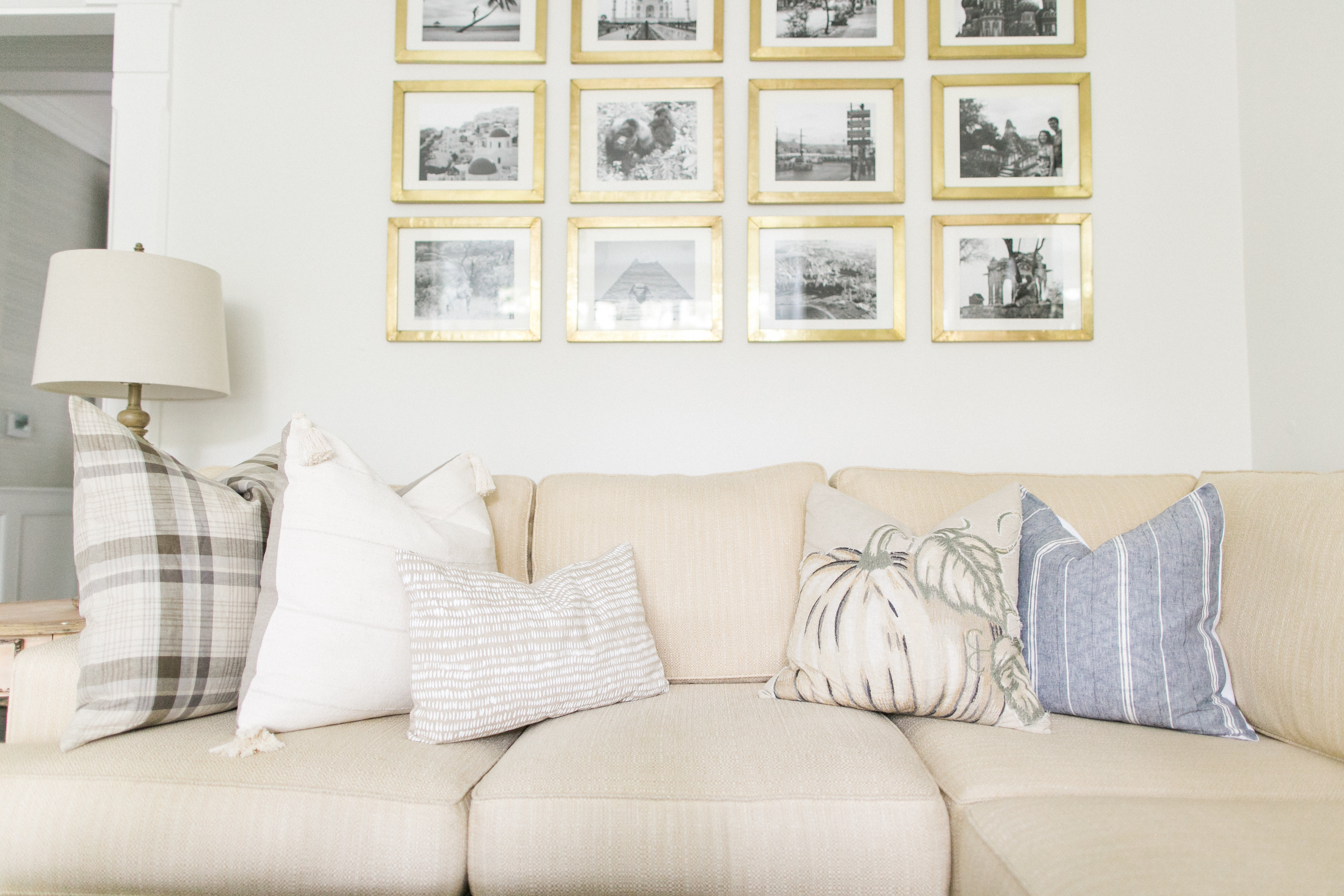 My husband has affectionately started calling me "the pillow lady." And I quip back that at least it isn't cats. Now I know I'm not the only one out there who has a love affair with pillows. They are just such an easy refresh to a space. The sweet dash pillow is from one of my favorite shops on Etsy, Motif Pillows.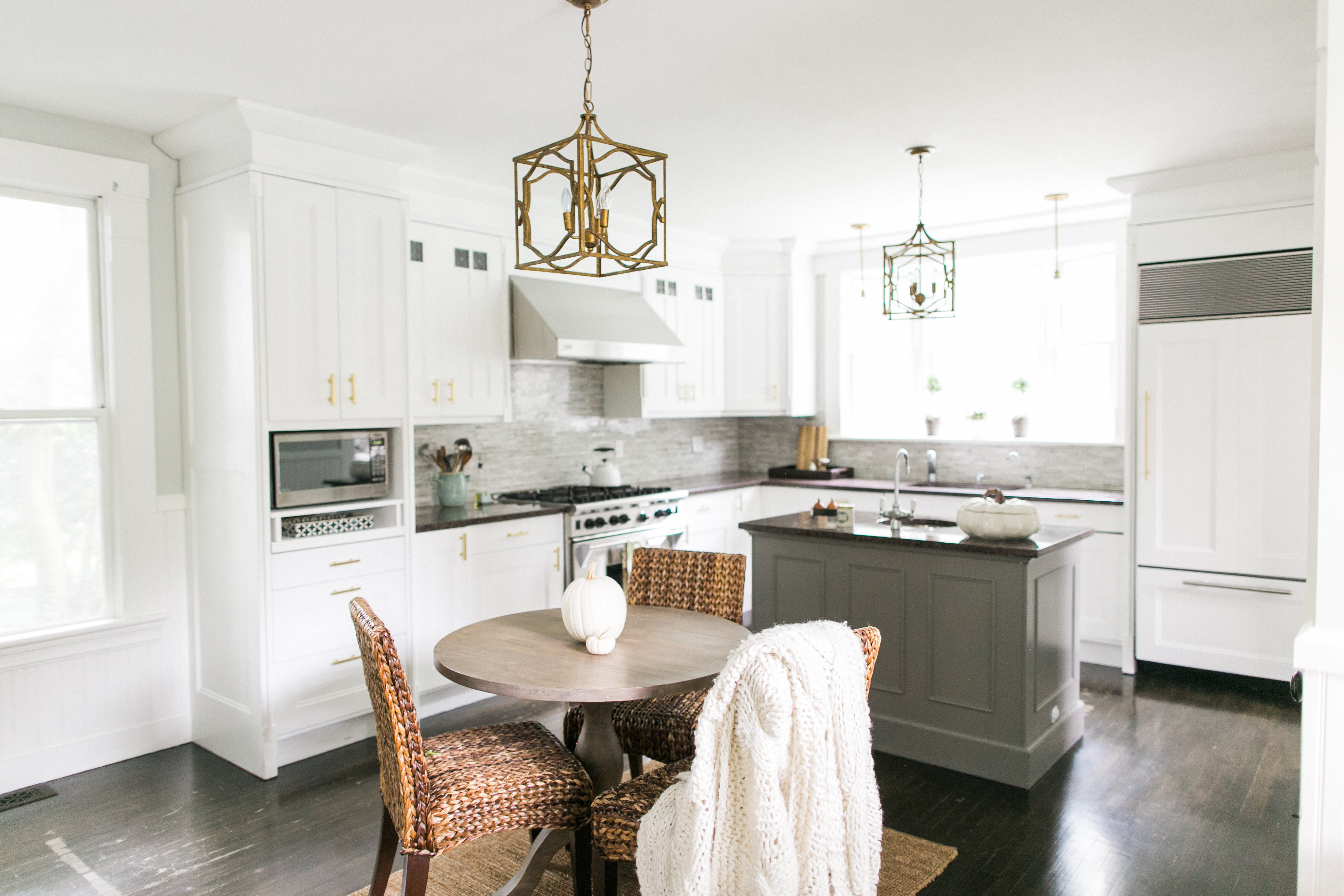 A cozy blanket, some pumpkin groupings and some cute little gourds in a pedestal bowl all bring little touches of fall to the kitchen.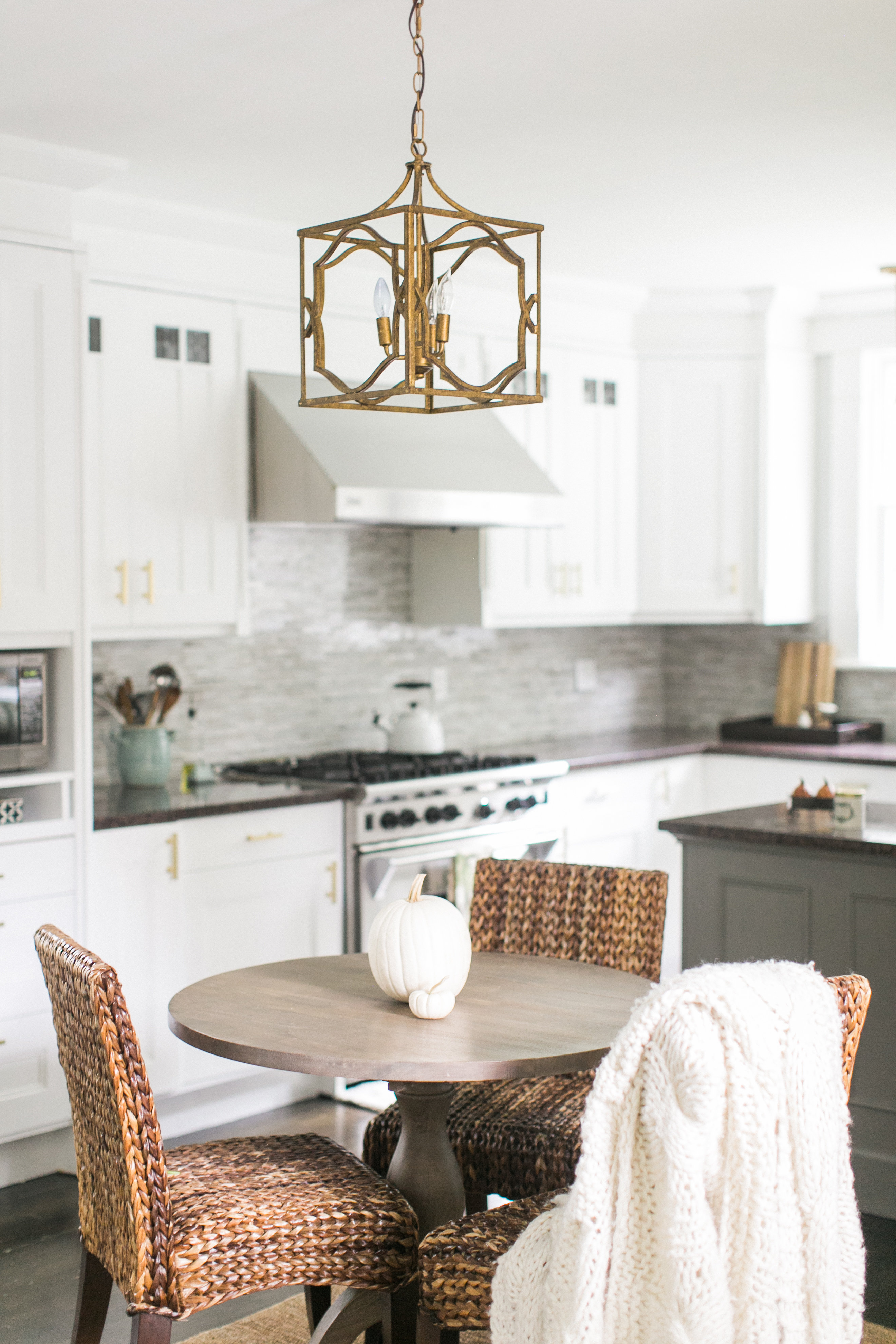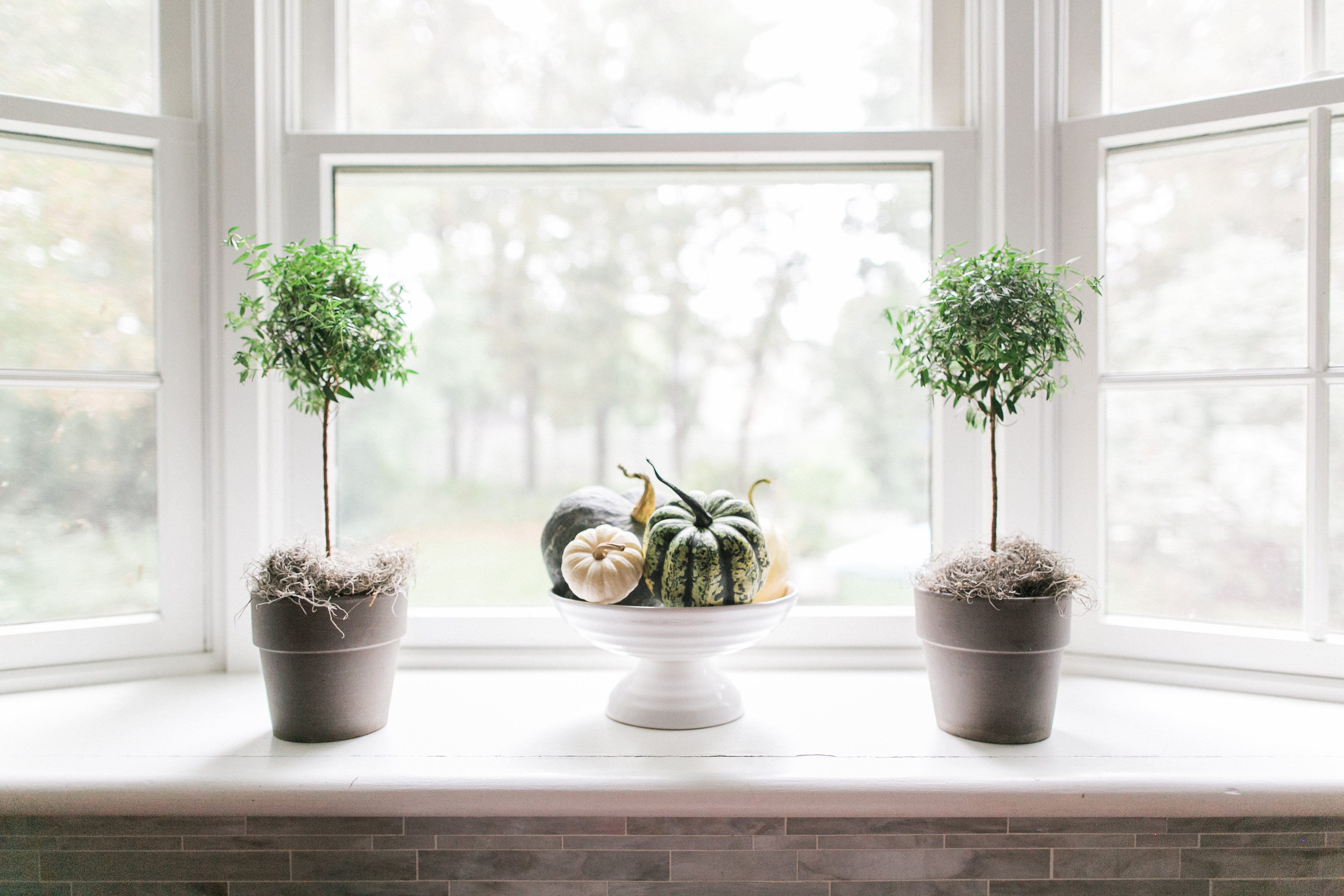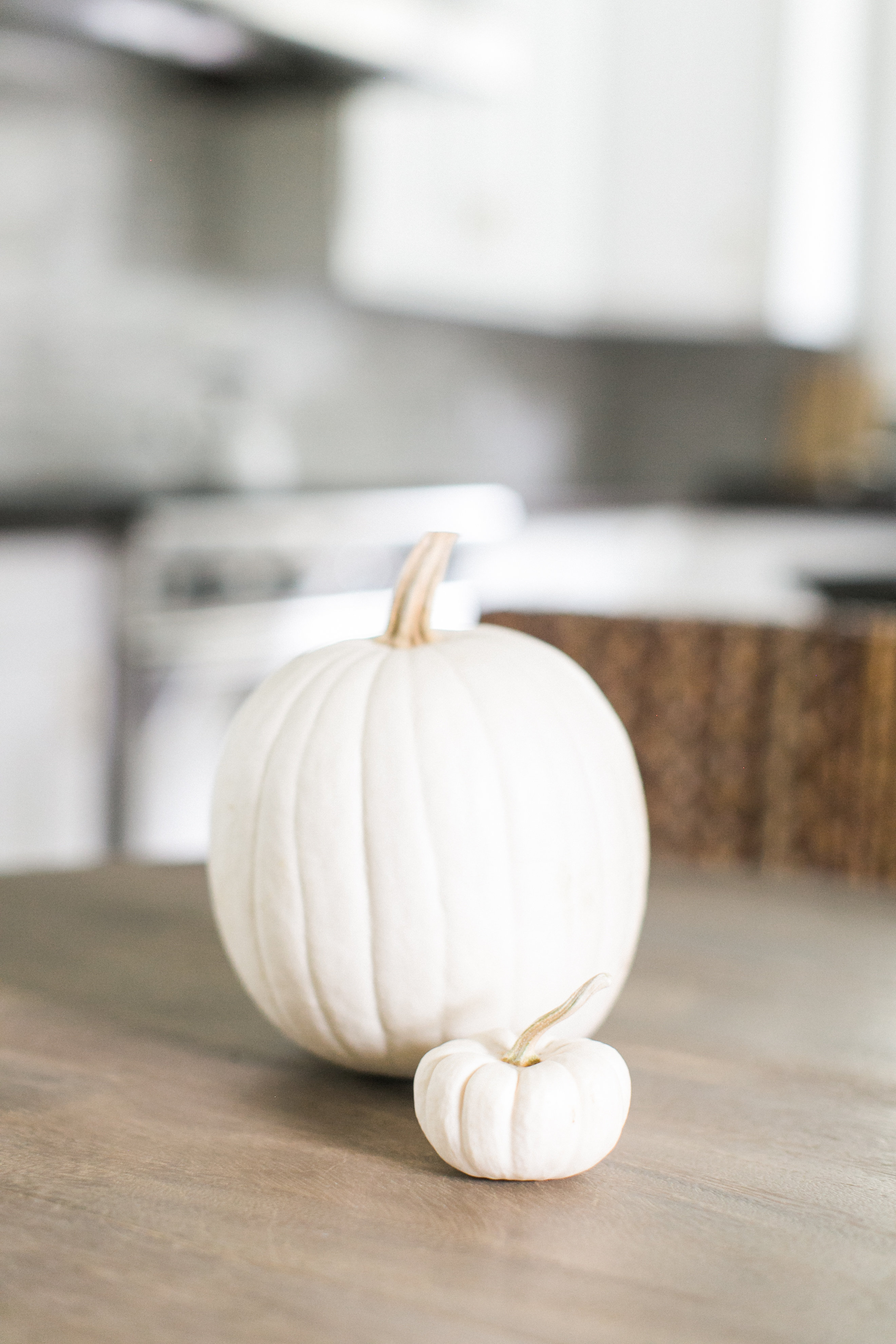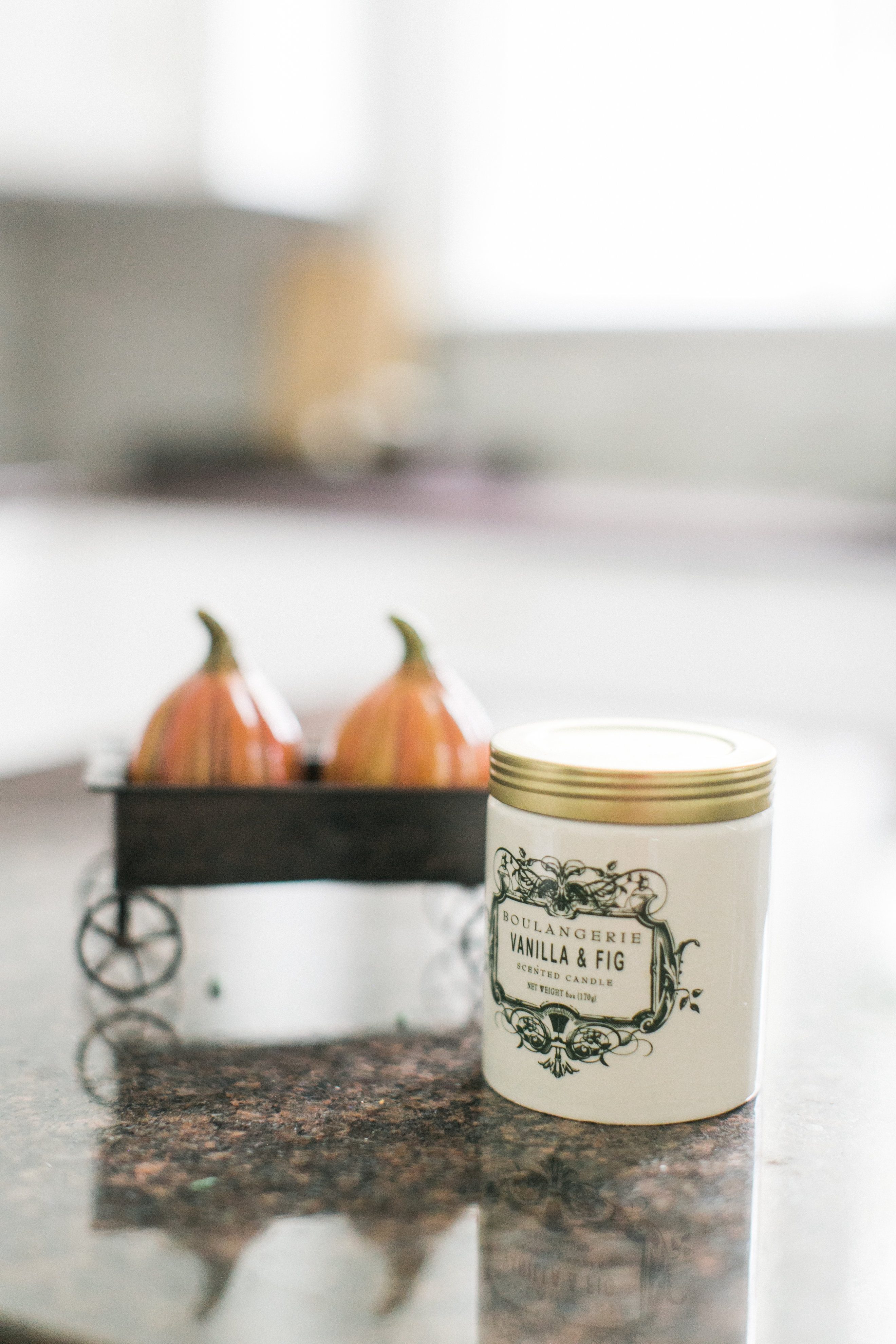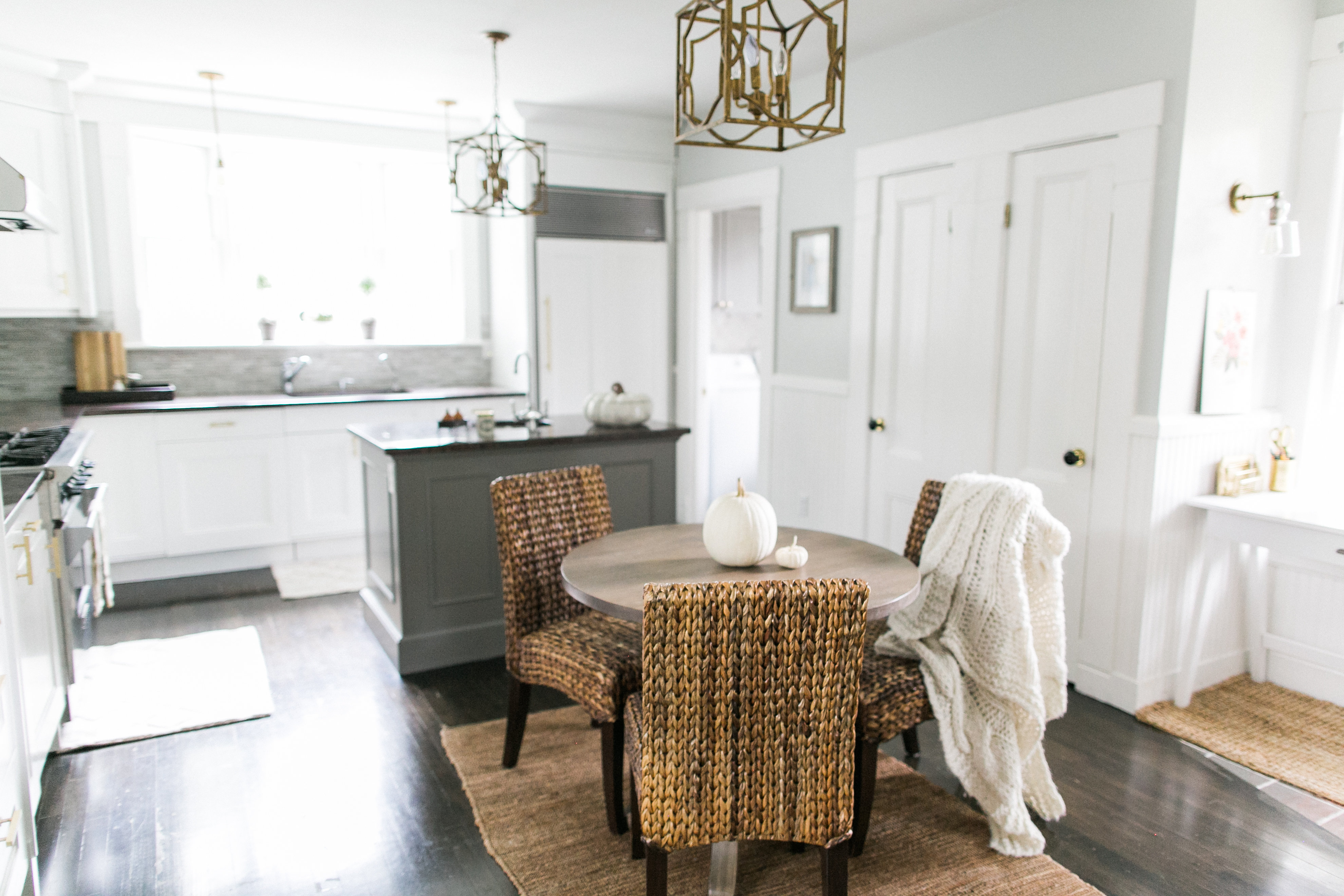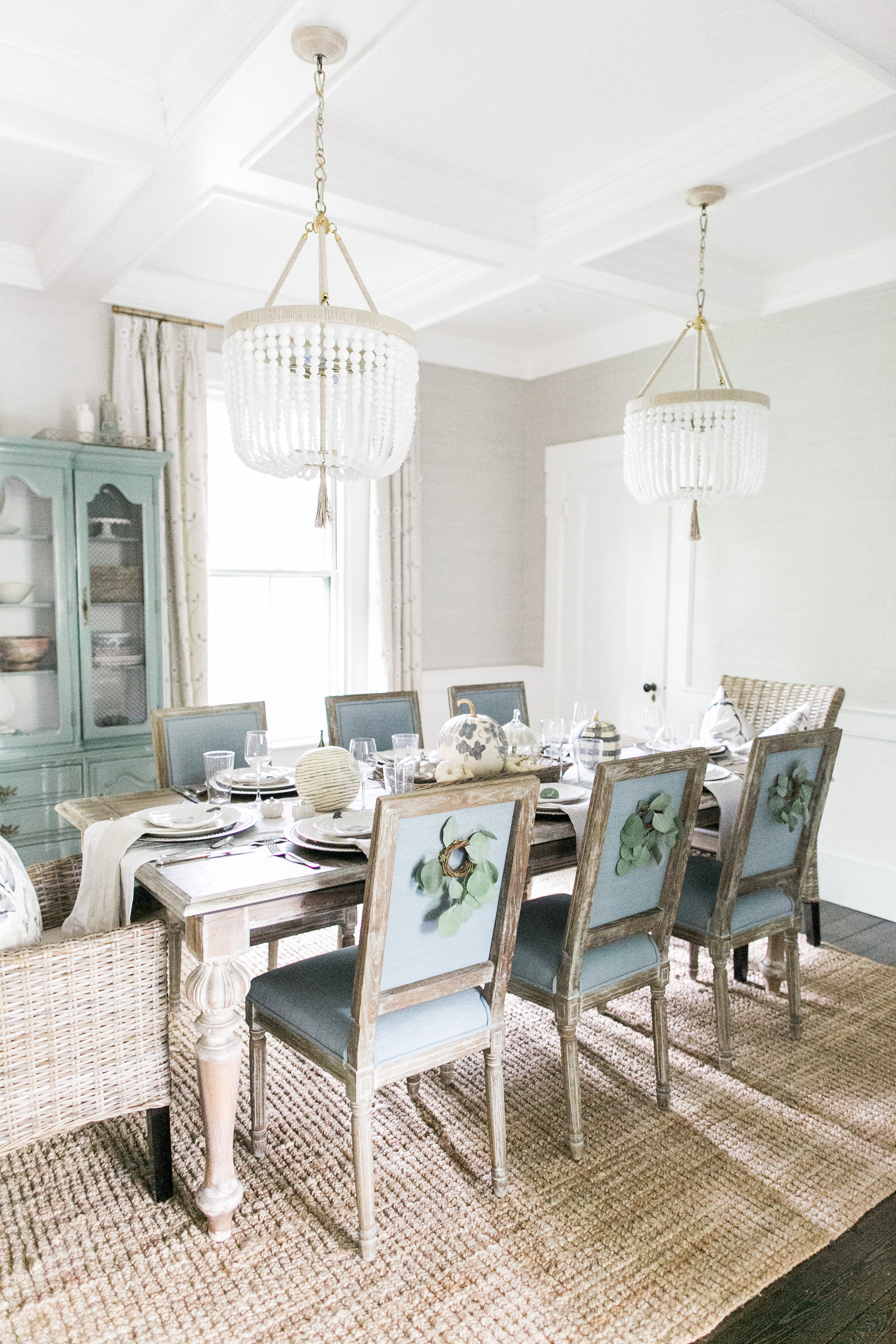 The mini eucalyptus wreaths on the back of the chairs are just sprigs of eucalyptus hot glued into the mini grapevine wreaths from Michaels.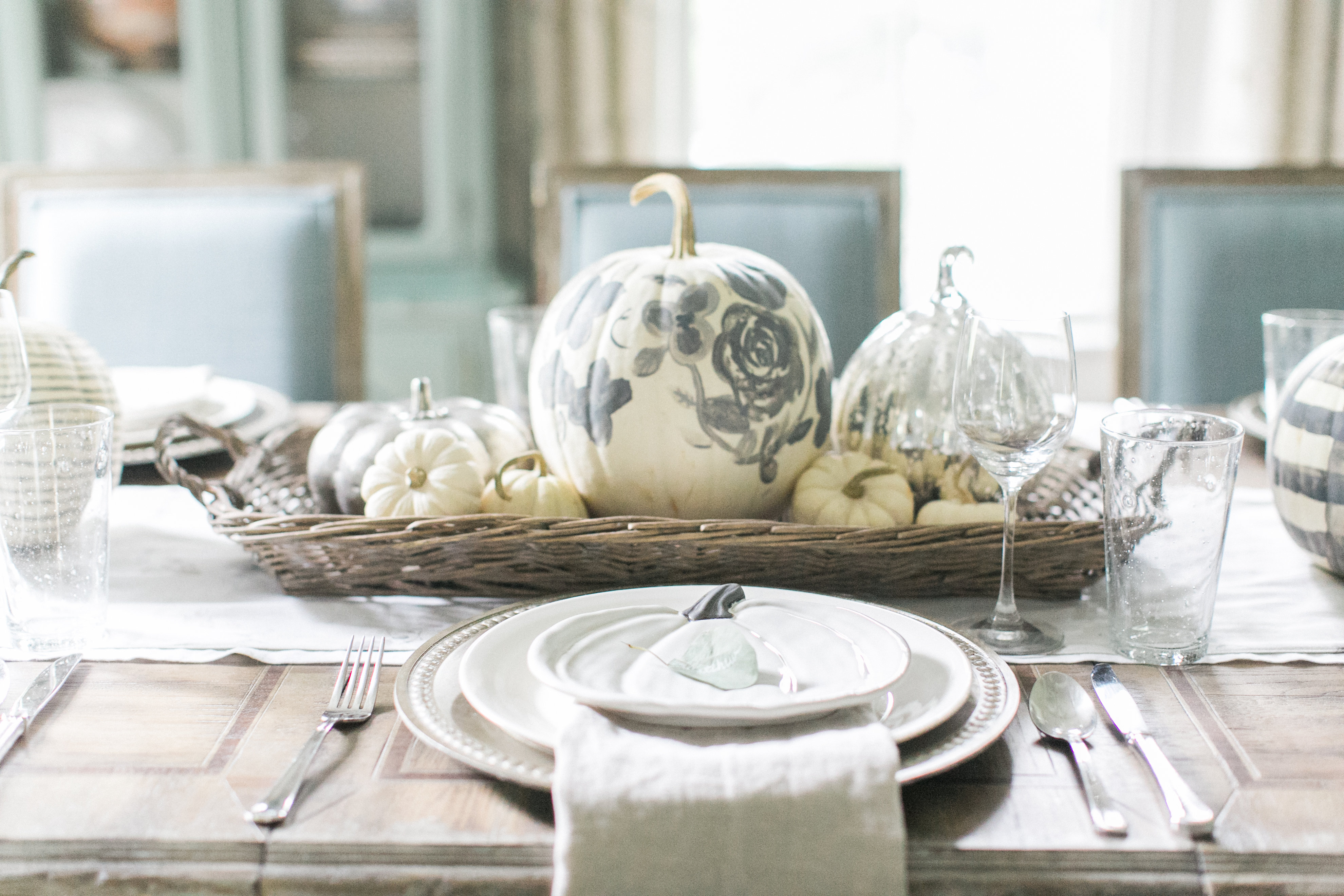 These real white painted pumpkins are the feature of the tablescape. They were fun to make, relatively quick, and other than a steady hand to do the stripes, require little artistic ability. It's me we're talking about…distracted momma to two crazy toddler boys. Once again, another DIY that will be up soon on the blog, so stay tuned!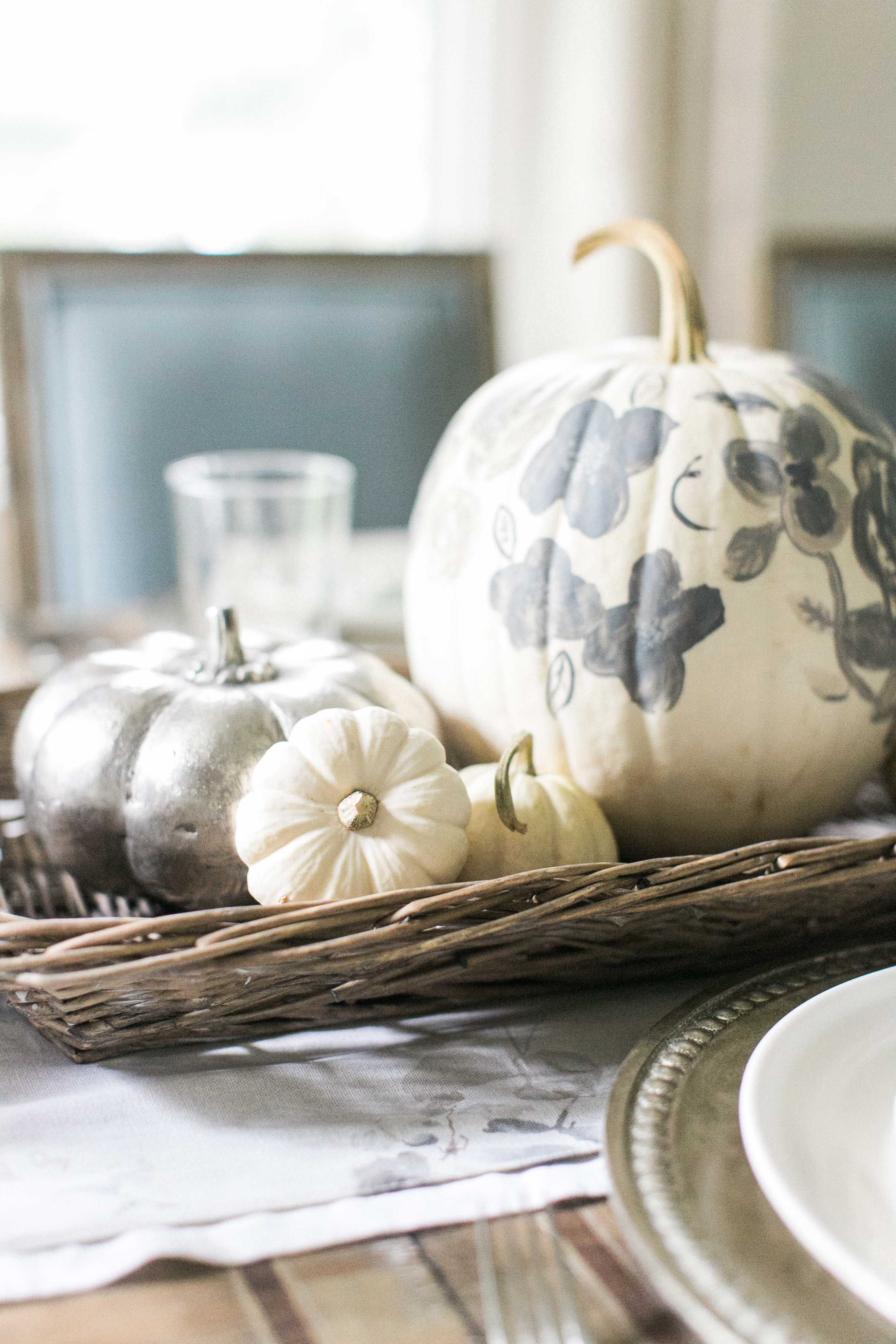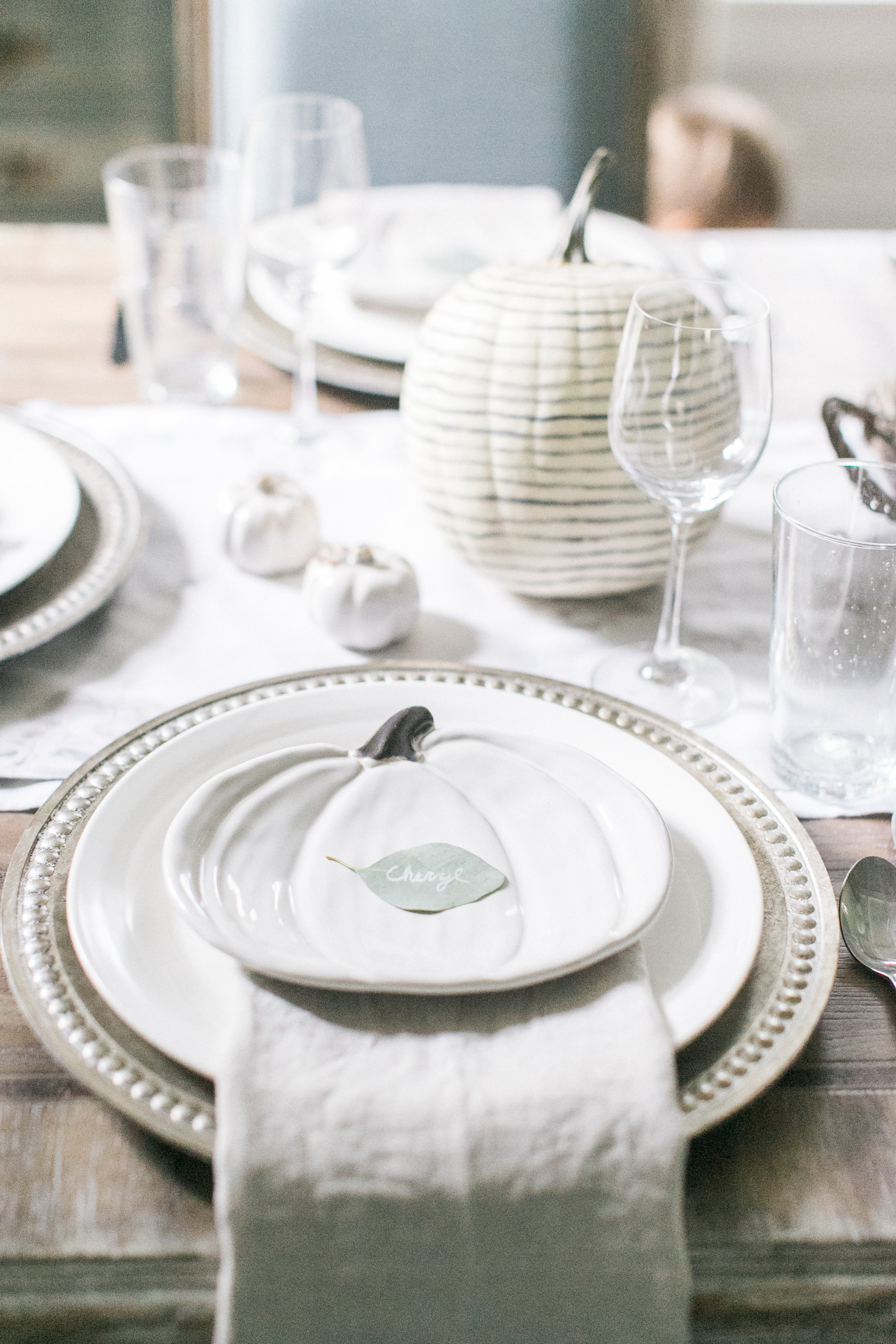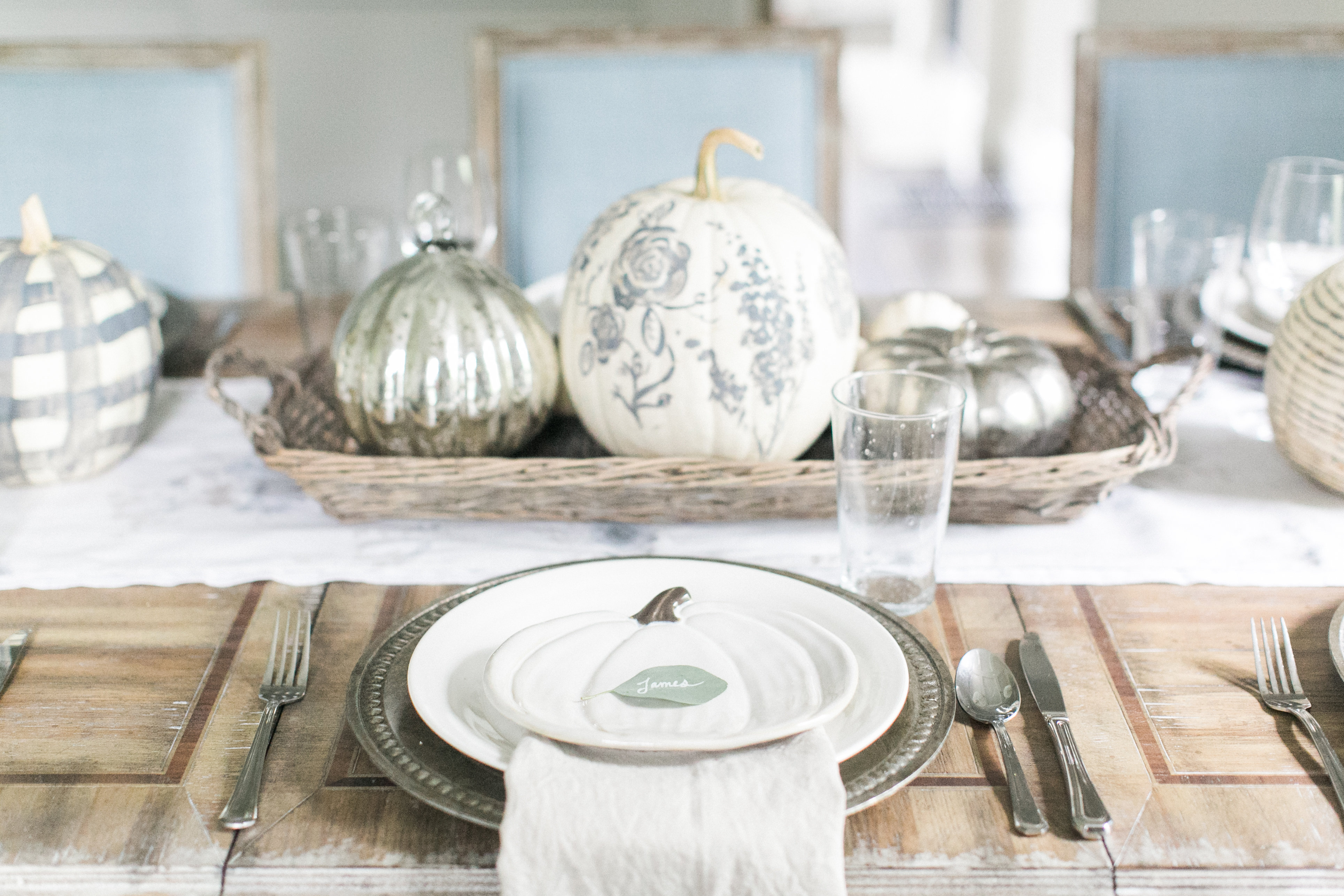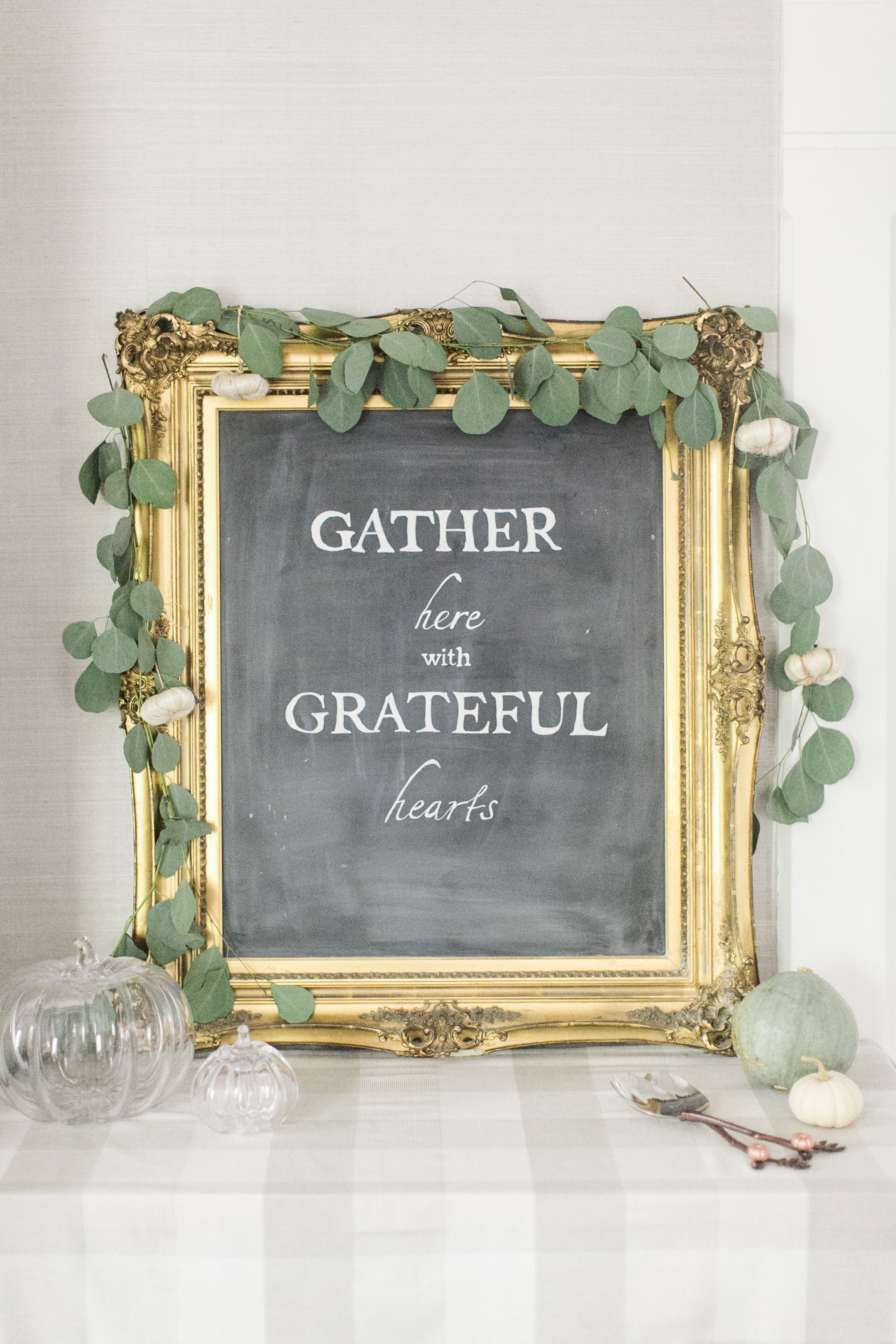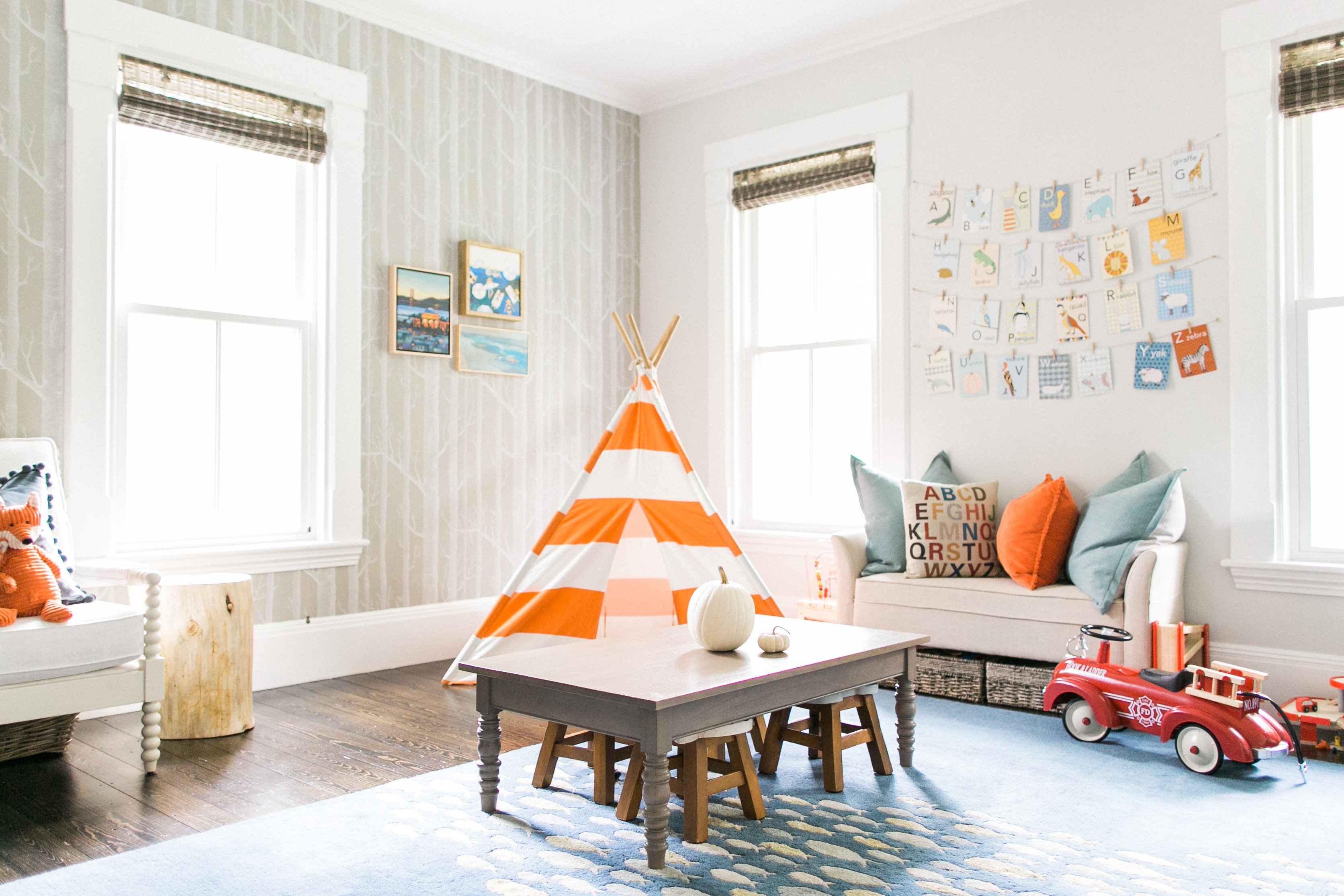 Holidays and seasons through the eyes of the little kiddos are really what makes decorating and celebrating so fun for me. My little boys oooo and ahhh over every little change to their space which makes it fun. When two little white boos found their way into their IKEA kitchen it was met with squeals of delight. And before I knew it I was fishing them out of the potty. Whelp. Such is life with toddlers.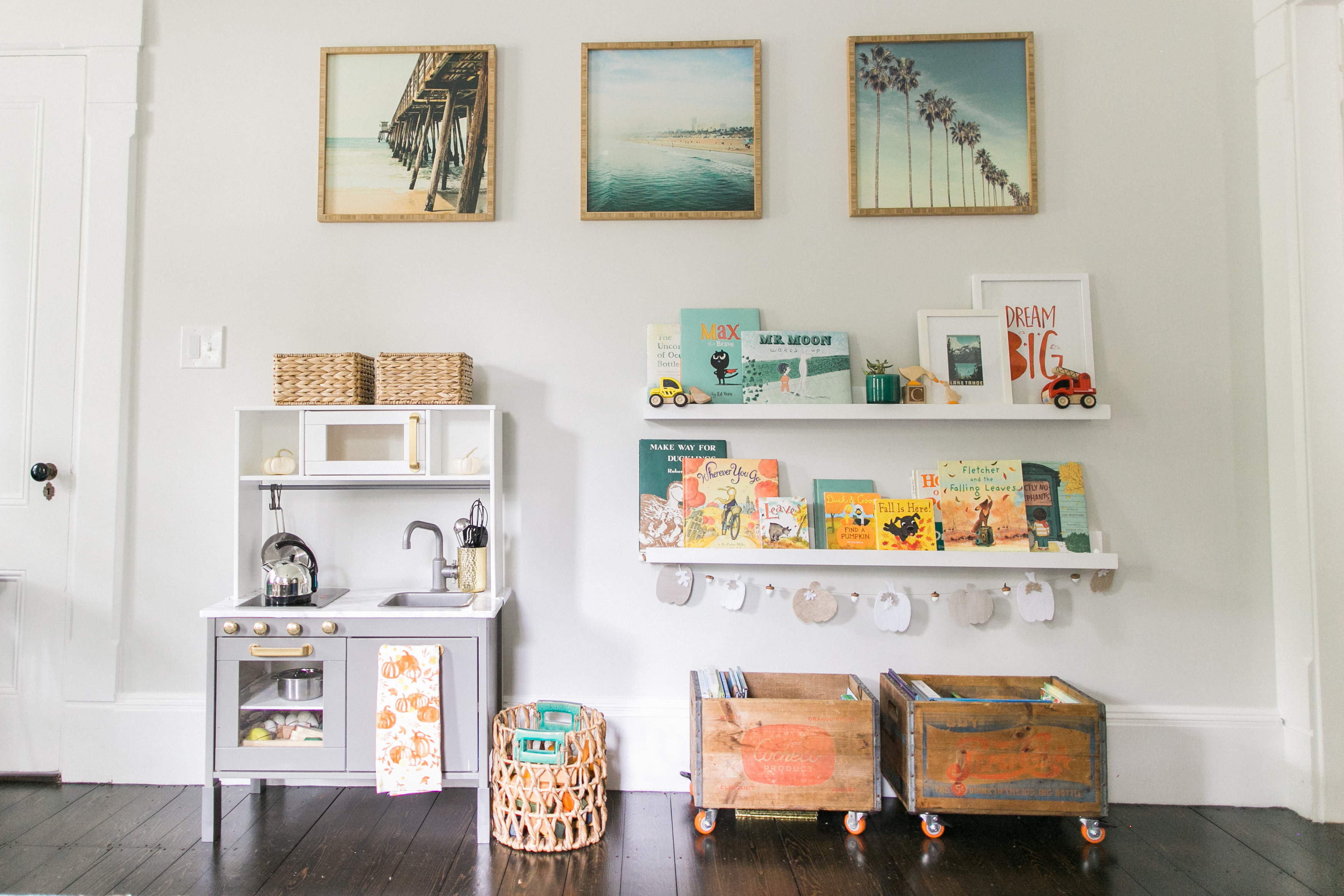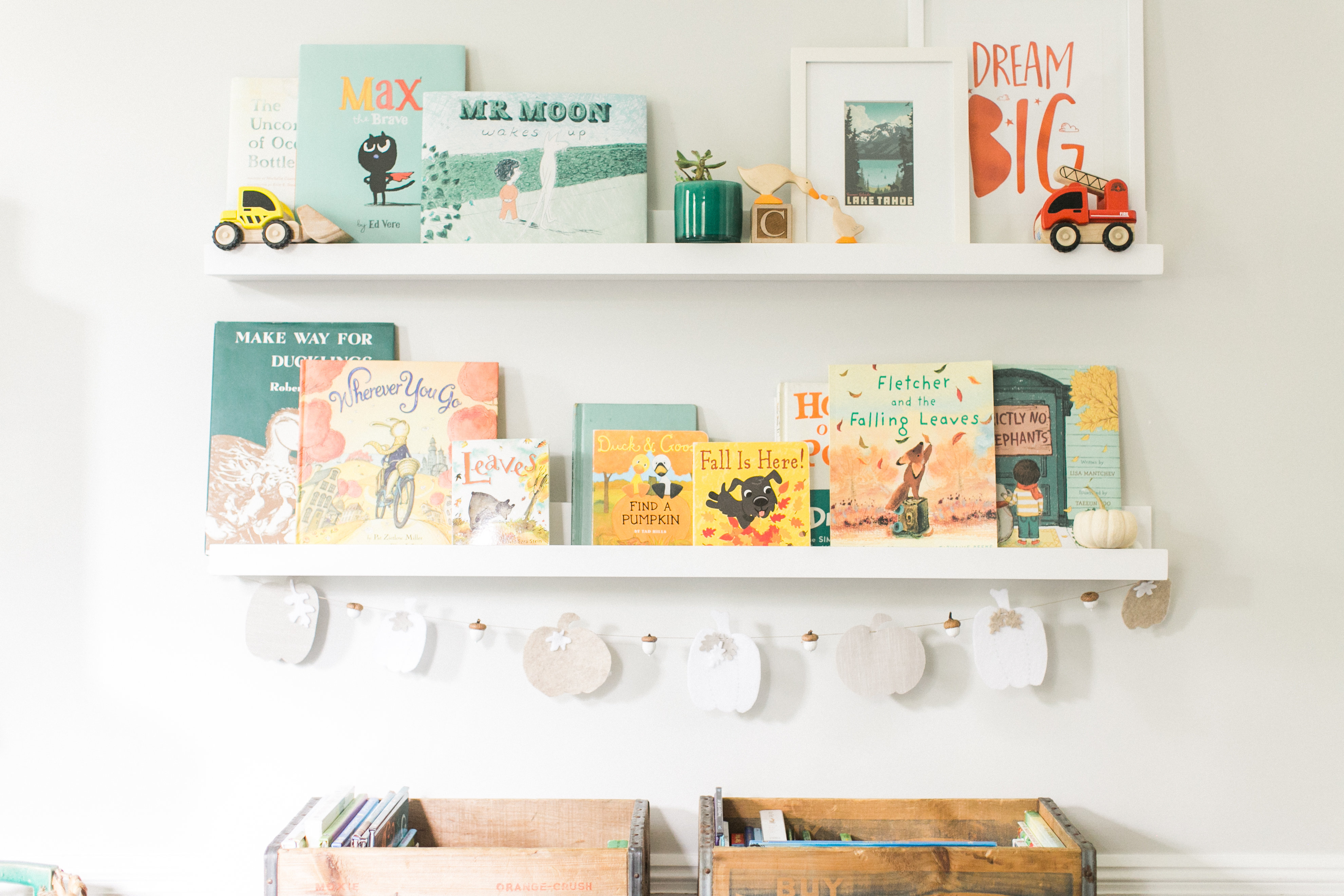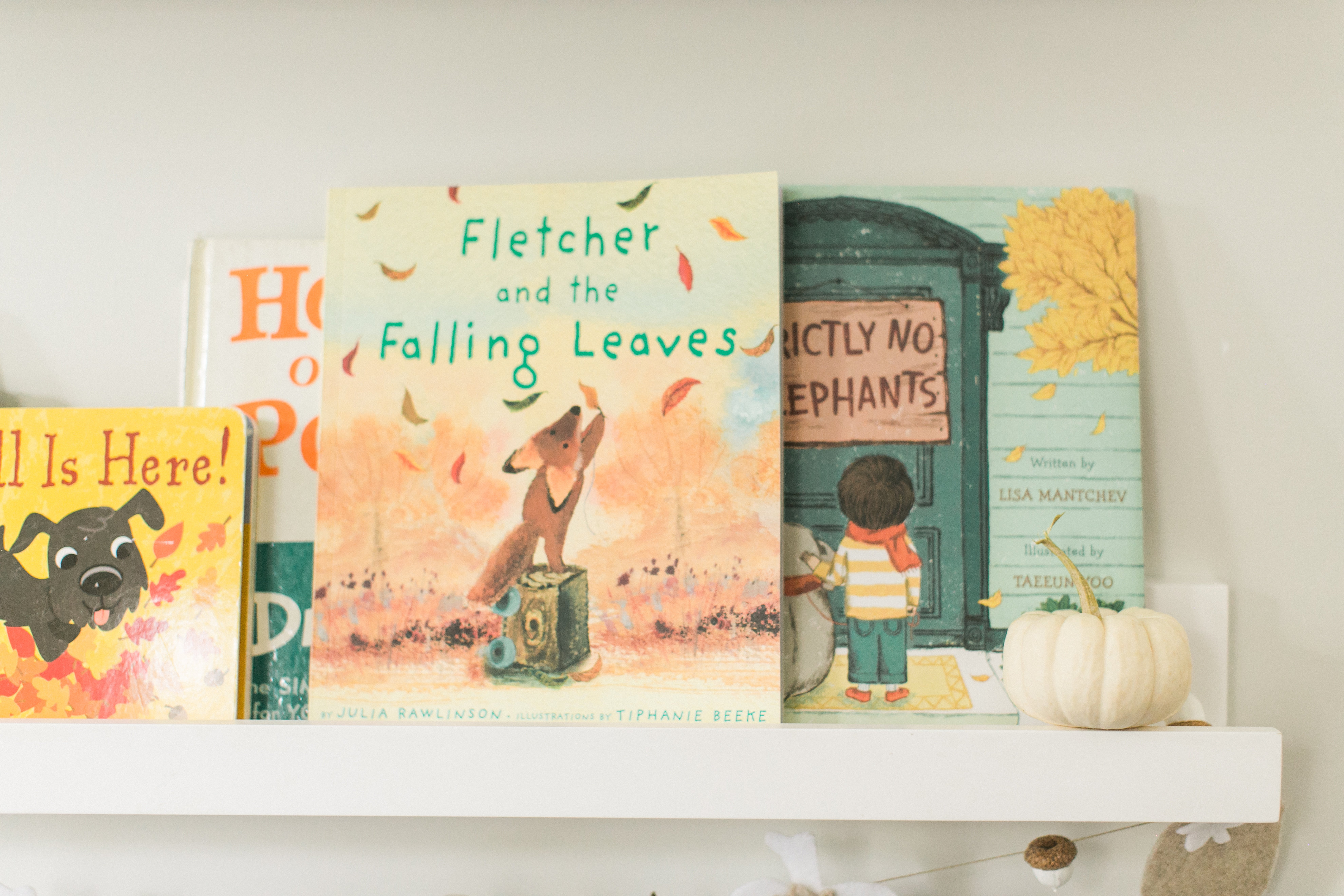 If you've taken a peek around, you've probably seen these book shelves all decked out for the season. I like to change up the books to reflect the seasons and holidays and love love a special garland to add some fun. This year I made the felt pumpkin and acorn garland. You can find the DIY post with free printables here.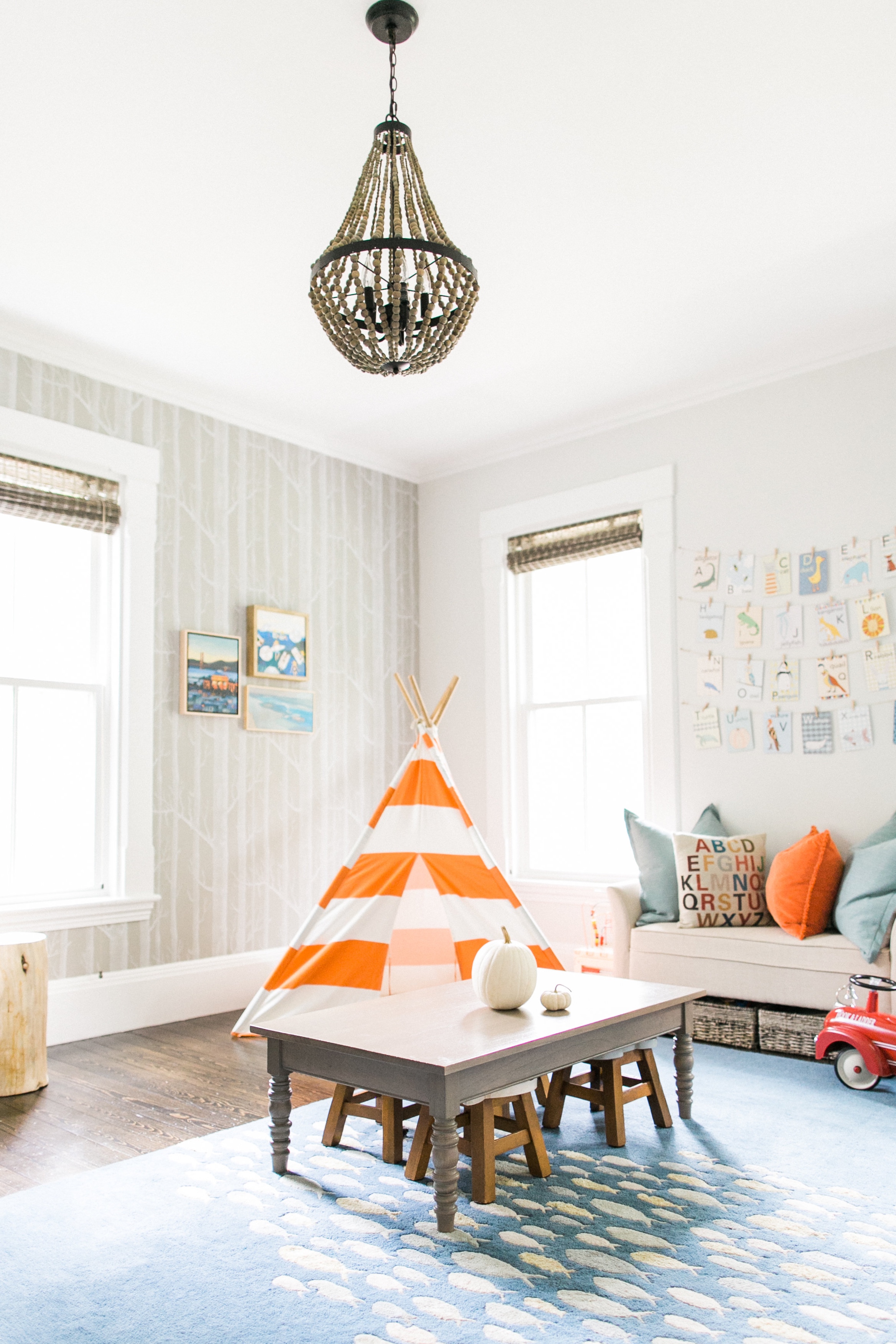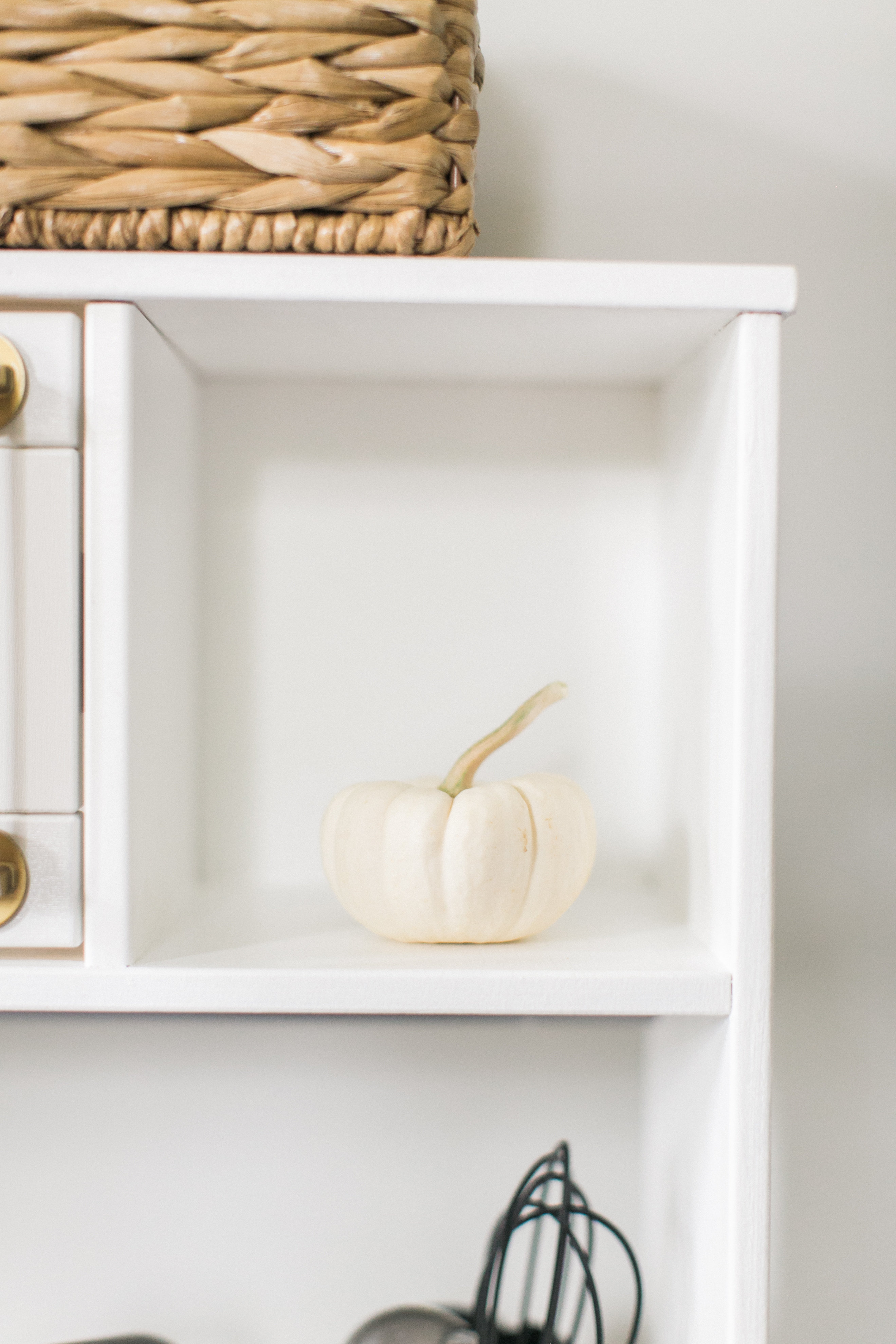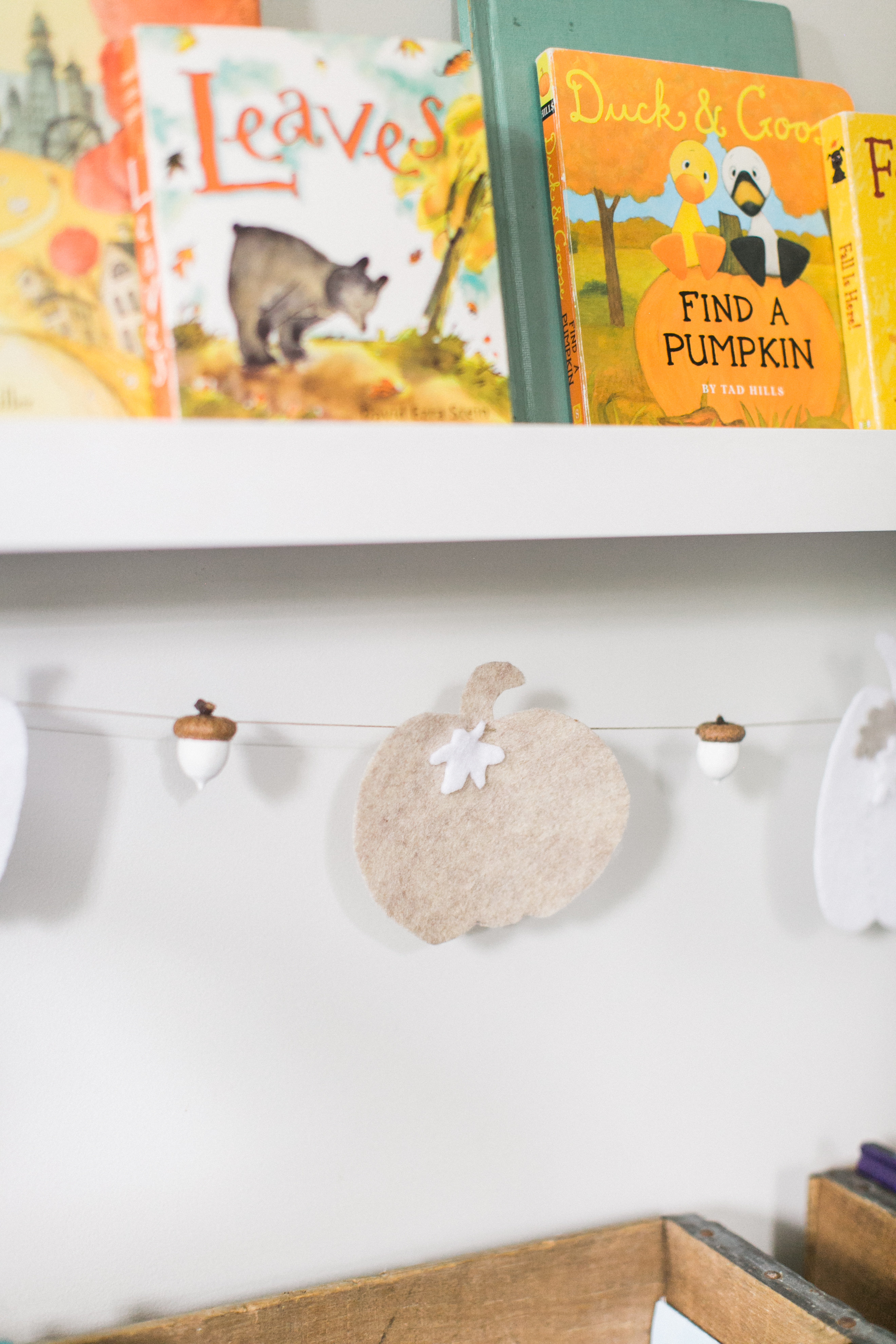 Next up on the fall home tour is the lovely Alma of Almafied, head on over to see her lovely fall home.