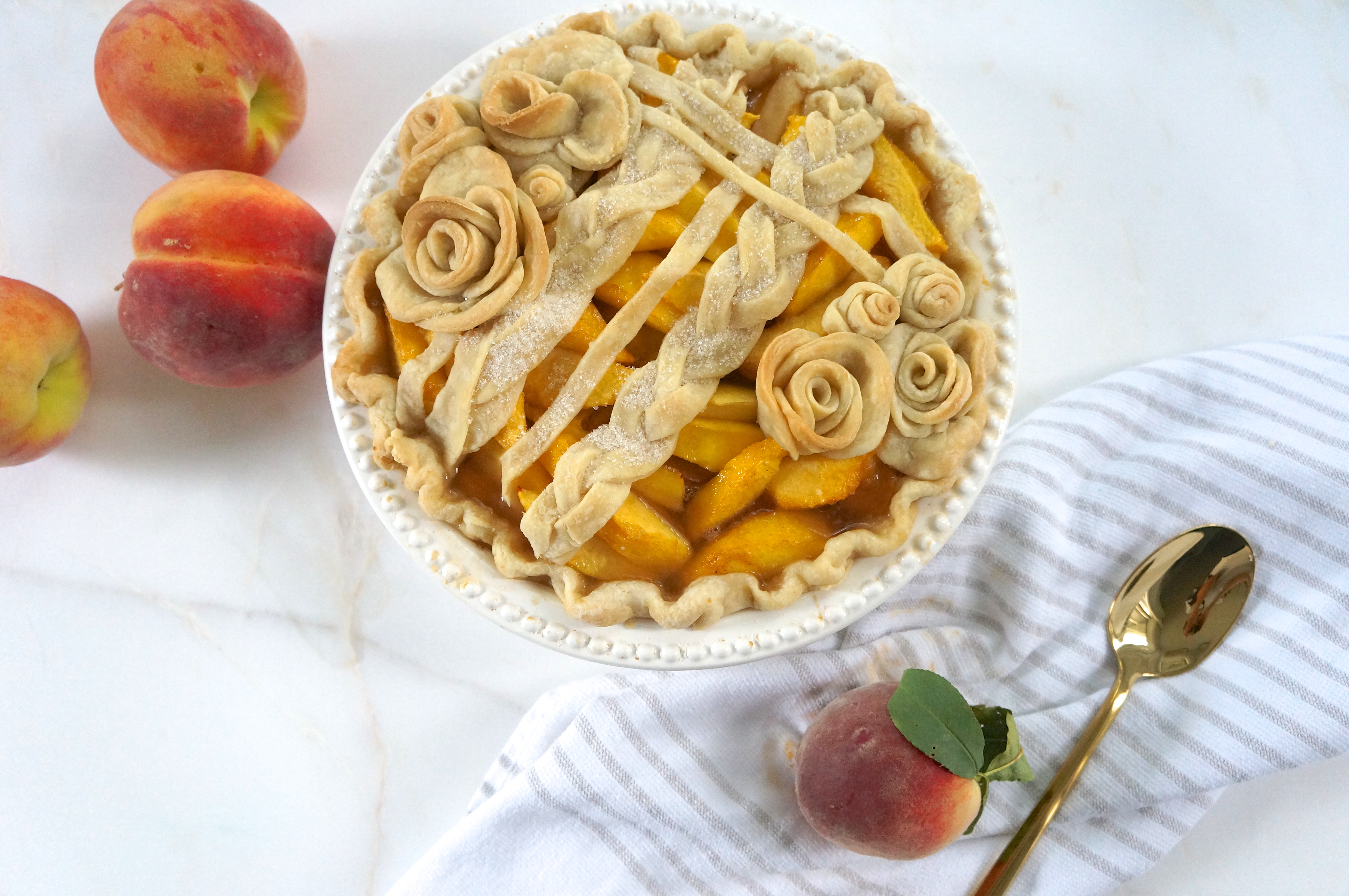 So when I'm not playing referee between toddlers or cleaning up the house or running through grocery stores, I'm soaking up the season (or trying!). Summertime is my favorite with its warm nights, skirts and ice tea. Love. And the perfect finishing touch on that summertime dream…peaches! Oh my word. There really is nothing like a fresh picked peach.
The babies and I headed to the nearby Belkin Lookout Farm in Natick, Ma which has been an operating farm since 1651! More on this adventure later but we came home with a peck of peaches picked by yours truly (and my toddler entourage of course). And a pretty peach pie was born.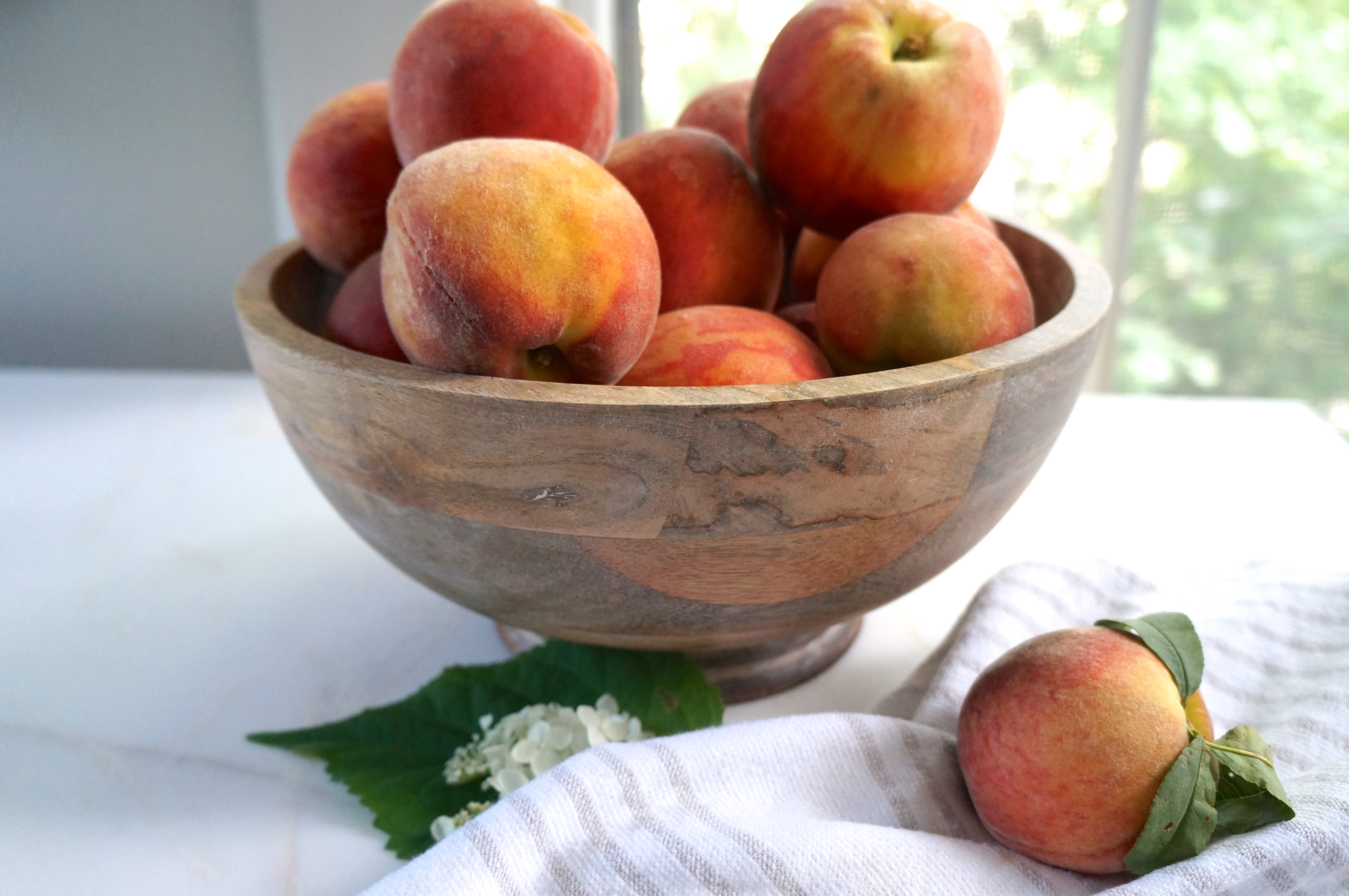 Mom's Pie Crust Recipe
2 1/2 C all purpose flour (I used King Arthurs)
1 tsp salt
1/2 C (1 stick) salted butter, chilled and cut into cubes
1/2 C vegetable shortening (I use Spectrum non-hydrogenated organic all vegetable shortening)
6-8 Tbsp ice cold water
Stir together the flour and salt in a large mixing bowl. Cut in the butter and shortening using a pastry blender or fork until the mixture resembles a coarse meal.
Sprinkle the water in 1 Tbsp at a time tossing lightly with a fork until the mixture starts to come together. I fold the dough in on itself until all the crumbs are incorporated and you have a ball of dough. Try to do this quickly and work the dough as sparingly as possible. Refrigerate the crust for 15-30 minutes just to chill it slightly.
The recipe makes enough for a top and bottom layer of pie crust however for this particular pie, I used 2/3 of it to roll out for the bottom layer and made dough roses and braided strips of dough out of the rest. For the peach pie, my mom suggested a light egg wash on the bottom crust before you pour the peaches in to help prevent the bottom crust from getting soggy.
You will be left with plenty of dough afterwards which we roll flat, sprinkle with cinnamon and sugar and bake until golden brown. We call these "pie pieces" and they are delicious.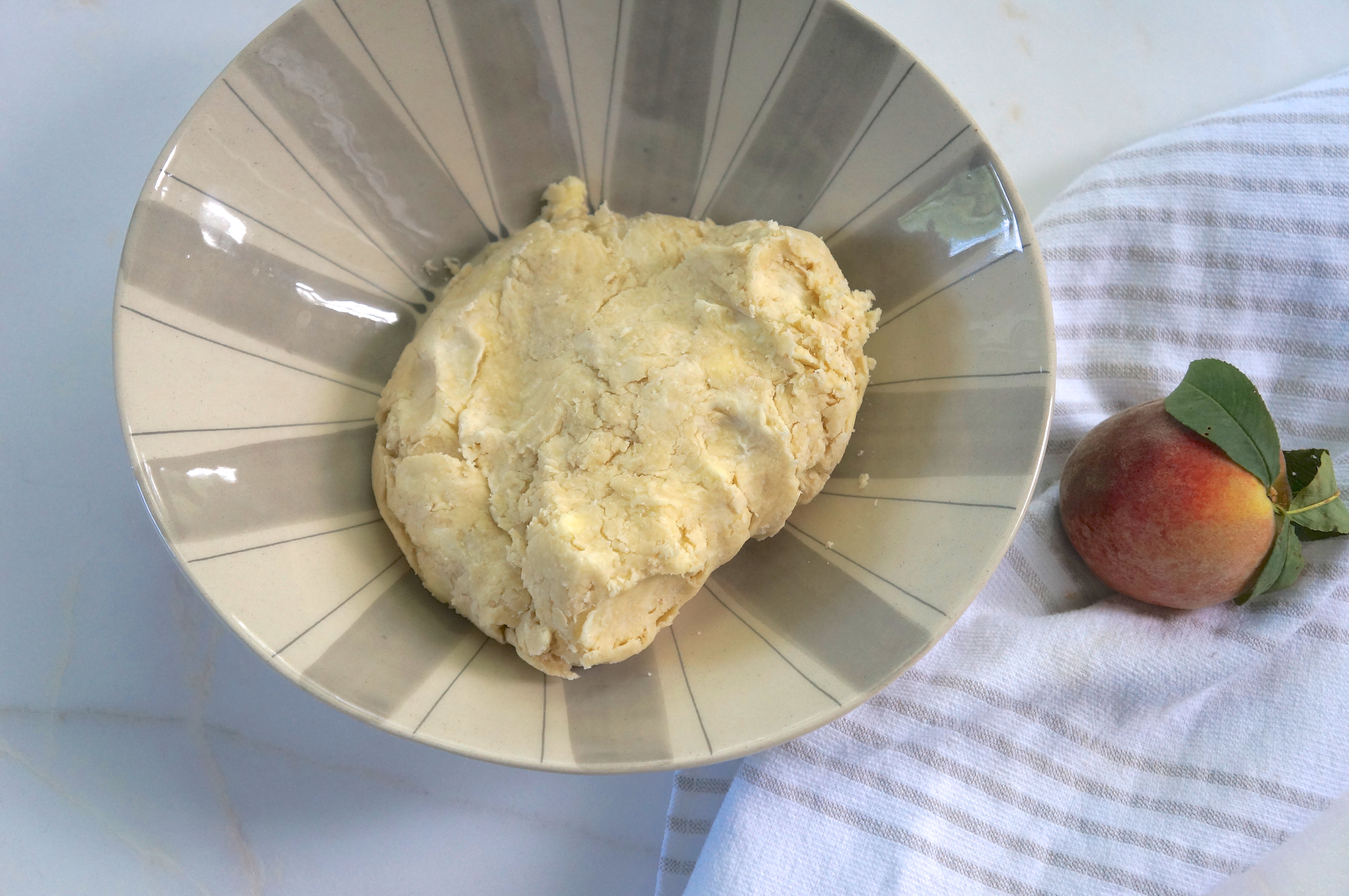 Peach Pie Filling
8 good size peaches, more if they are small, peeled and cut into wedges
1/4 C brown sugar
1/2 C granulated sugar (more if the peaches are tart or you like sweet pies)
1/4 tsp cinnamon
1/8 tsp nutmeg
1/2 C cornstarch
pinch of salt
Peel and cut the 8 peaches into medium size wedges. I don't like too large of wedges because I'm particular about my pie crust to peach ratio. This is completely up to your discretion. Cut those peaches however you'd like.
Mix all of the ingredients together in a small bowl and pour over the peaches. Some recipes call for a squeeze of lemon but I found my pie was runny enough since peaches are juicy and they weren't overly sweet. Add it if you'd like.
Pour that sugar-coated peach deliciousness into your pie plate with pre-rolled out , egg-washed dough bottom. Crimp edges and add more pie dough to the top. I cut strips of dough varying widths and laid them across the top. I then got all naptime fancy because I didn't have anything better to do 😉 (that's not true, there was a heaping mound of laundry…I may have just gotten distracted, whoops). I use to make roses out of modeling clay as a kid and I decided to try it out of pie dough. It worked well and looks so pretty. To make the roses I used my smallest biscuit cutter to make circles or you can free hand it with a knife. You just need a few, flatten them so they're a bit oblong and start by rolling the middle one. You then overlap the circles around that center rolled piece to make the flower, spreading the "petals" of dough out and giving it a look of realism. Voila.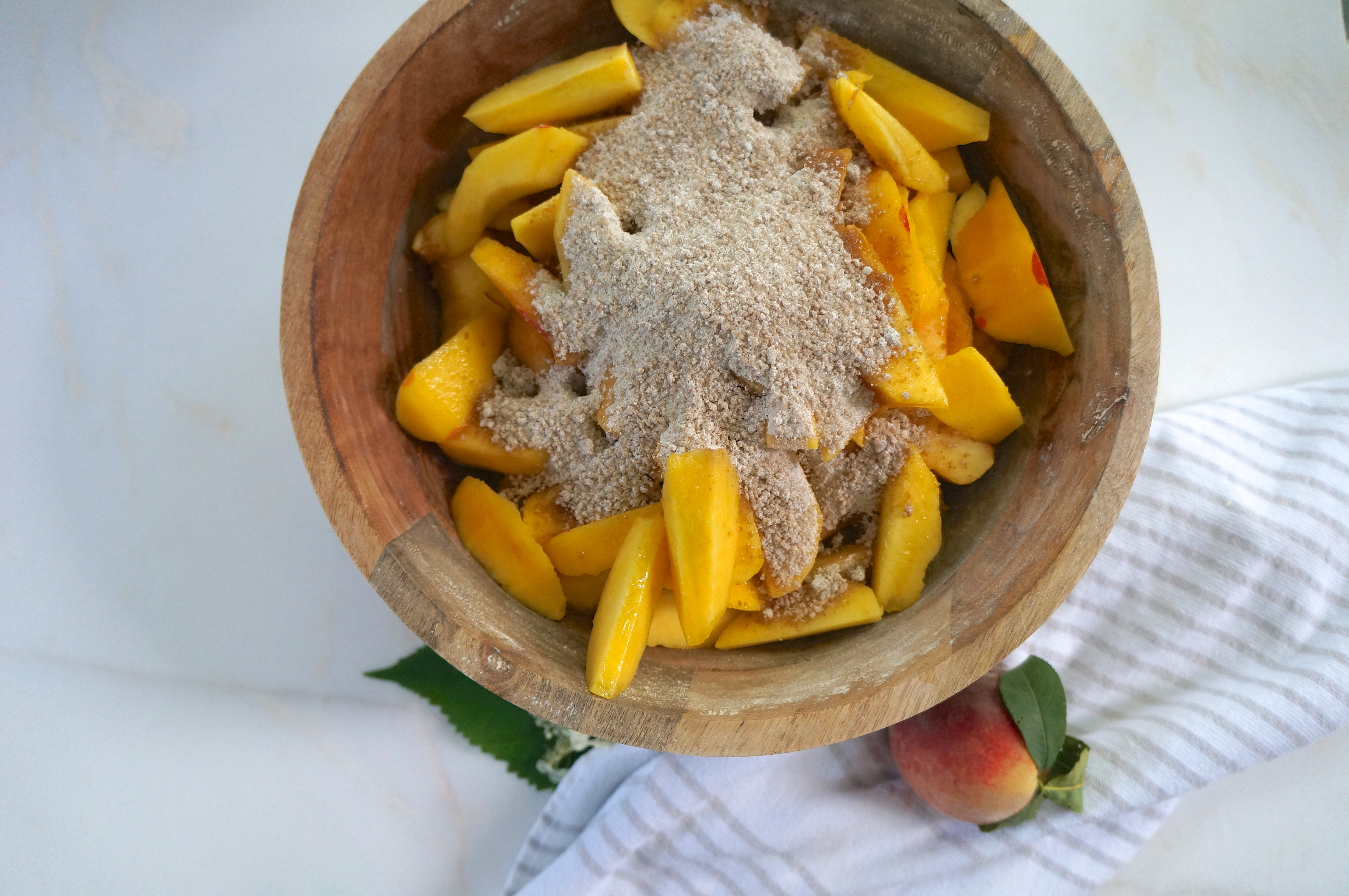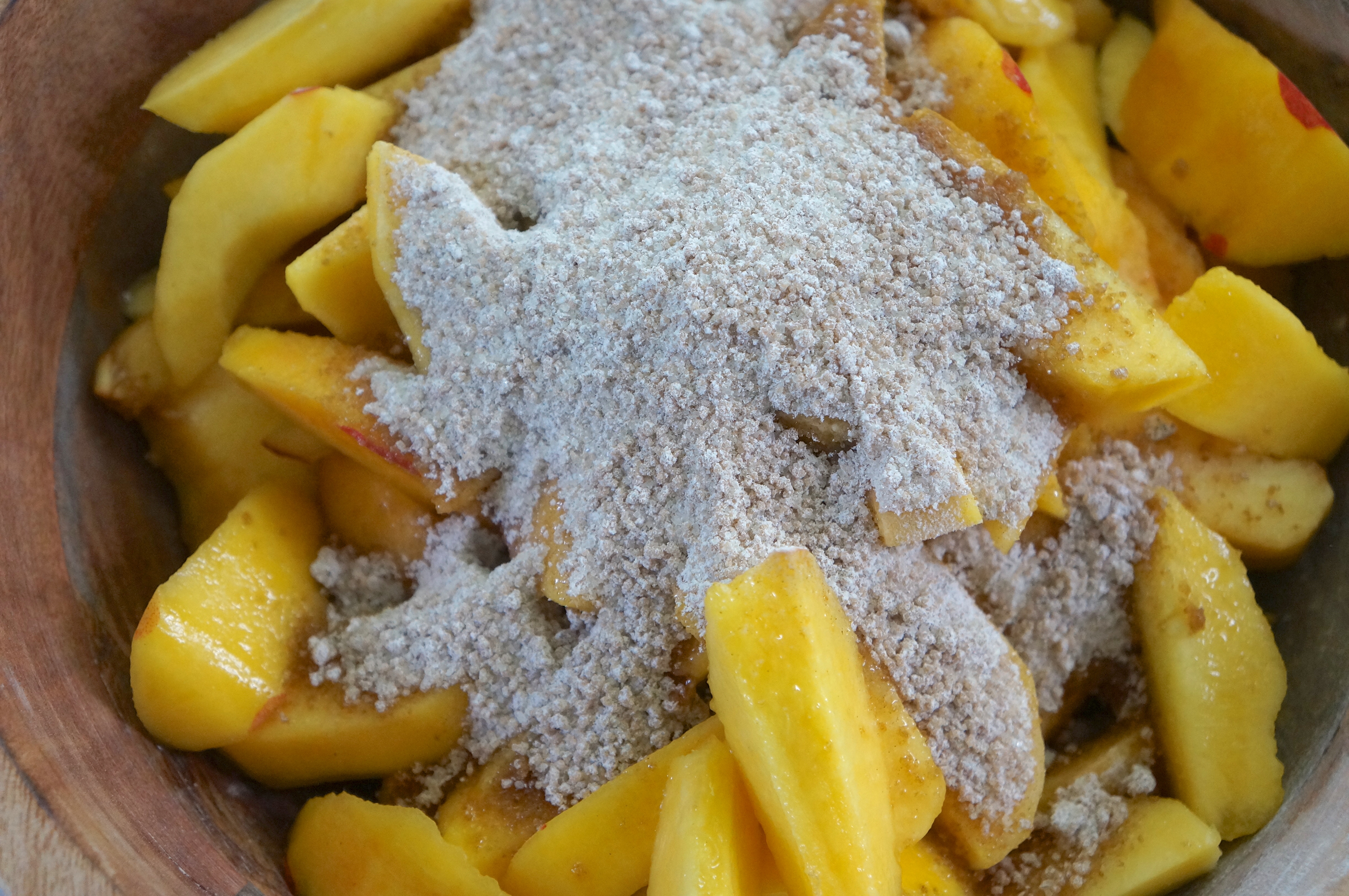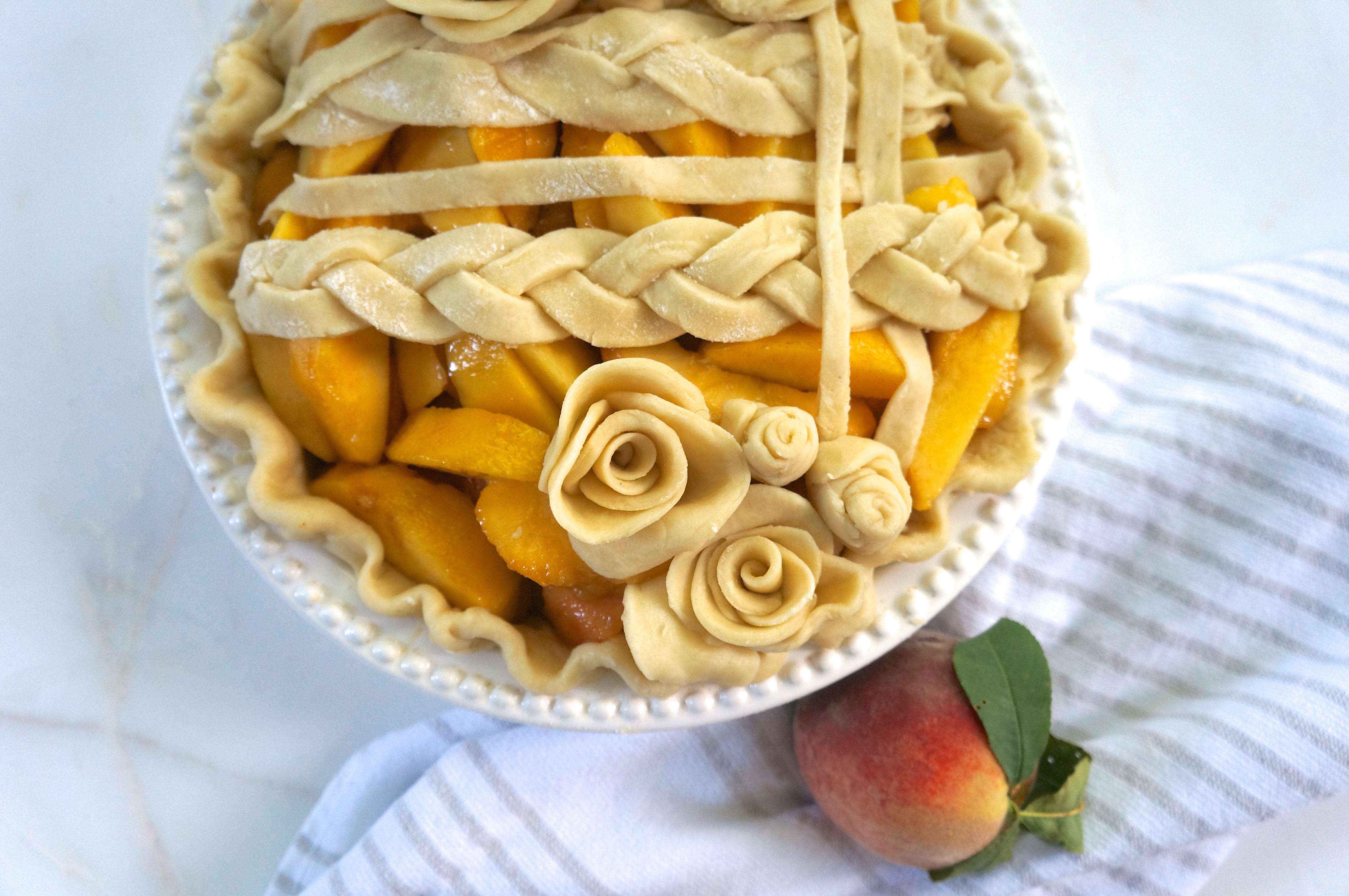 Sprinkle crust with granulated sugar and bake this lovely pie at 425 degrees F for 15 minutes and then reduce to 375 degrees F for 40-45 ish minutes. Watch those beautiful roses and top crust carefully for too much browning. I covered my pie with tin foil after about 25 minutes because I wanted the crust to not brown too deeply. When you peek in and see that pie filling bubbling and the crust golden brown, that's a good indication it's done. And as sad as I am to say this, let this bad boy cool completely, otherwise it runs all over the place. But it's delicious and worth the wait. Remember friends, you've got those pie pieces to tide you over.