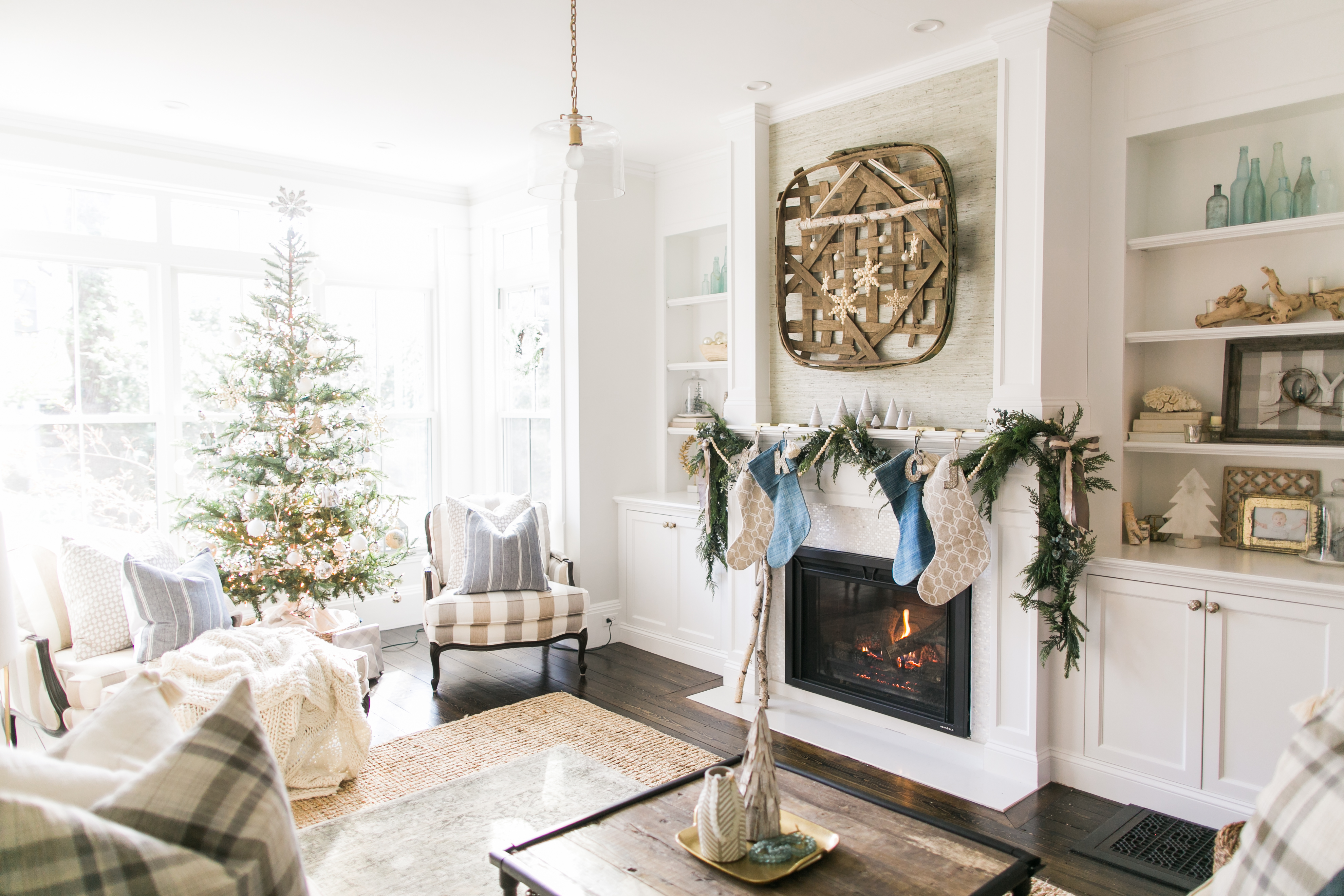 Holiday home tours are so much fun and I'm honored to be joining the lovely ladies of this Christmas Blog Hop. You can see the full lineup of lovely bloggers at the bottom of this post. If you're joining me from sweet Joan at 2 Ladies & A Chair, welcome! I'm humbled you're here and hope you leave inspired and excited to get your Christmas lovely on. Everything Joan touches is inspiring and lovely. I hope you enjoyed her holiday touches as much as I did.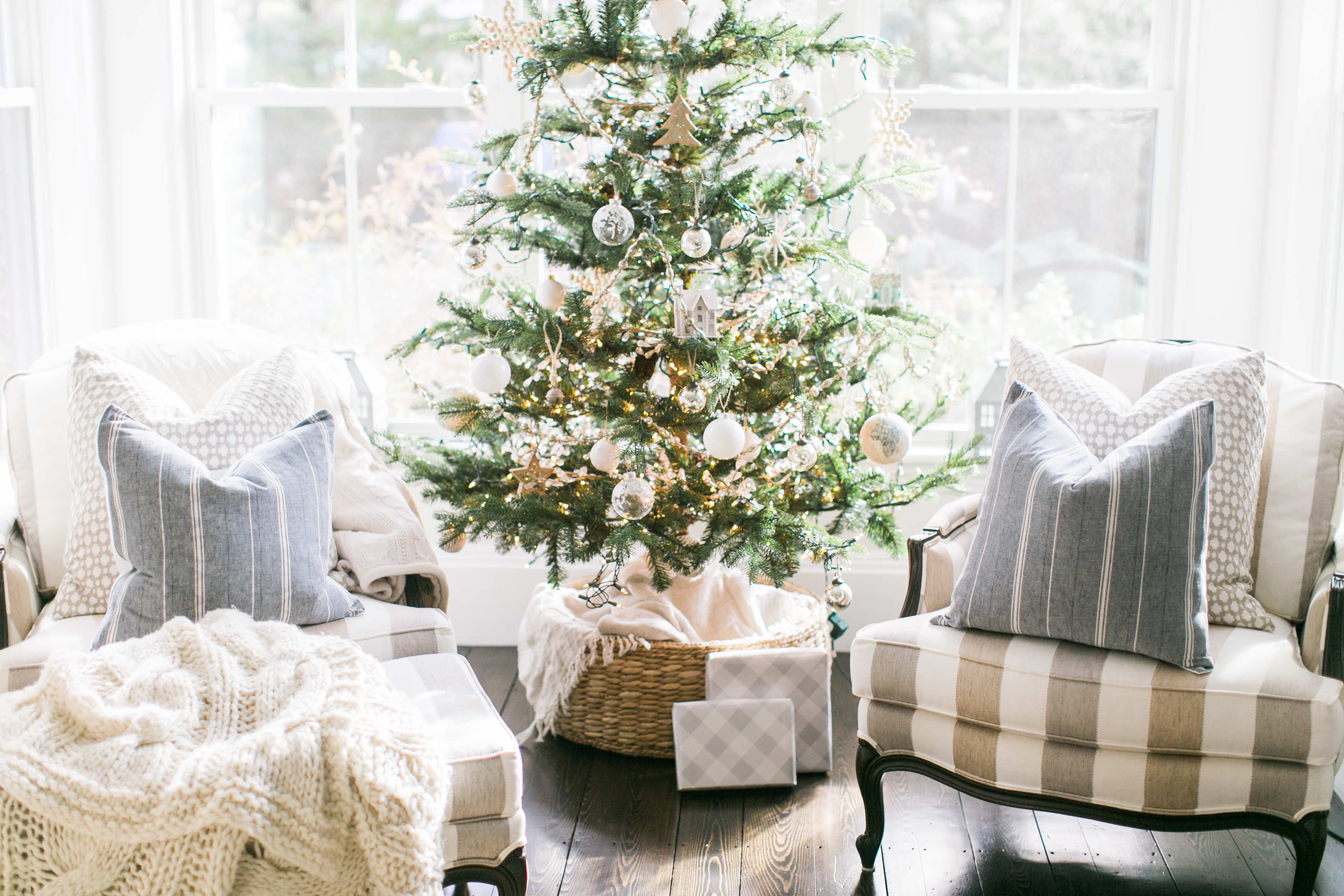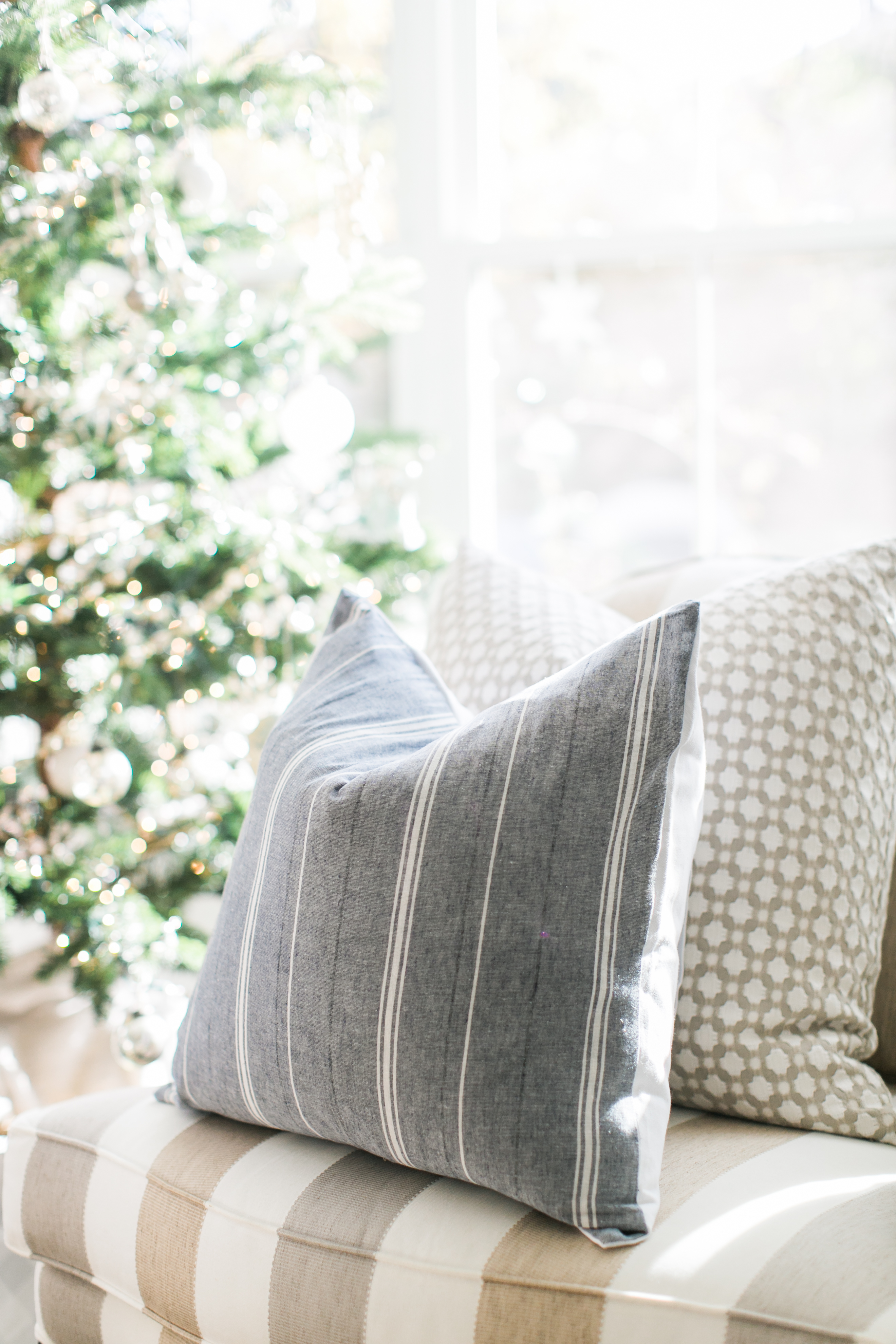 Oh sweet Christmastime. Don't you just love the magic in the air. The sparkle and enchantment? The tangible lovely that speaks deeply to the reasons we celebrate this season. I love Christmas. I love the lovely of it all. And these years are getting more and more fun as the littles grow up knowing and anticipating the magic of Christmas.
I couldn't wait to add some Christmas this year, probably because we've jumped full fledge into our remodel and I was looking for a really good way to hide the Port-a-Potty from view. I knew the construction would add some hiccups but nothing a few garlands or a well-placed tree couldn't fix.  I'm mean who can't decorate around a washer and dryer in their entry or a crazy makeshift kitchen in their dining room?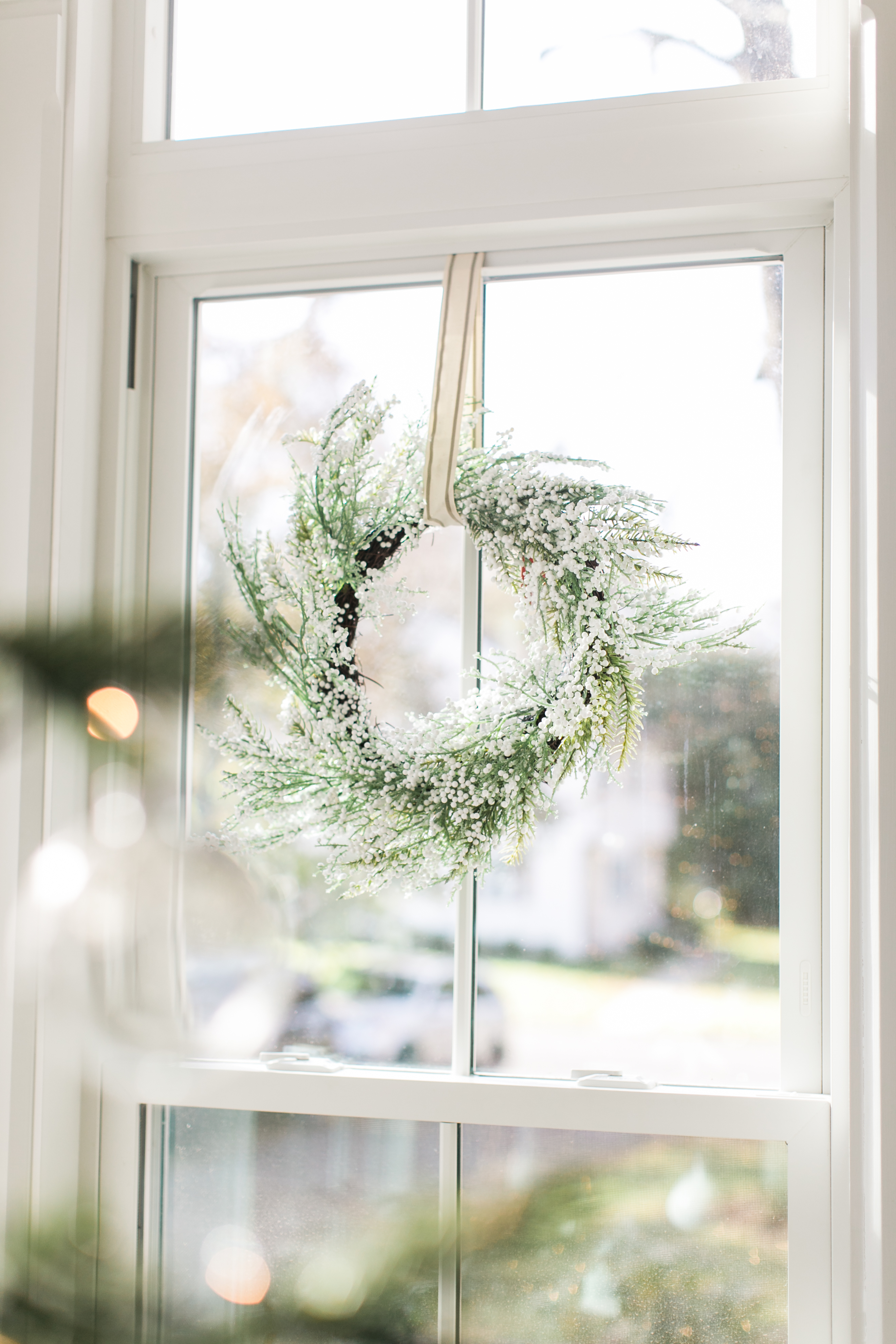 Last year's Christmas Home Tour was featured on Style Me Pretty Living, which was such an honor. I loved the cranberries and teal but this year, I couldn't stray far from my heart. I love greys and neutrals. I love the blues and coastal seaglass tones. And I couldn't wait to figure out how to work it all together into Christmas splendor.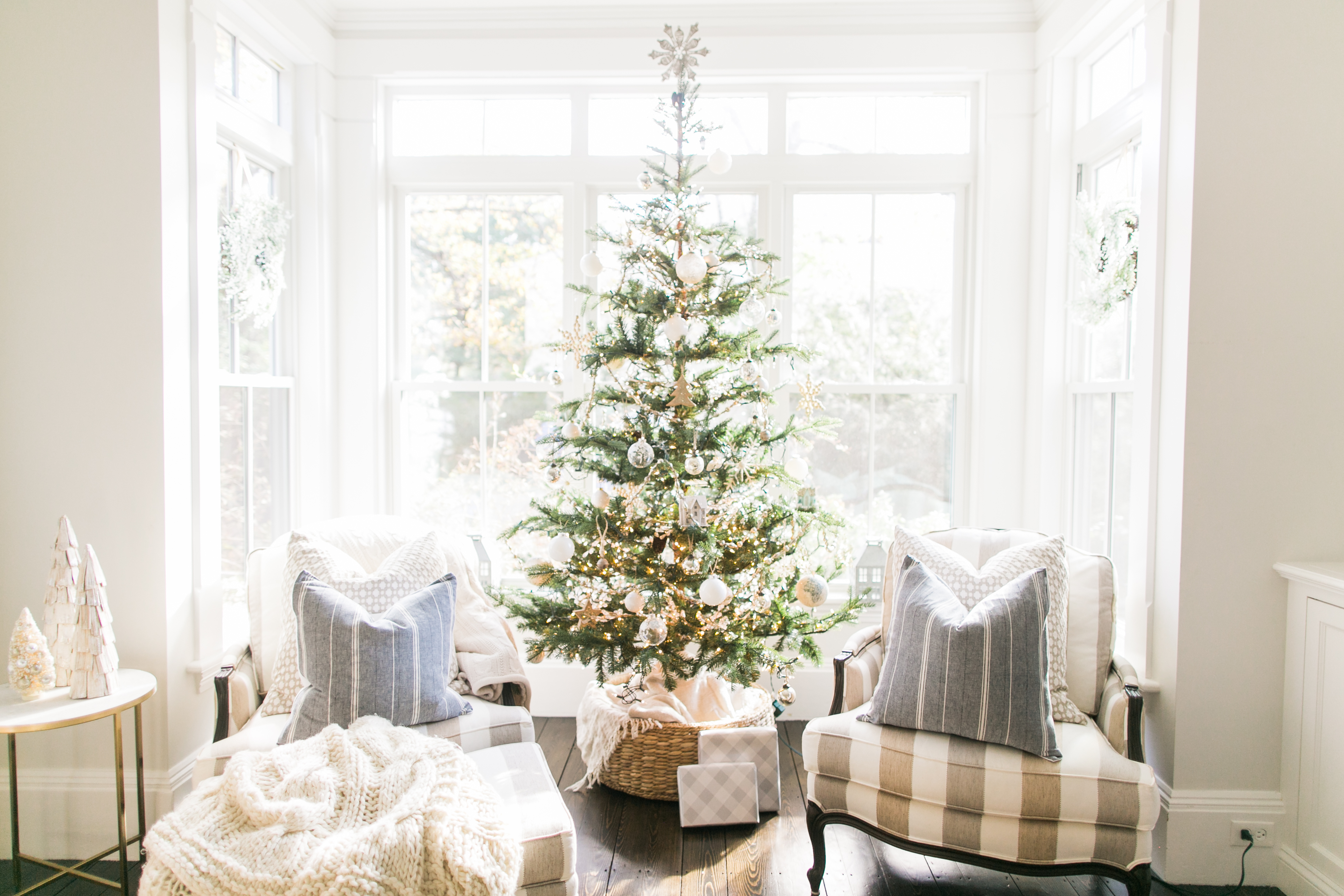 Now I have to admit, I called around to tree farm after tree farm because I couldn't think of having a "pretend" or artificial tree. I never grew up with one and I had no plans of buying, dare I say it, a "fake" Christmas tree. However, as no one would sell me a real tree before Thanksgiving, try as I might, and I wasn't sure how much trouble I would get in if we drove to the forest and cut one down, I did it. I broke down and bought one. And if my heart had been in it and we weren't on such a tight budget, I would have actually bought a taller and more elaborately "real looking" one. But I think this is a lovely tree for the low $200 range. Not bad for a last minute rush tree. I sneakily set it on a box to give it height. We have such high ceilings, we'd really benefit from a 9+ footer but this little guy is a 7.5 ft, just sitting on a box.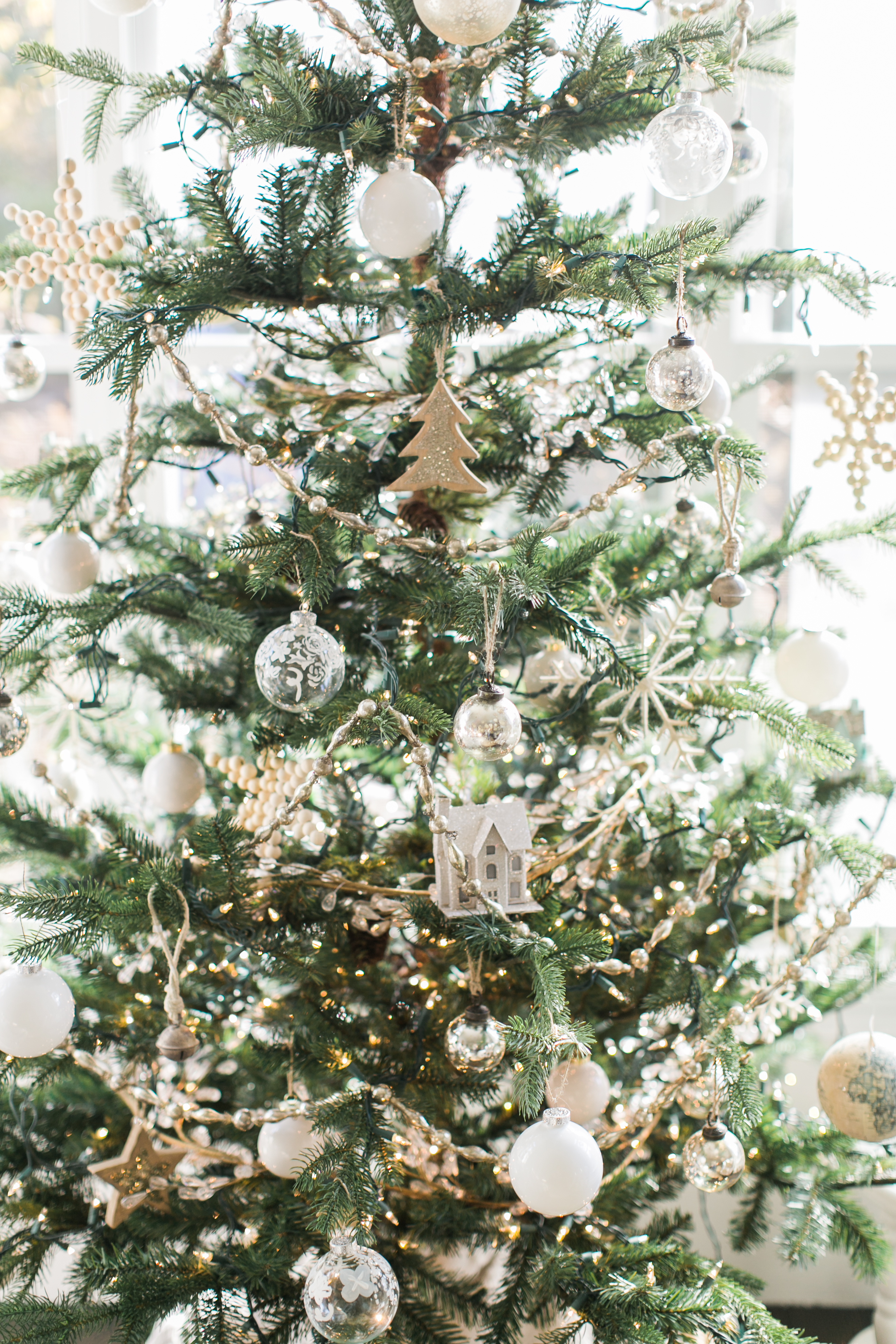 It's graced with white ceramic balls, mercury glass ornaments, wood star DIYs, a crystal and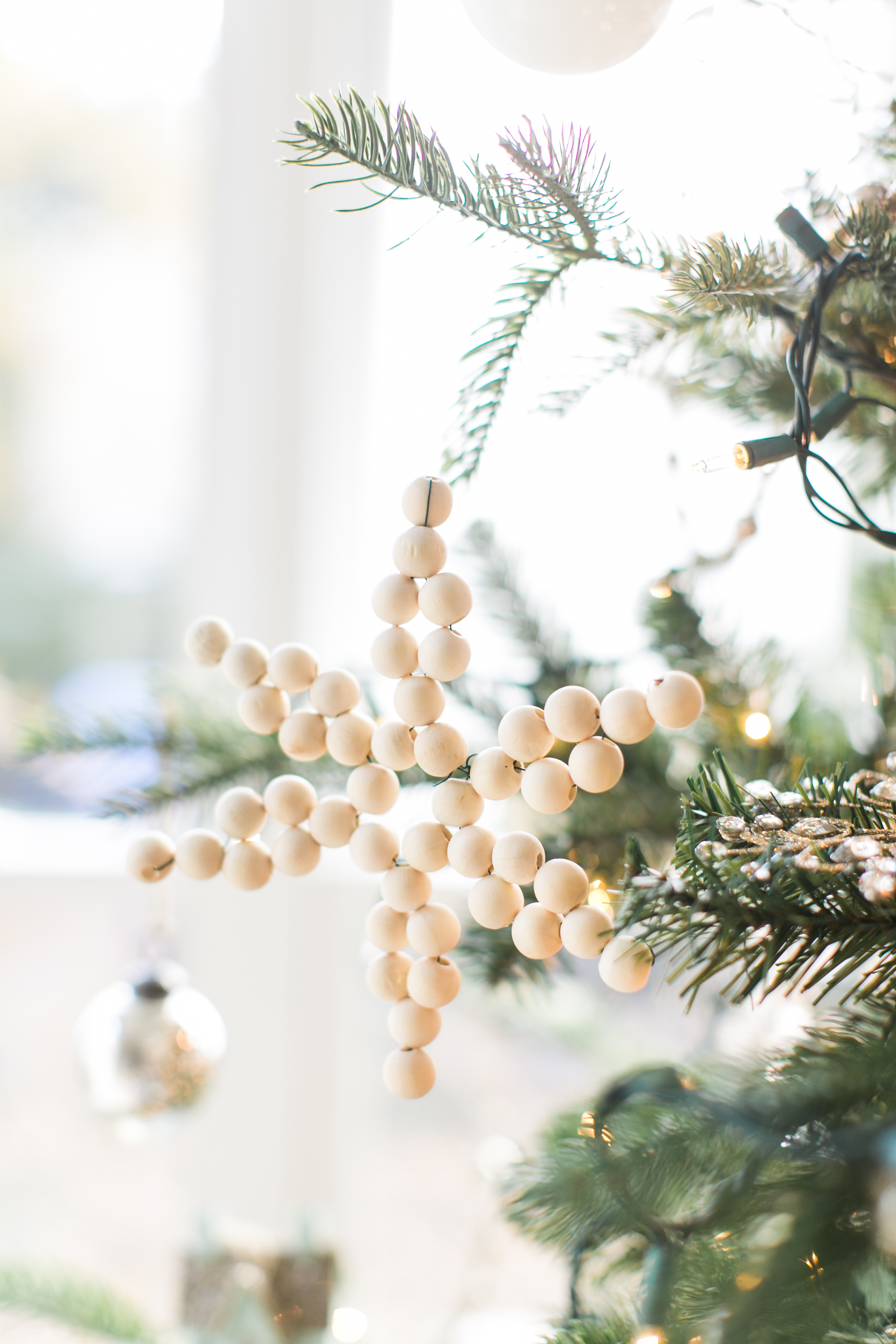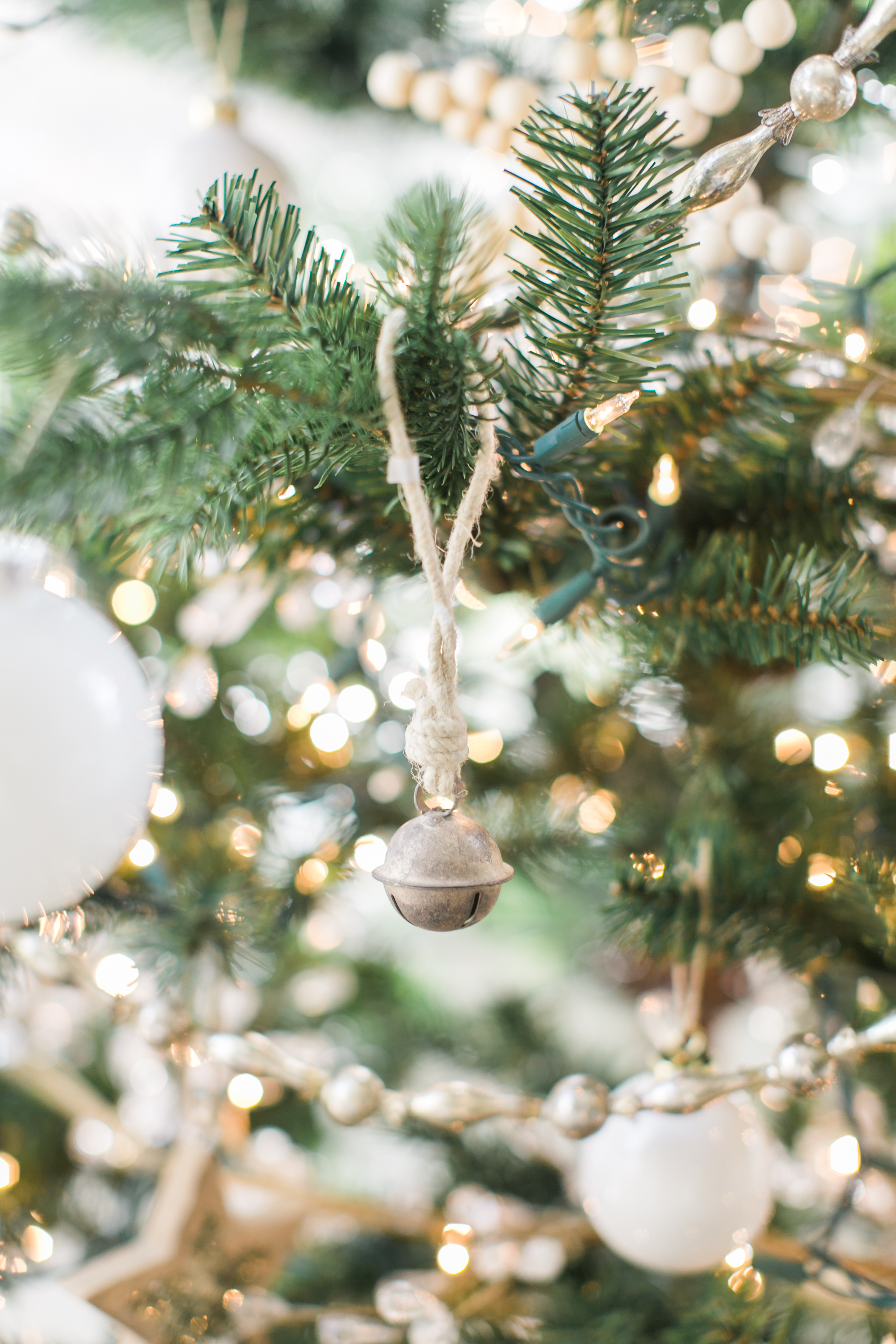 You all know my love affair with pom poms and tassels. So when PotteryBarn delivered their drool-worthy Christmas magazine to my doorstep and I saw those chambray stockings with tassels, I knew I had to have them. They are unfortunately sold out now. But you can still snag the tree skirt. And I'd check ebay. I had the neutral stockings already but they go so well together it's almost like they were made to dance the Christmas tango together.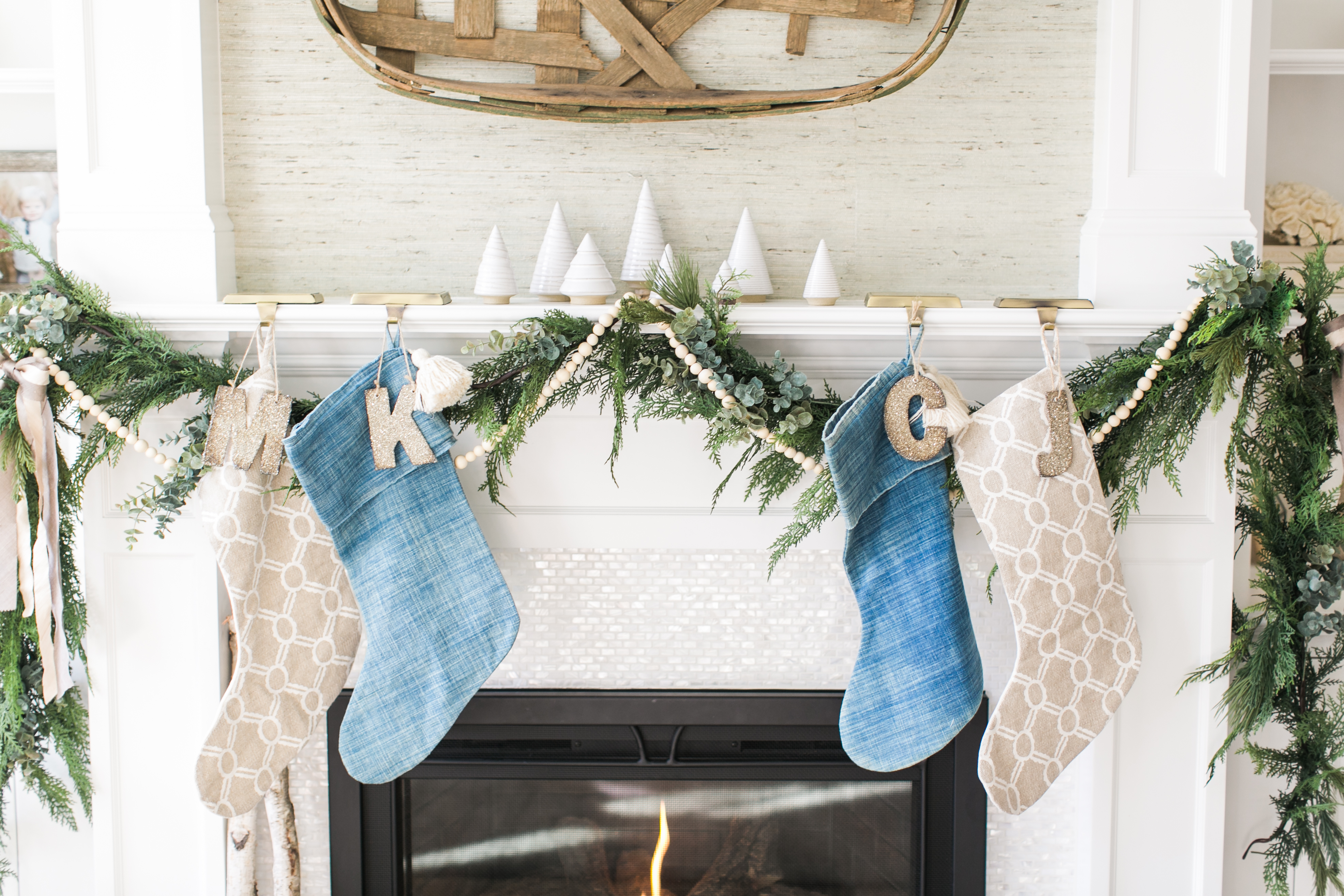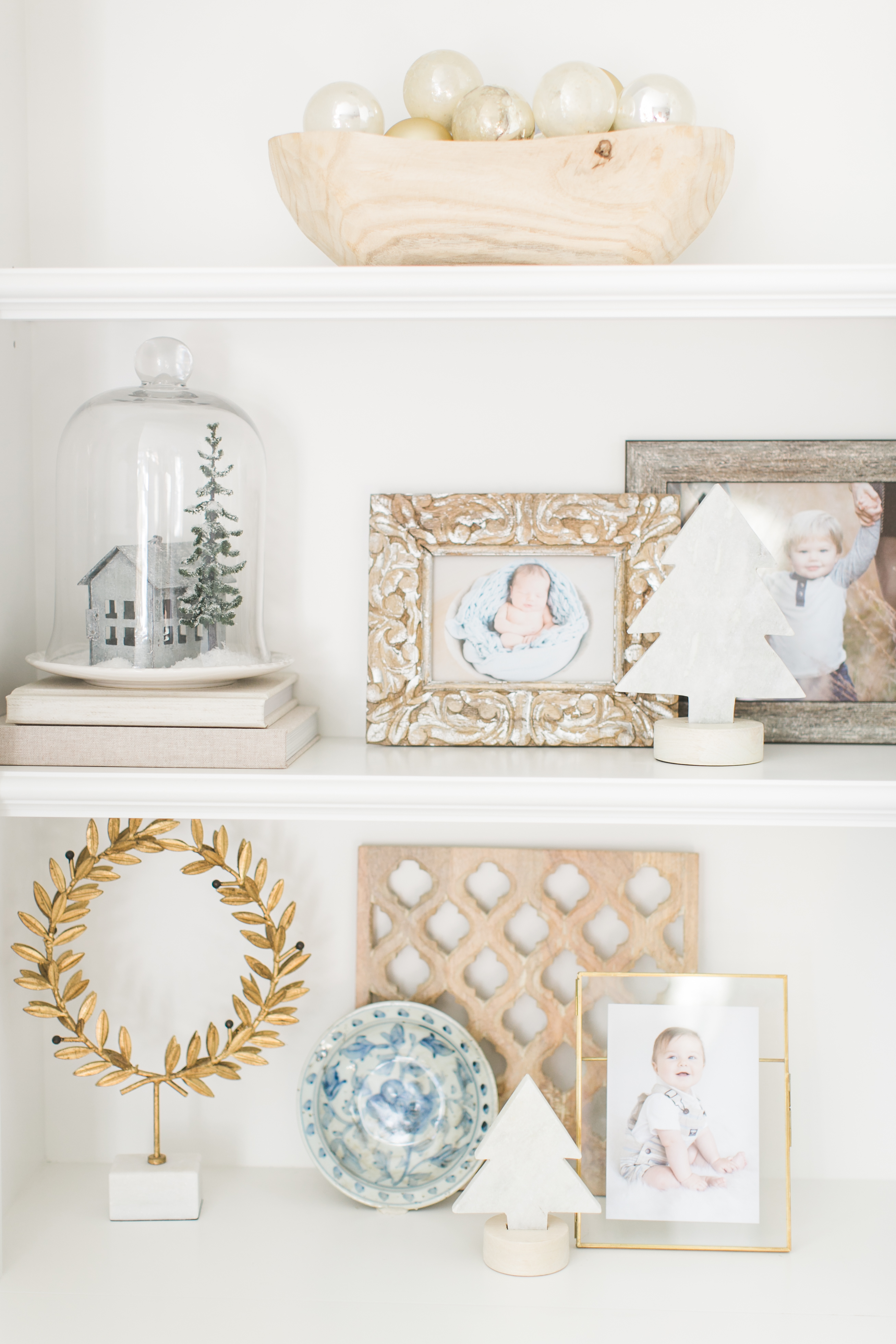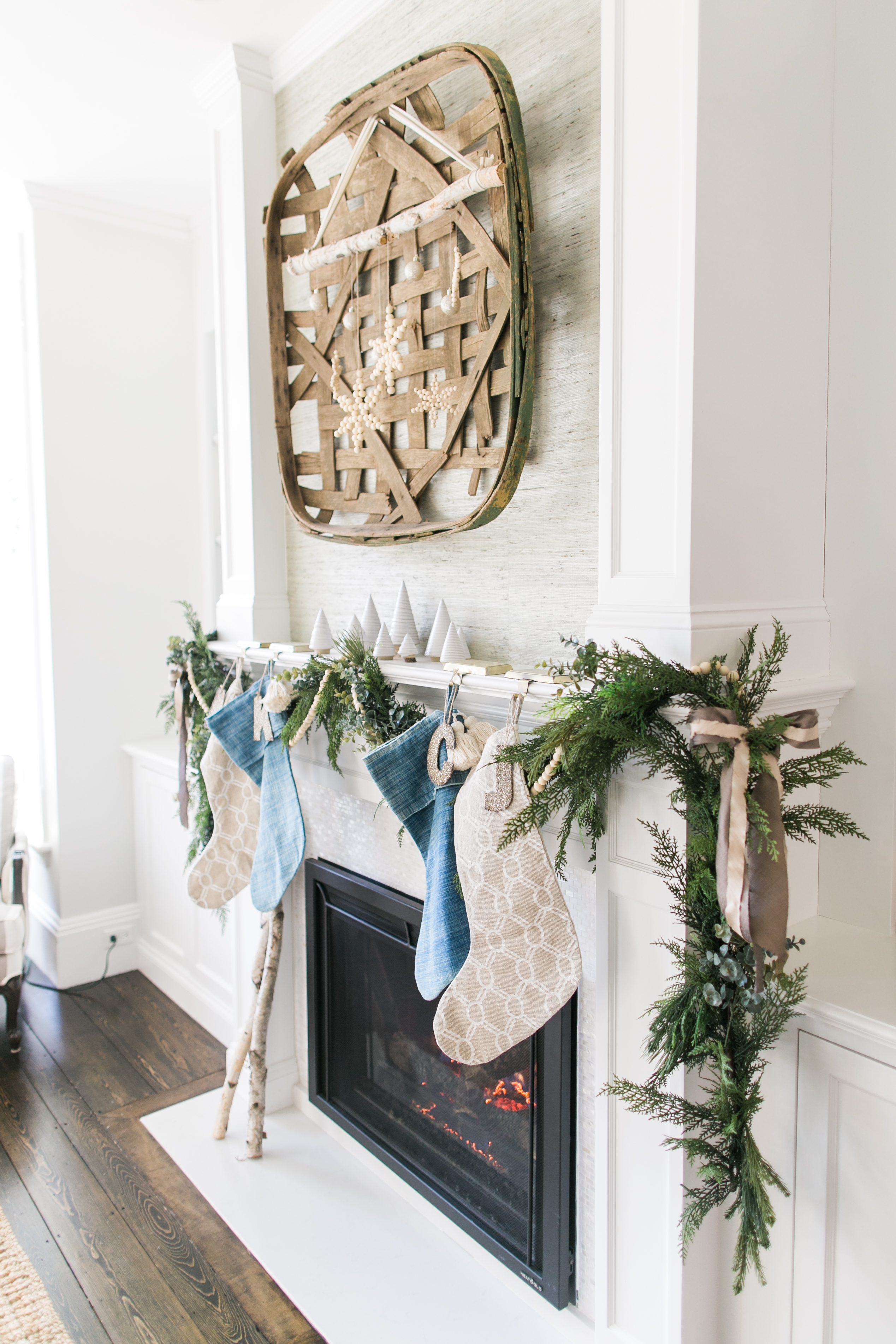 I couldn't find a natural wood garland to save my life. Not for a price that I was comfortable paying, so I DIYed that puppy. Two sizes of wood beads bought at a wholesale price and some twine and you've got some Christmas garland magic. I fell hard for that natural tone, so much so, that I decided to rope my hubby into making some beaded snowflakes for the tobacco basket. I told him it was just like building legos, (haha!). It's a nod to my Norwegian heritage, I love the simple, Scandinavian feel.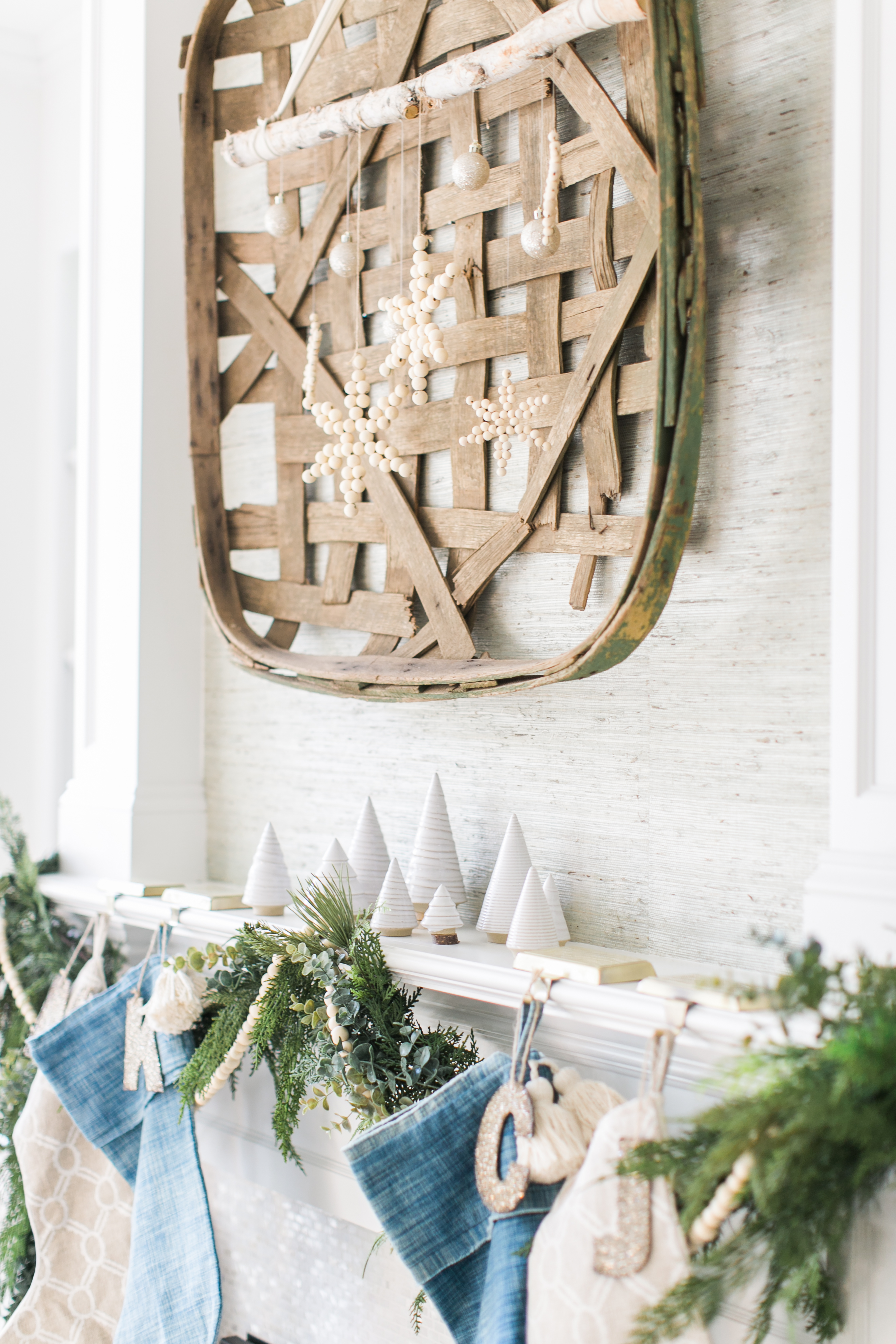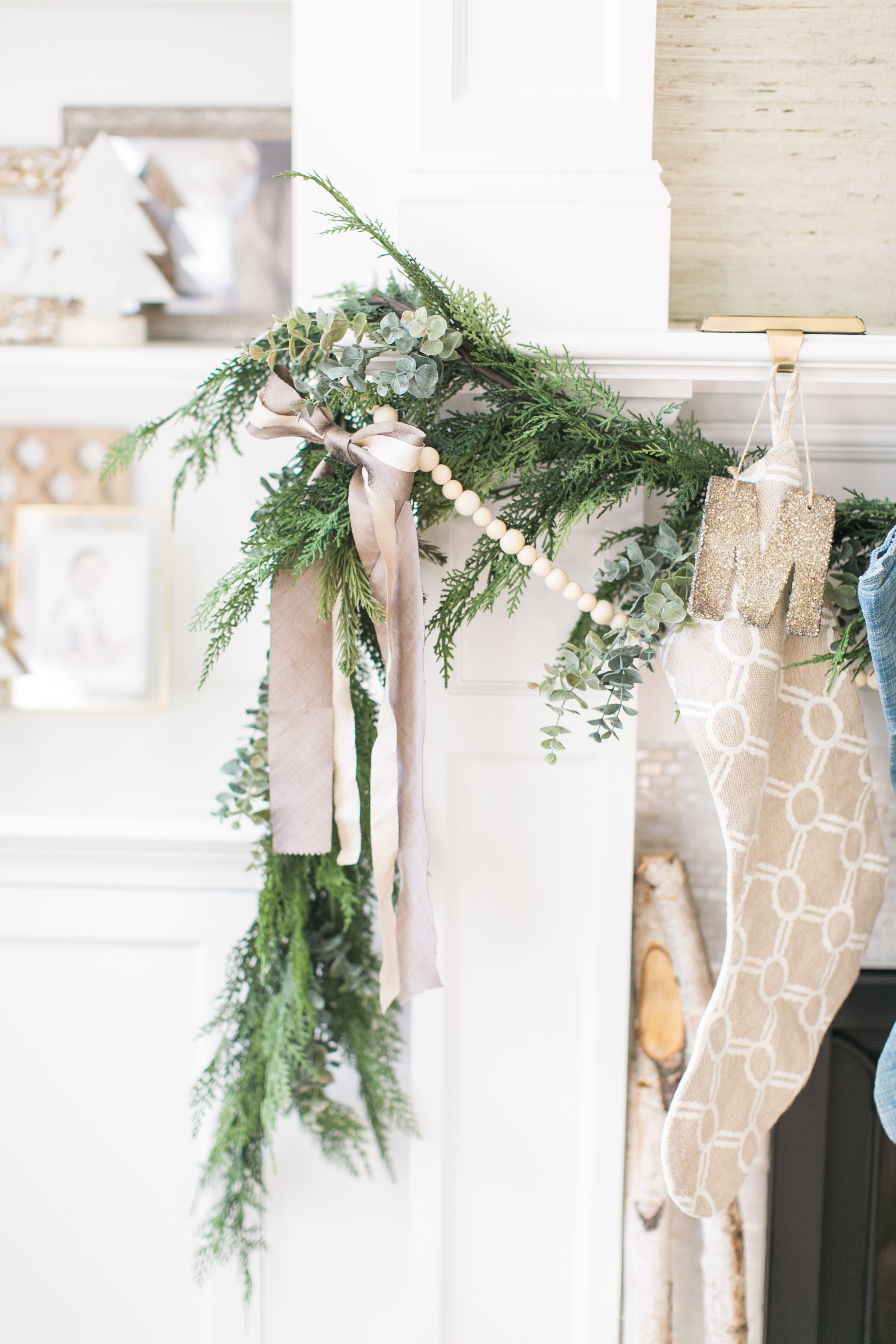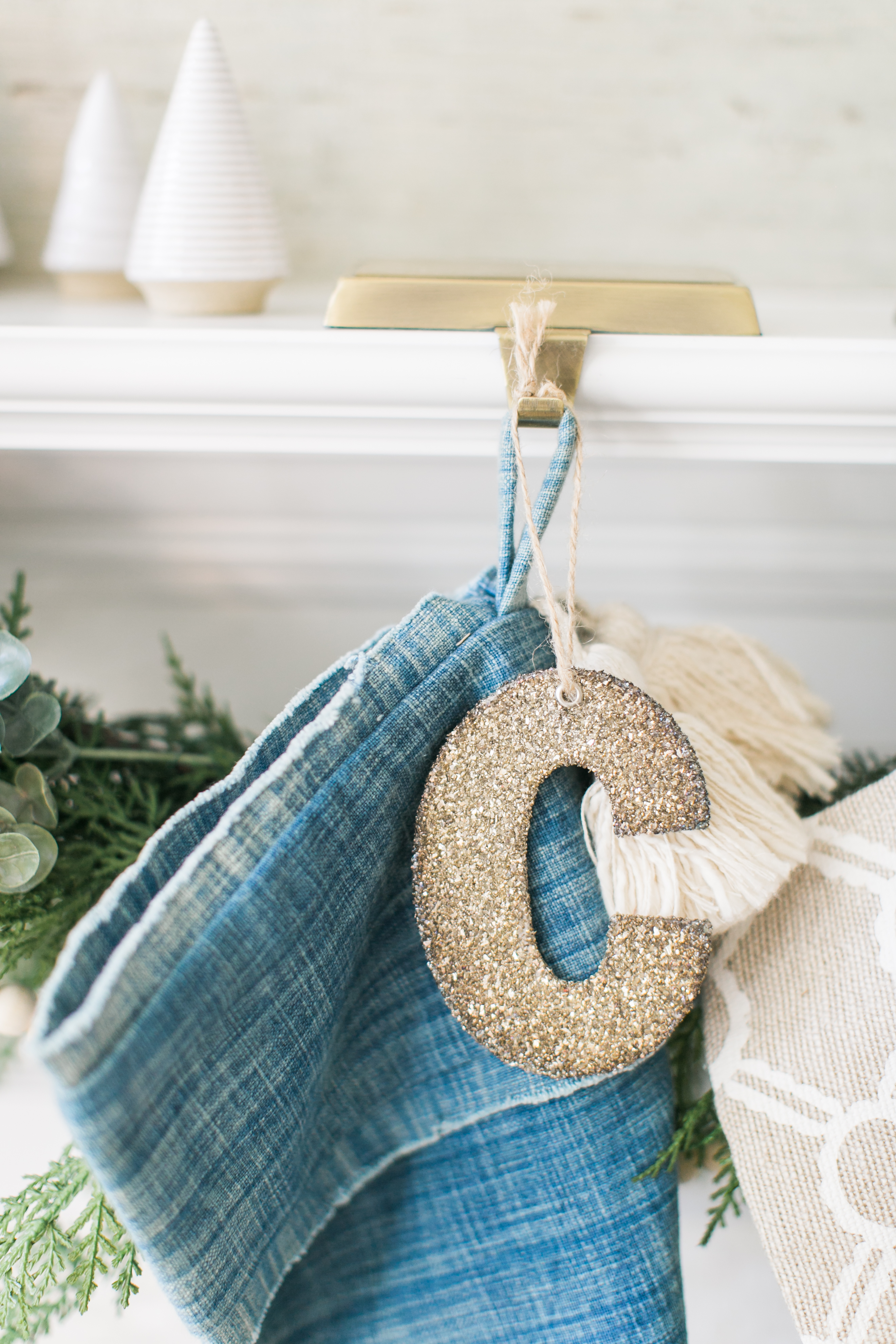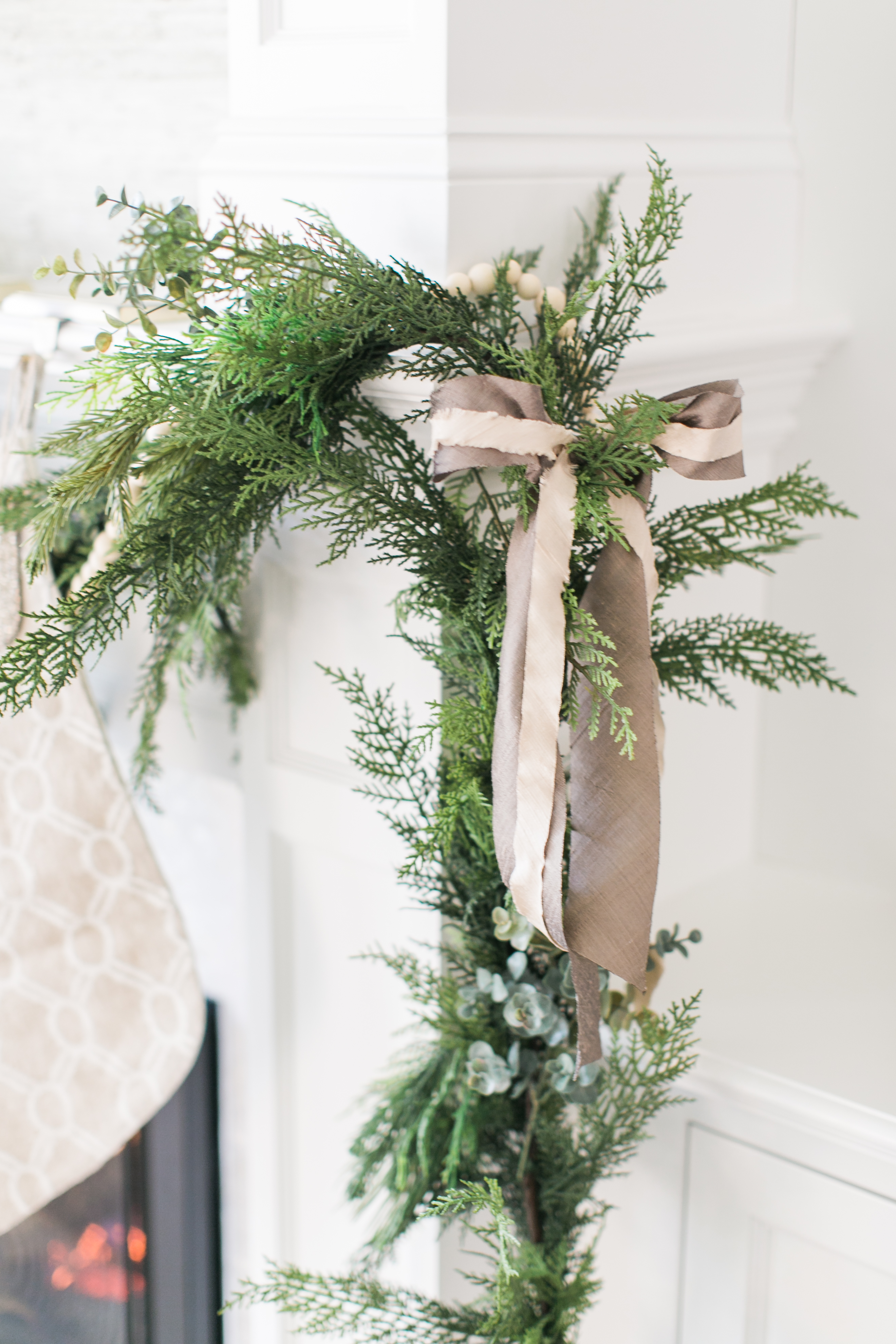 Can you believe the cedar garland is faux!?! We invested in these amazing quality cedar garlands last year and I'm still so thrilled with the beauty of it. No more pine needle messes in our entry and on our mantel. I sourced some good choices for you but ours is the Faux Cedar Garland from Terrain. I added in some other realistic looking faux eucalyptus and pine from Michaels craft stores. The glitter letters are from Potterybarn from a few years ago, they get a lovely patina over time which makes my heart so happy.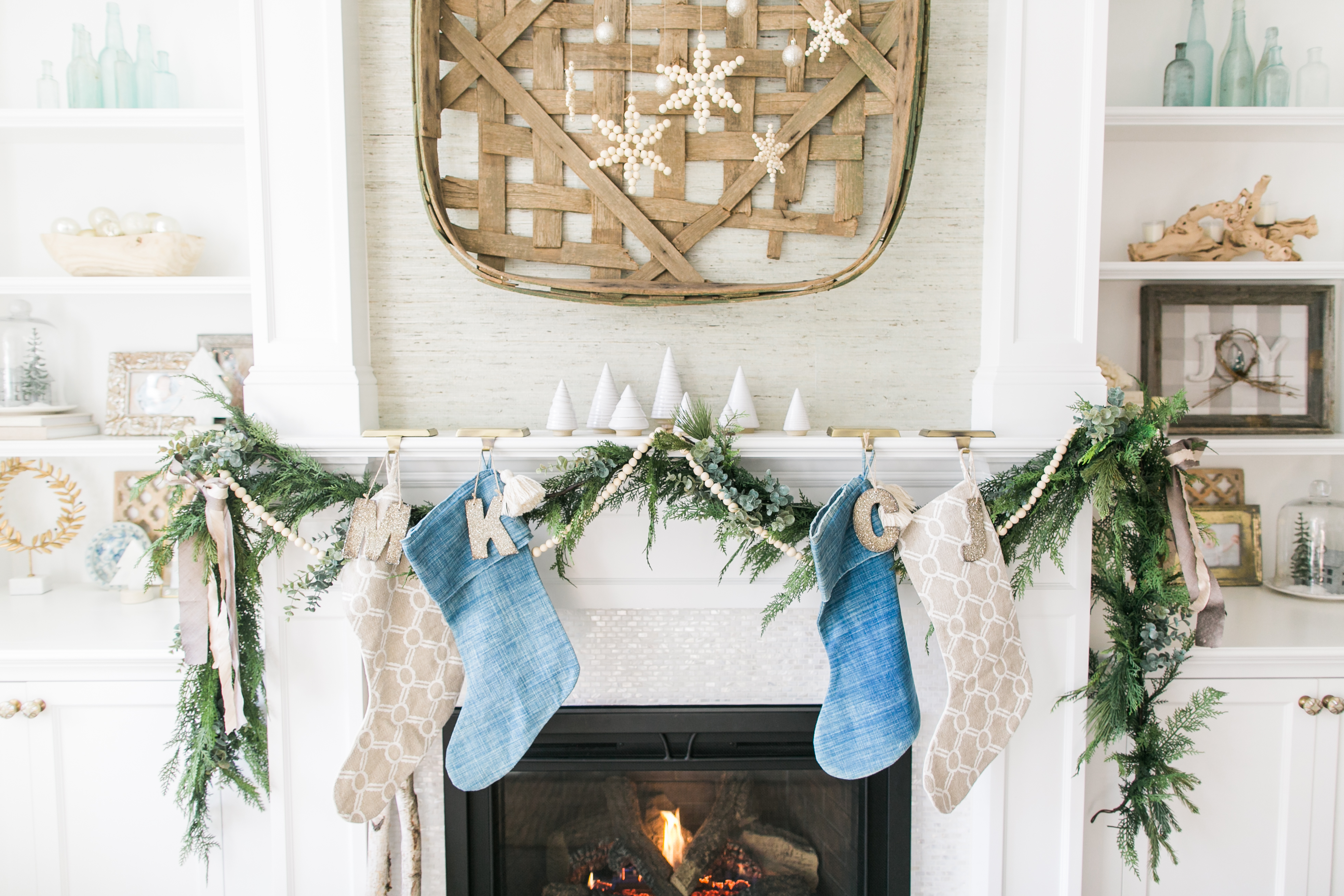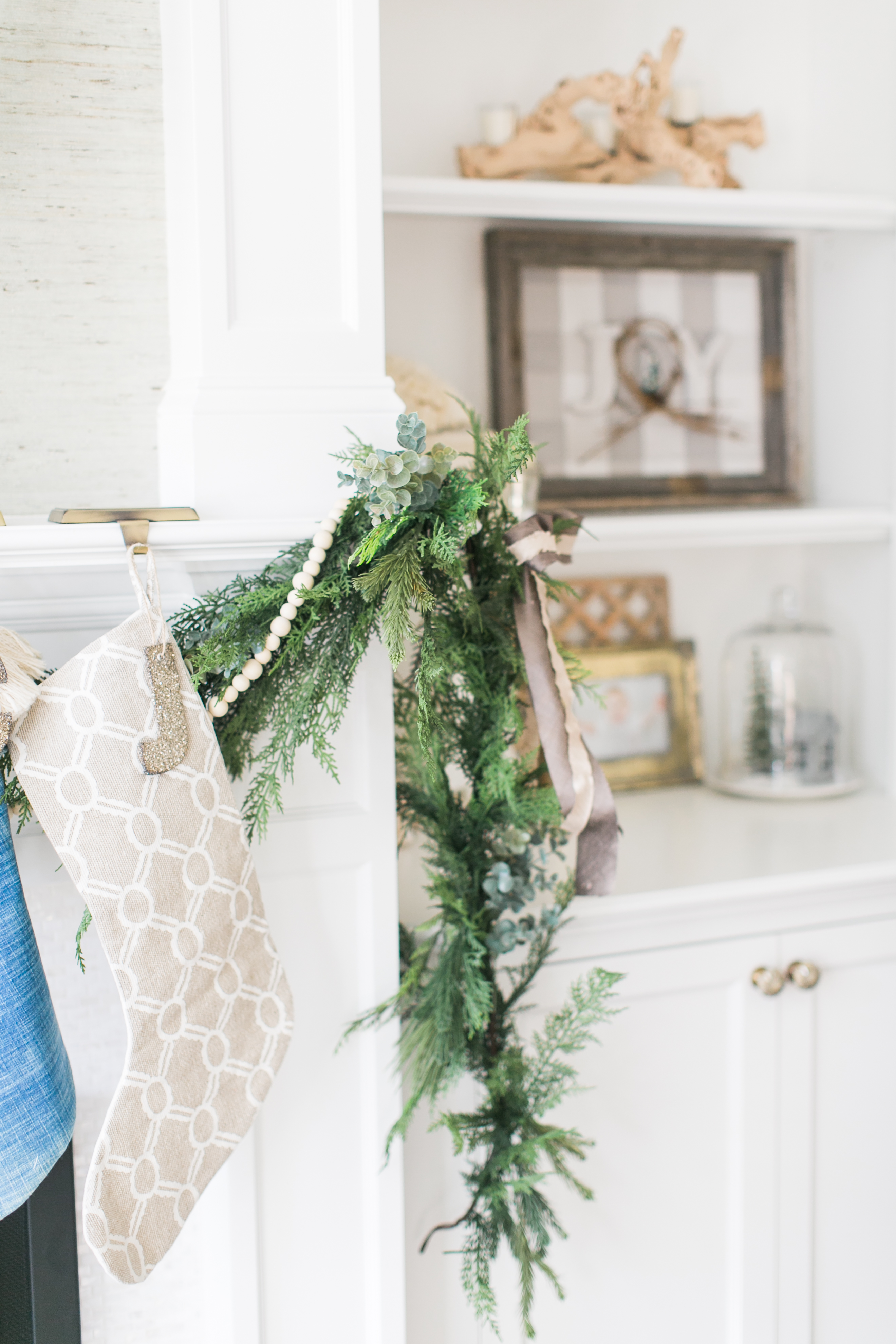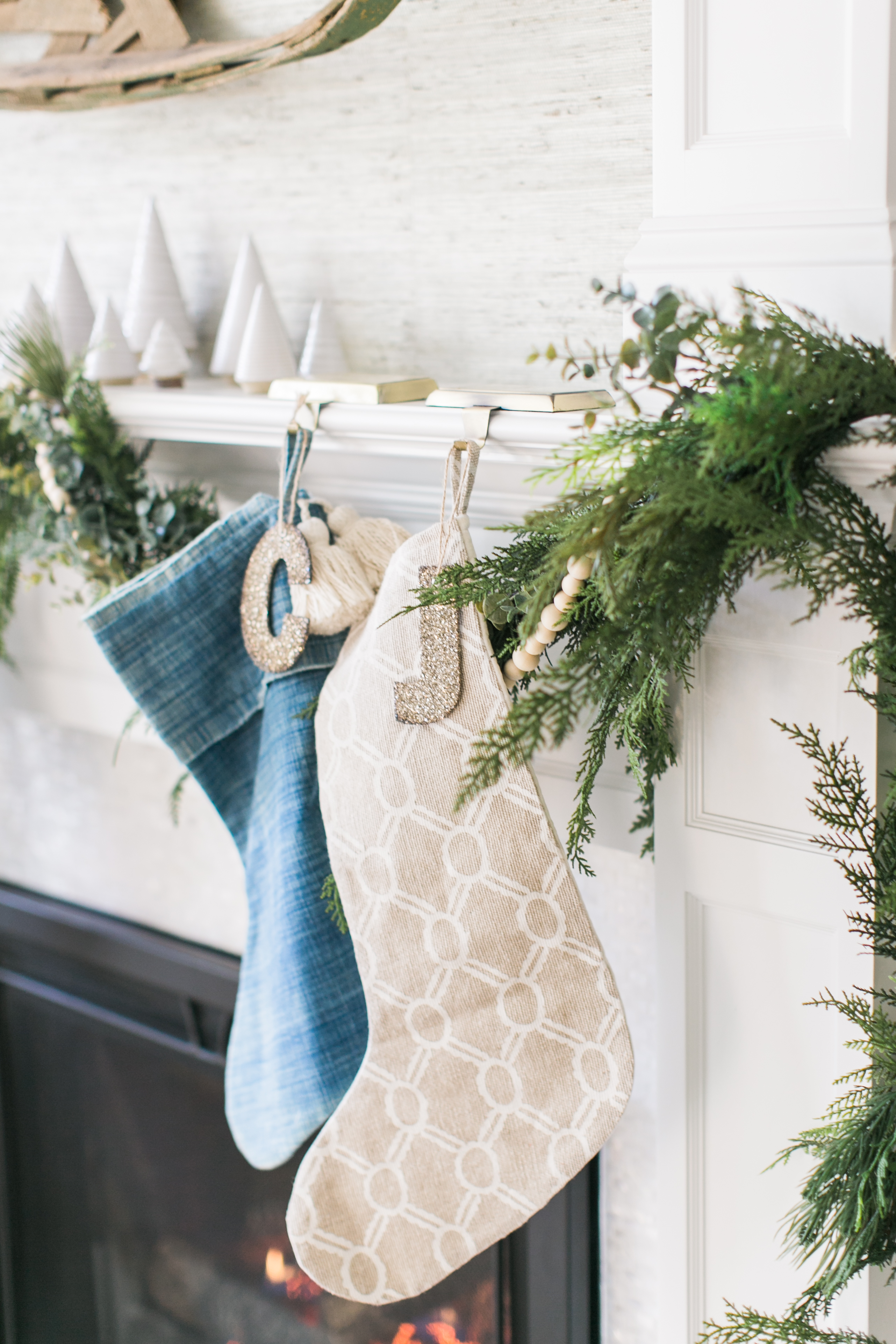 Do you love those handmade ceramic trees on the mantel from Farmhouse Pottery as much as I do? I feel instantly in love when we were up visiting their studio in Vermont. Join me this Wednesday, November 29th to enter a giveaway with Farmhouse Pottery to win your very own little trio of trees. Mark your calendar, you're not going to want to miss out! They are handmade, heirloom-quality treasures.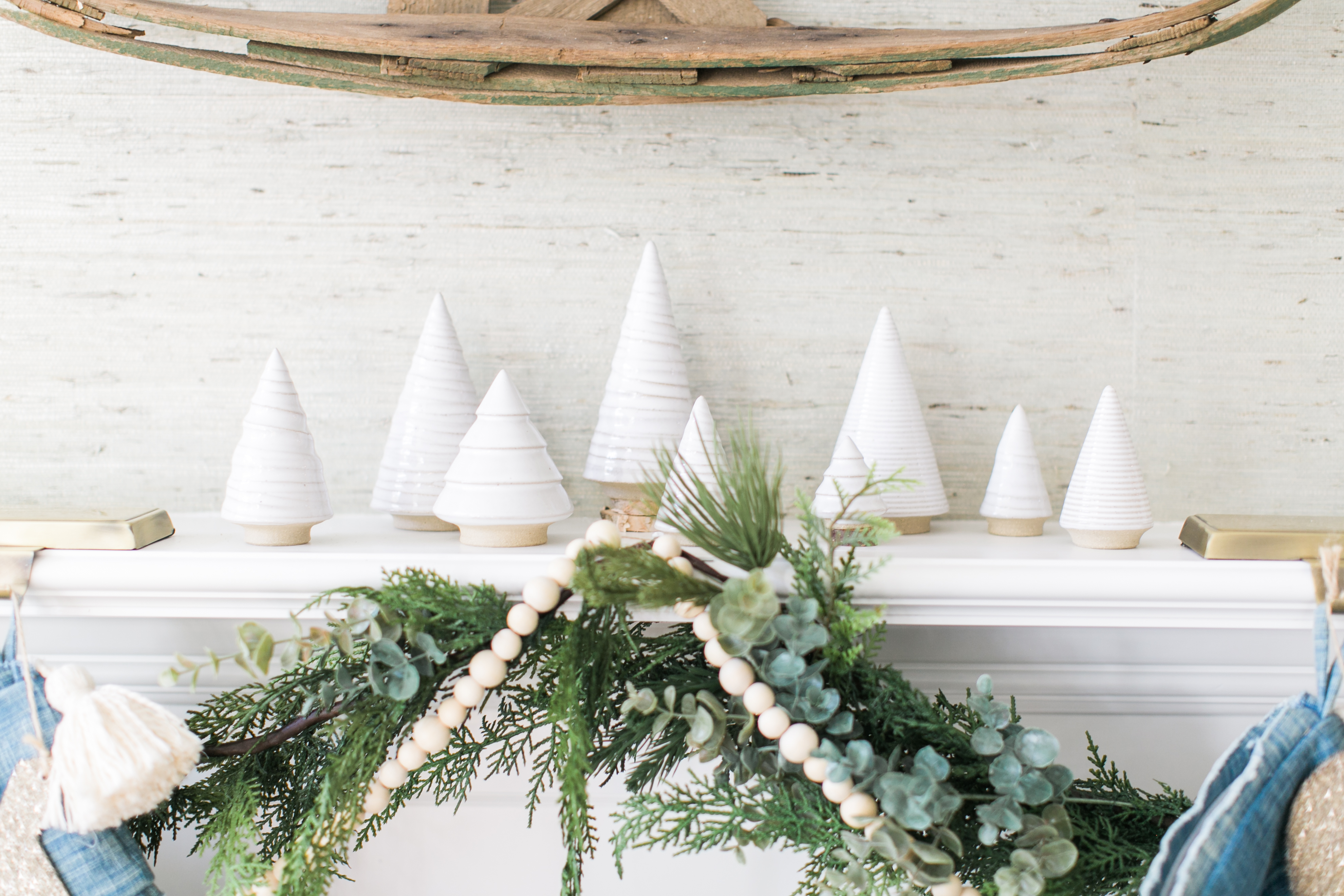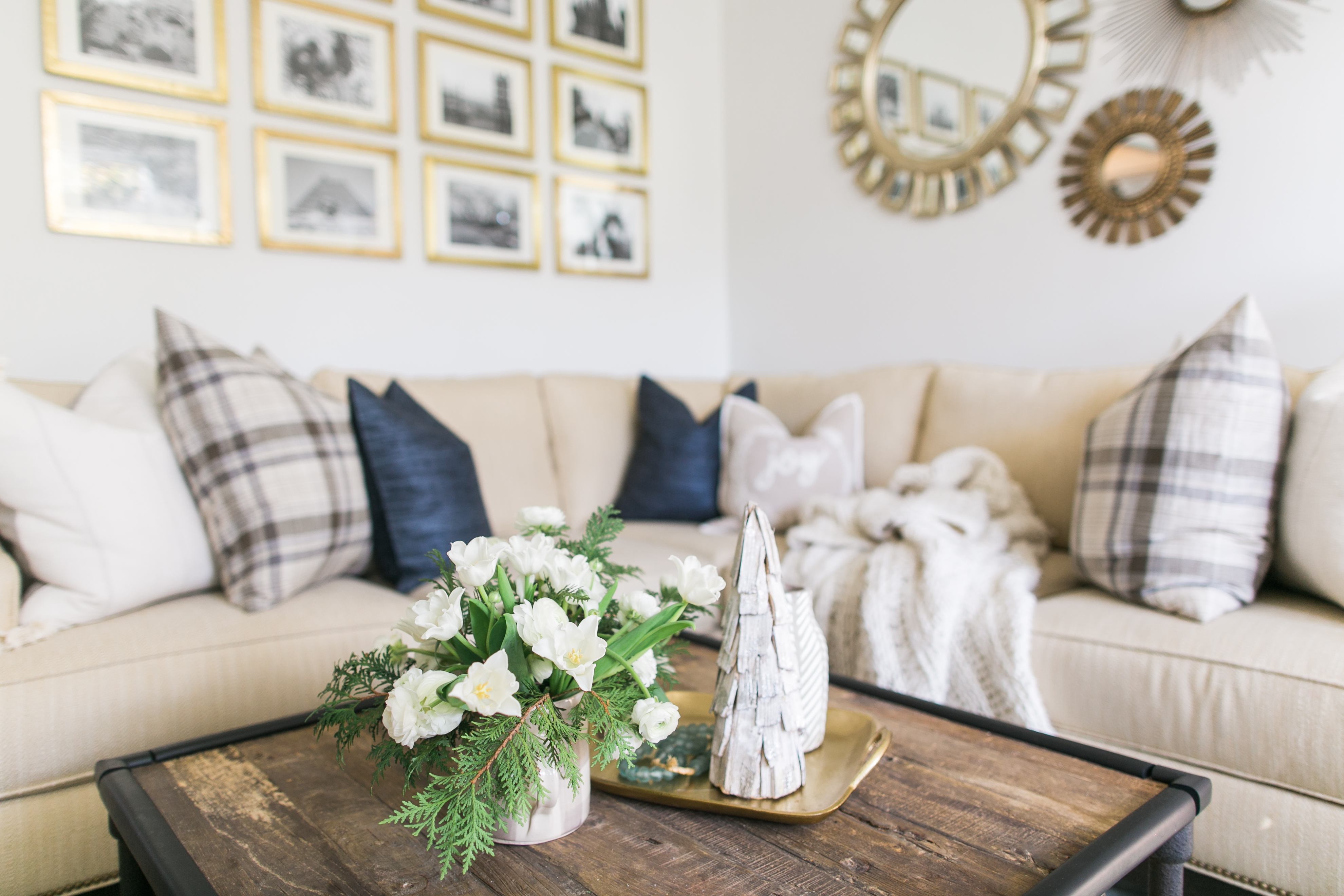 My Christmas wishes for you this holiday season are that you find a calm simplicity that points you to lovely thoughts and hopeful hearts. May you feel peace as you love on those dear to you. May you not be so driven to purchase or somehow meet a standard of perfection that sometimes these home tours can make you feel but instead embrace the crumbs and chaos and know that lovely exists there too. This is all suppose to be inspiring and not depleting so dear one, know that what you are and what you have is enough.
Lovely exists in the handmade ornaments made by little hands that don't necessarily "go" with the decor of the times. In the hand me down tree skirt and weird snowman decor that my husband insists on putting out every year. The lovely exists in those loud and quiet moments of the heart. In the busy and distracted days, may you know no striving that isn't shaping your heart in a profound way towards what truly matters and may you feel deeply the lovely reason we all adore Christmas. And may it point you all heavenward.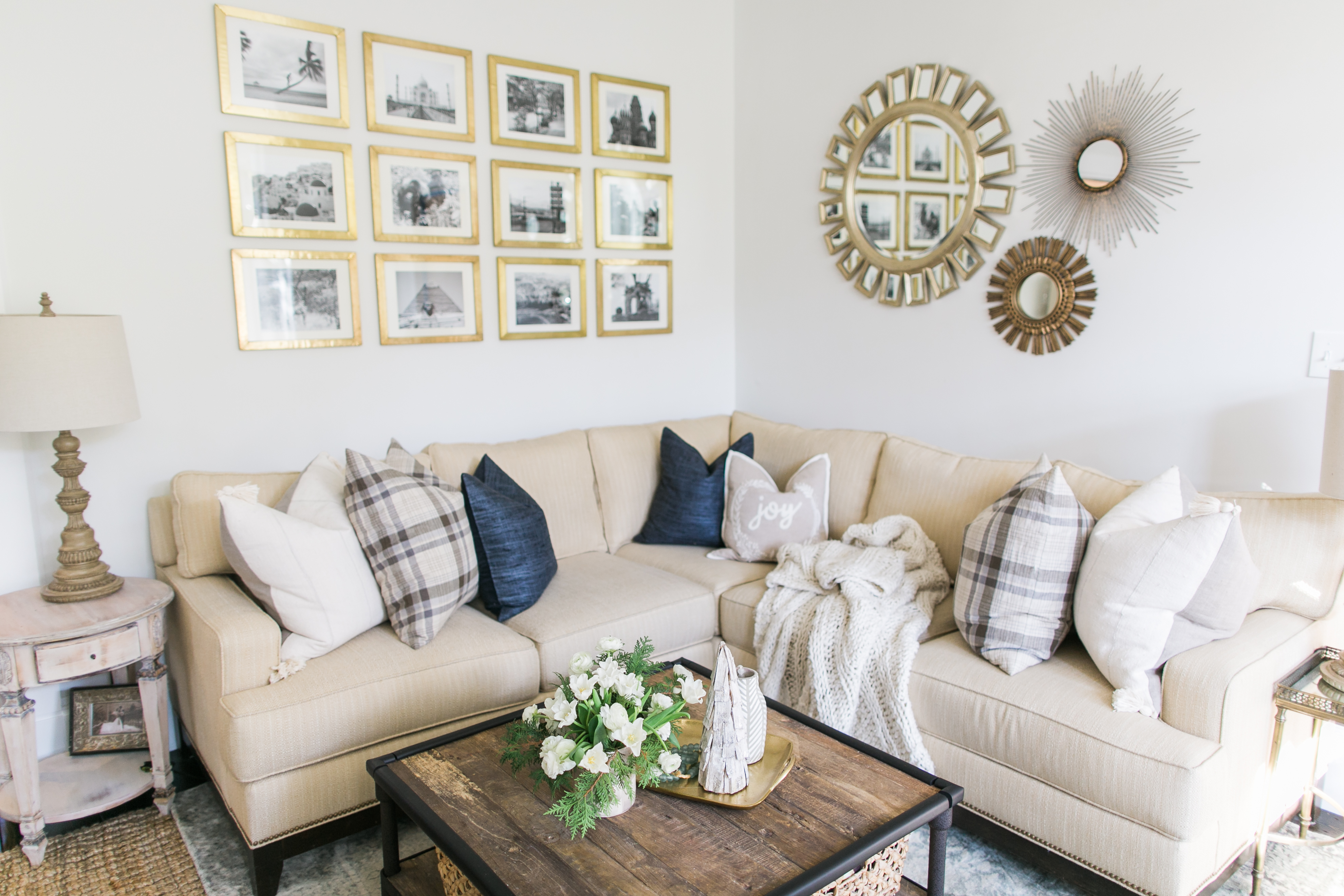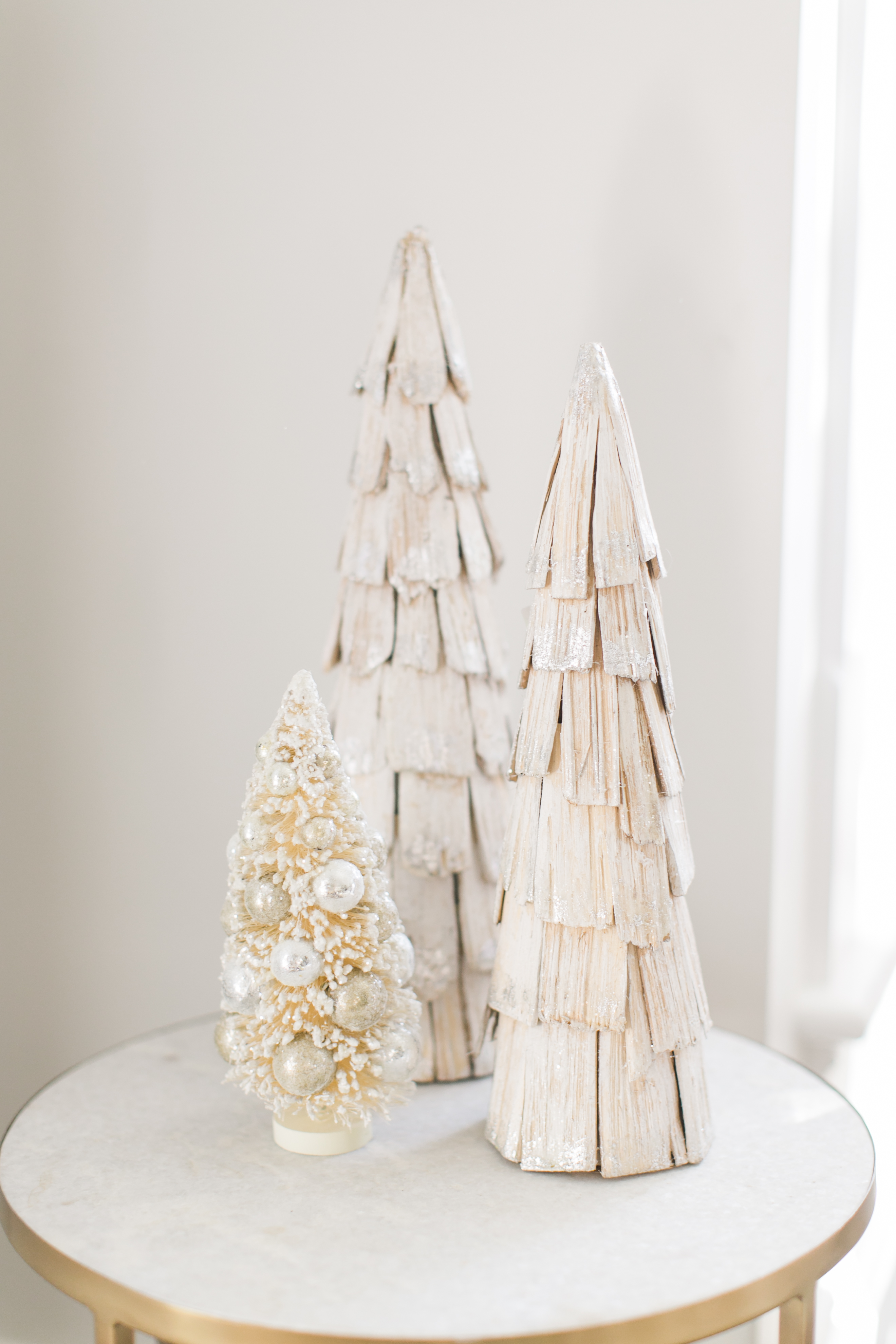 These pictures were so artfully created by the talented hands of Ruth Eileen Photography. If you need a photographer for any reason, big or small, she's your gal. I lack the words to describe her incredible gift for capturing the lovely.
Thank you for stopping by, I wish I could make you a cup of Joy tea and learn more about you. From our family of crazies to yours, Merry Christmas. Now on to sweet Summer from Summer Adams Design's amazing holiday home! Her style is thoughtful and Summer is a gem! Pop on over and say hi!