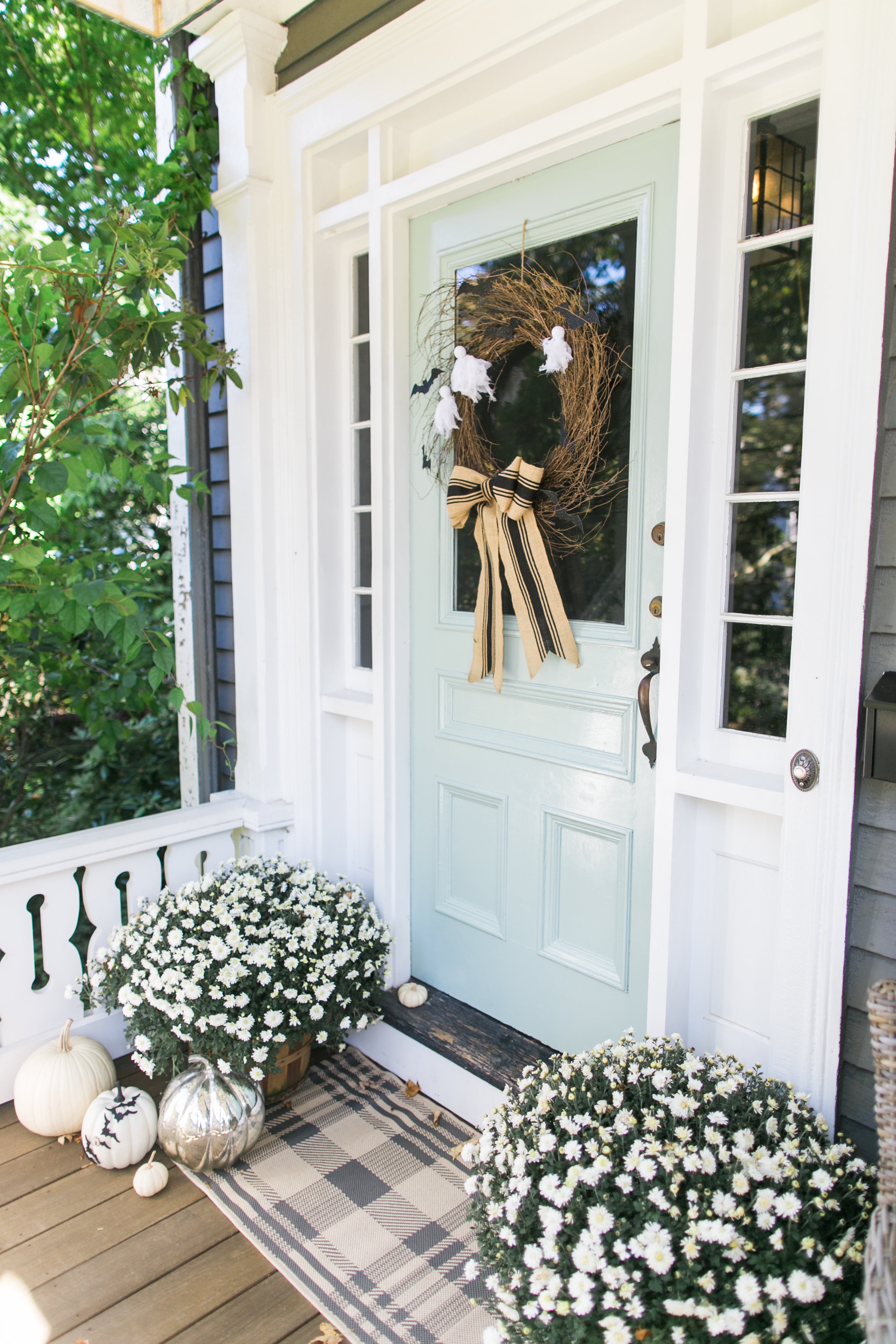 Hi friends! Welcome! I'm thrilled to be joining the sweet ladies of this Fall & Halloween Blog Hop, you can see the full line-up of these lovely bloggers at the bottom of this post. And if you're joining me from the talented Jodie and Julie of the Design Twins, welcome to Finding Lovely. Gosh I'm so honored you're here. Everything the Design Twins touch is pure gold. I hope you left inspired, I sure did!
Some boo-tiful decorations are slowly making their way in but we've certainly not gotten to every part of the house, decorating with toddlers is slow going and gradual. If I have to pull one more pumpkin out of the toilet I'm going to list them on ebay– the kids, not the pumpkins.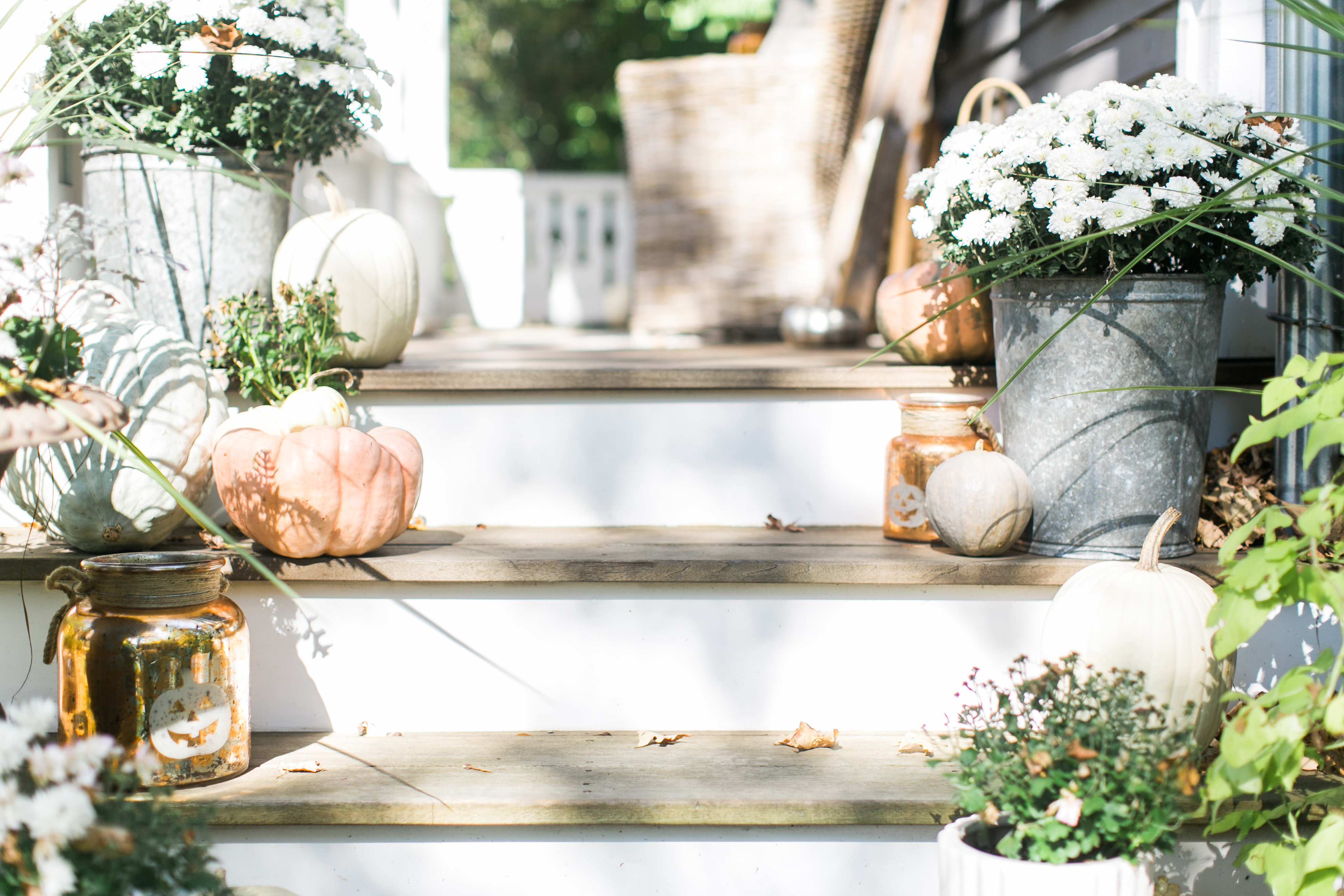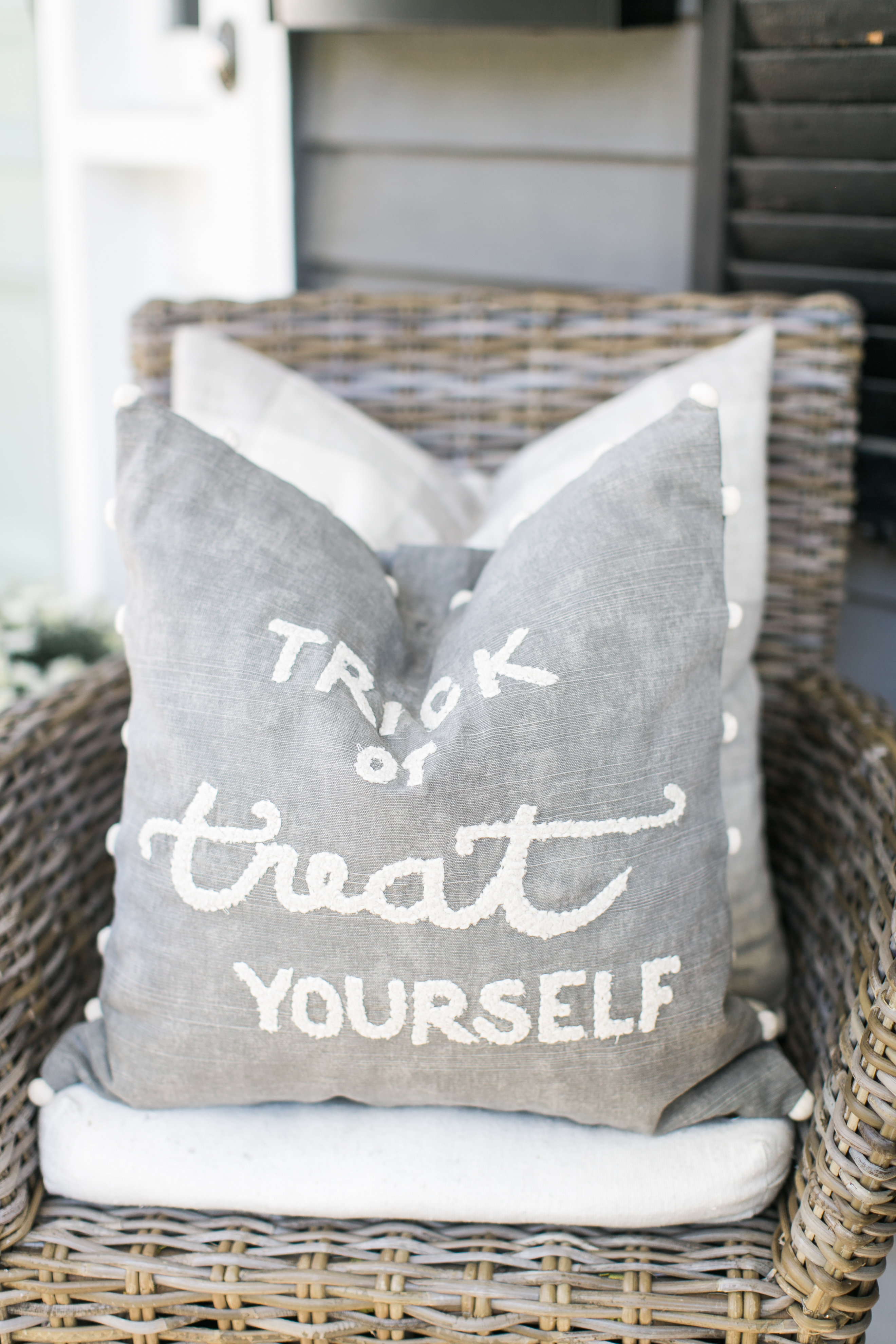 Our little guys are 3.5 and almost 2 so this time of year is starting to get very fun. We do not do anything scary, that side of Halloween isn't for us. Instead it is just a sweet holiday that allows you to play dress up and build community with your neighbors.  Soooo…we're making our home a bit boo-tacular in preparation for some good ole' fashioned community building / treat munching.
Now that it is October and the leaves are changing here in New England, I feel like I can add some orange into the porch decor. I relocated my "fairytale" pumpkins to the steps and pulled out some Halloween lanterns we had in storage. They add a little more festivity to our entry.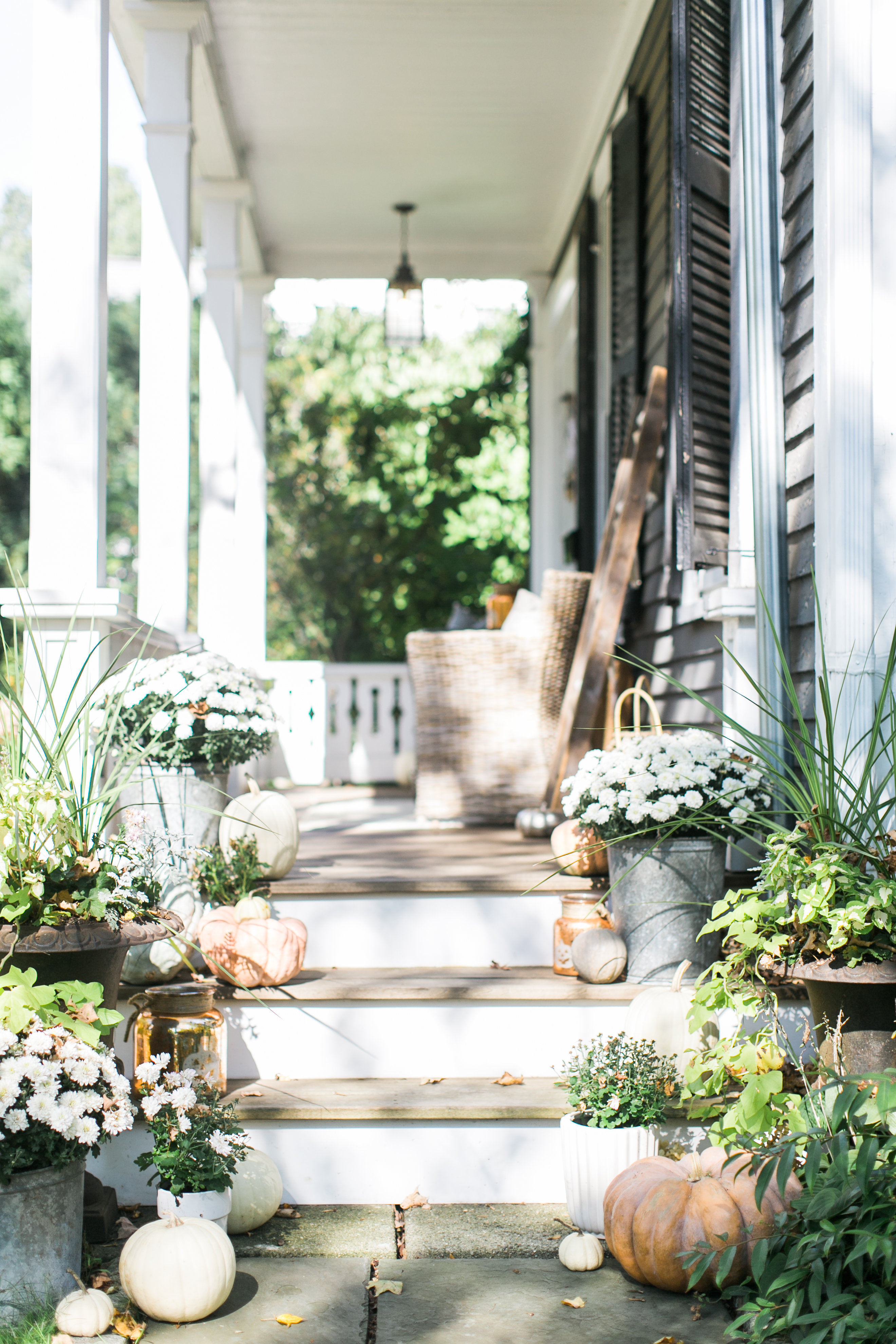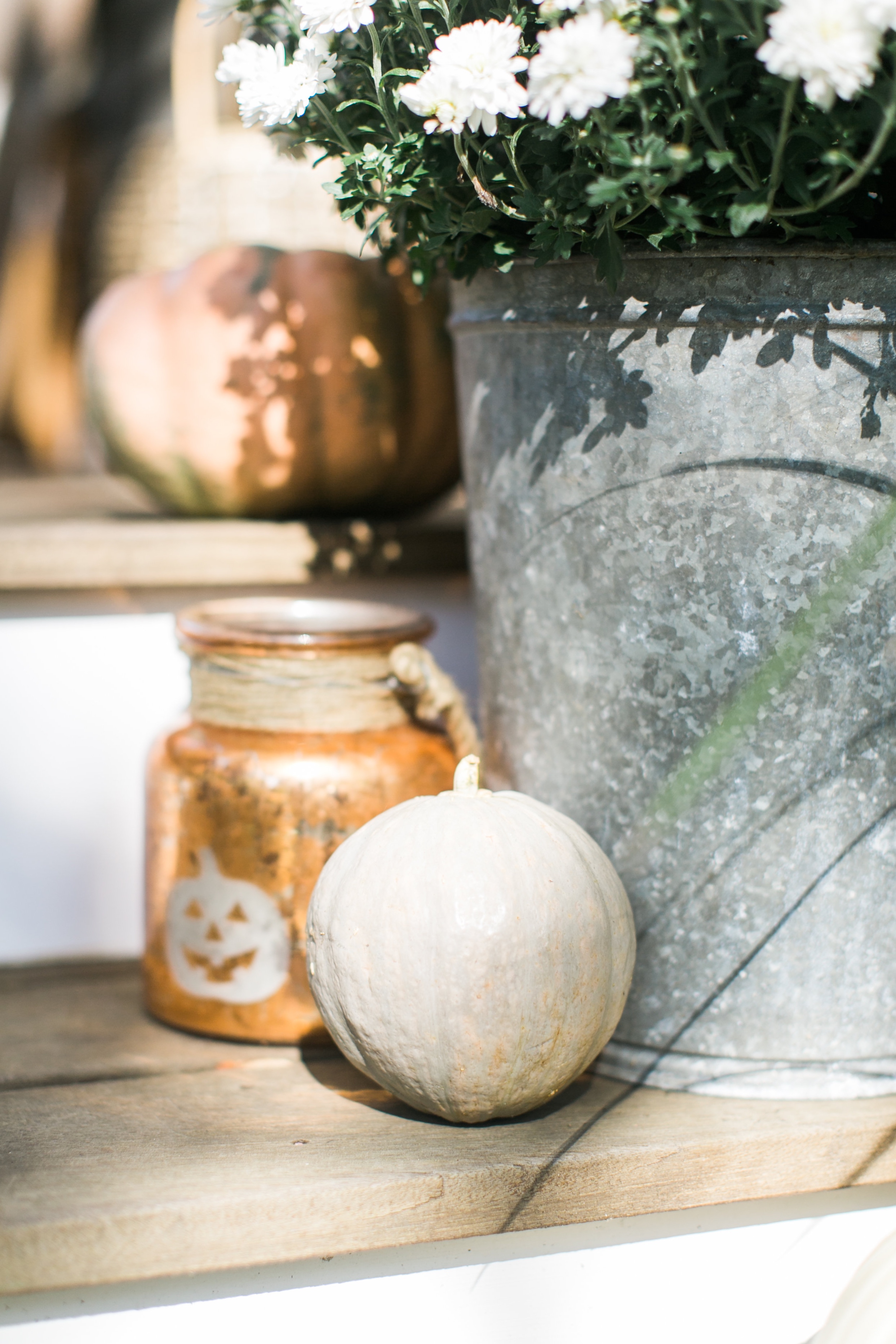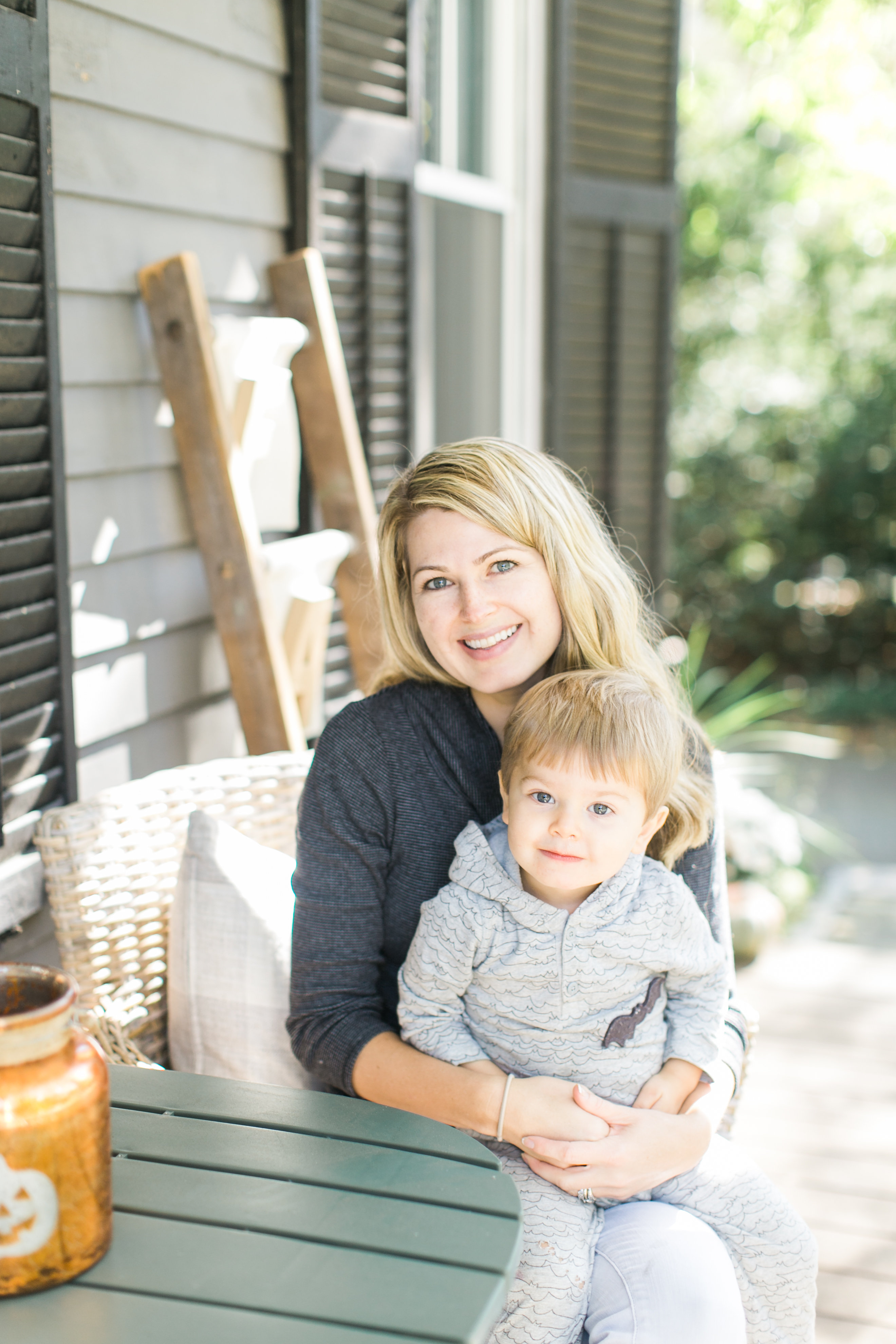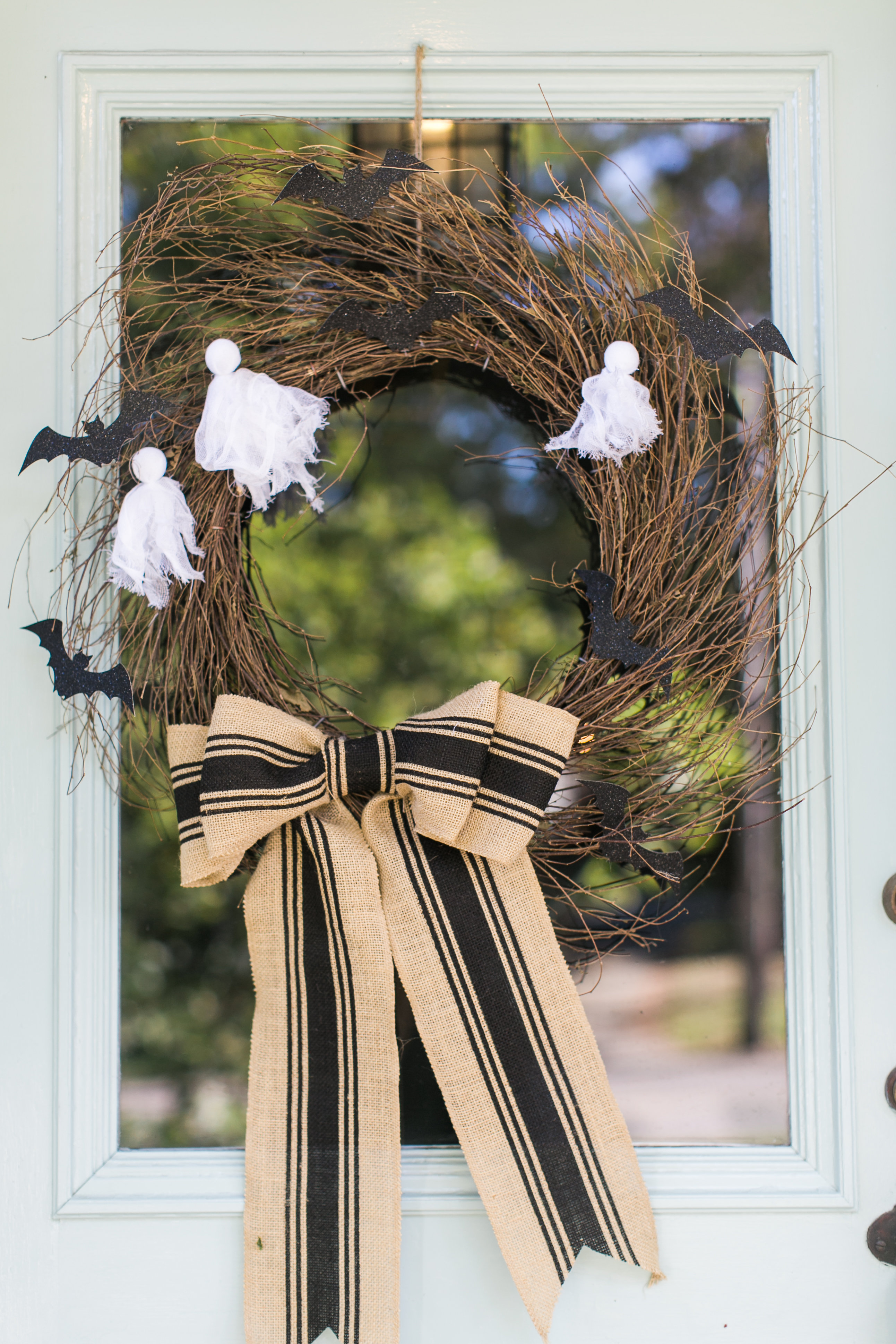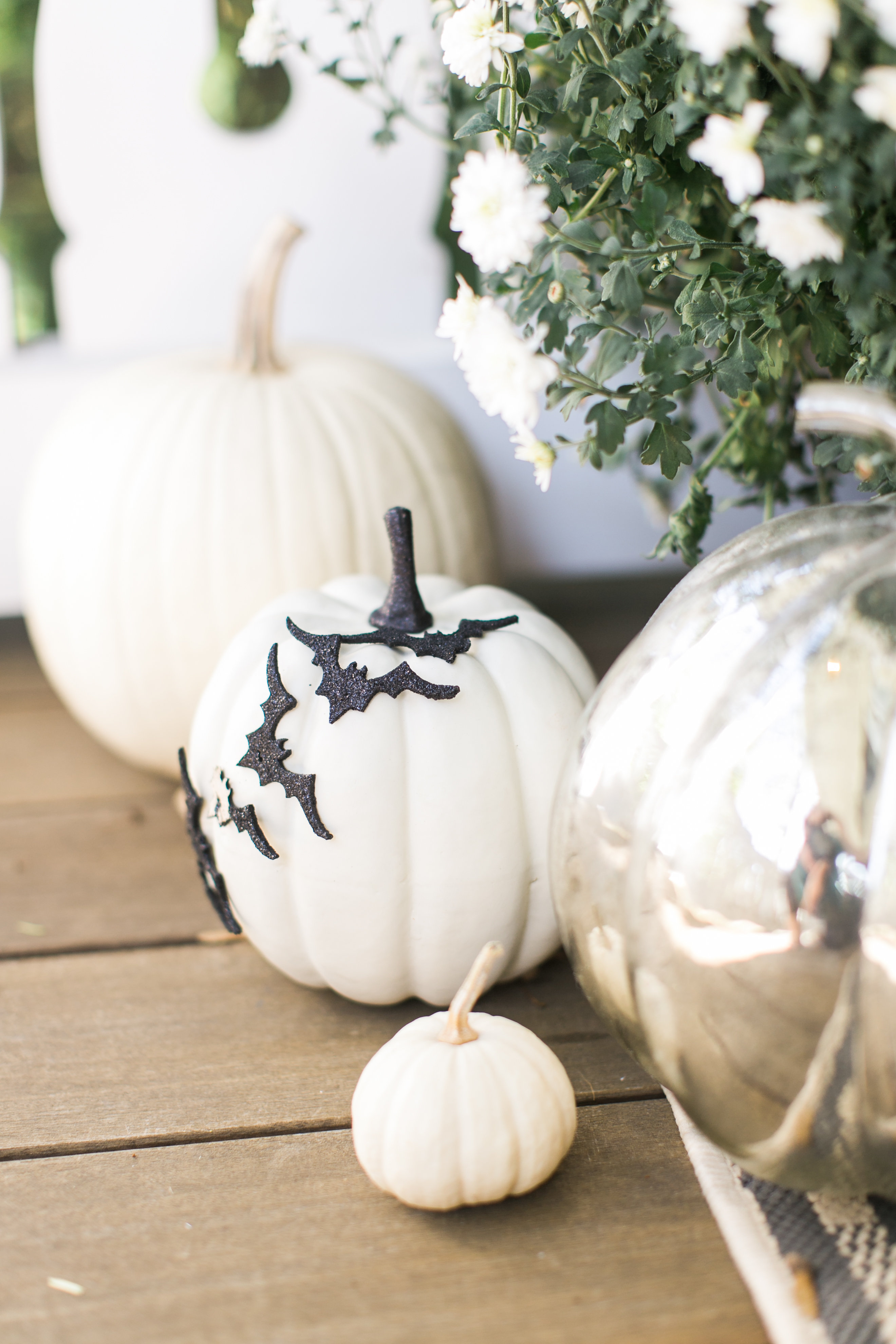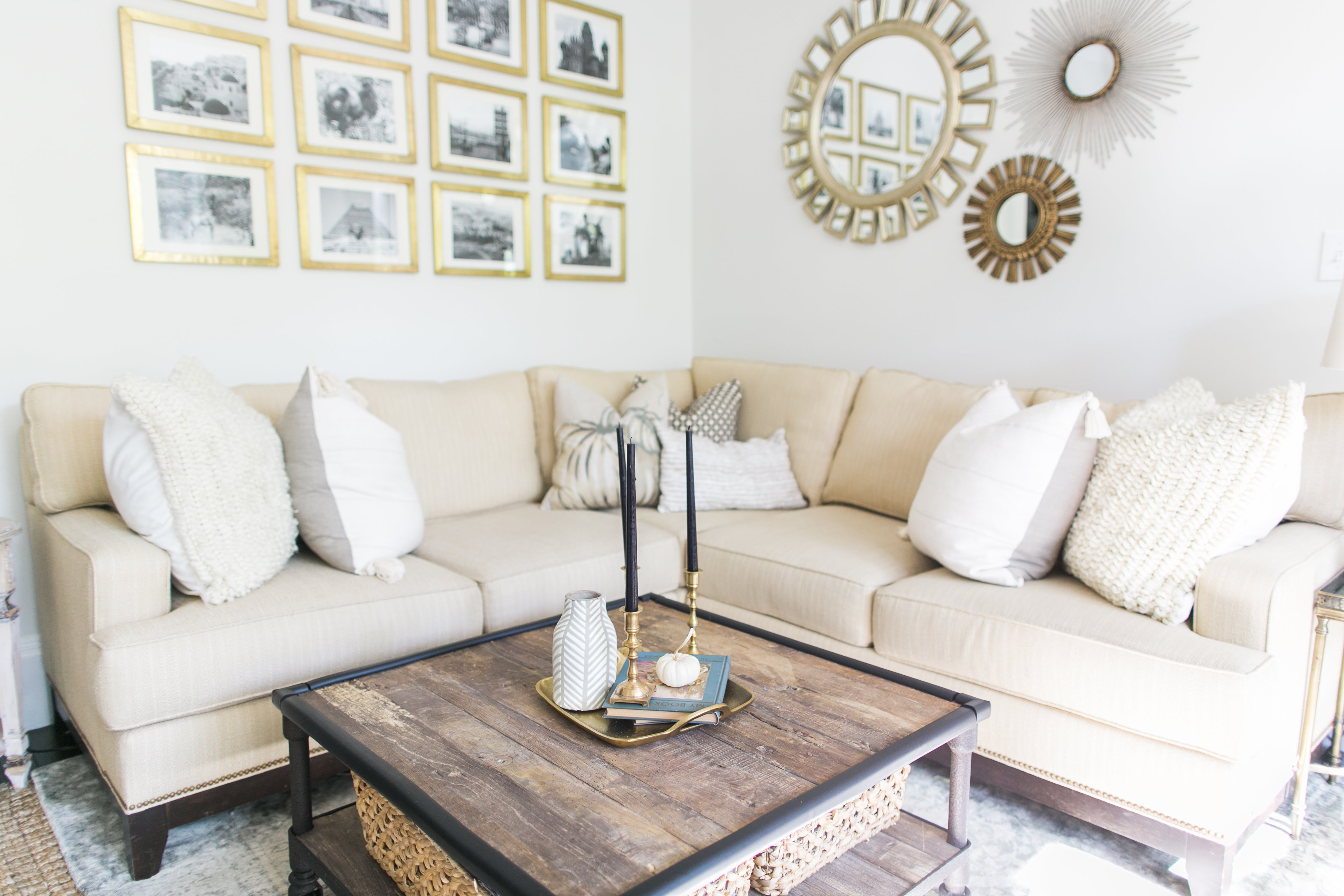 I love finding new ways to decorate, new spins on the traditional and ideally, not costing an arm and a leg (although I am a firm believer that there should be some splurges in decor when able–a topic debated by my hubby). All that to say, it is the seasons and holidays that can breathe such a breath of fresh air into our spaces.
Just when I had started to fall head over heels for our fall decor, this gorgeous black and white mantel has captured my heart. I knew I wanted just black and white because I was inspired by the text in an old book I use for projects. That's how the book page wreath was born. I was cutting out leaves from the old pages initially for a garland but changed my mind and ended up making the wreath. Which meant I needed to find a wreath form…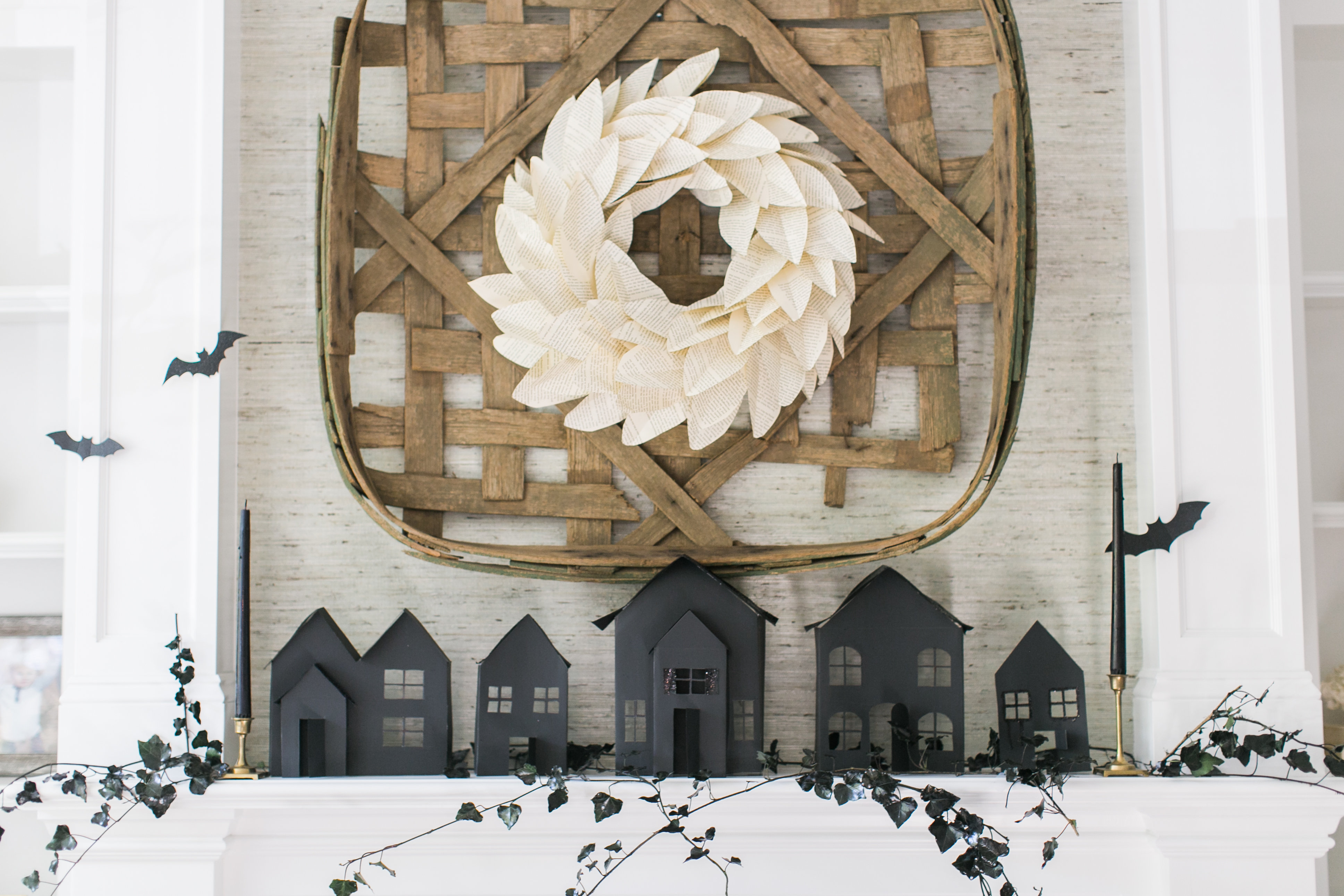 You'd never know that on the other side of this wreath are easter eggs. Haha! Brings a whole new meaning to recycling your decor. In all seriousness, we're taking the decorating budget seriously these days as we prepare for a major renovation starting this coming week. Fun changes are in store for our sweet old home.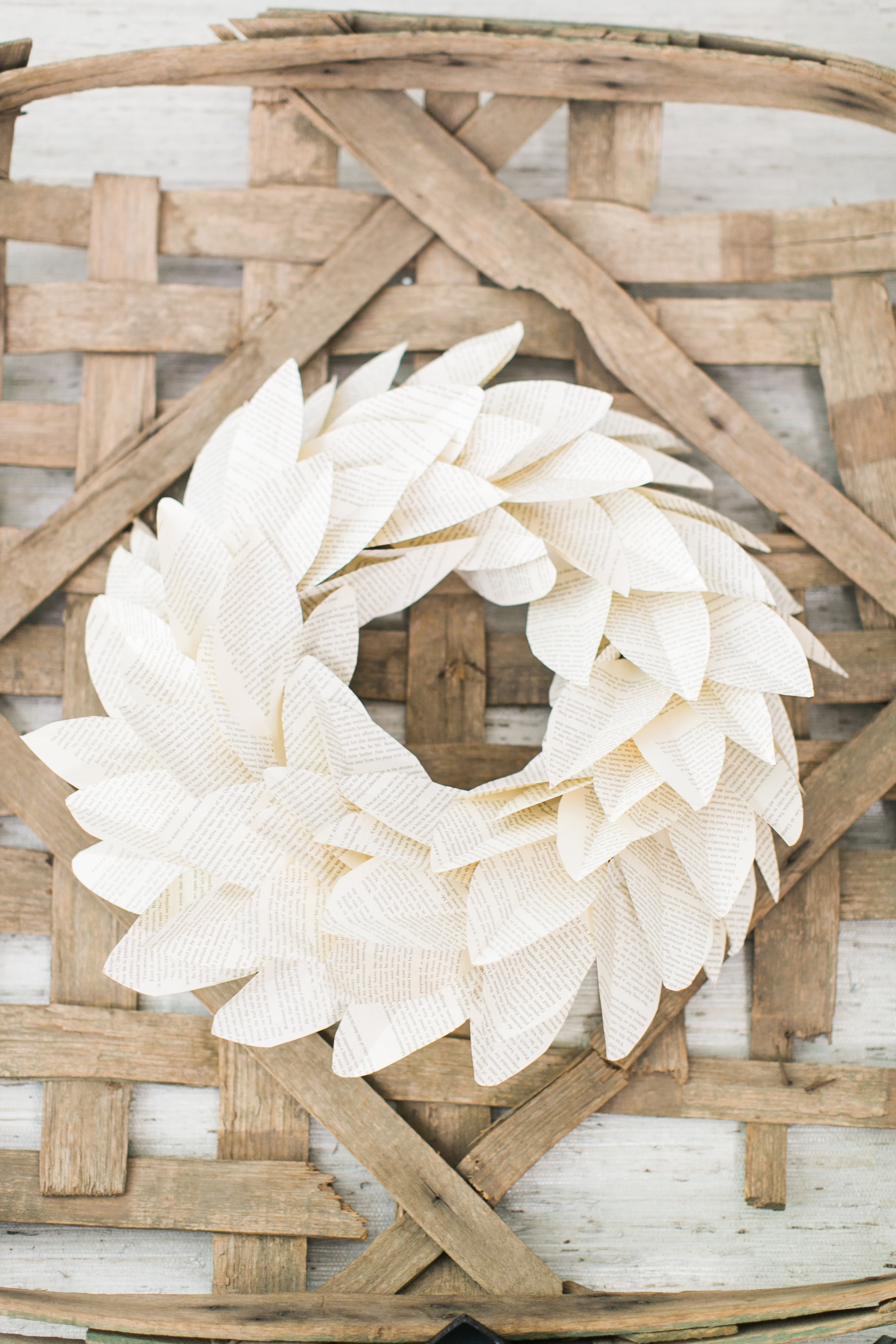 It's hard to not fall in love with those glittery little black haunted house villages you see in the fall catalogs but they can be budget busters. These ones on our mantel were a DIY made by yours truly from one piece of black poster board from Target…including the glitter to decorate the tops, these cuties cost exactly $2.08 to make!!! Clearly they're not perfect but isn't that part of the charm? And imagine the possibilities, my friends, if you don't have toddlers trying to play soccer with your houses. Your's will be 10x cuter.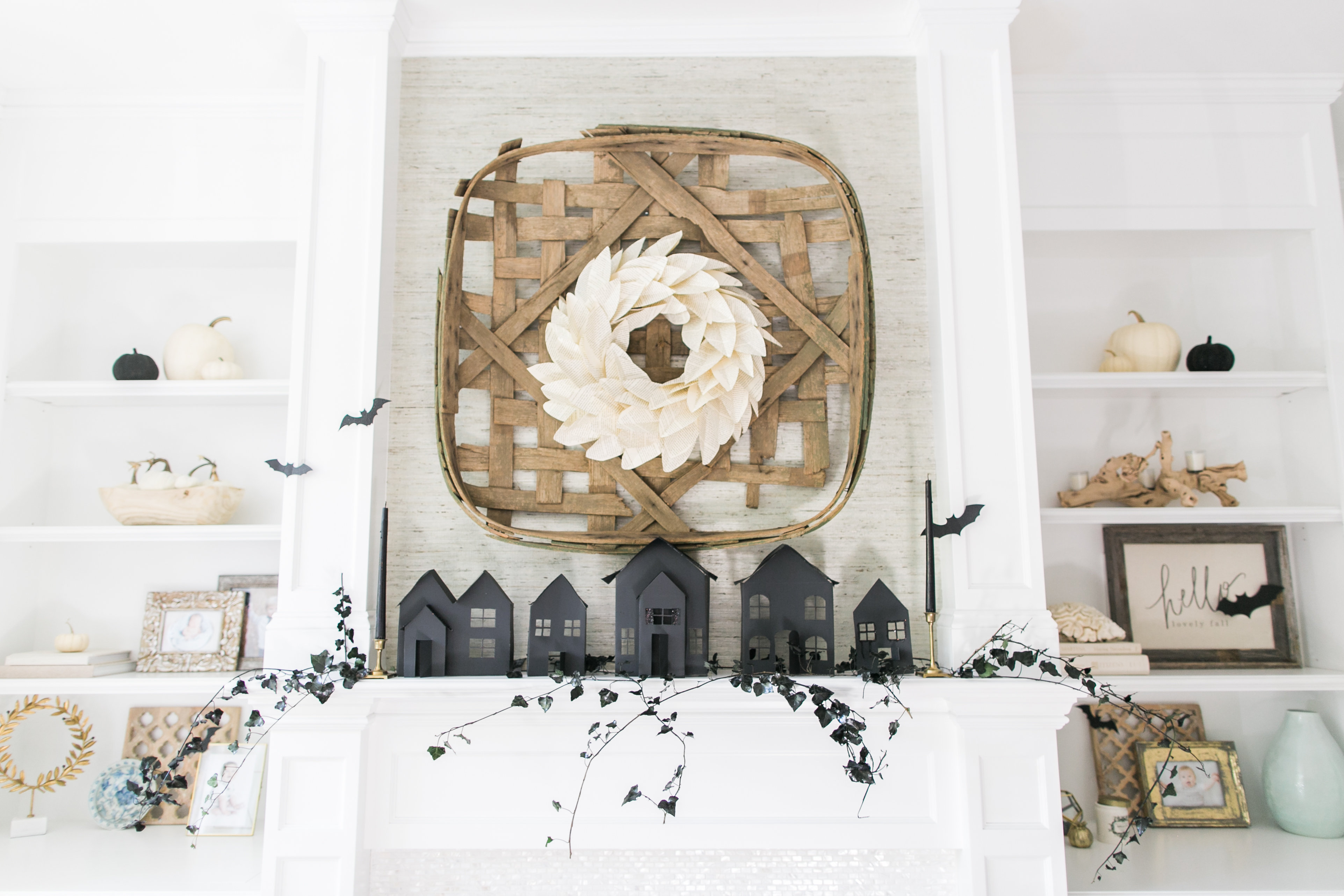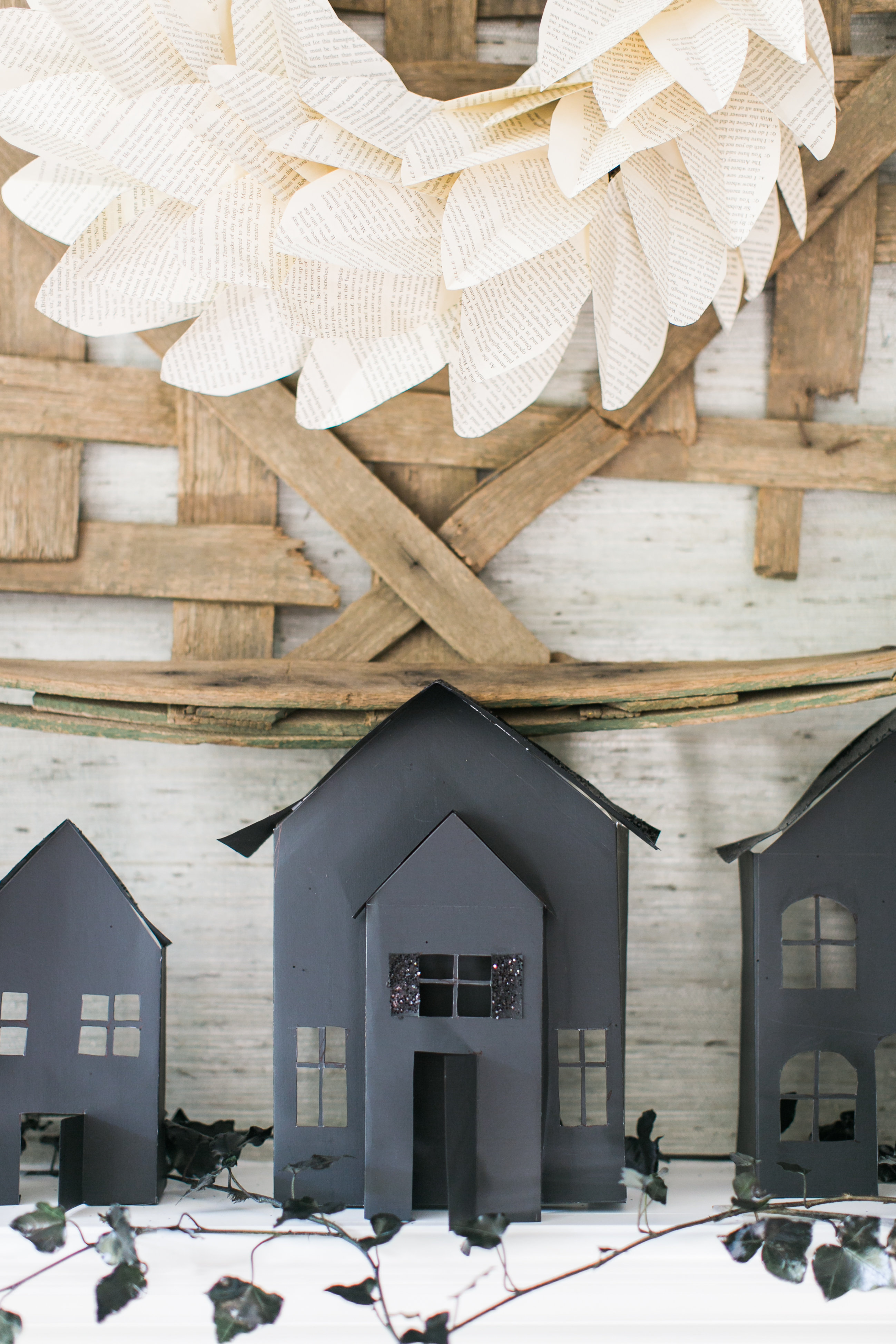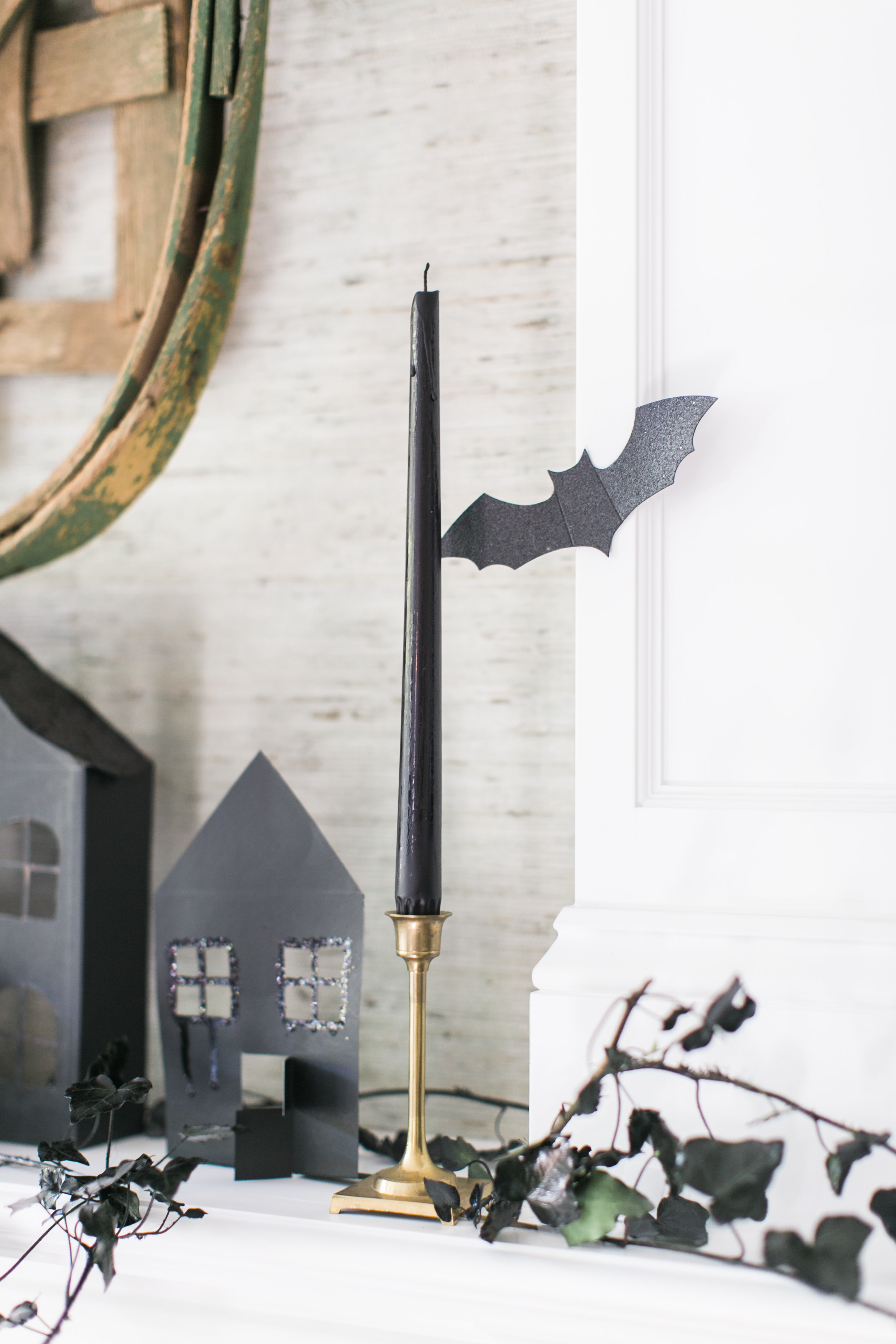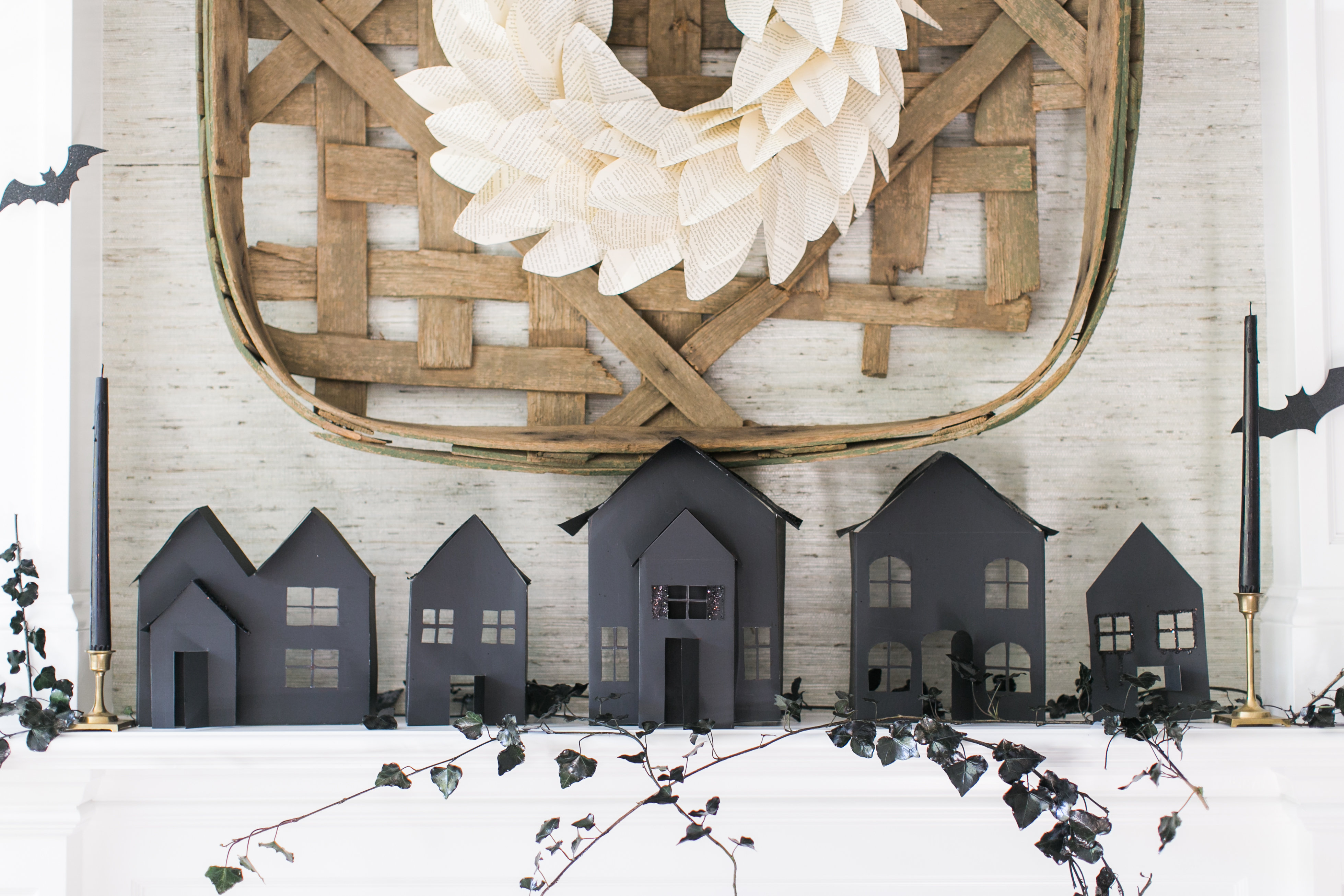 Here's the thing about lovely. It's there in all things and if you're persistant, you can sure make it from practically nothing. Some scissors, tape, poster board and a little glitter and voila…the cutest little Halloween mantel village.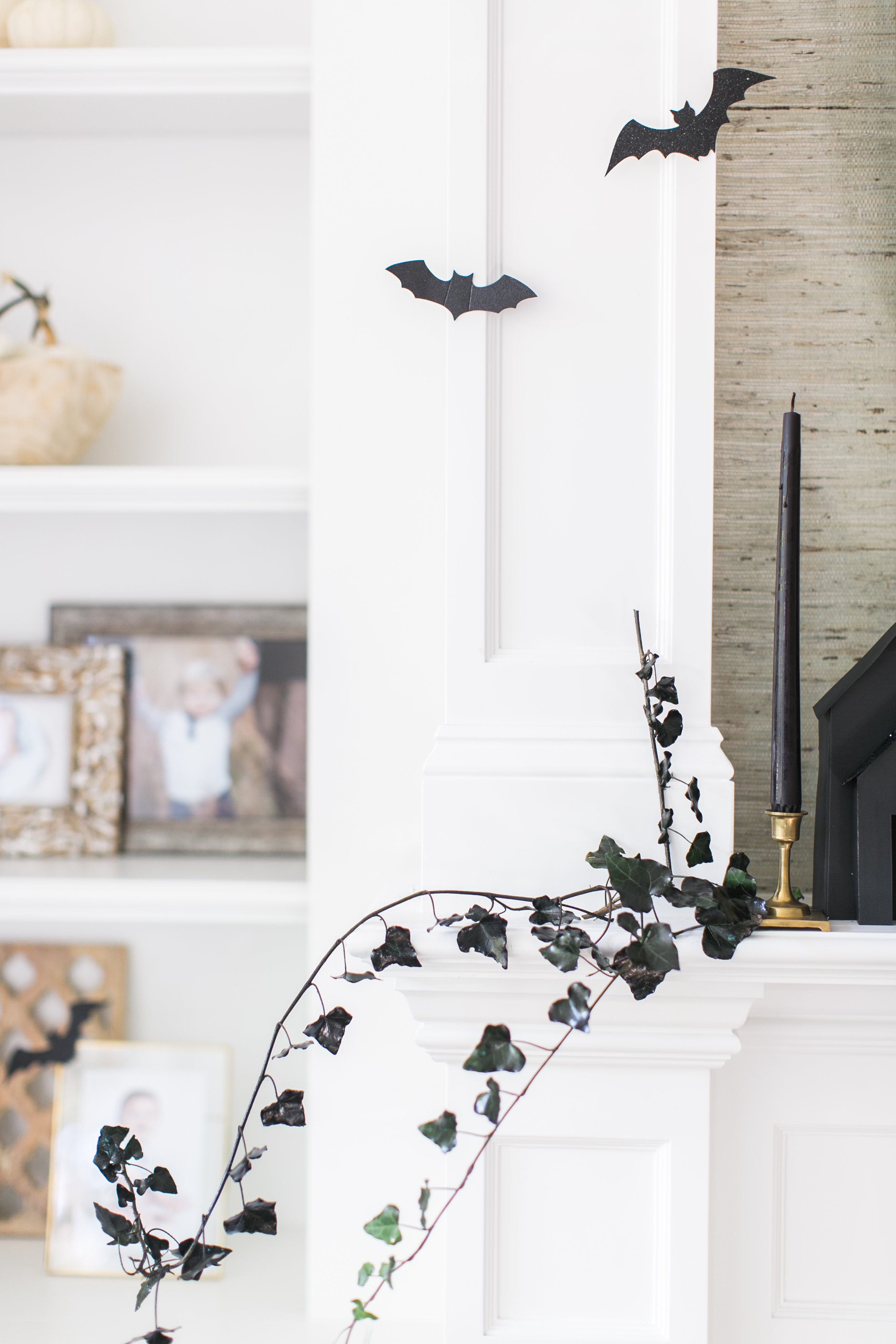 I pulled the ivy off the back of the house and spray-painted it black. I love incorporating natural elements into decor because I think they add the right amount of interest and texture to a space. And who would have thought adding a little black spray paint could make them so creepy.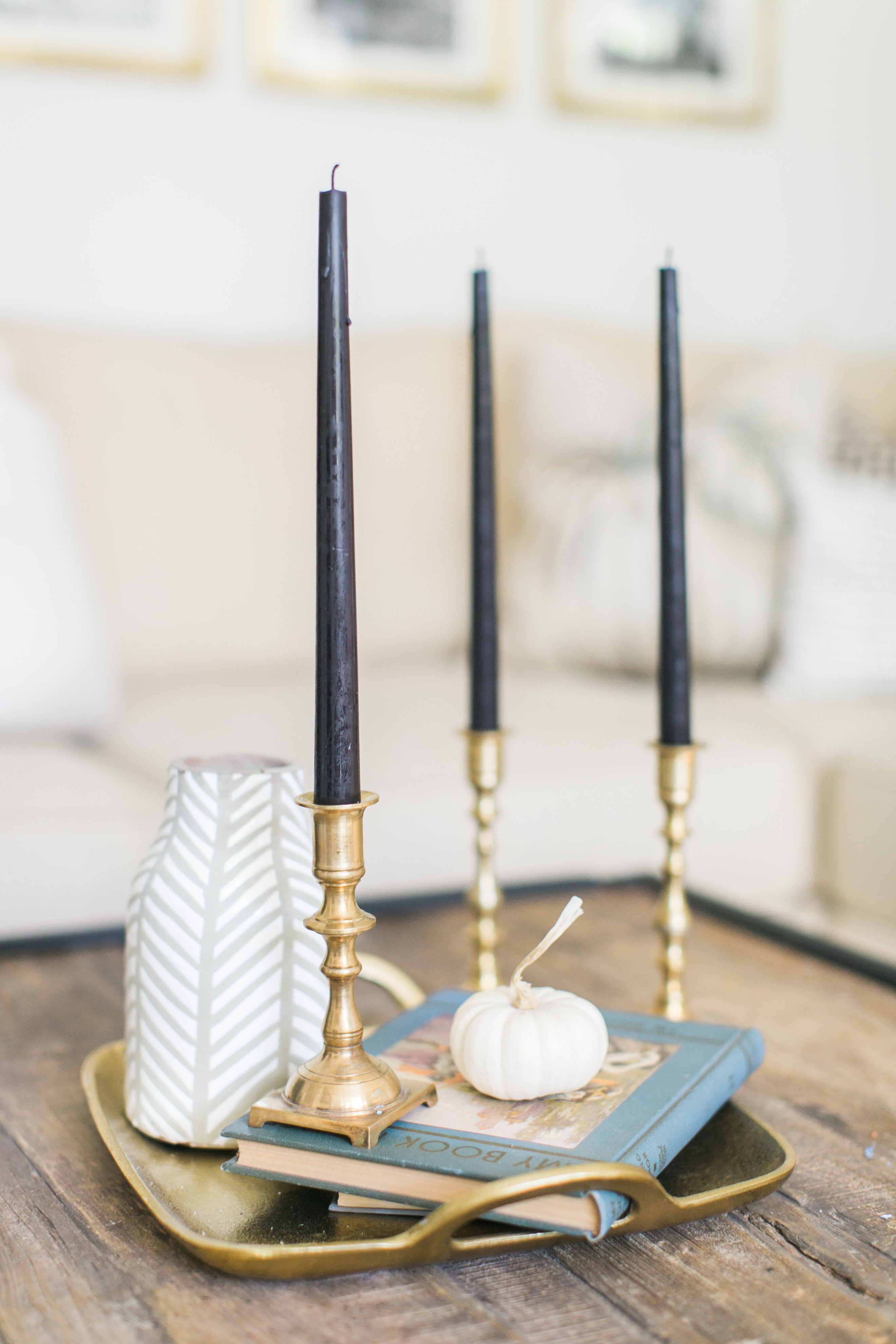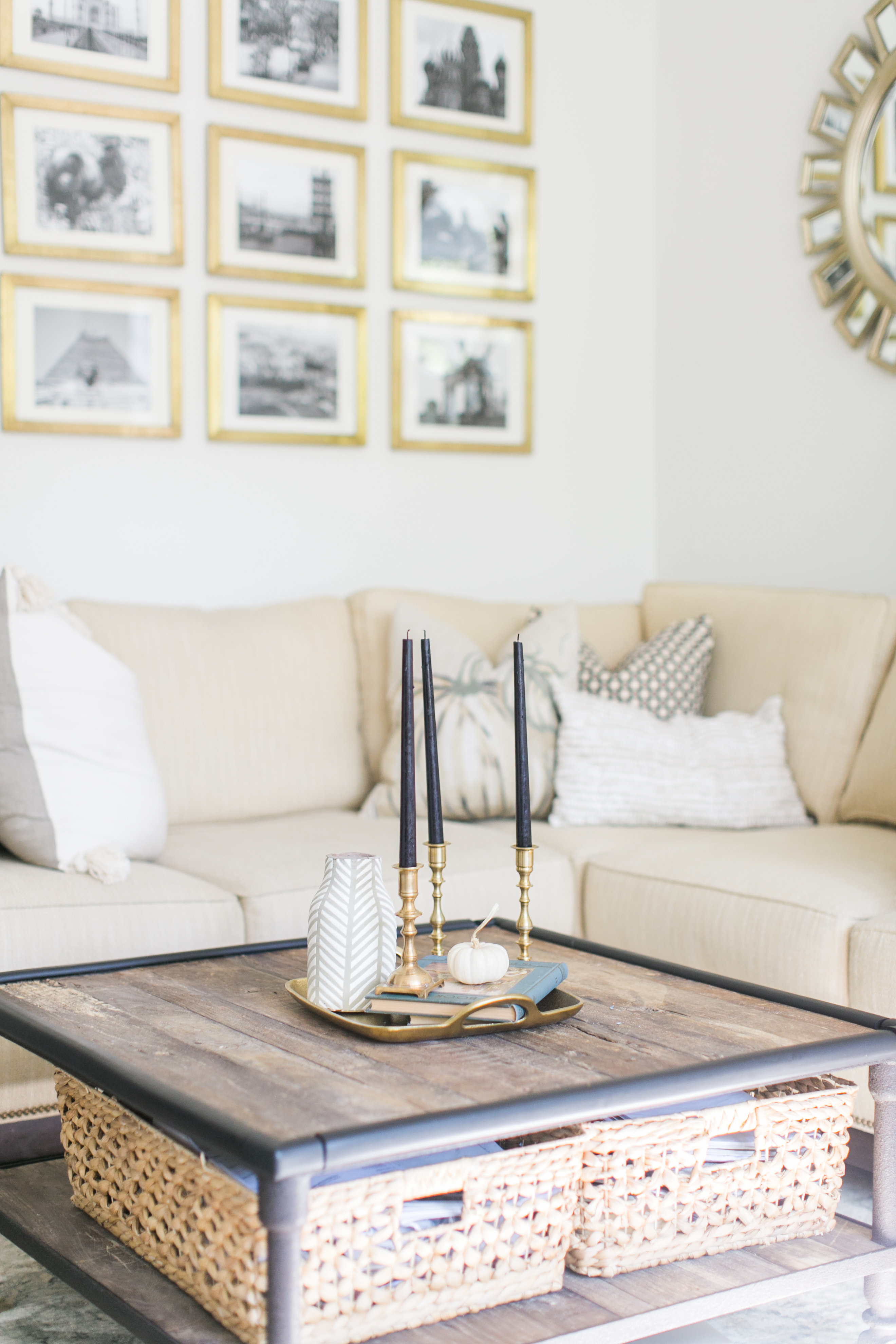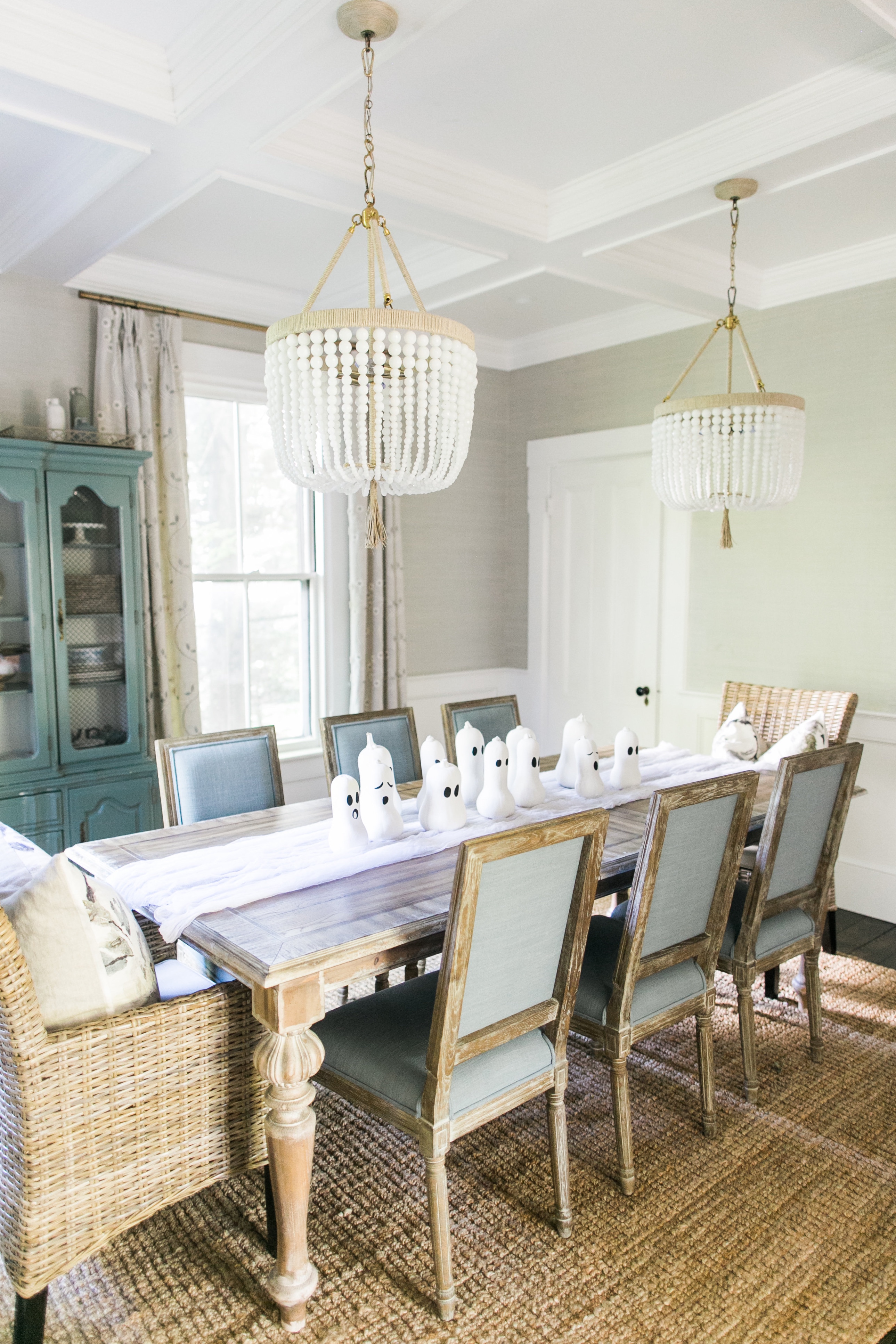 For the dining room I really wanted a simple tablescape and fun treats on the sideboard. I love how this space turned out.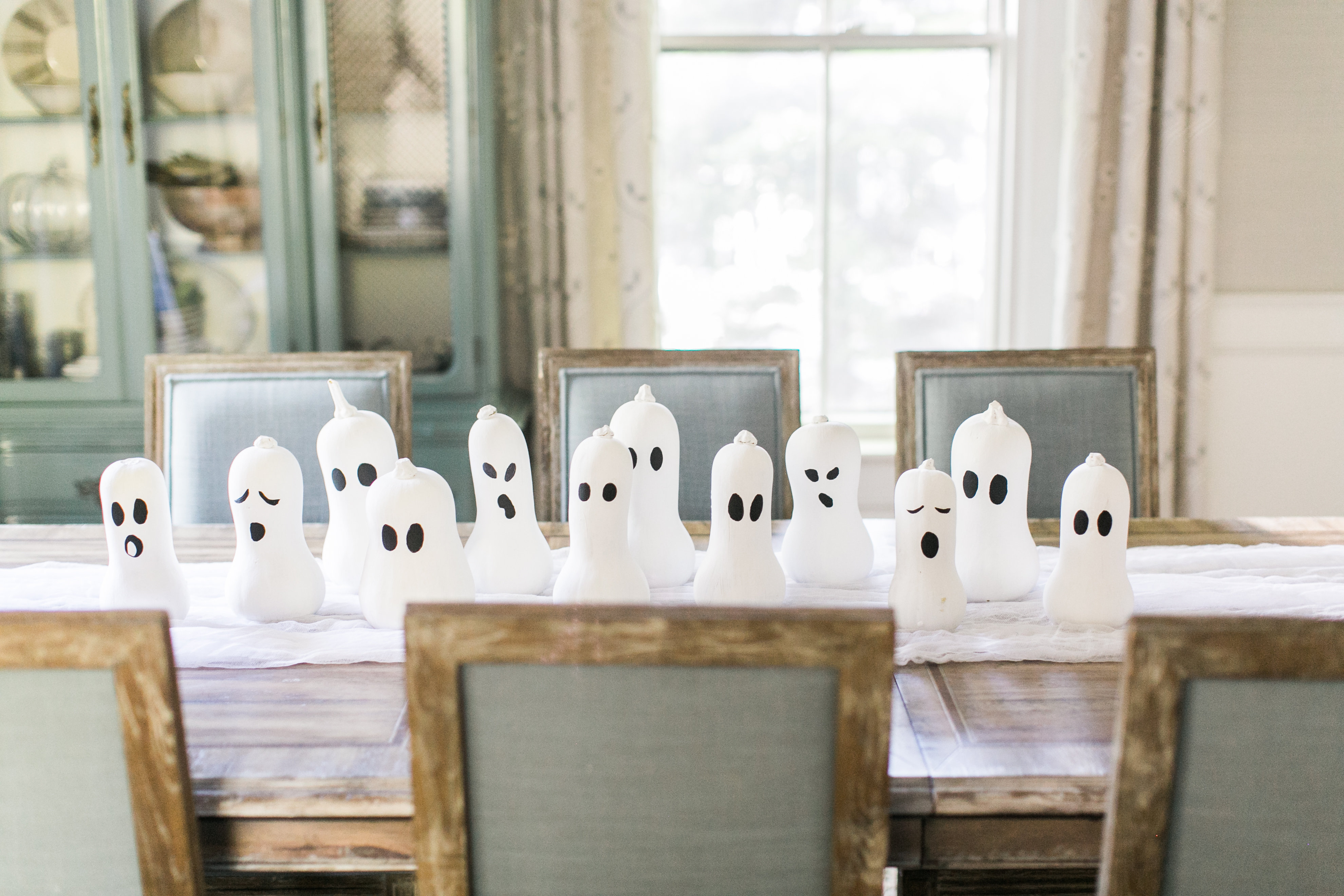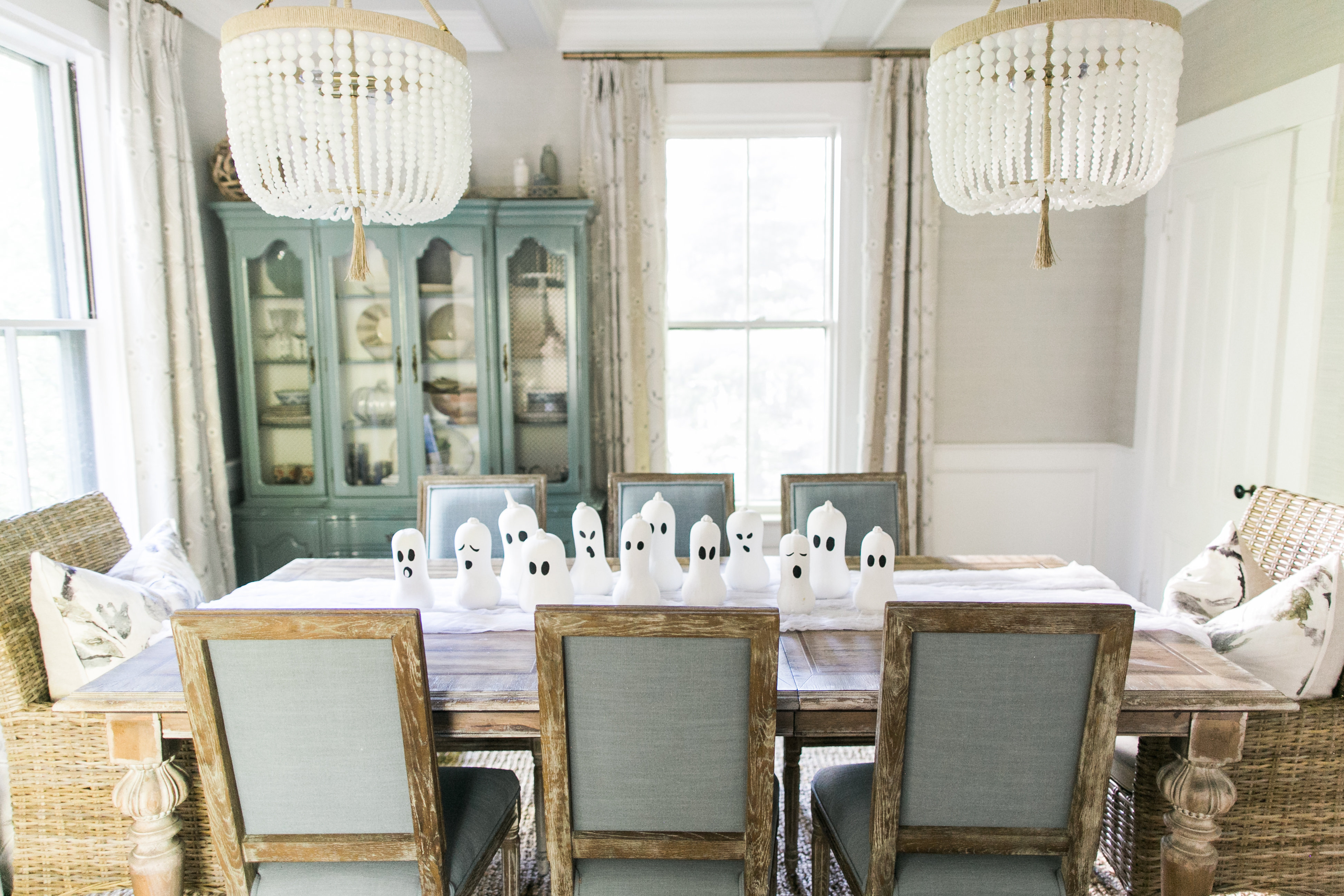 These cute little ghosts are butternut squash from the grocery store painted white. This is a fun project even littles will love to help with.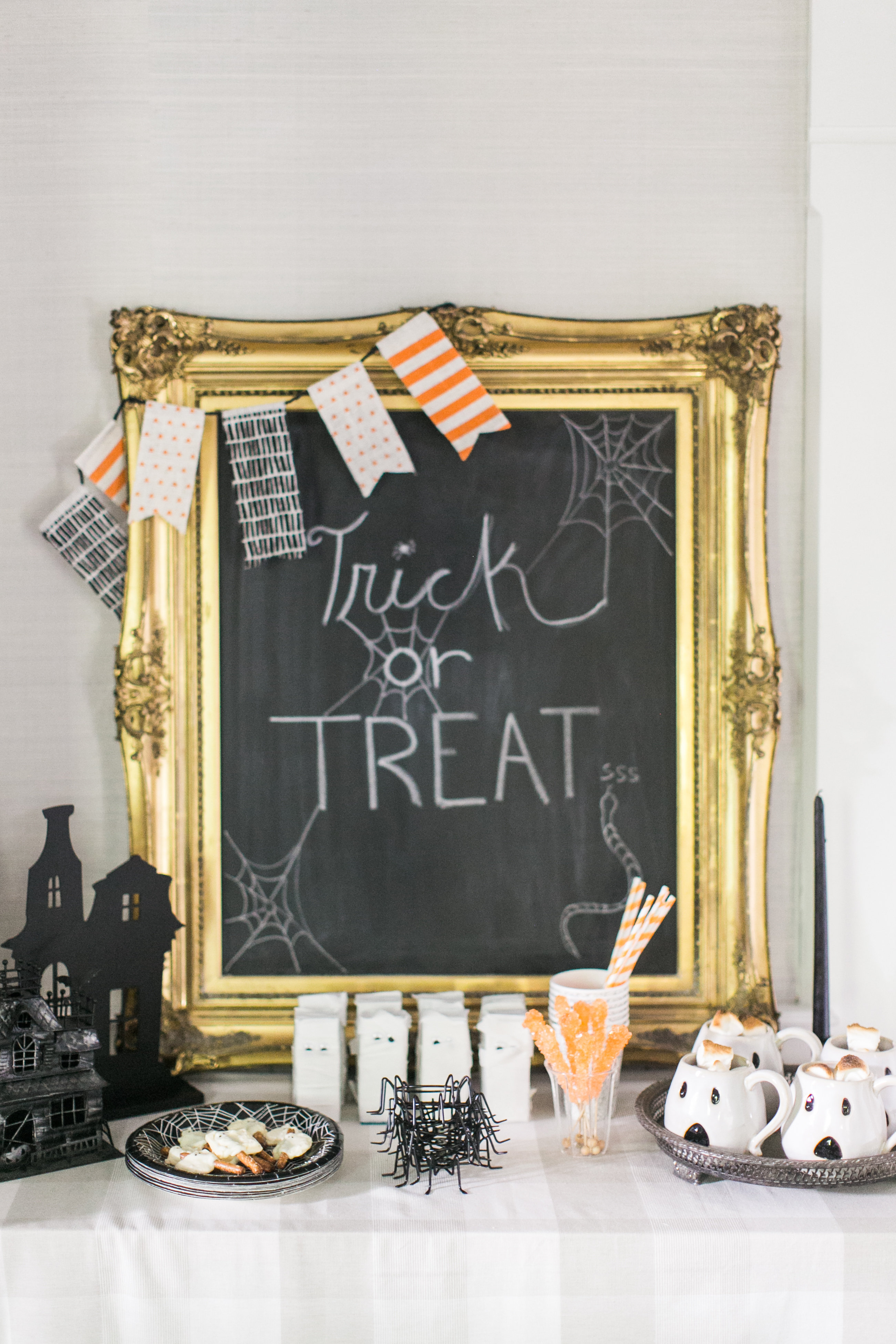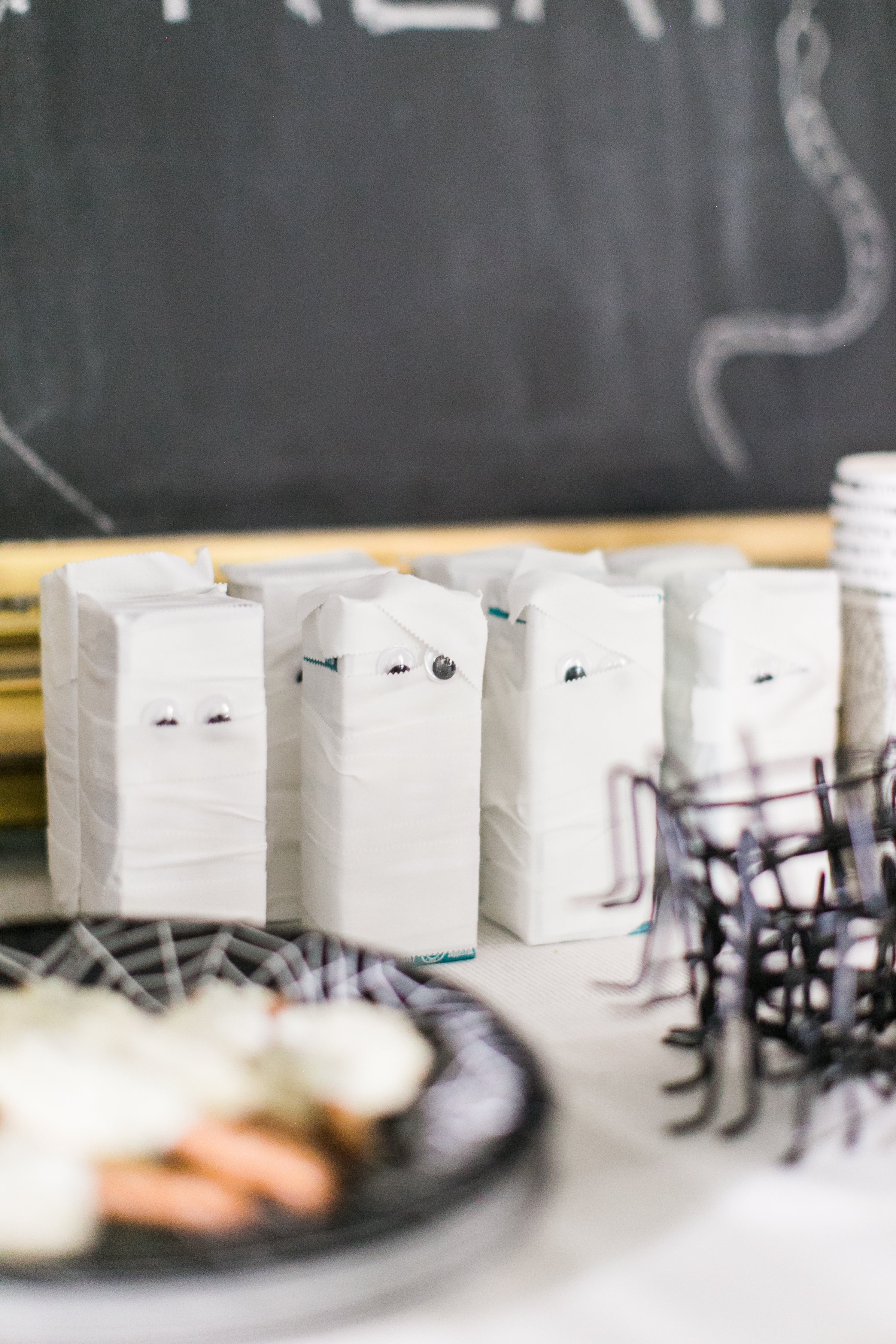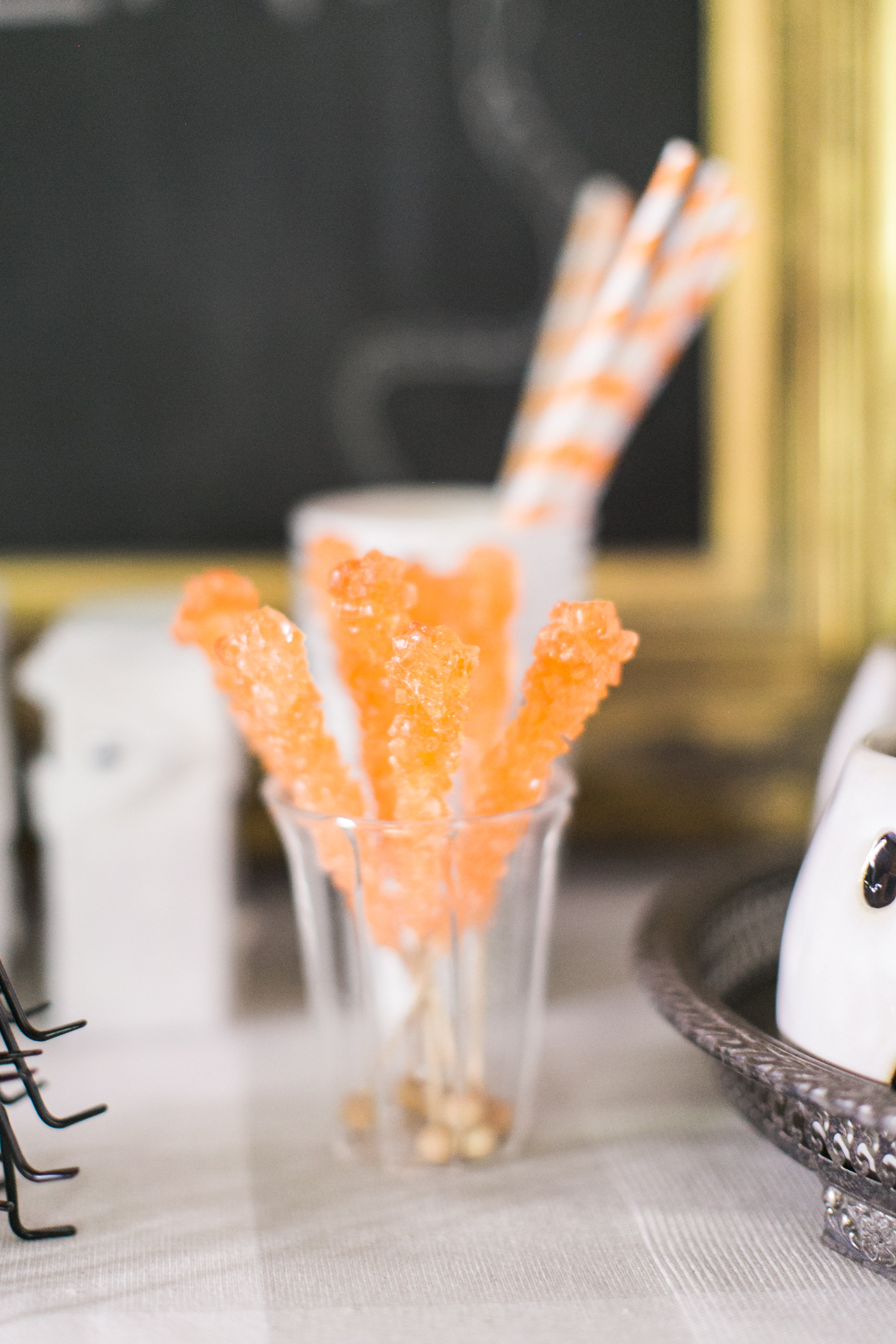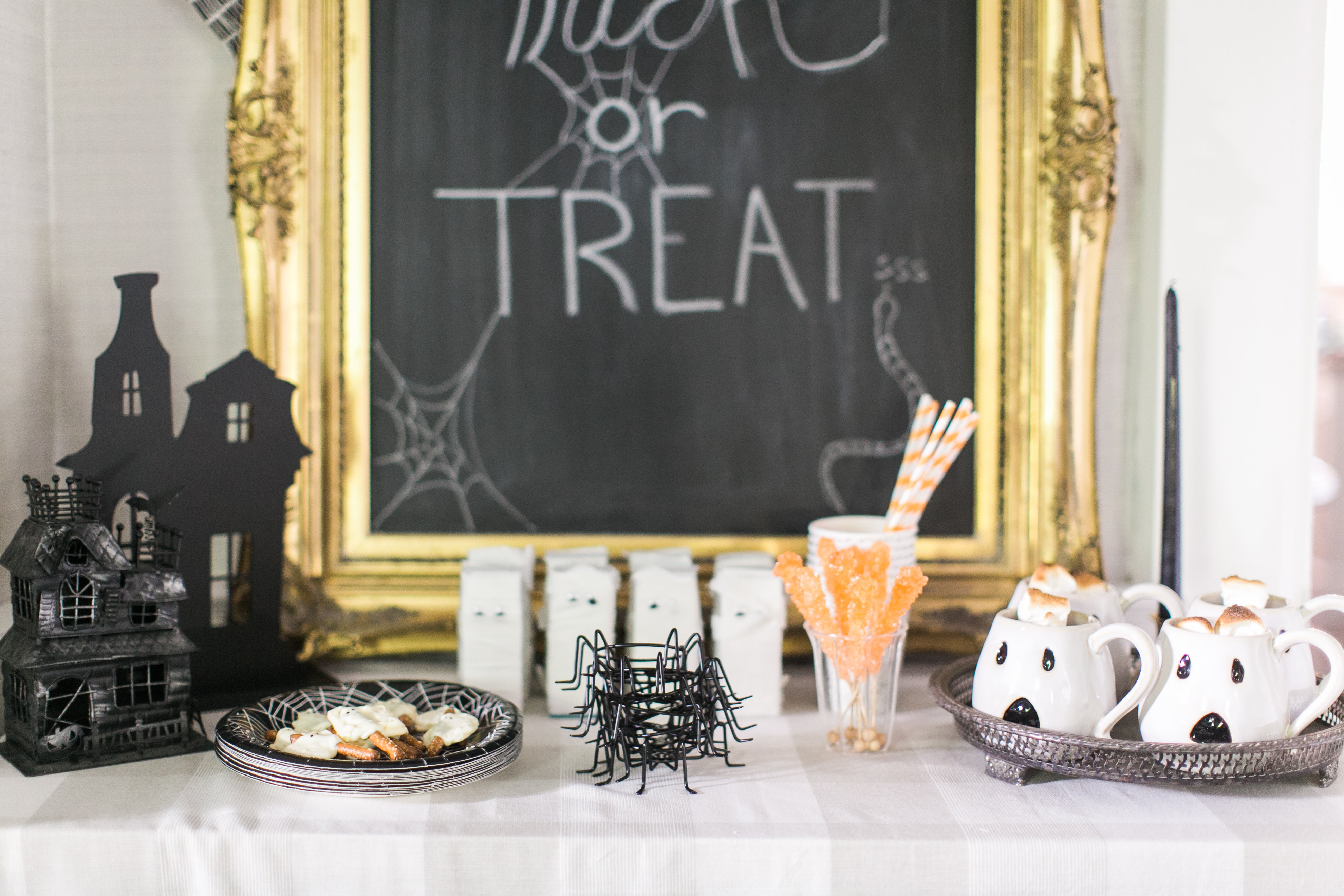 For the treats table, our "mummied" juice boxes were such a hit from last year I repeated them for the boys. I cut out pieces of white paper and covered the front and back of the juice boxes, then wrapped them in white medical tape and added googly eyes.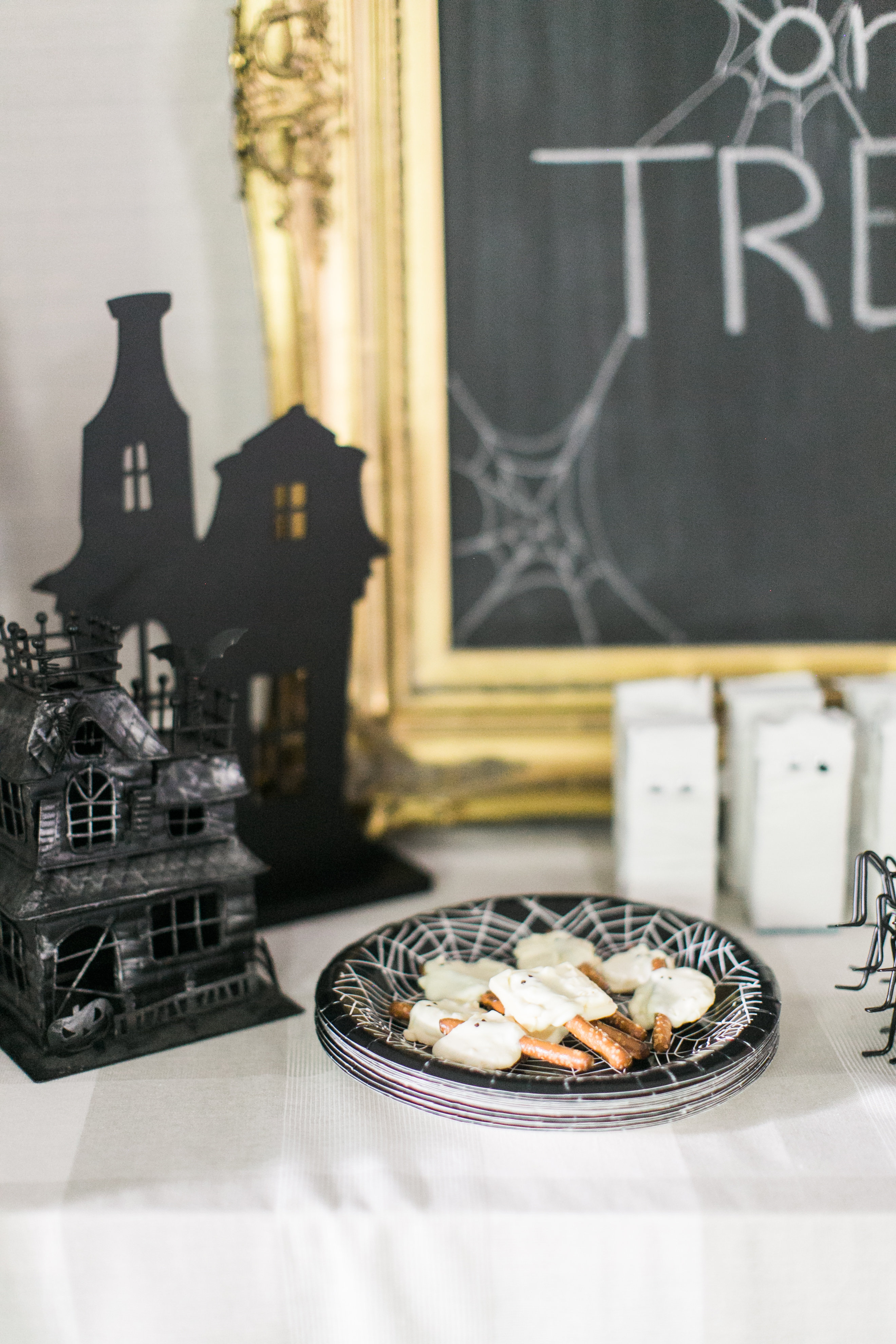 These sweet little white chocolate pretzel ghosts were unboo-lieveably easy to make and the perfect addition to a Halloween party. I think I've added "boo" to too many things. I'm done. I'll stop now. But seriously, look for a DIY blog post coming soon!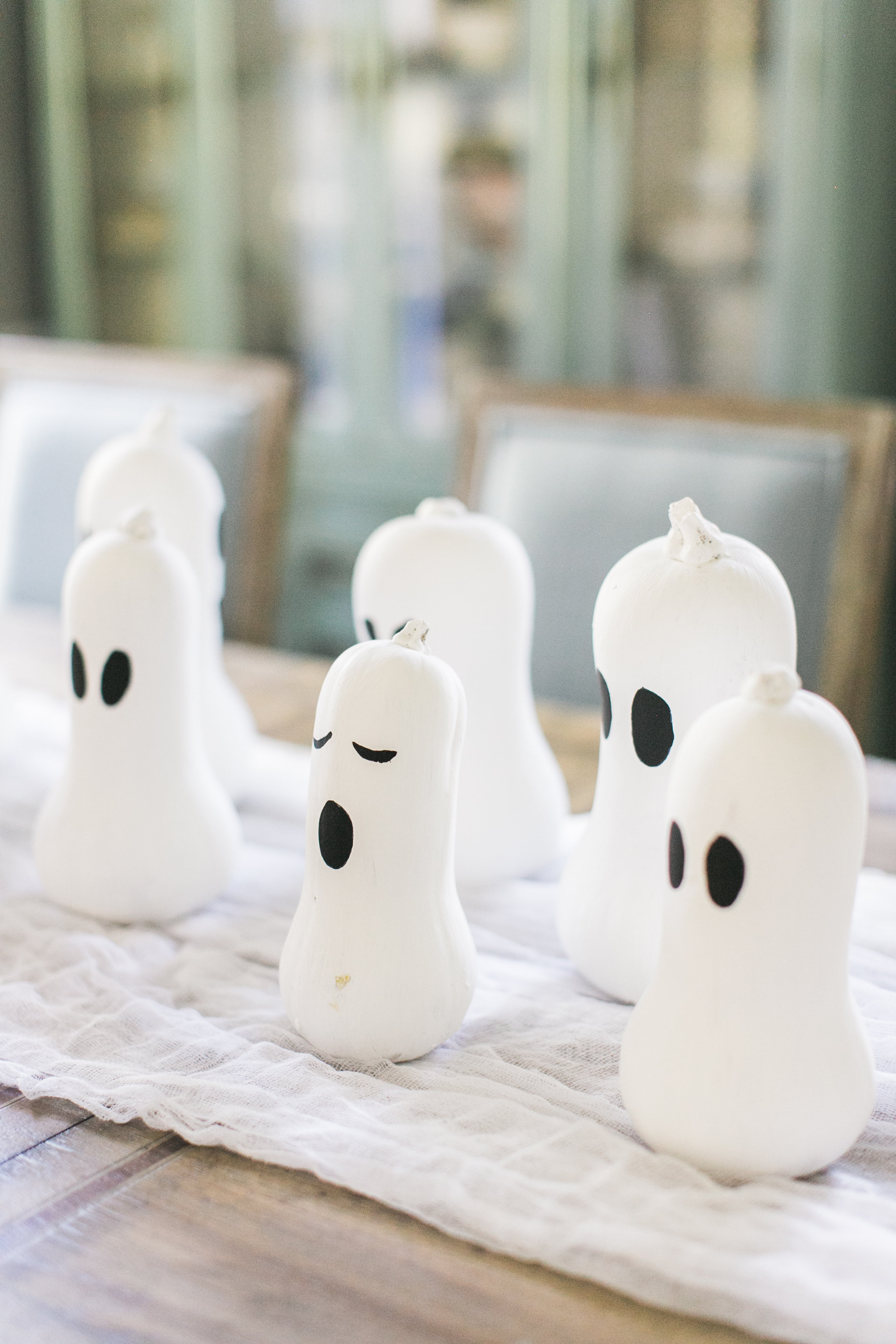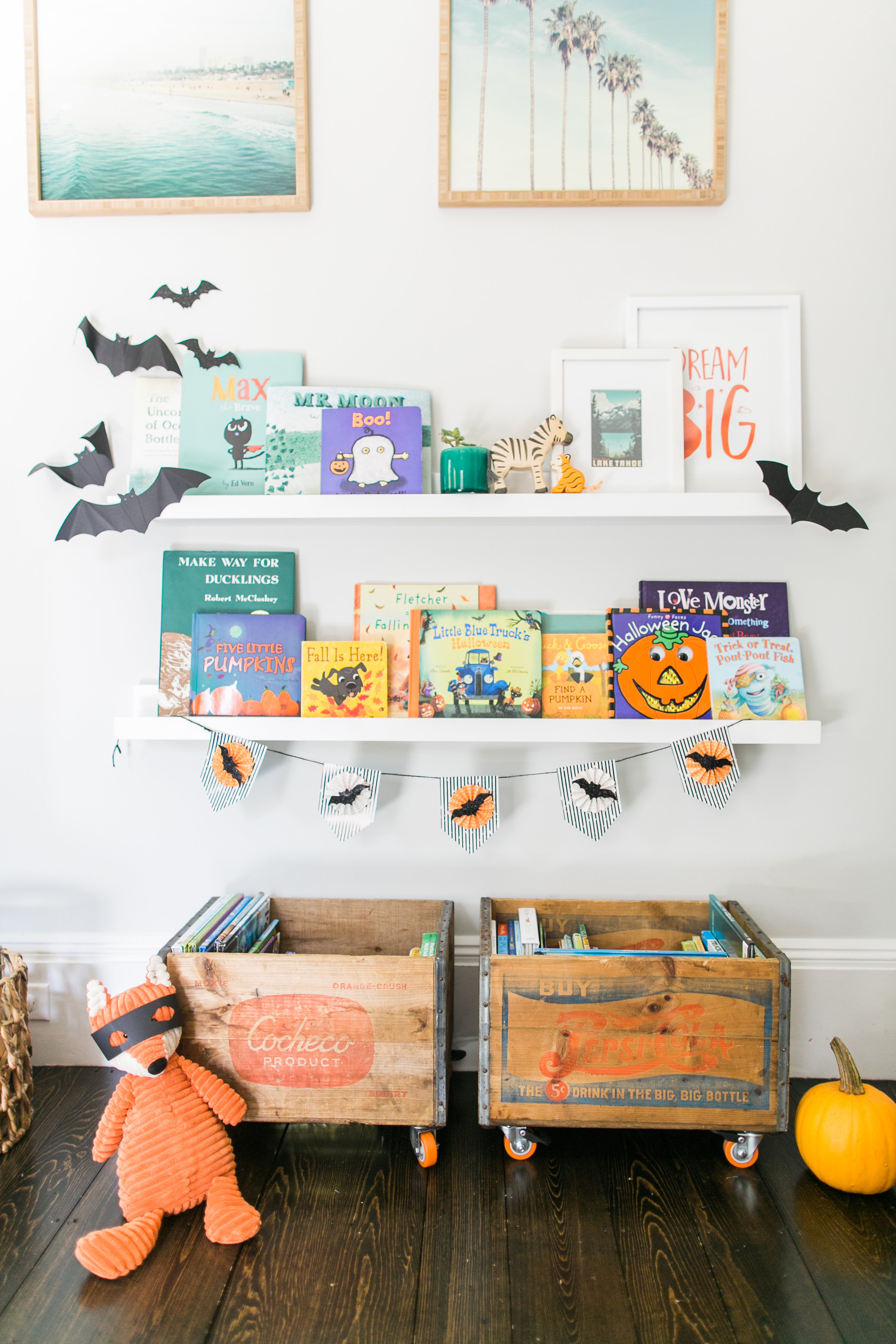 For the boys' playroom, I jazzed up the book shelves getting out all their Halloween books and a garland that I had gotten from the dollar section of Target last year.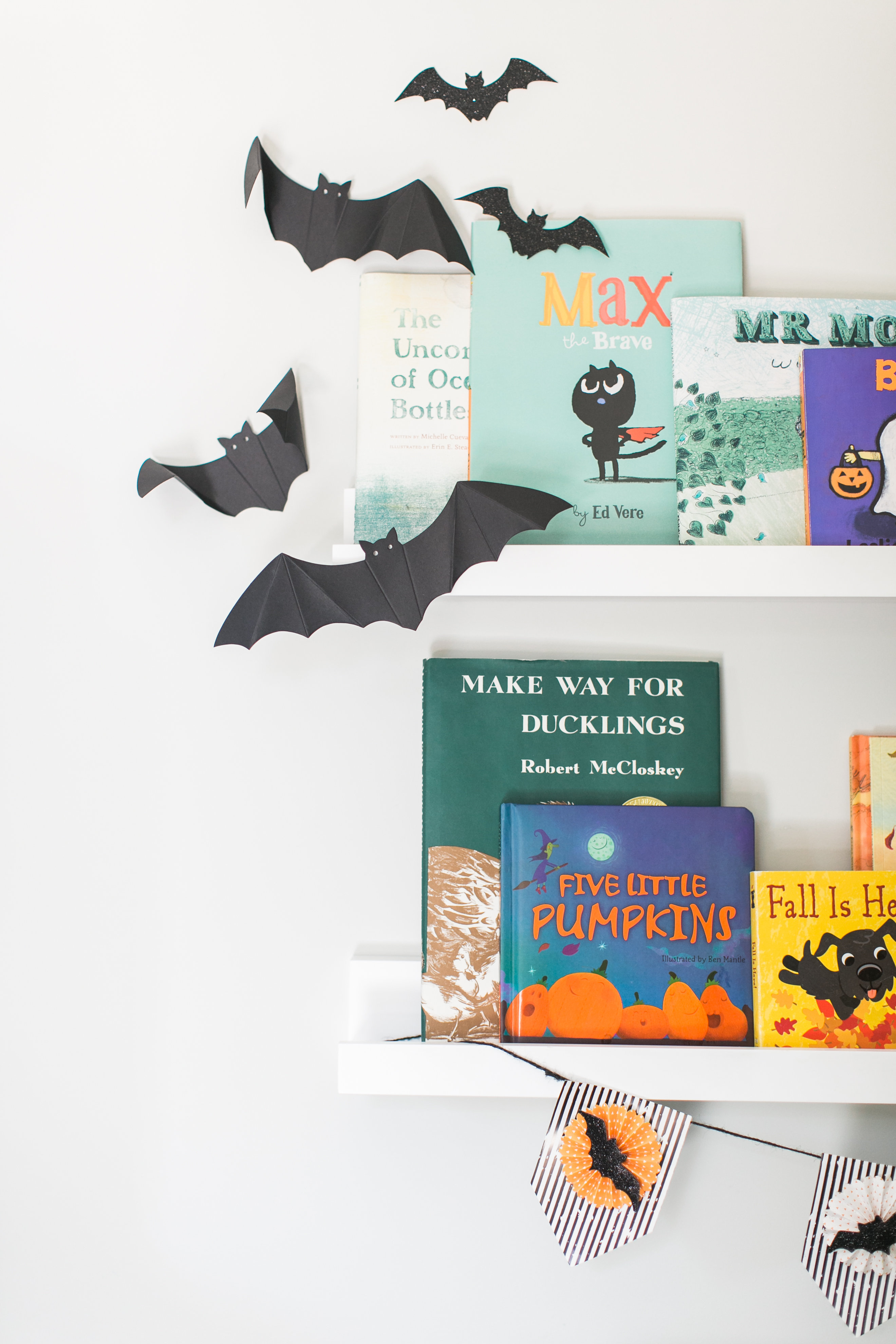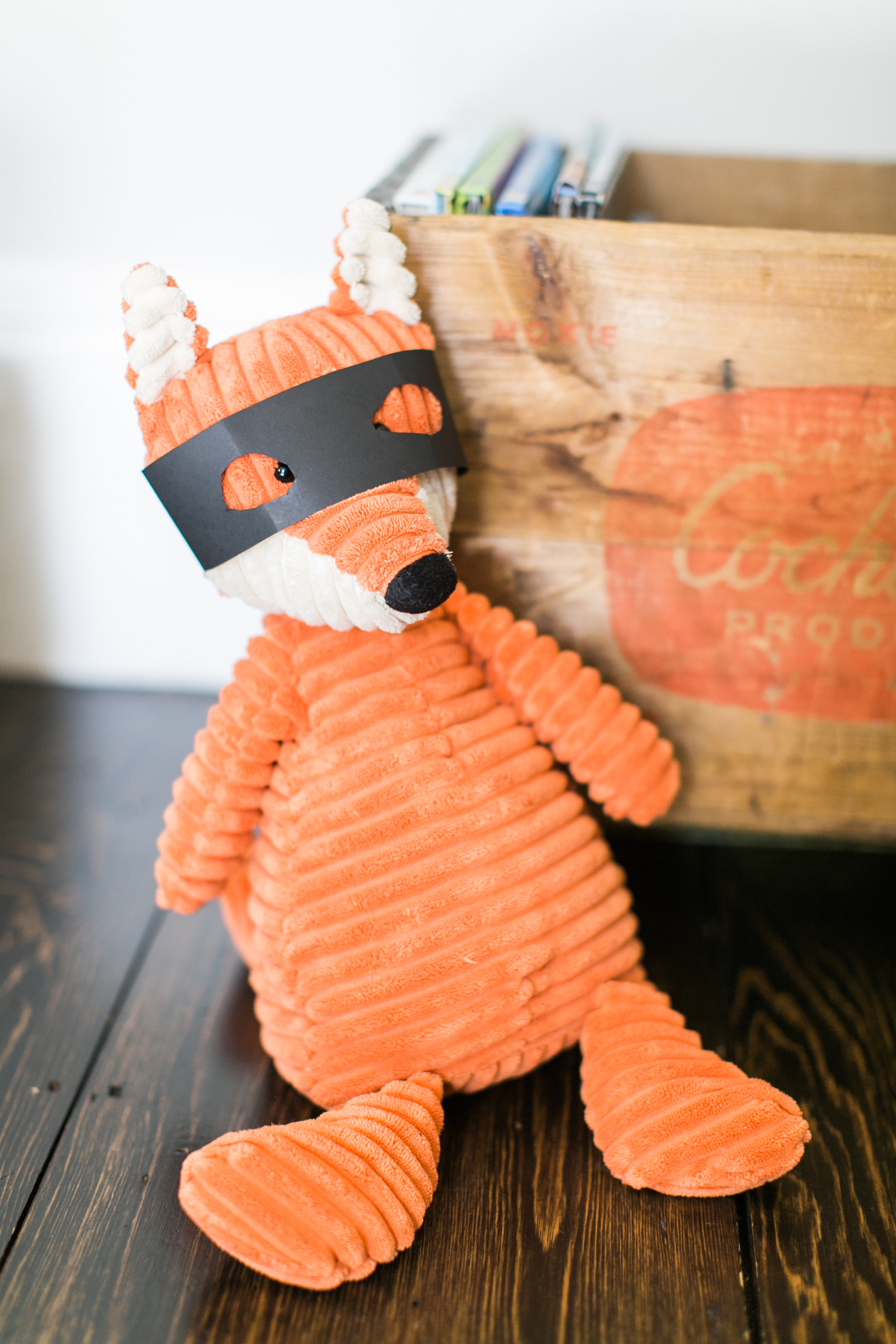 I like to turn their stuffed animals into "bandits" for Halloween. It's a simple touch, just a strip of black paper and tape, but it adds a whole lot of fun and elicits sweet little boy giggles. I will say, those paper masks get torn off in exactly 34 seconds.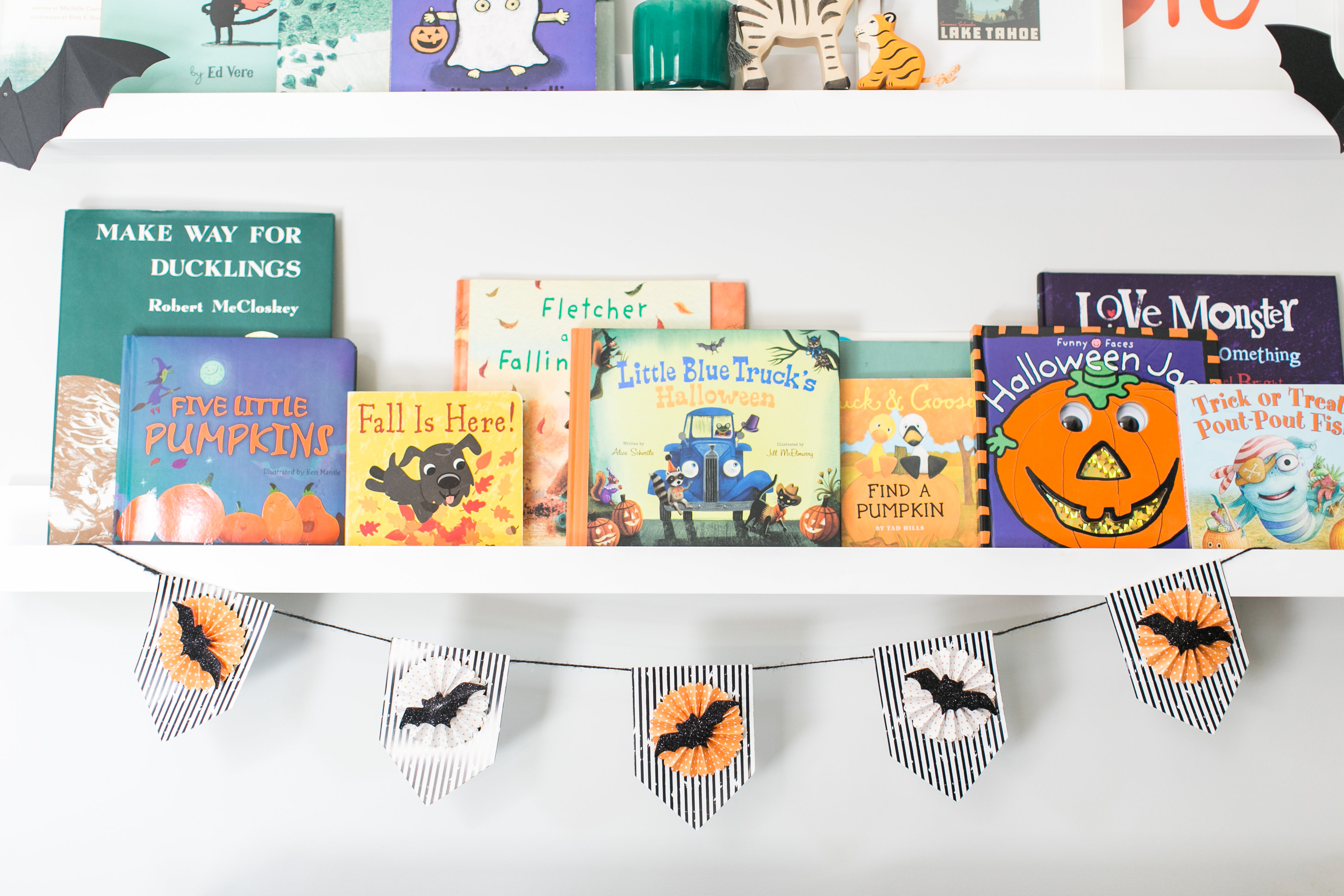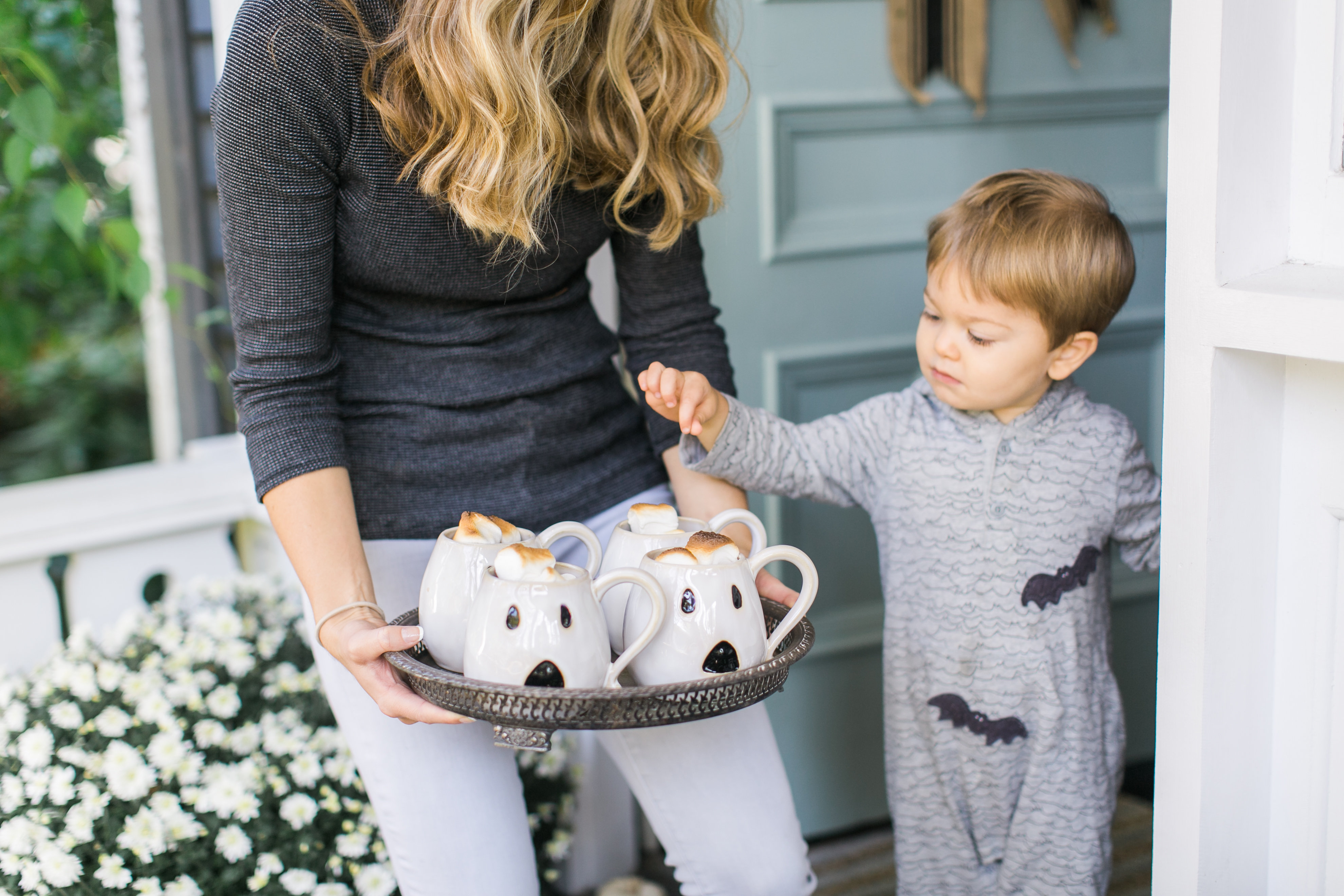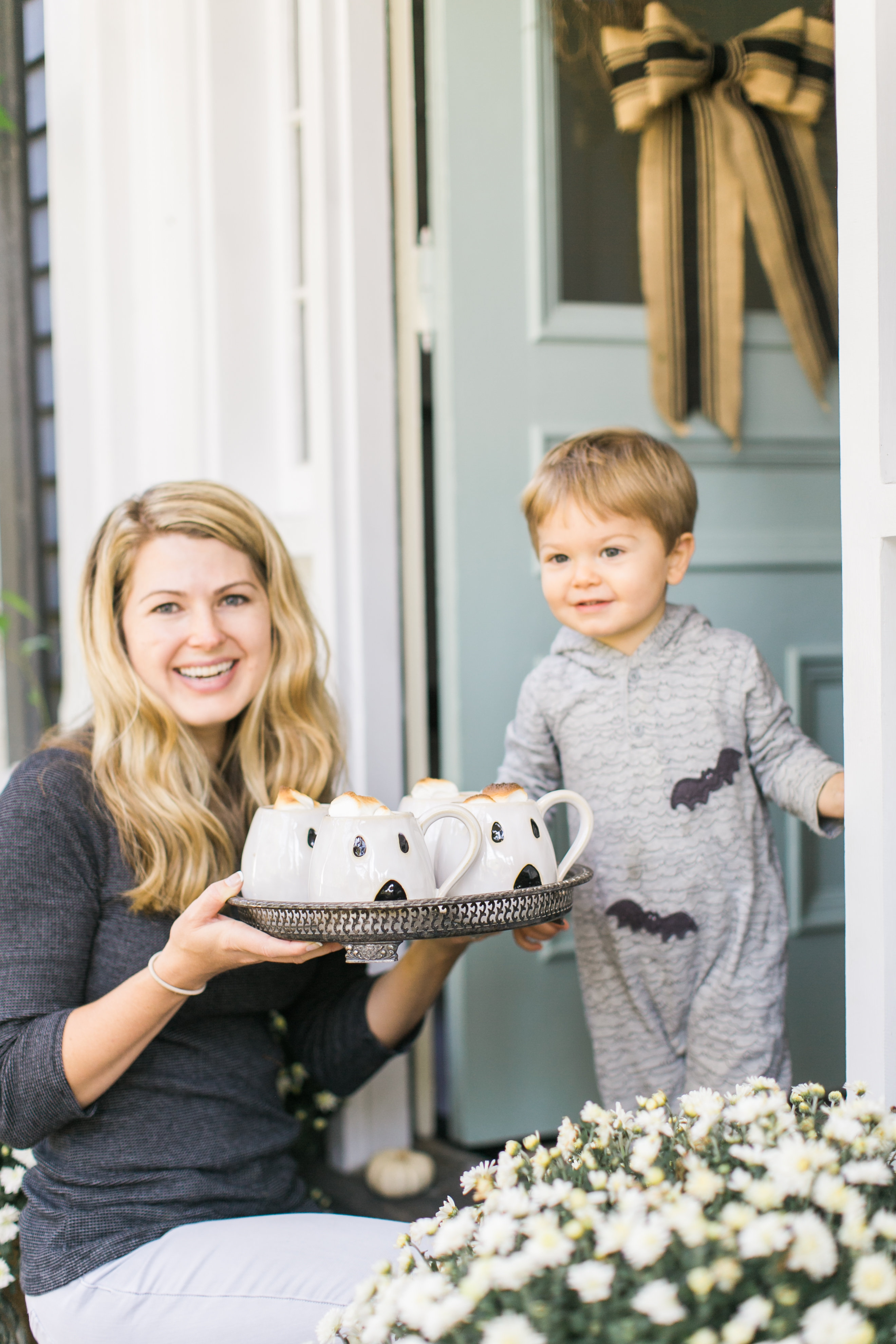 Thank you for stopping by! I wish I could share a cup of hauntingly good hot chocolate with you all! Next up on the Fall & Halloween Blog Hop is Joan from 2 Ladies and a Chair. Joan is an expert at making little changes to infuse new life into your space. You're not going to want to miss what she has in store for you!
Fall & Halloween Blog Hop