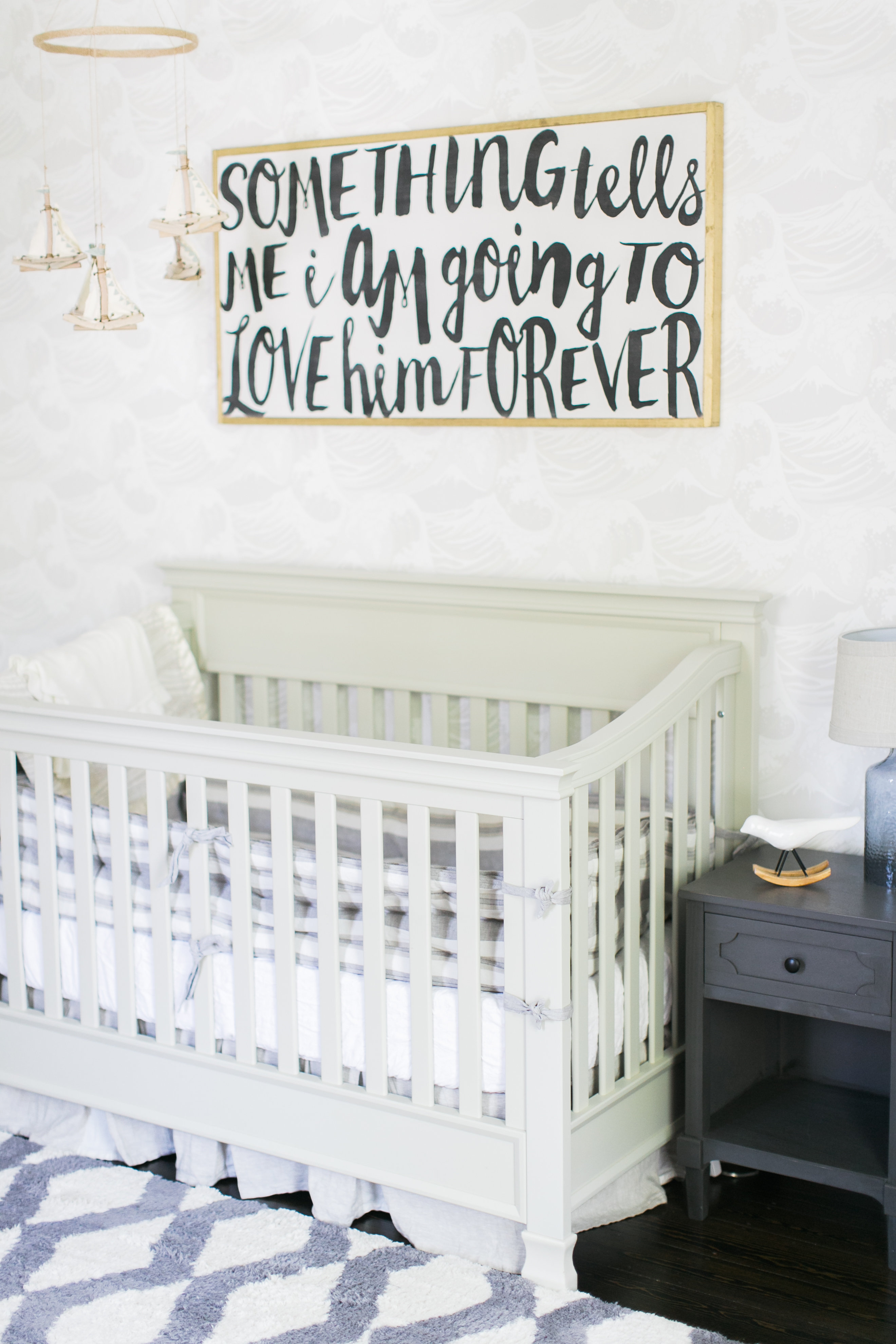 Welcome to Asher Kai's nursery. This space. It makes me take a deep breath when I walk in. And believe me, with this kid, this lovely of room is a TOTAL requirement. He gets the "hardest baby ever" award. But his room is pretty sweet. You can also see it over on Project Nursery.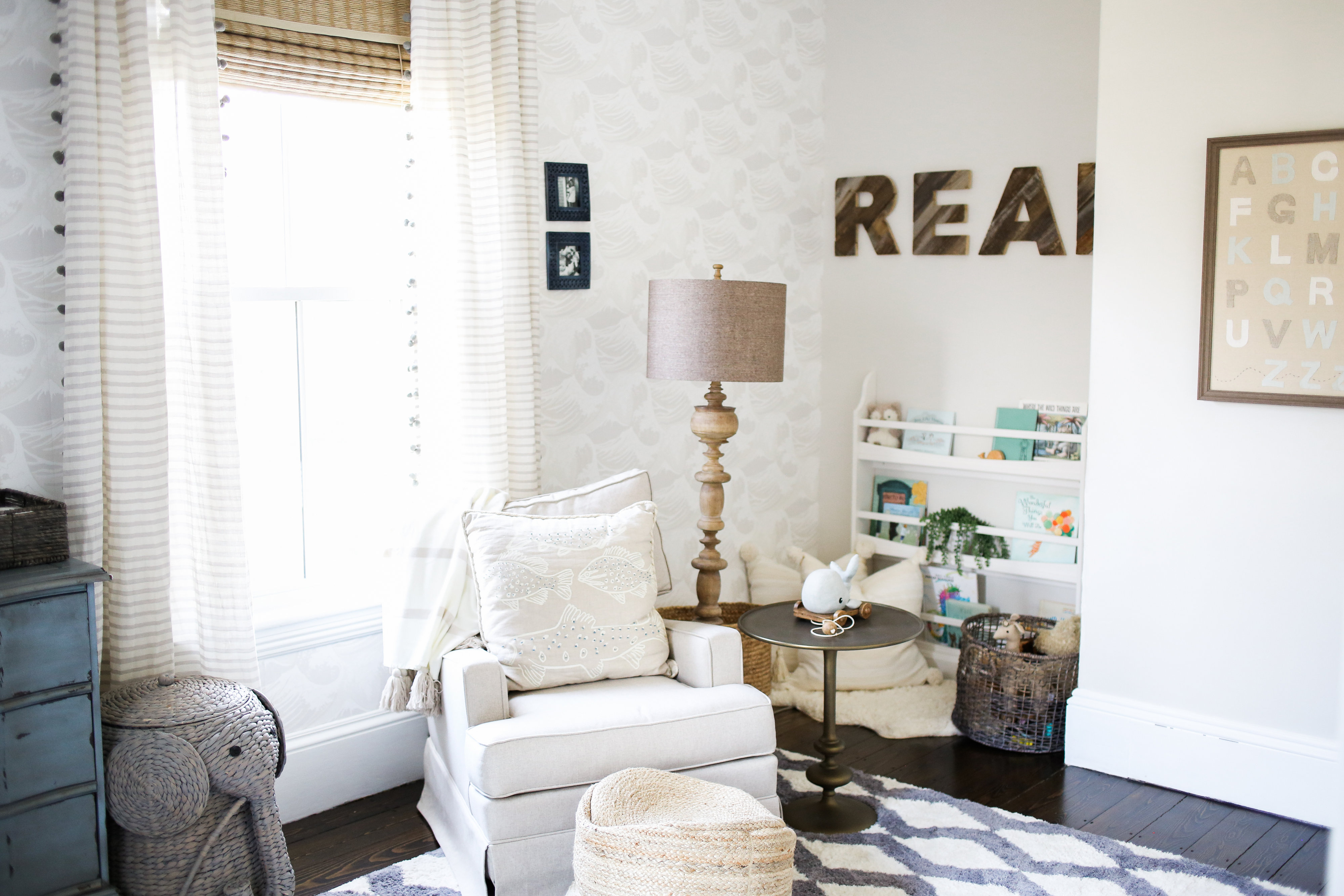 When planning this space my husband about had a heart attack when I told him I needed a glider. He said, "I'll just go into Cade's room, pick it up and plop it in the new babies' room." I protested because sweet Cade, still my baby, sits in that chair every night and reads his nighttime stories. I knew the new baby was going to be an adjustment since he surprised even us and they are a bit closer in age than I expected. I was not about to steal his glider for the new babies room. So we went with a "budget" option from Home Decorators Collection. I ordered fabric samples and matched it to the wallpaper which was my design foundation for the room.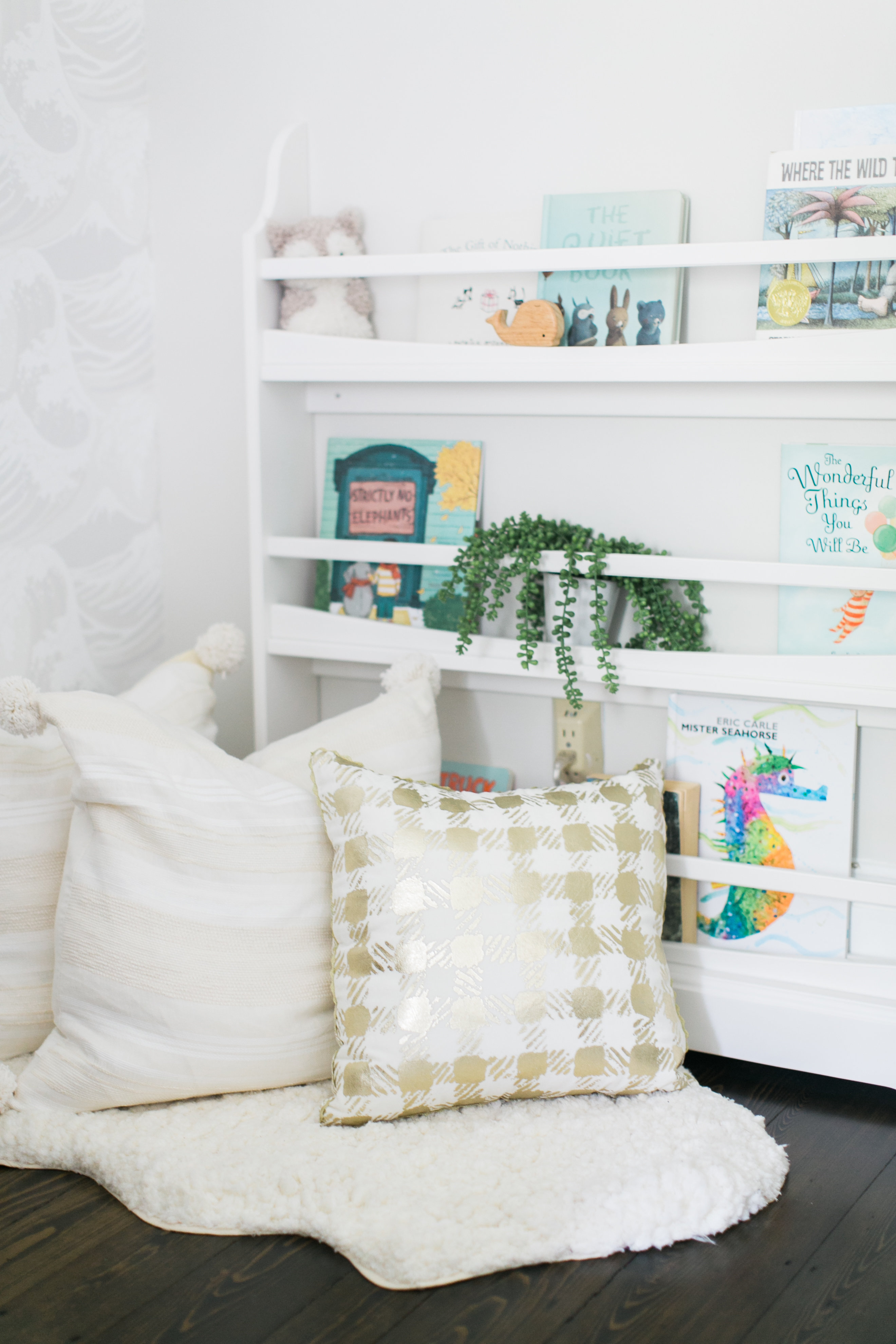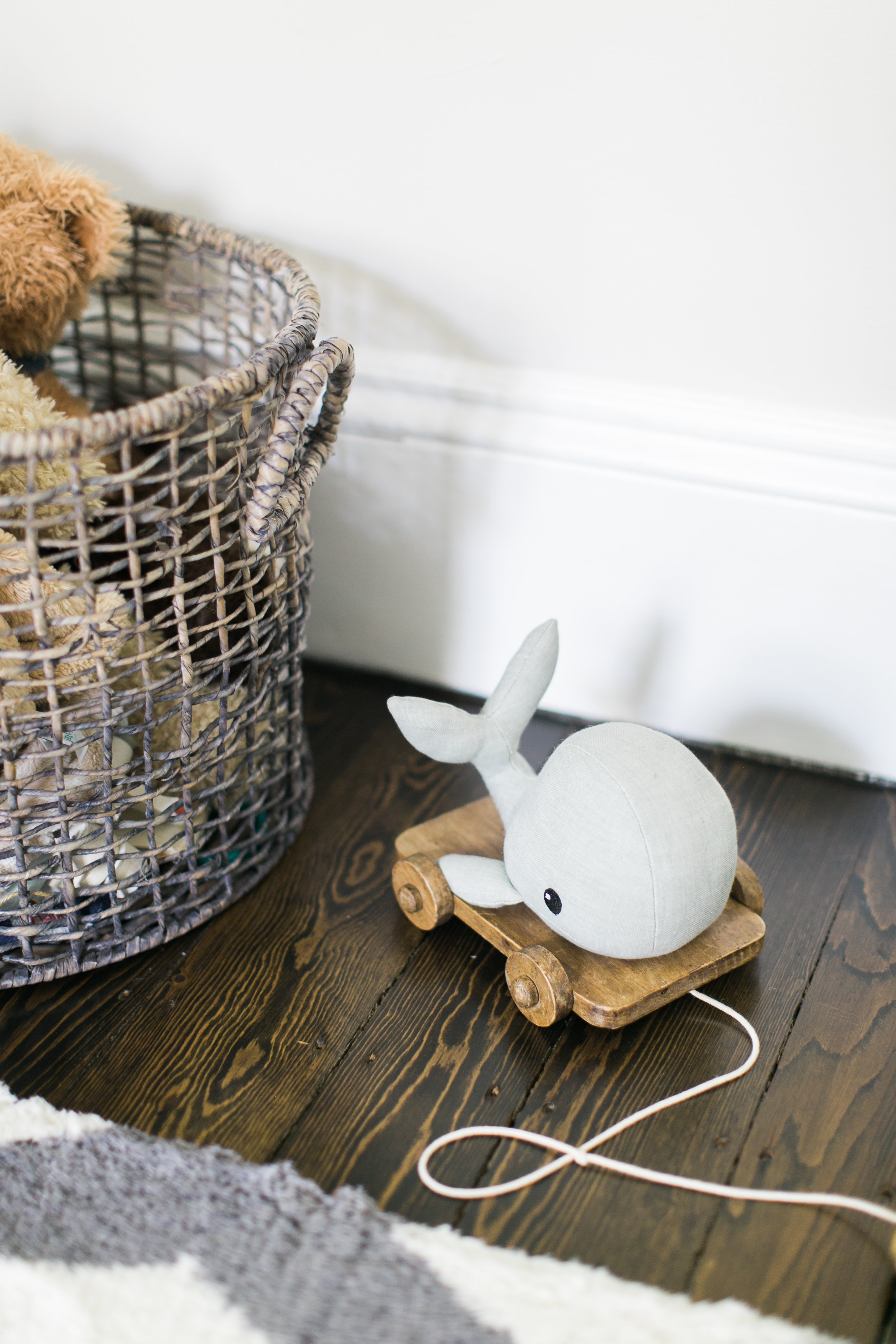 Before he came, when there was still hope he'd be calm and delightful, that's exactly the kind of room I wanted for him. Soothing. Neutral and oh so lovely. The sweet hand embroidered pillow was from a store in Chatham on the Cape.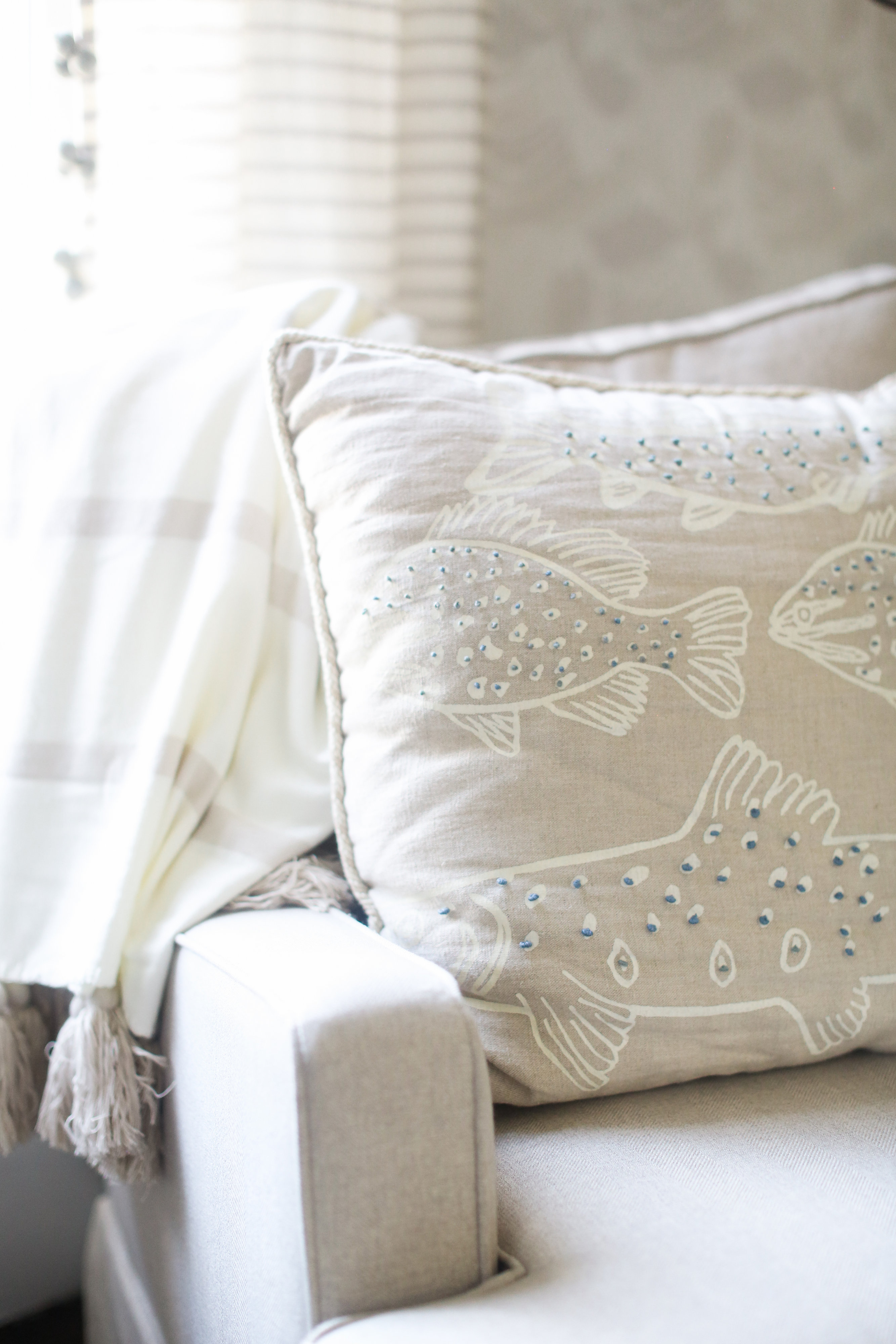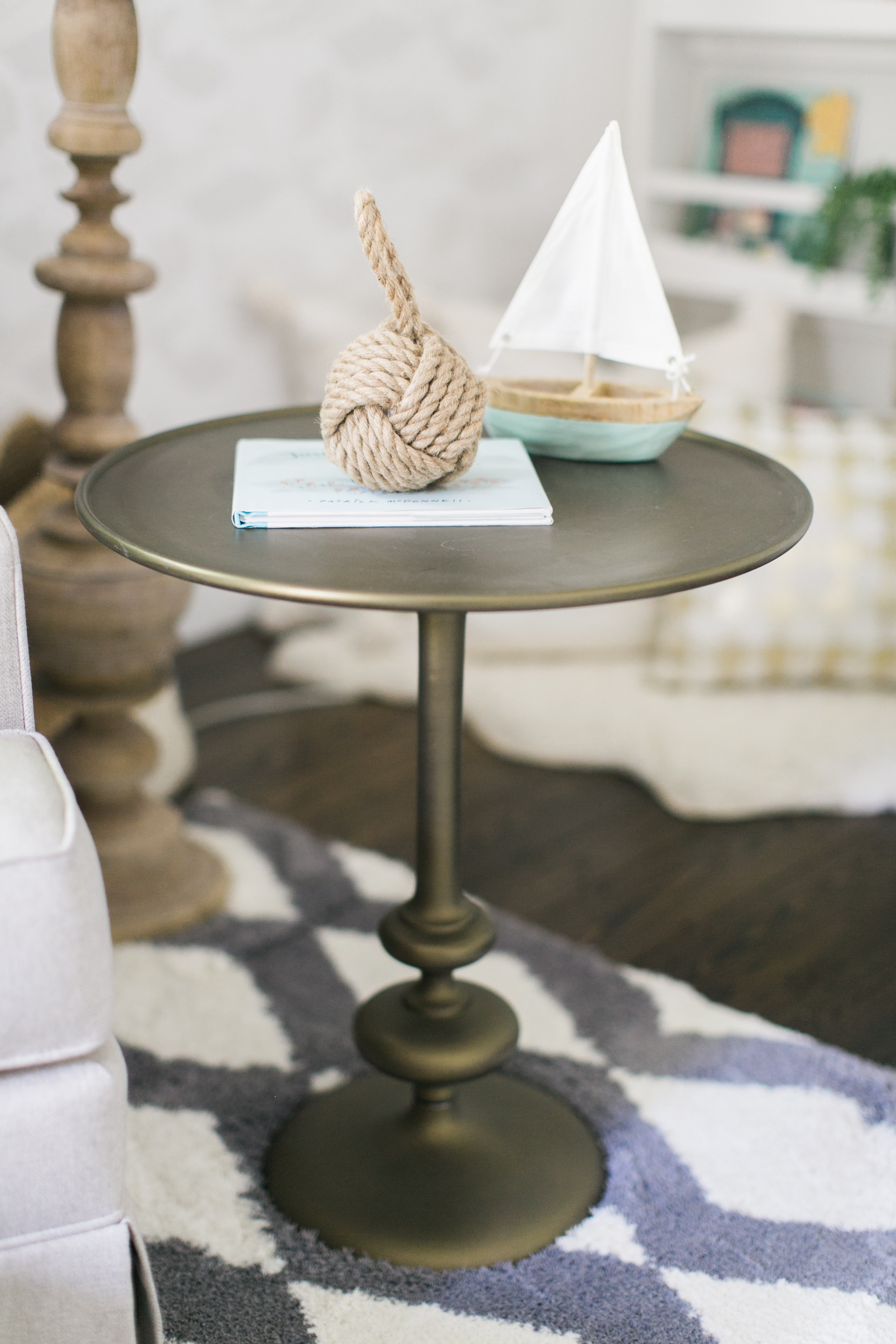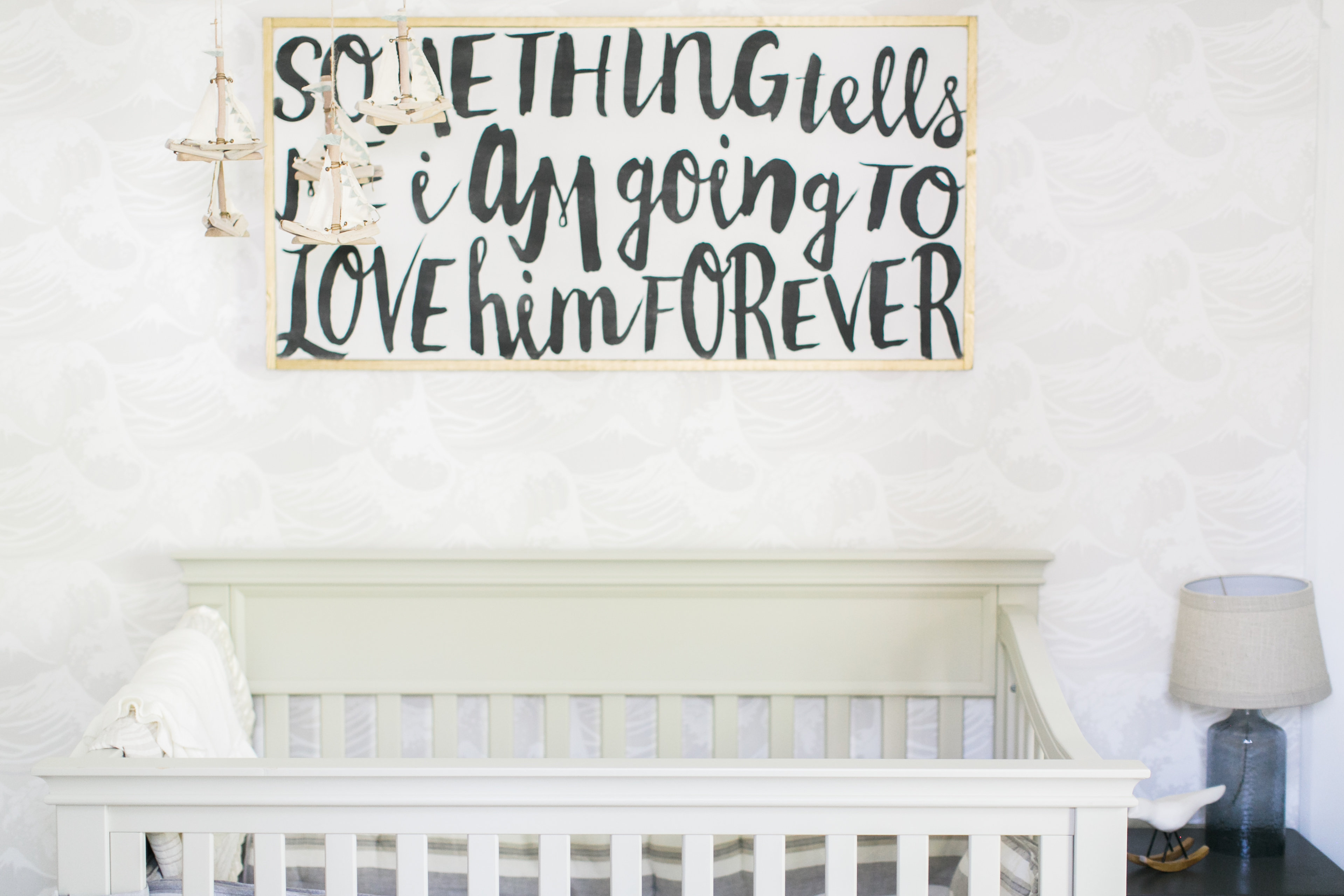 Like all of the inspiration in my home, it usually comes from a key piece. Whether it be fabric or wallpaper, rugs or a color, something needs to ground your design and inspire the compilation of the space. For Kai's sweet room that was the wallpaper which is by Cole and Son called Great Wave in stone color. Everything hangs on it's color scheme and pattern. We found the wall color (Benjamin Moore Classic Grey) by matching samples to the wallpaper. Once you have your foundation, everything else falls into place.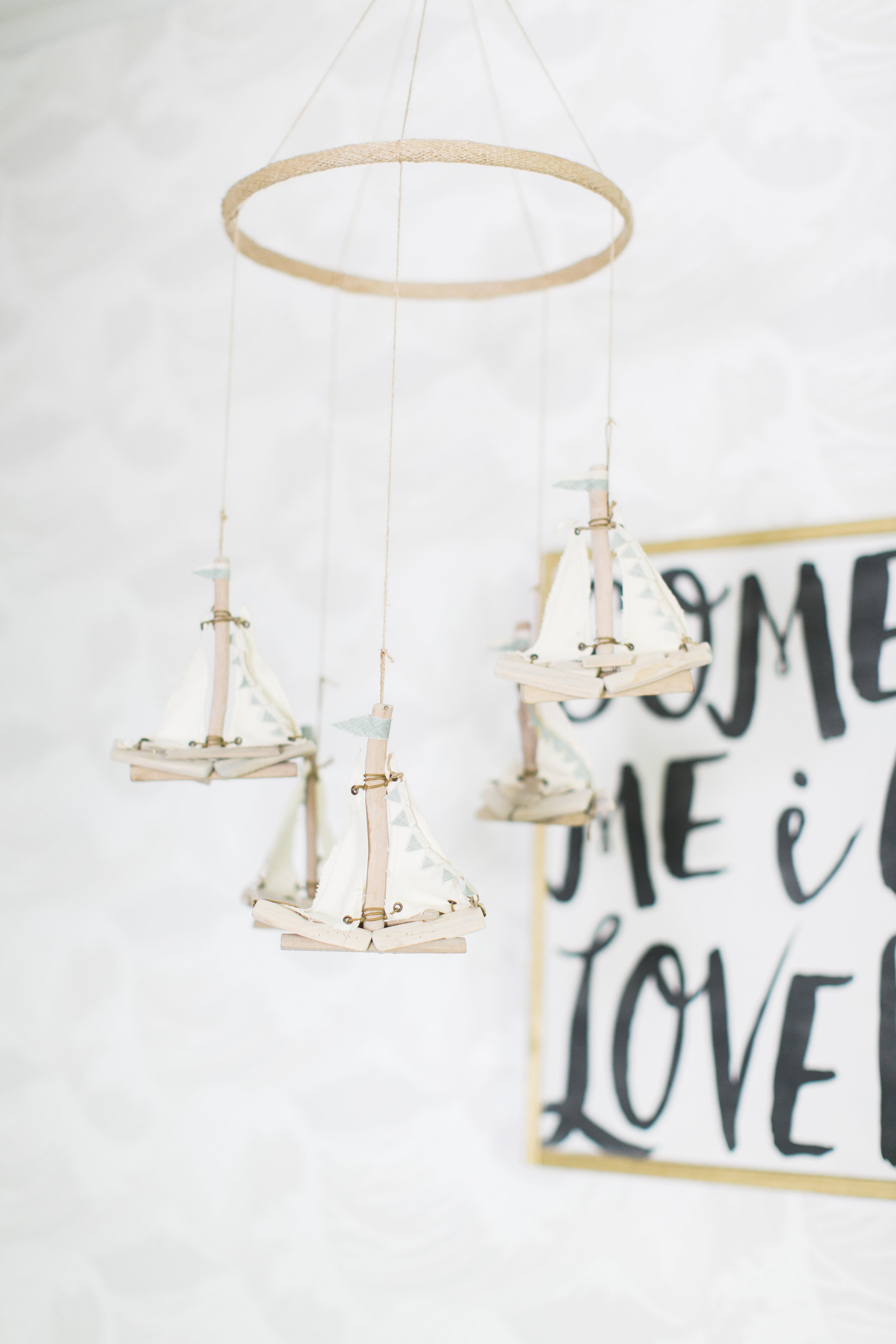 I couldn't find the mobile that I dreamed about so I made my own. This sweet little mobile requires only a few supplies. I used 5 driftwood sailboat Christmas ornaments that are about 5″ tall. I originally bought mine from the website, Mud Pie but they've since sold out. I linked some below that are similar. I used twine, a wood hoop from the knitting section of Joanns and scrap linen fabric to make the sailboat flags.
DRIFTWOOD SAILBOAT MOBILE DIY
5 Driftwood sailboat ornaments or similar boats
1 wood knitting hoop, 12″ in diameter
twine
thin waxed twine
fabric scraps for sailboat flags
First I cut out little triangle "flags" for the sailboat's sail just to add in some of the colors of the nursery. I tied a thin waxed piece of twine to the top of the sailboat mast and then to the bottom of the sail on the farthest edge so it made a "swoop" like effect. I used hot glue to glue the little flags on.
Once I had my sailboats I tied them with twine and spaced all 5 equal distance apart on the hoop, each at a different height. I made sure to tie them to the hoop leaving a long strand of twine which I then gathered all together in order to hang it from the ceiling. See the finished product below.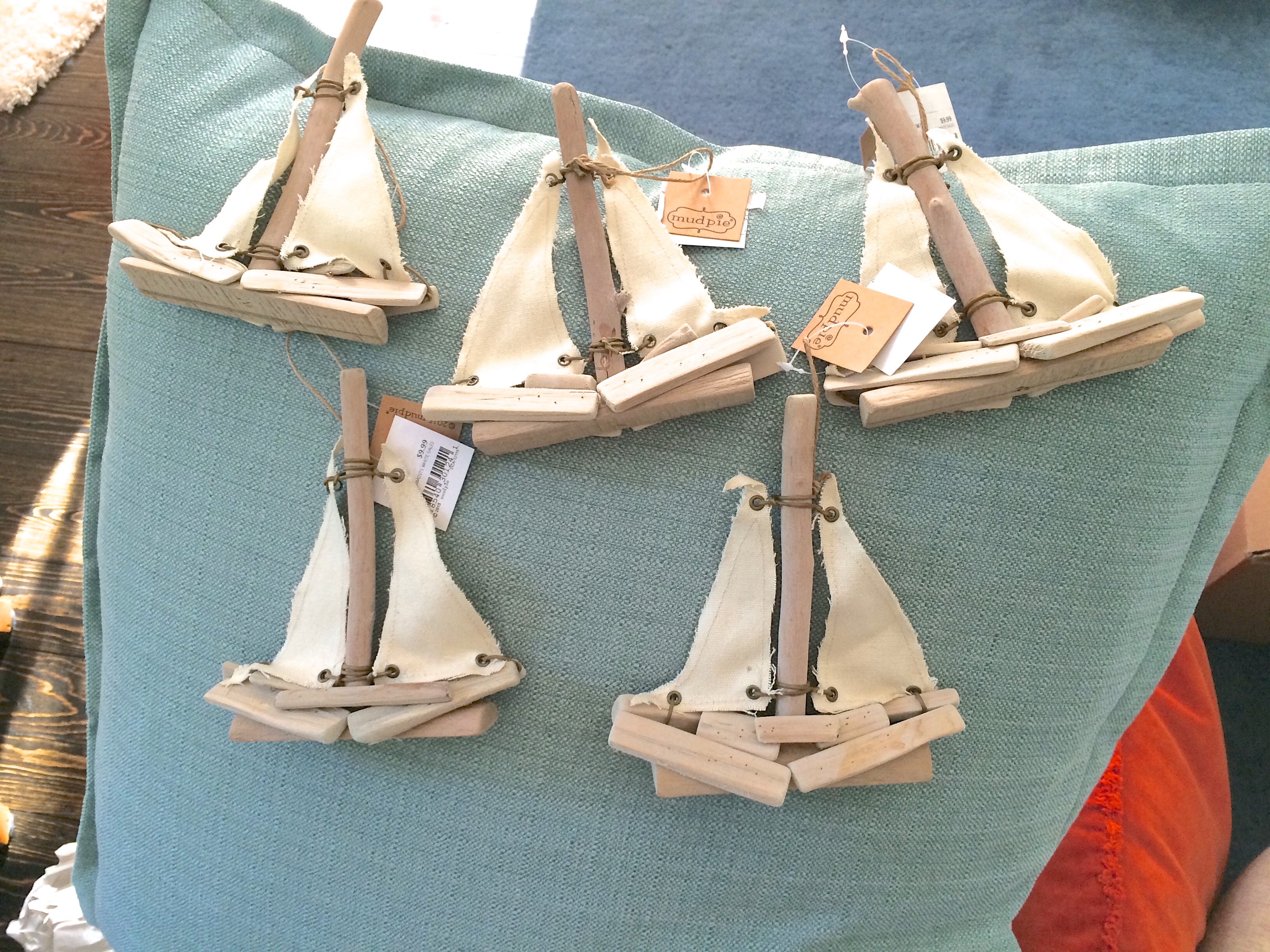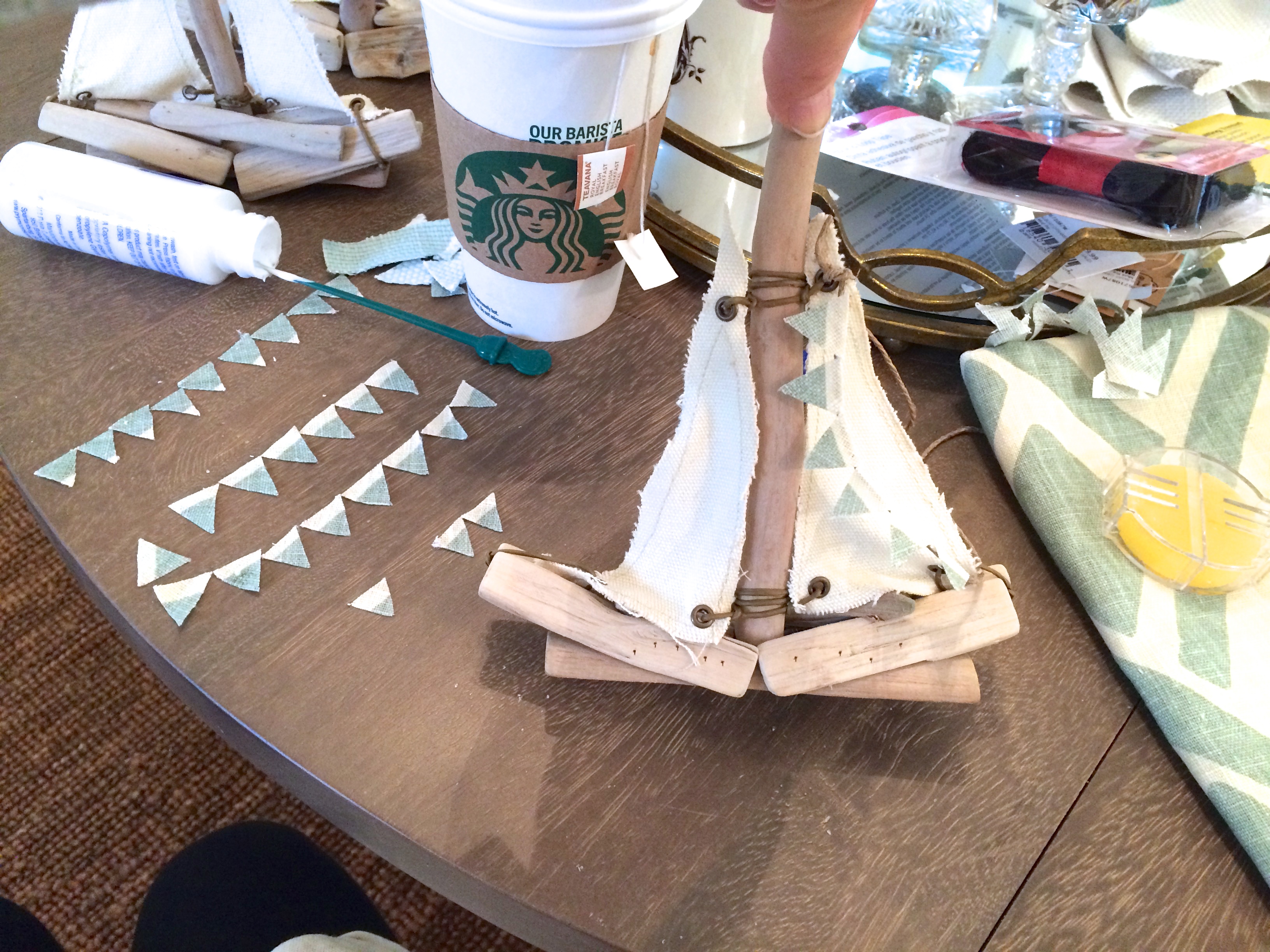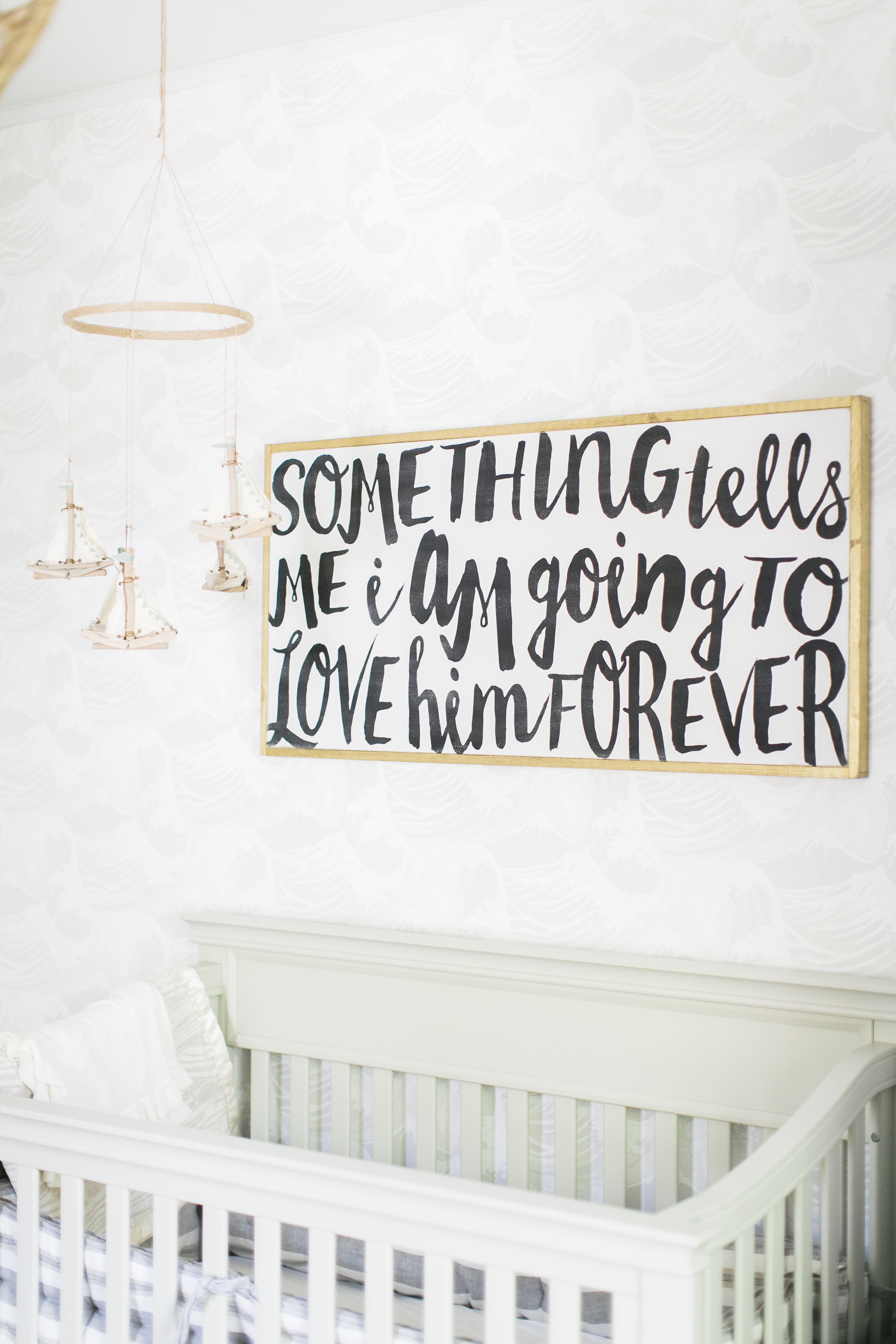 I usually sit in the space, pencil and paper in hand and sketch it out. It helps me figure out where furniture goes, without breaking my husbands back. This also helps me know what I'm looking for when I start the furniture hunt. I'm drawn to symmetry and clean aesthetic. I was a bit bummed I couldn't do matching side tables on either side of the crib, the room size just wouldn't allow for that. Once I know where things go, then the fun begins.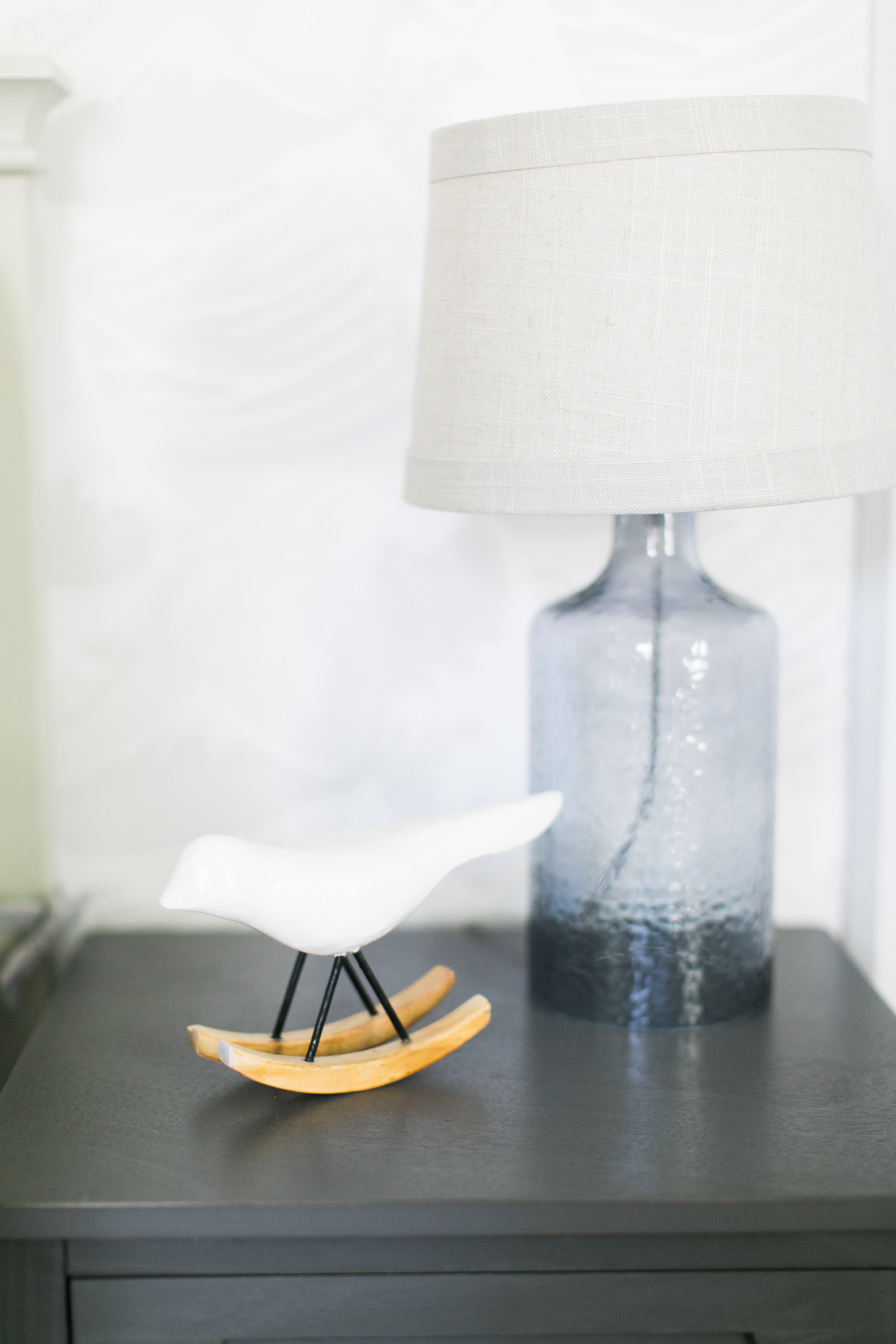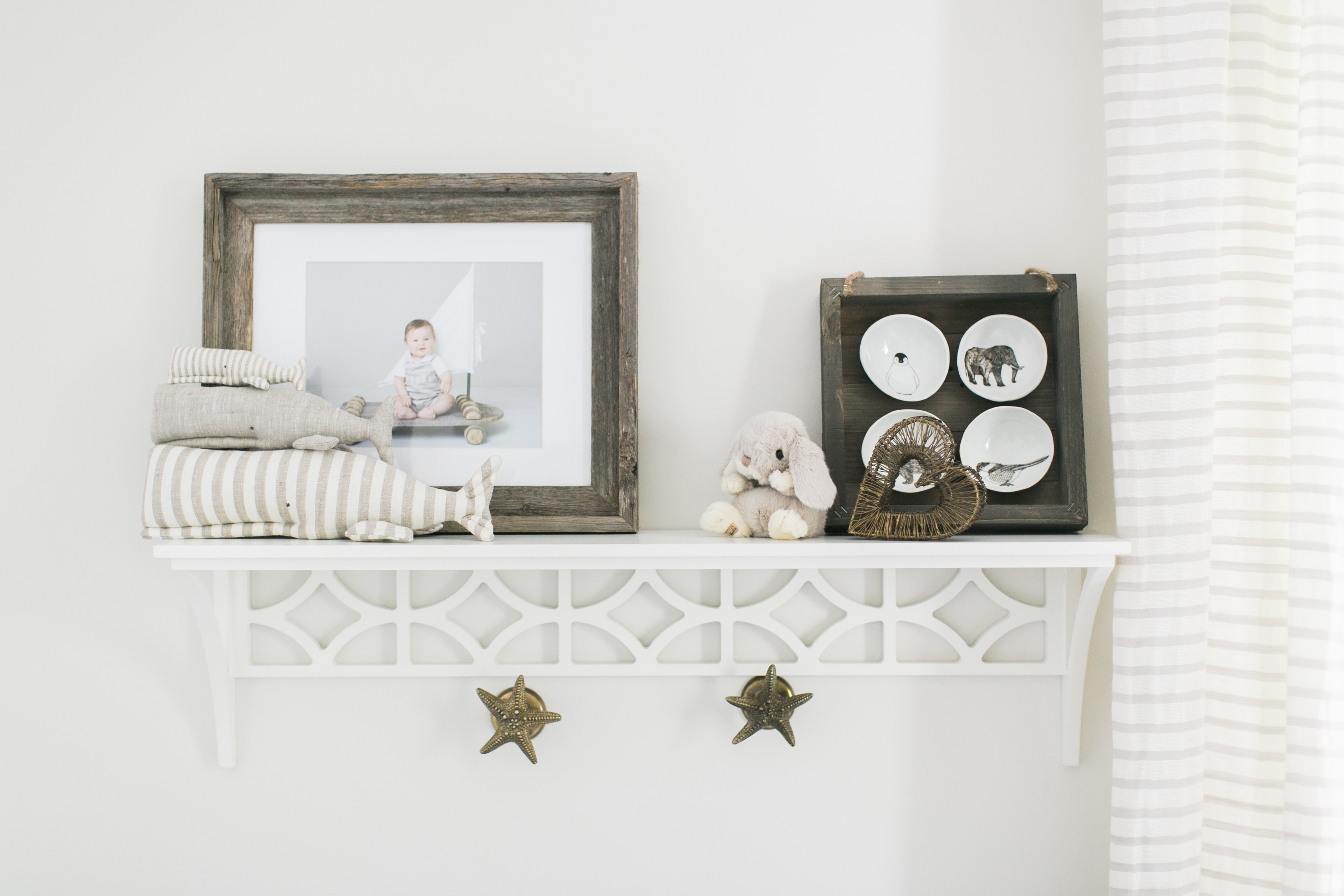 The wall shelf is from Potterybarn and jazzed up with some hand picked treasures. I hand made the little pottery shadow art after picking up those sweet animal bowls on an outing to nearby Concord. I hot glued them to a box I found on sale at Michaels. If you look too closely around the little bowls you'll see the holes that spell "Merry Christmas". See, all things can be repurposed, even holiday clearance. The starfish hooks are from Anthropologie and the stuffed whales are from Etsy.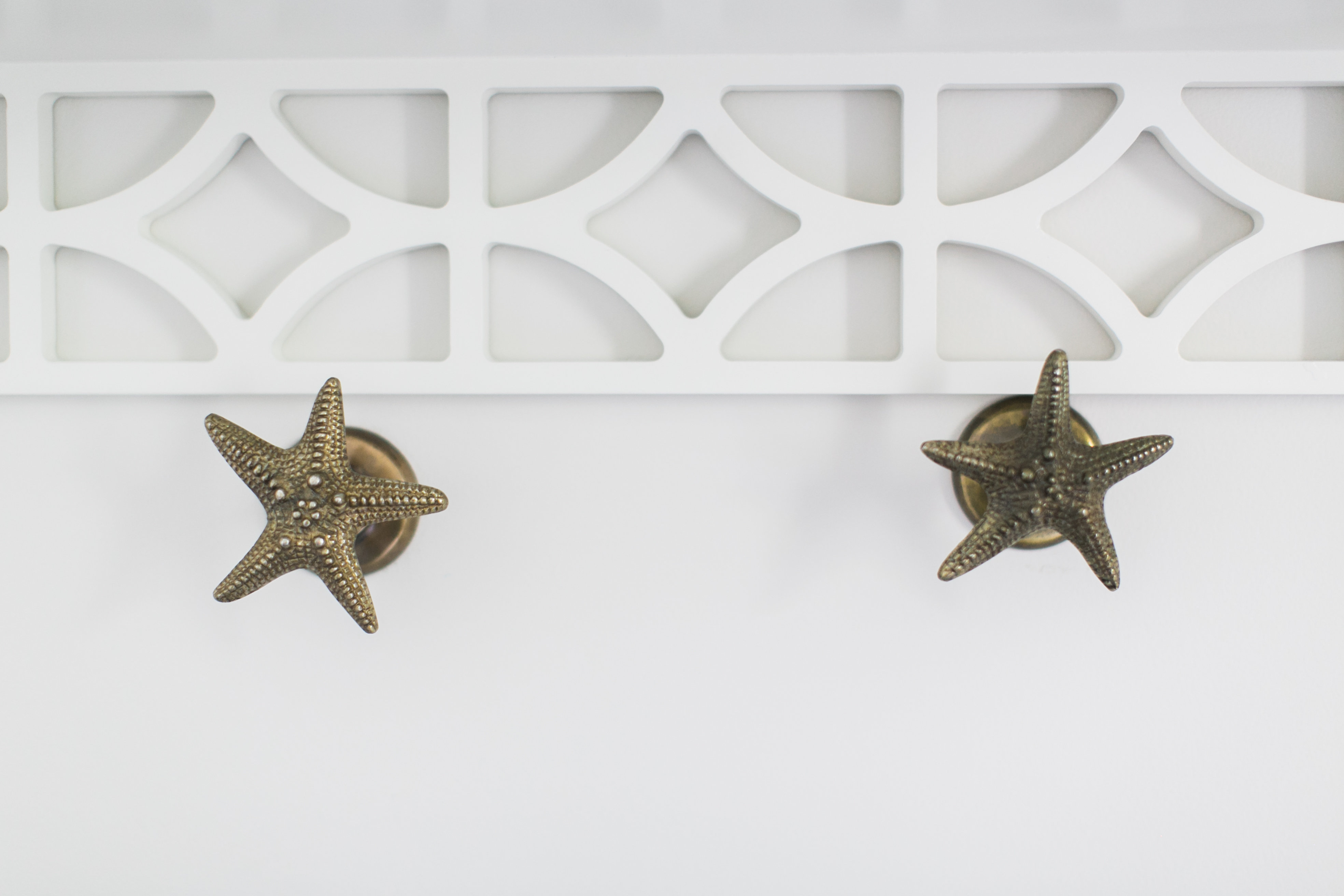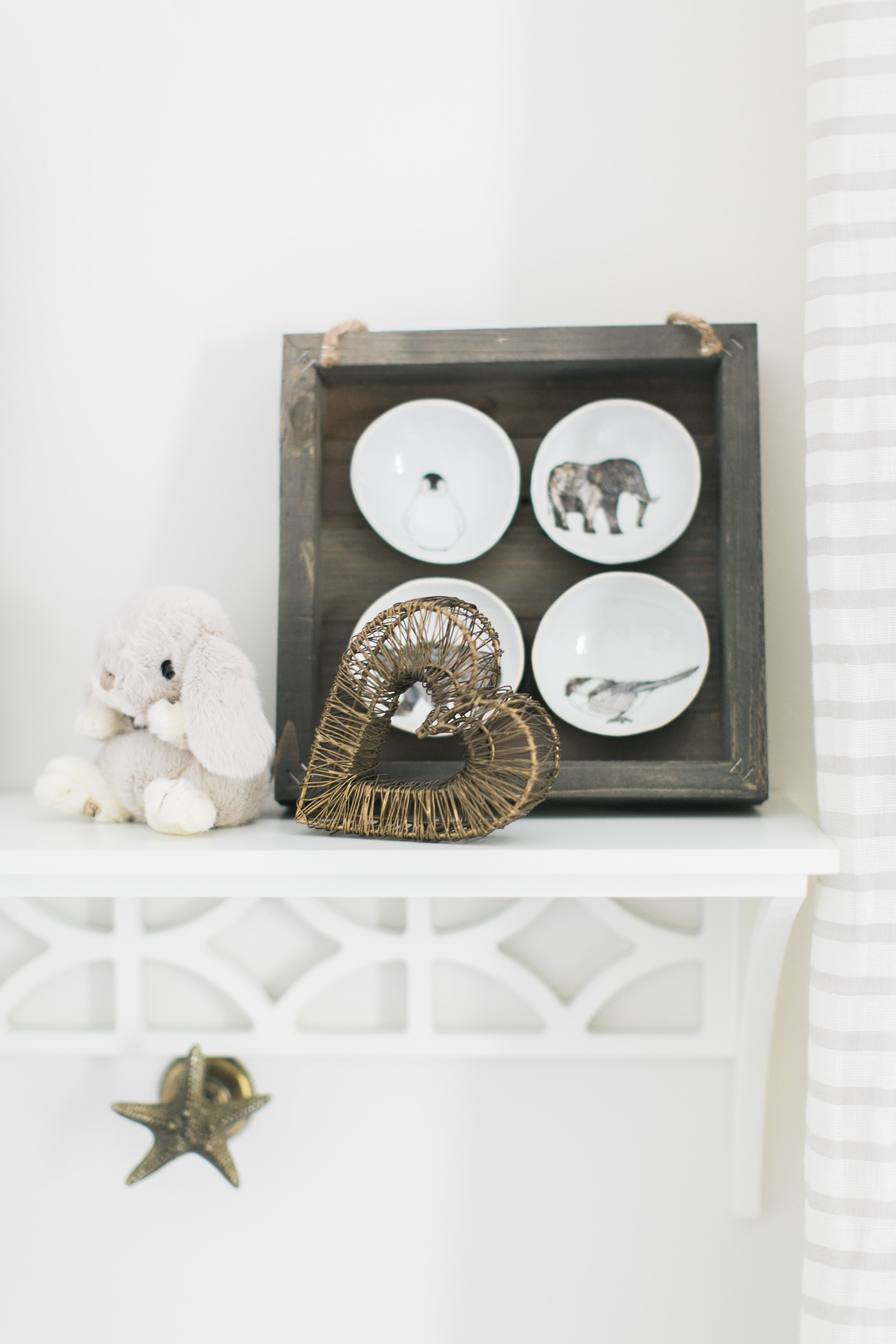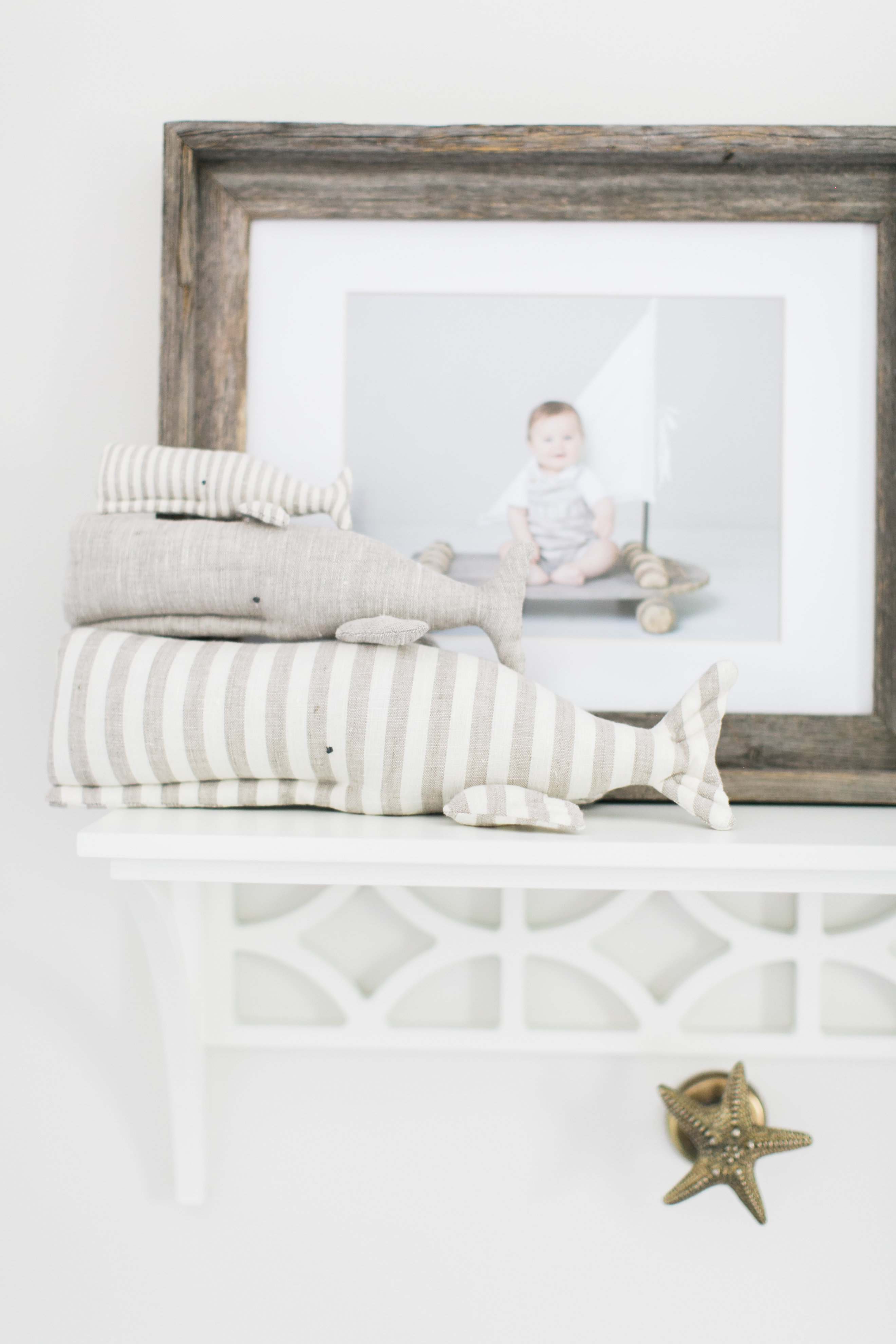 Caedmon's nursery had some beautiful, meaningful art, handmade by the House of Belonging on Etsy. I knew I needed something from them for above Kai's crib and that's exactly what we got. The graphic letters add drama to a neutral wall. The mobile is handmade by me and my hubs. When I was ready to lose it (lets go with pregnancy hormones here) he stepped in and strung up my driftwood sailboats. Always calm to my storm and ground to my lofty ideas.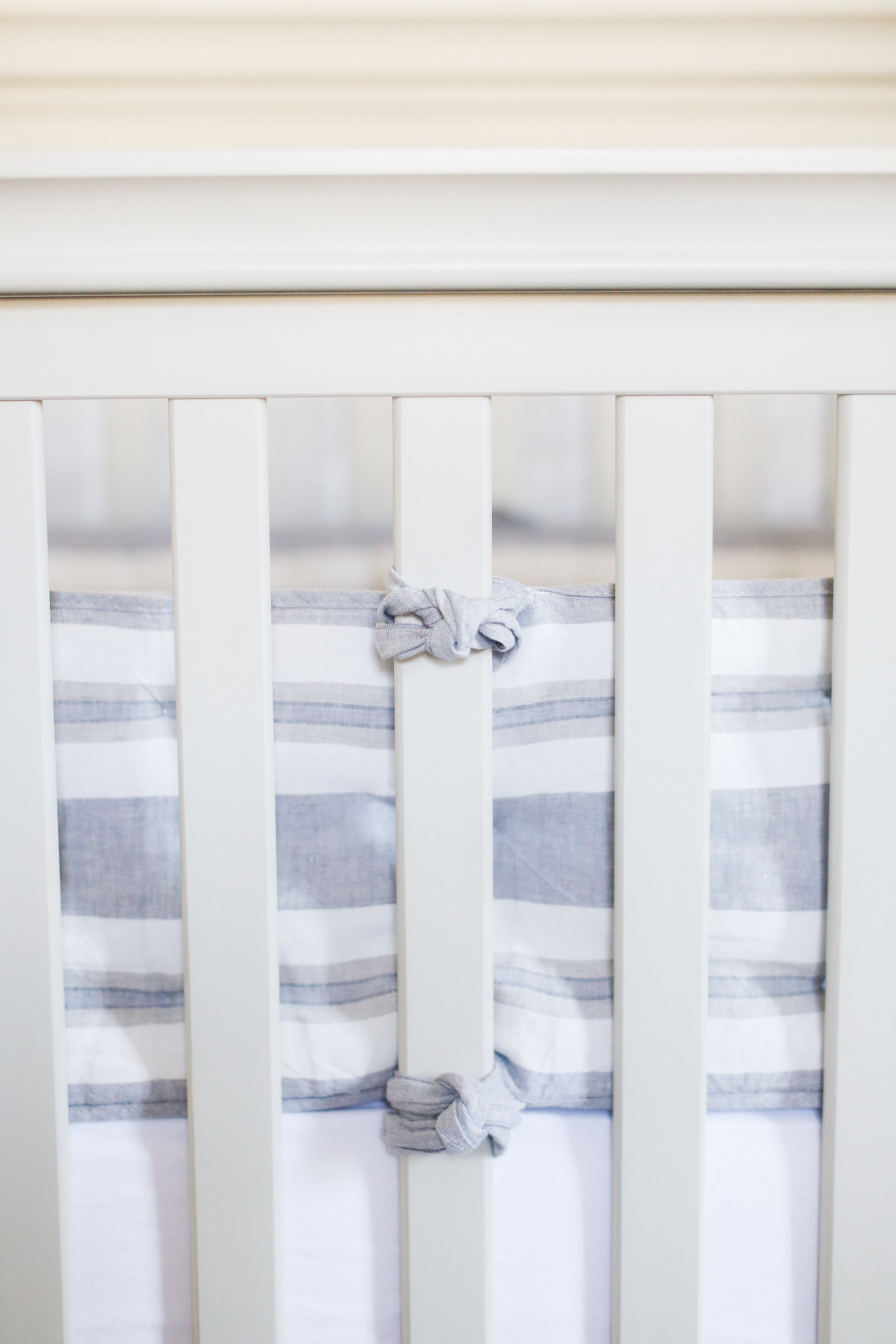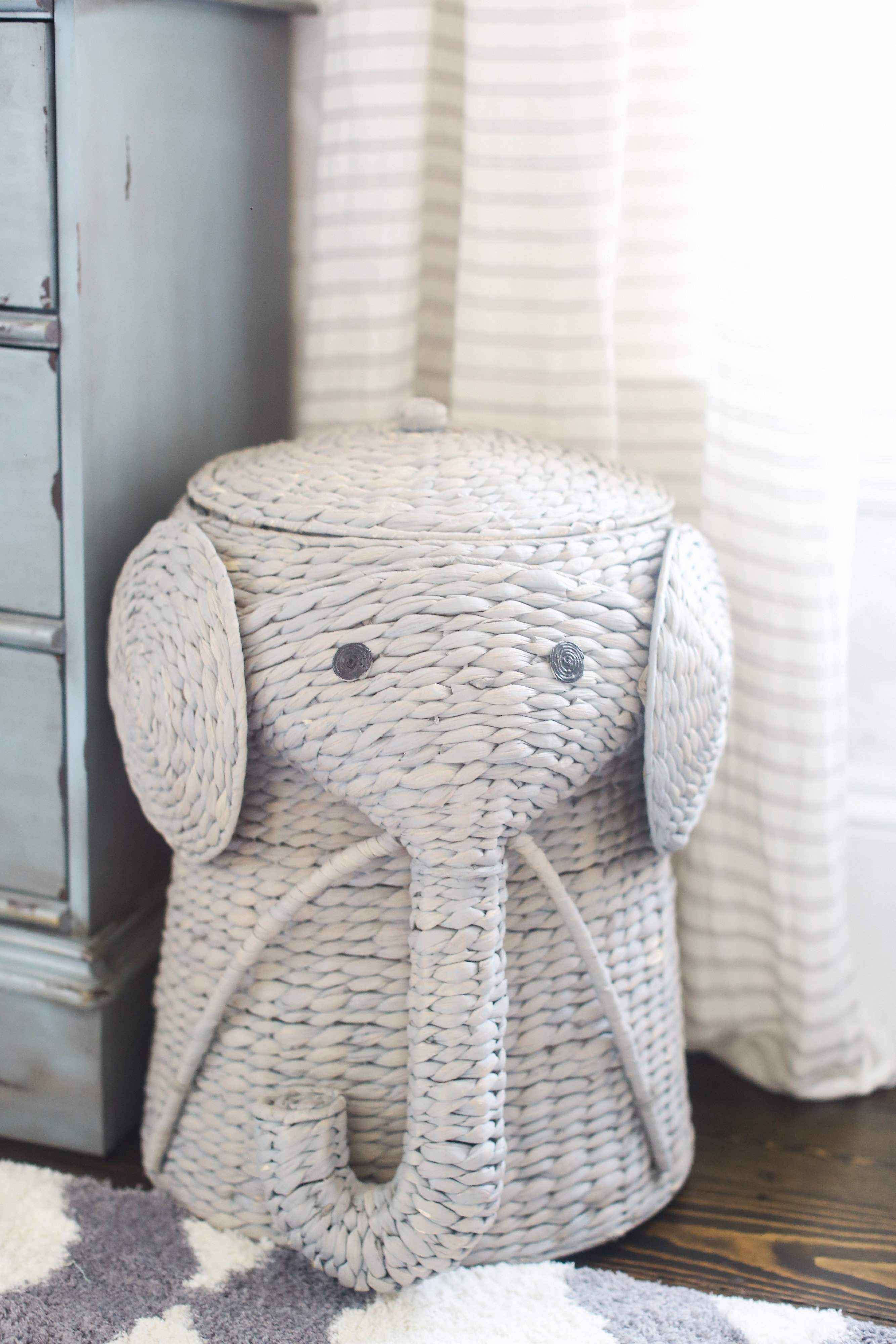 The curtains are one of my favorite things in the entire space and my mom's absolute favorite. They are from Anthropologie. They are pricey but I waited until there was a sale and free shipping. Be strategic and you can save a lot.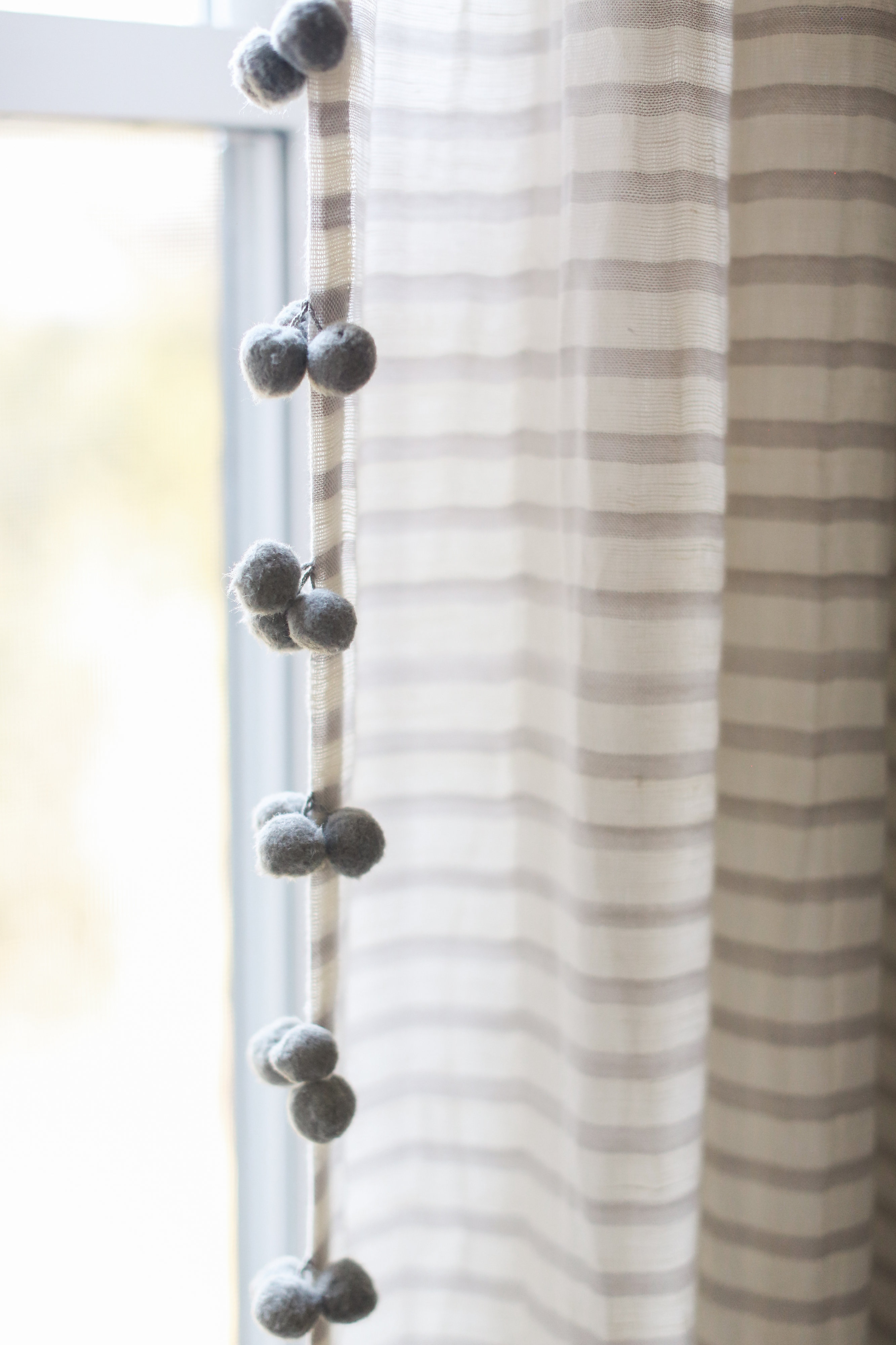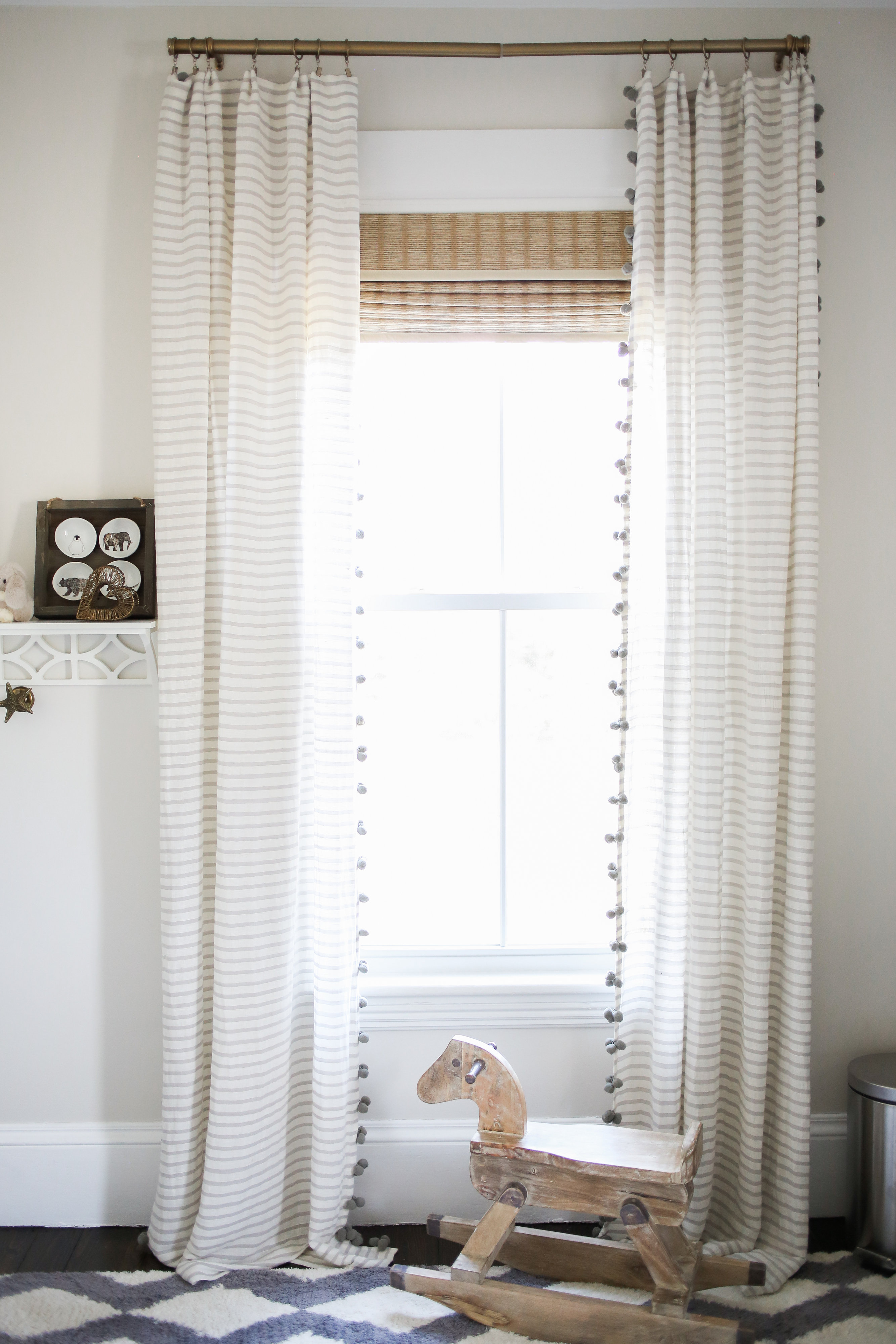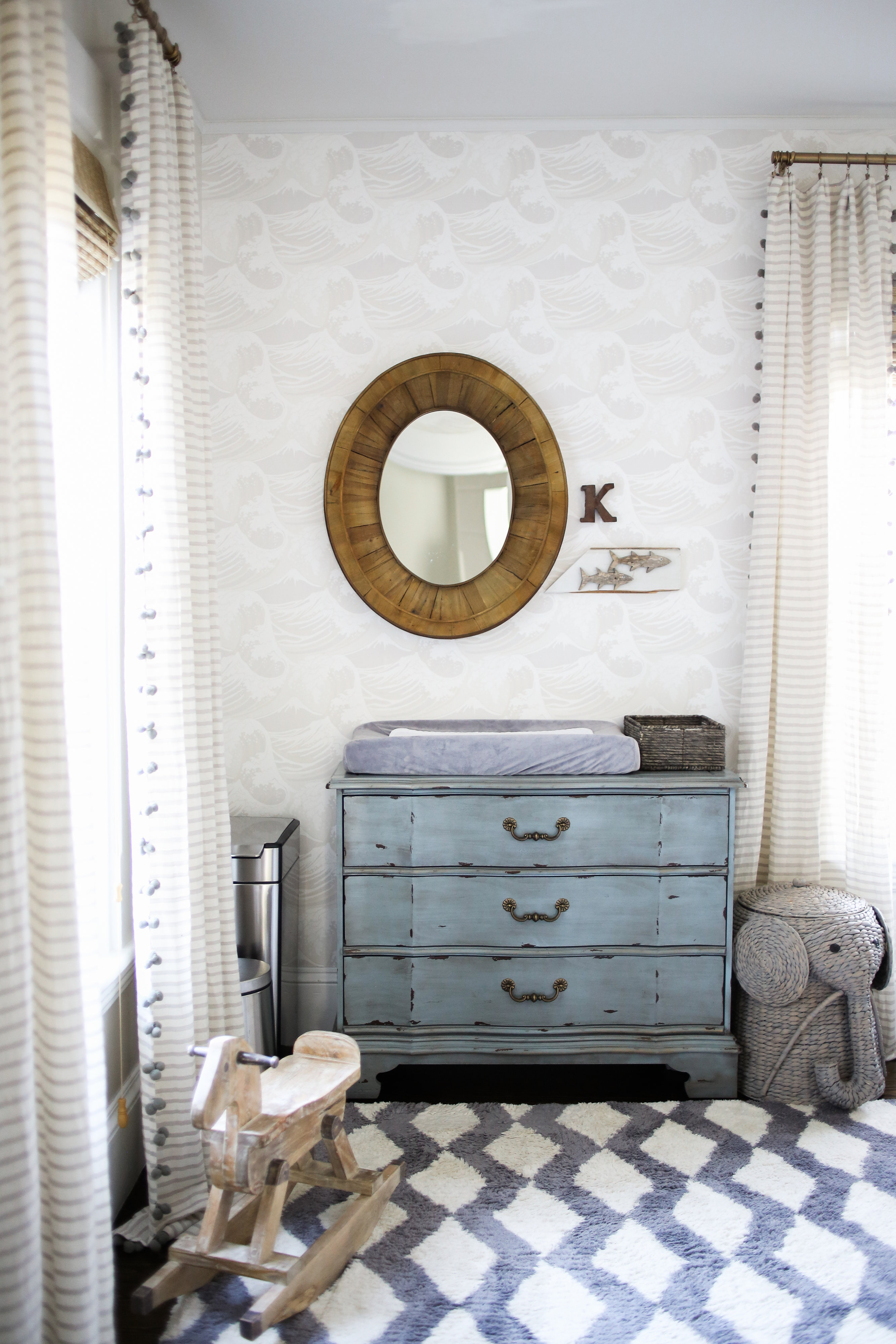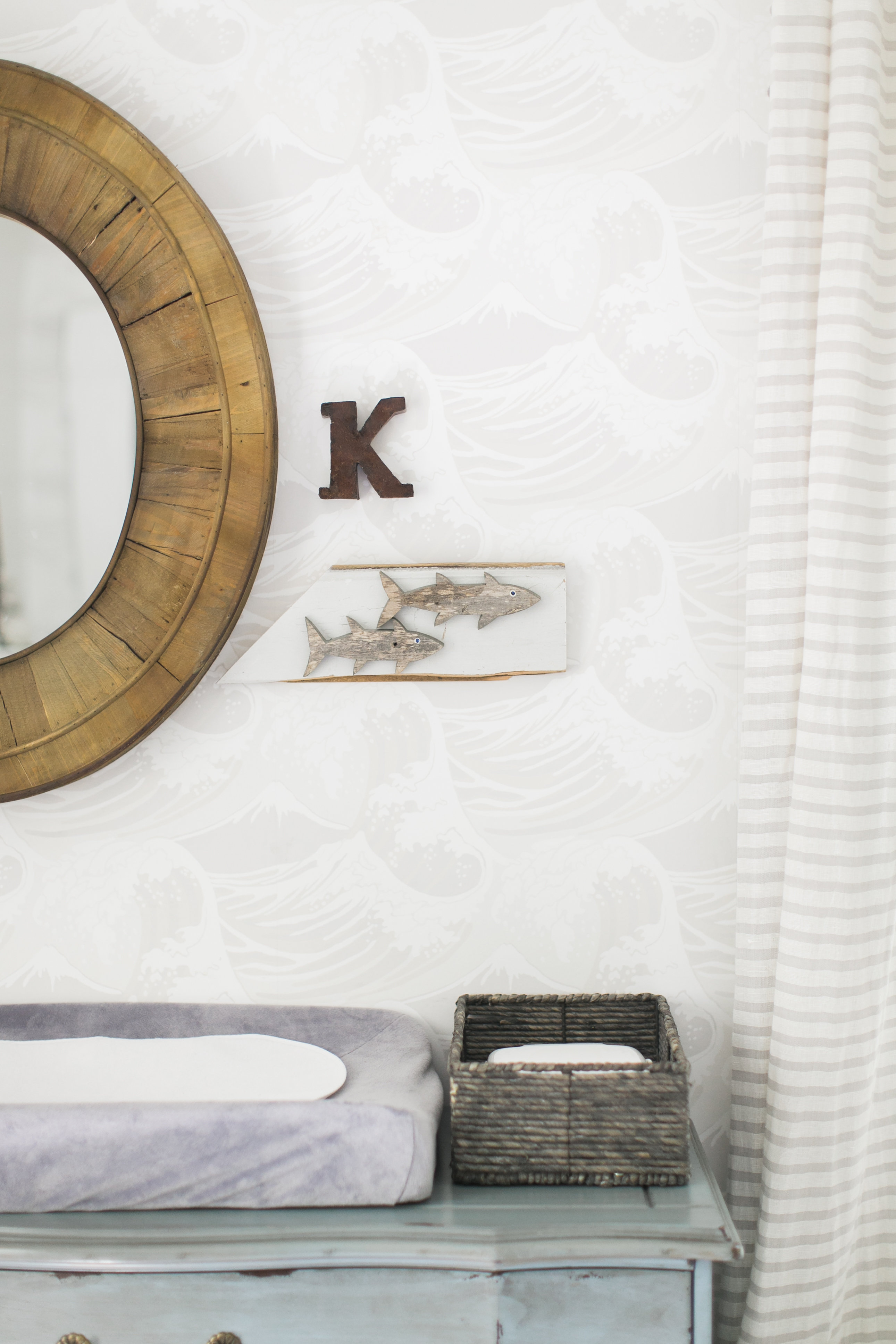 I wanted a reading nook just like Cade had and am still playing around with that space. After having difficulty putting up tiny shelves from Ikea because the old plaster wall is so terrible, I opted for a stand alone one from Potterybarn. The only problem was our baseboard is SO high and thick that it didn't sit flush against the wall. We (by that I mean HE) used a jigsaw to notch out a portion of the base so it sits flush.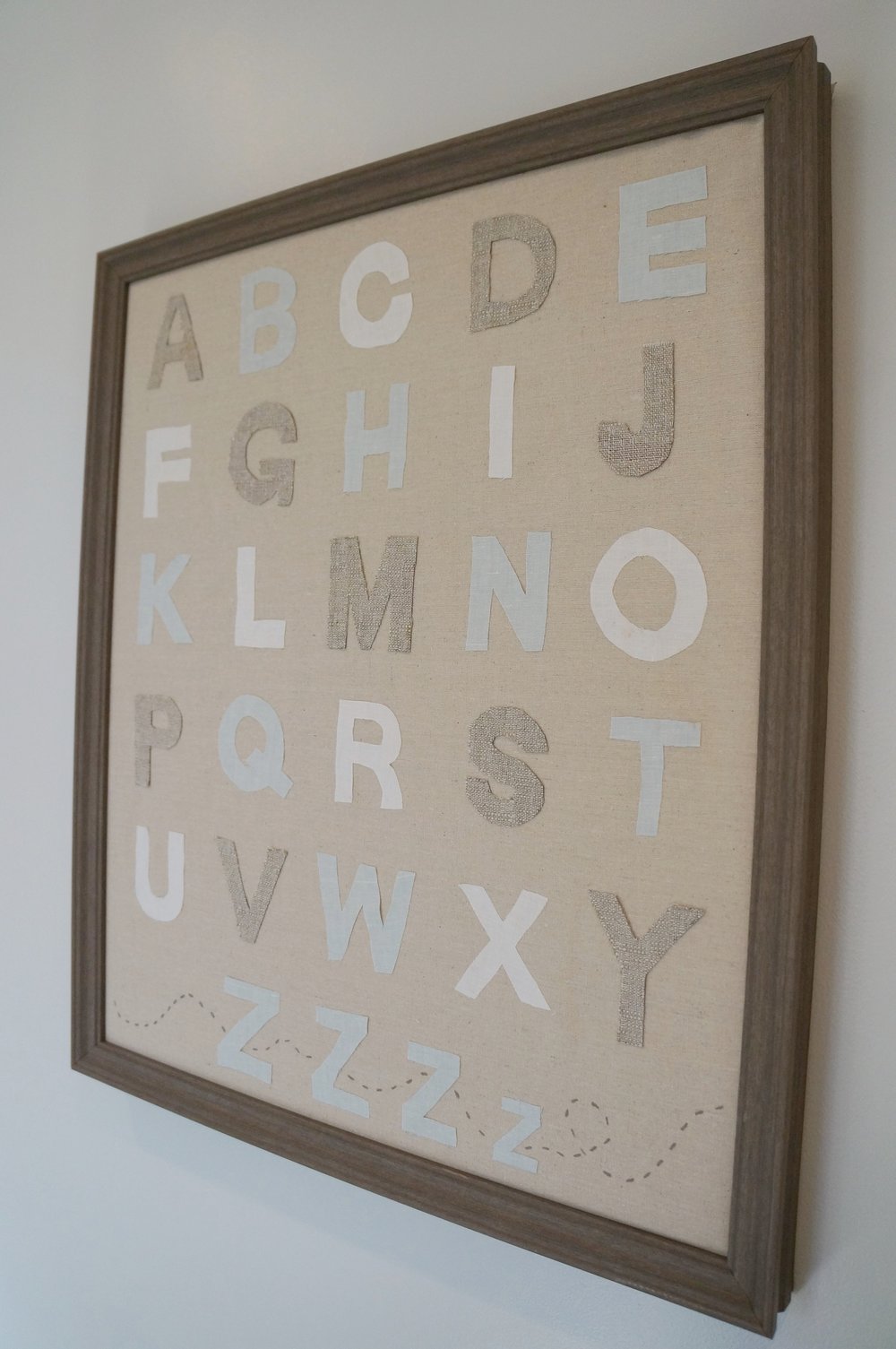 The Alphabet art was another DIY project and I'm really happy with it. I bought the linen pinboard from Target and cut out the alphabet letter by hand from fabric samples I had. Time consuming but the final project is lovely. I hoped you enjoyed this peek into one of our favorite rooms in the house.
Photography by Ruth Eileen Photography