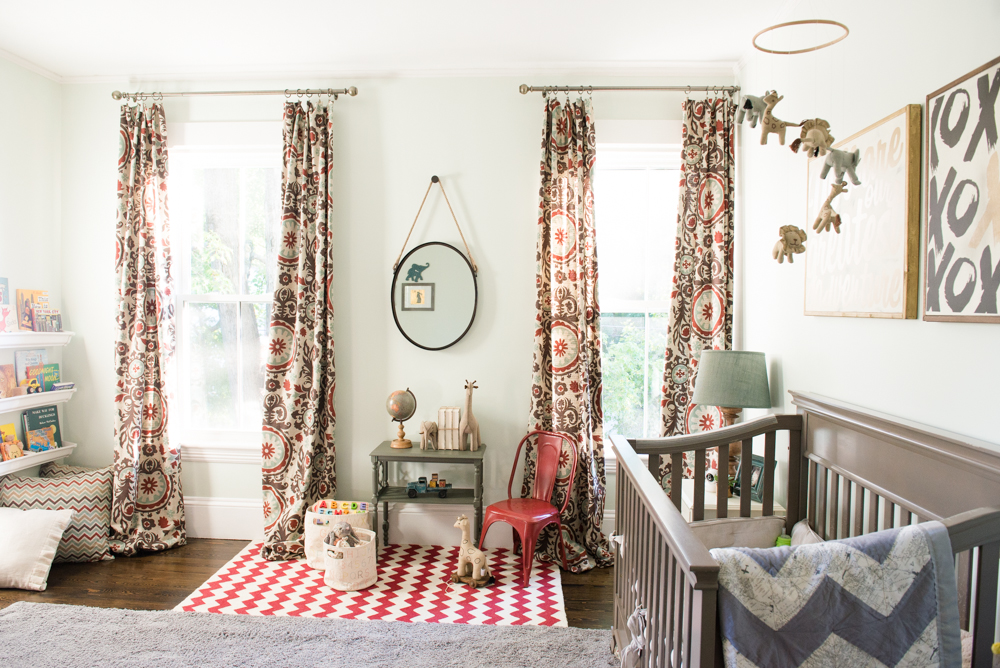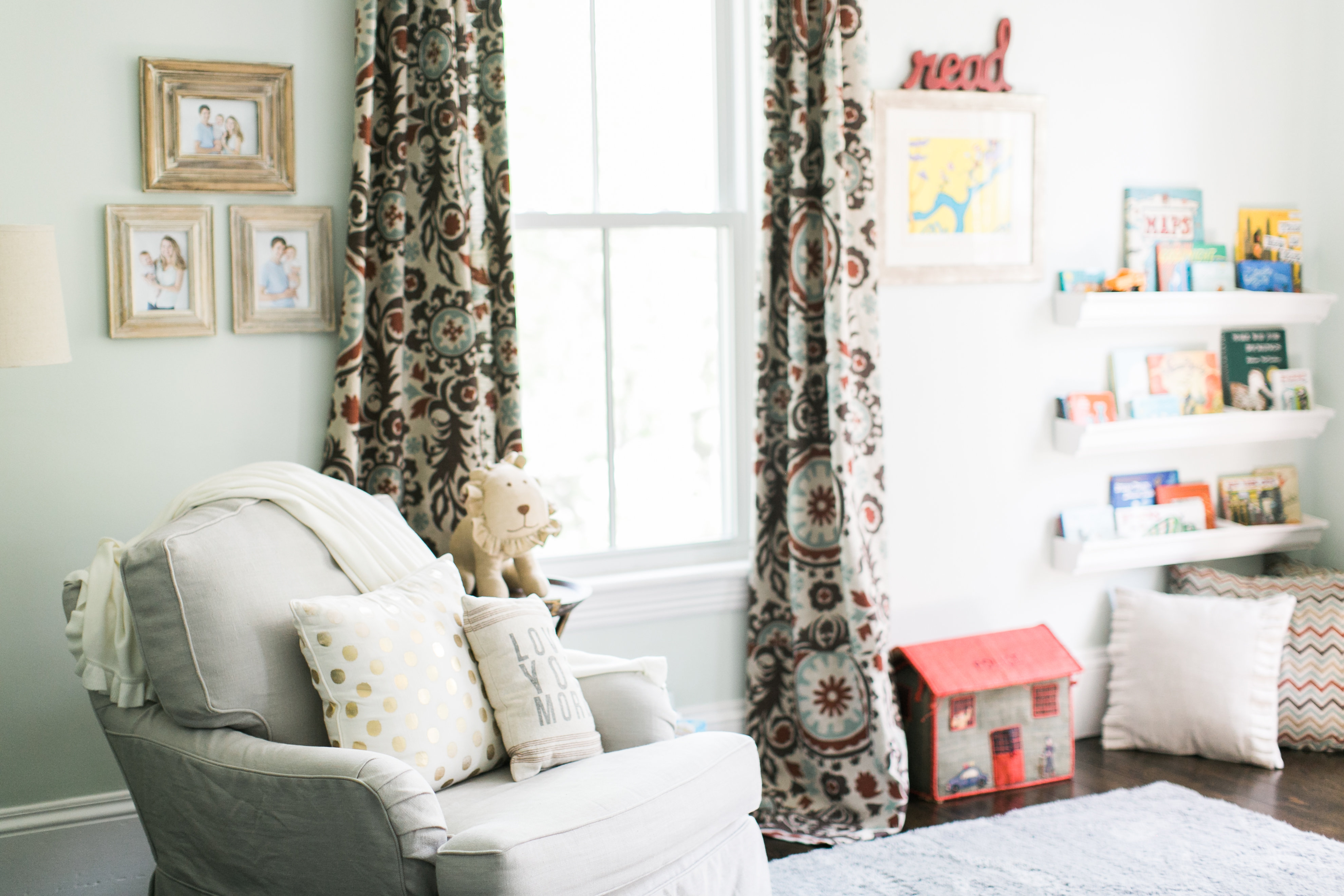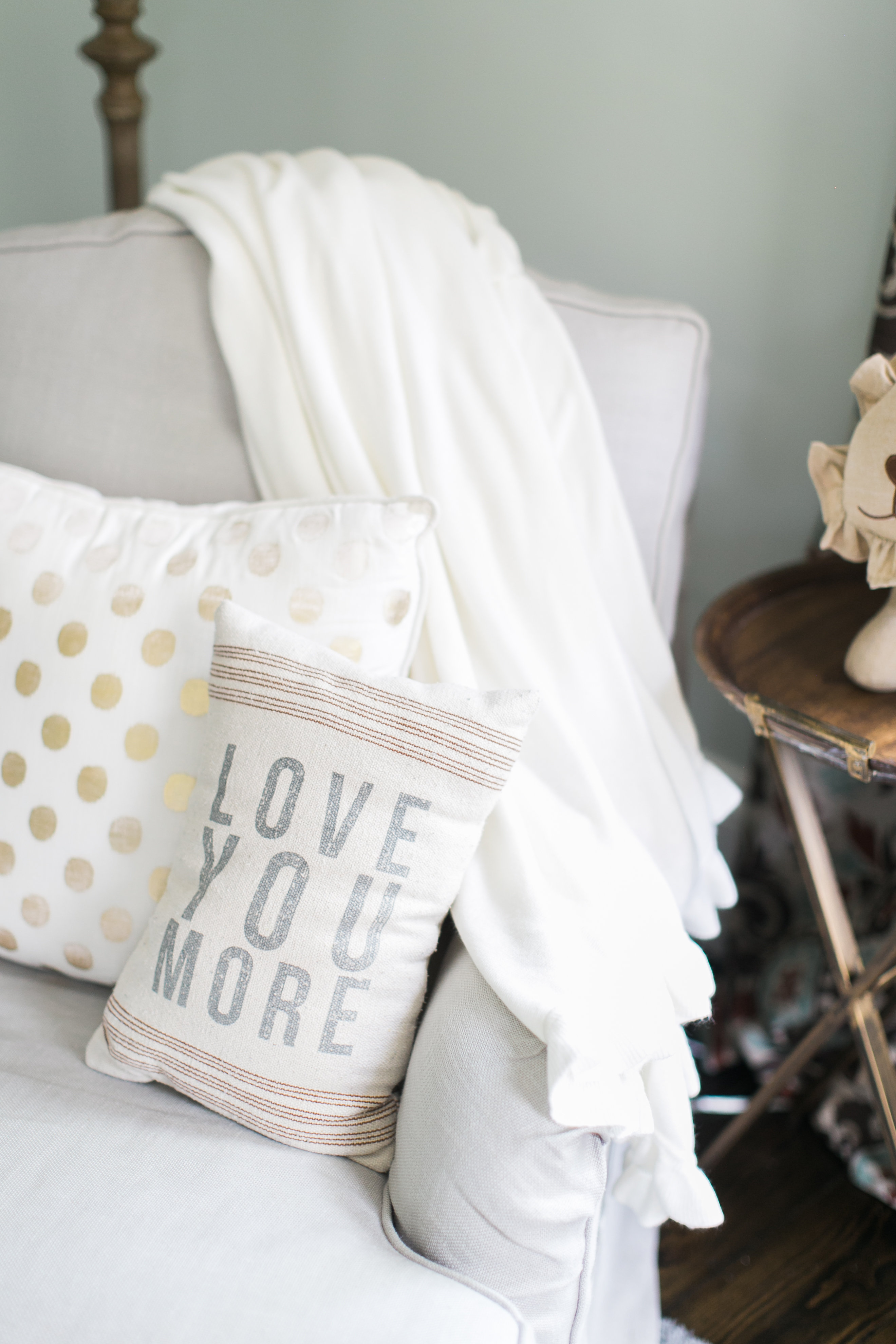 Caedmon is my first little dude and his nursery I was madly in love with in our old house. My first chance to decorate a little boy's room and I was instantly smitten with a vintage little red wagon. Couple that with the whimsical fabric on his curtains and it was love, sweet love.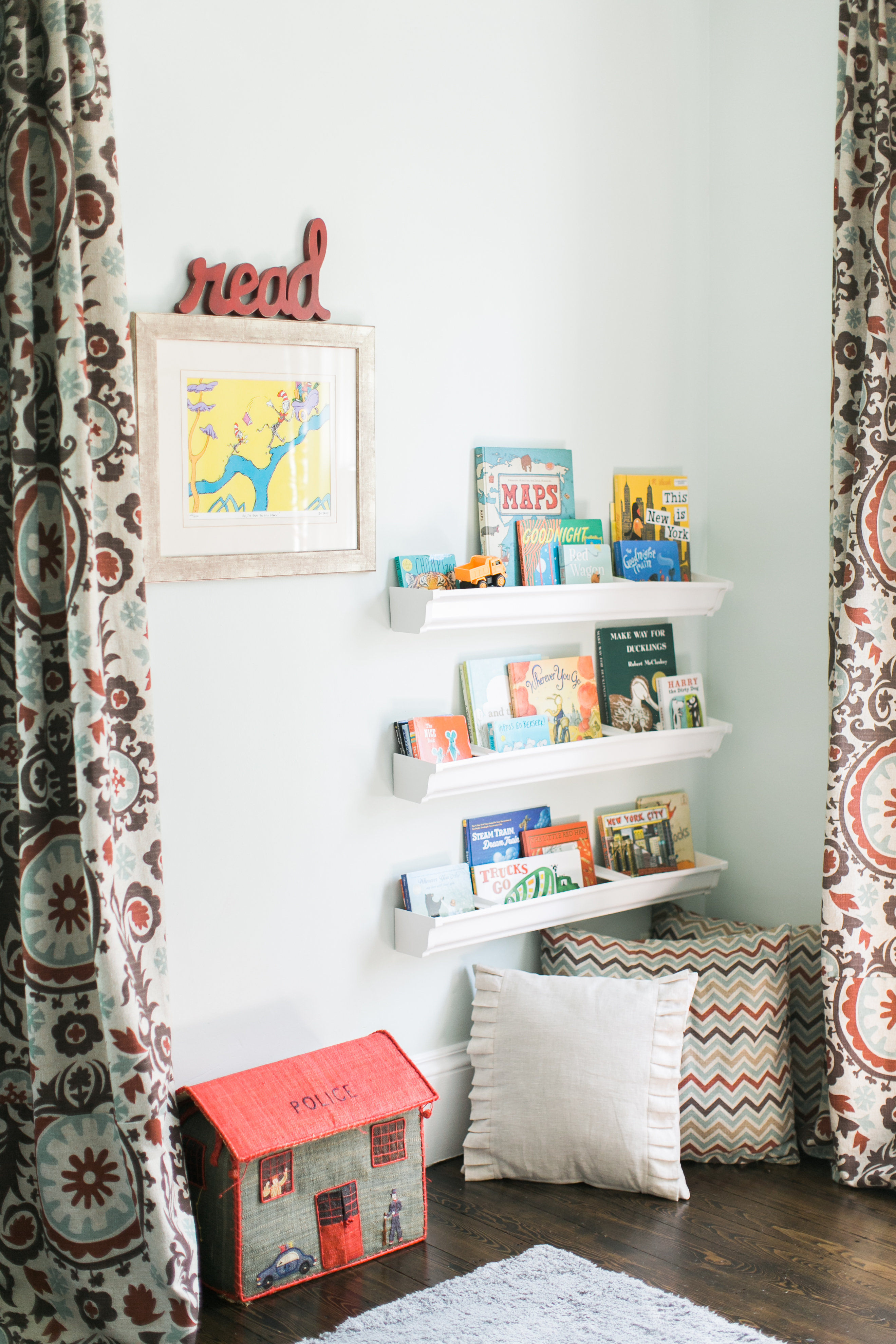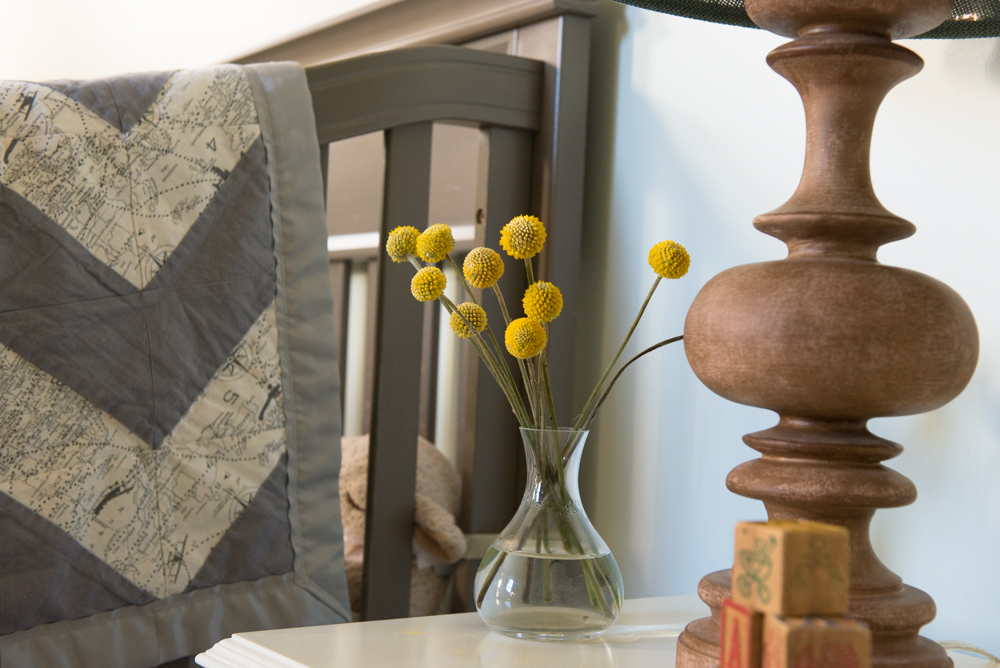 As always I had a jumping off point. A source of inspiration that ignited the treasure hunt that is, decorating a room. His curtains were the main point of inspiration. Everything jumped off this print.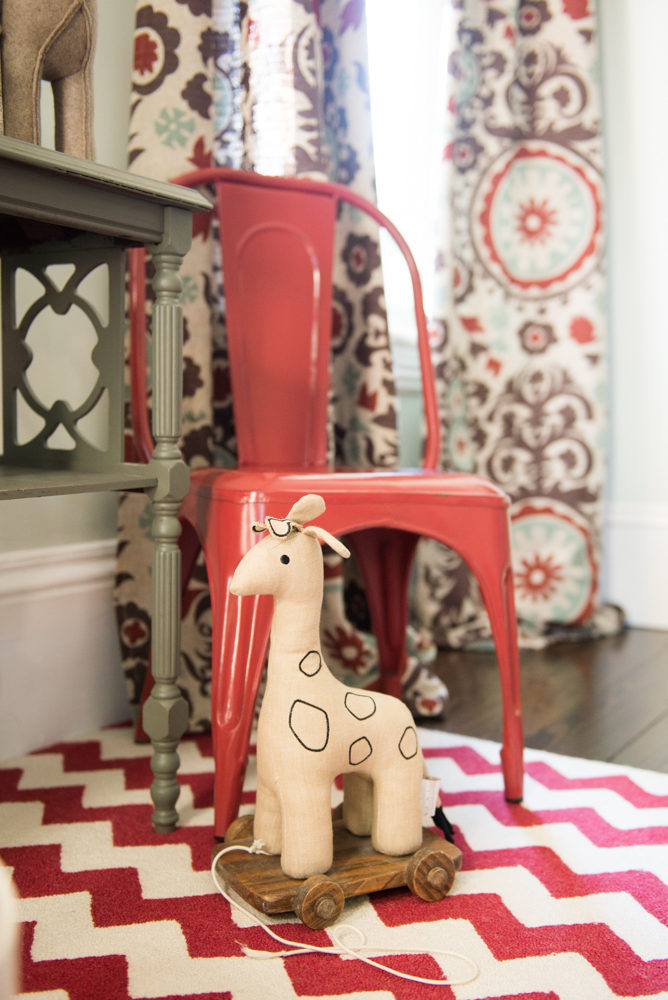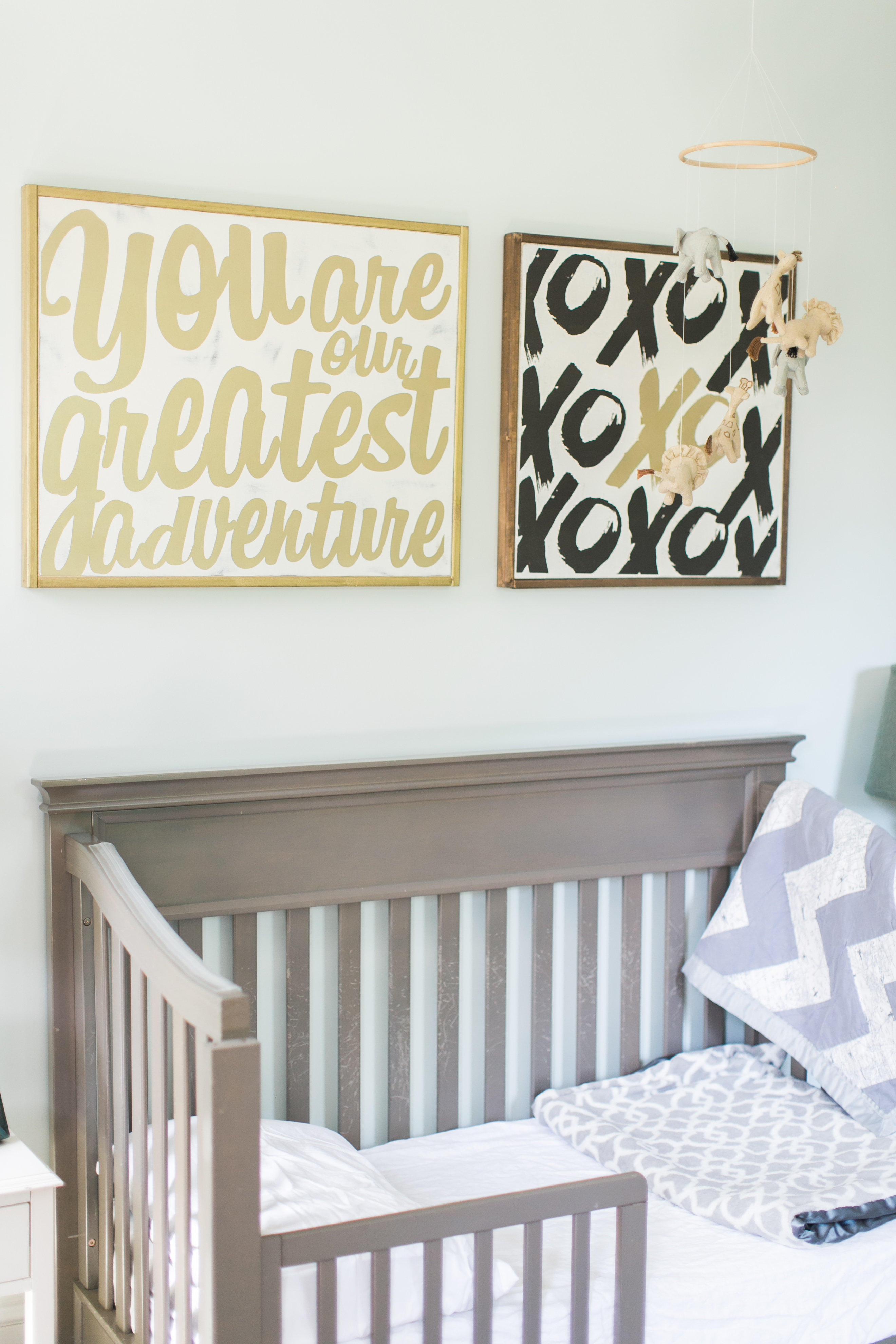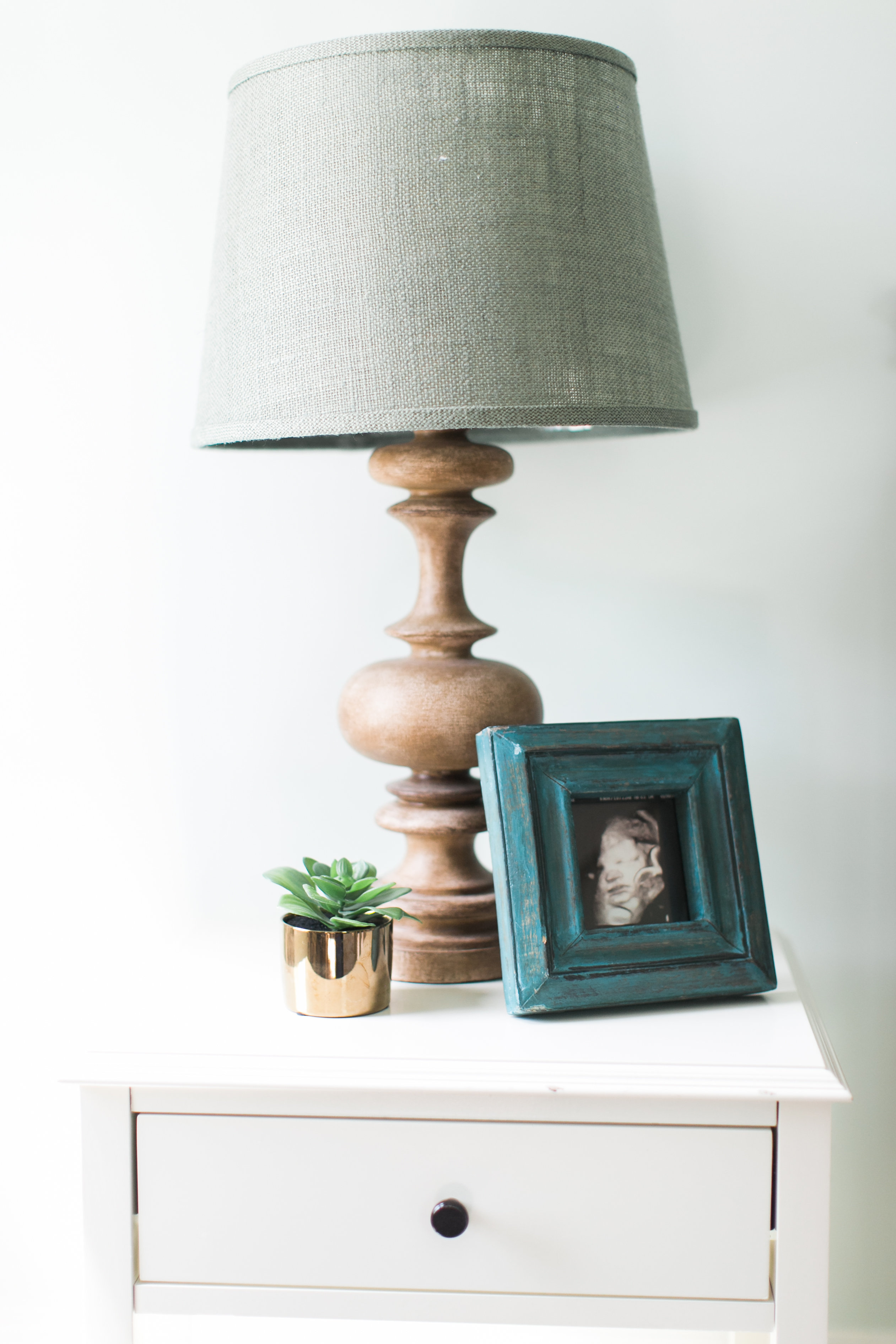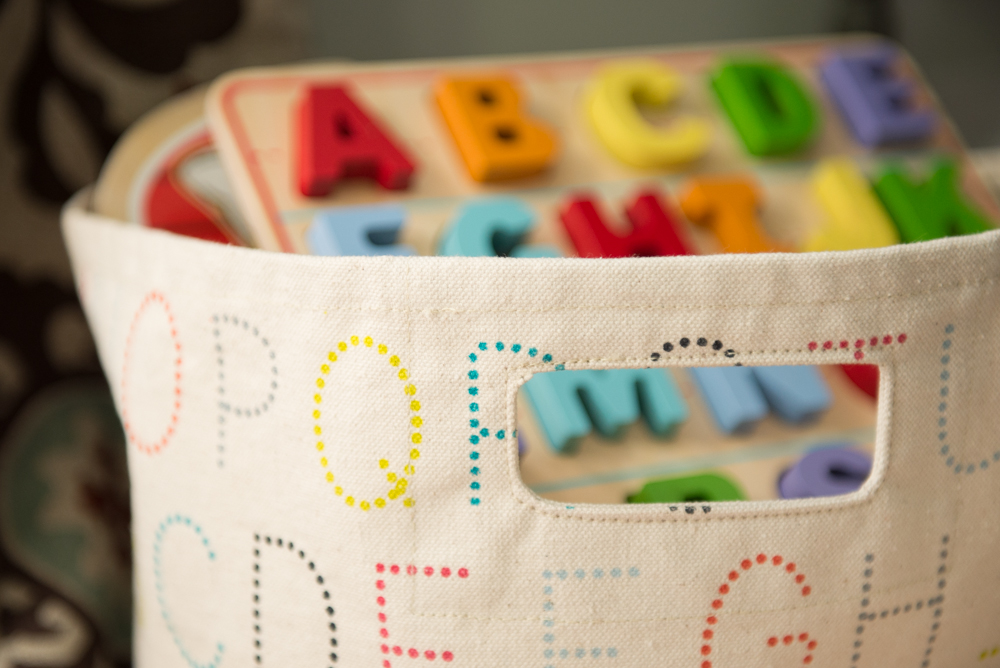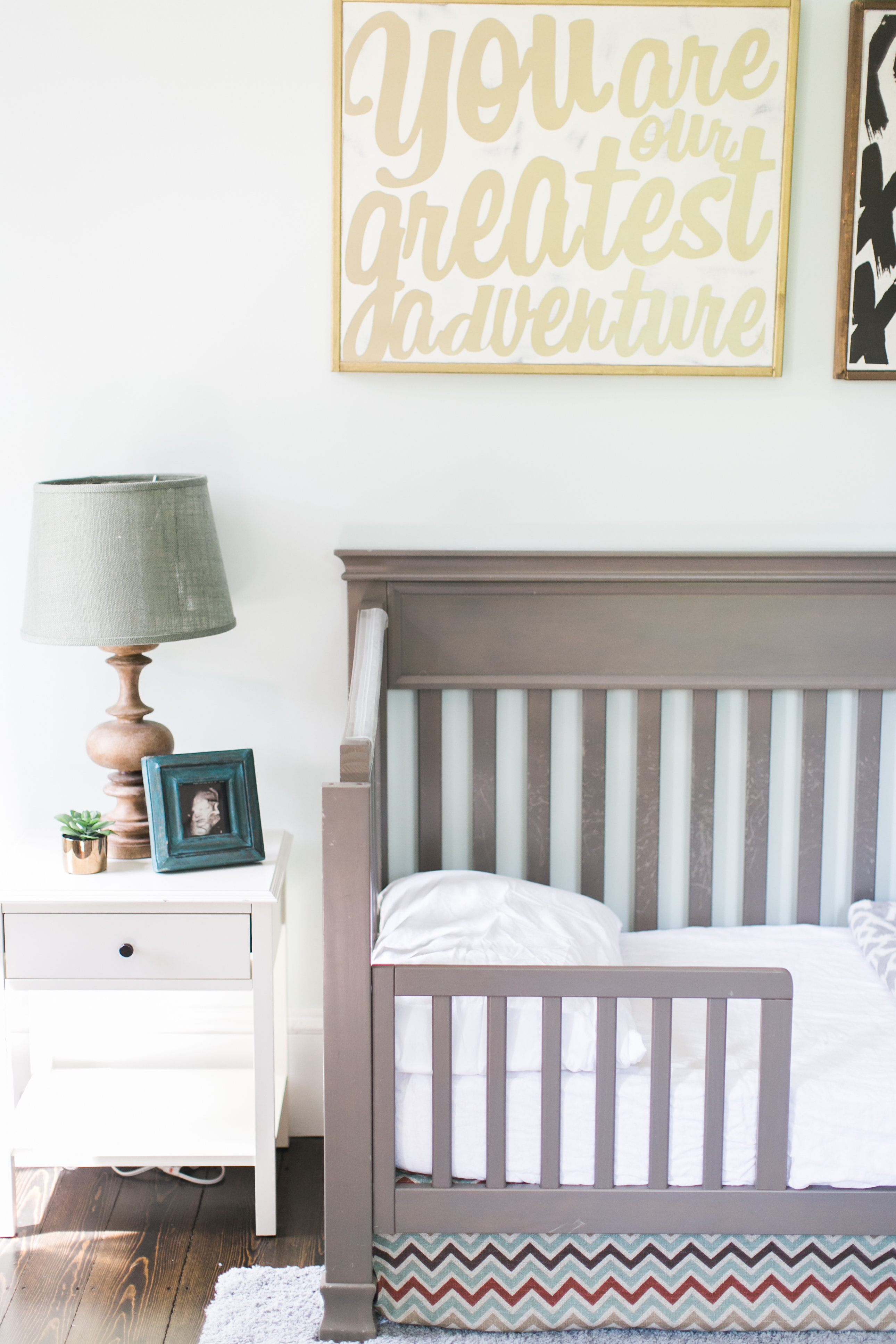 It was an odd transition moving his nursery from one house to another. Especially because house number 1 was a 1950's cape with 7 foot low ceilings! My poor momma had to sew extra fabric on the bottom of his drapes so they'd actually be usable in this new space. To be honest, I've kind of stopped finagling things because he is 2.5 yrs old and headed to the land of little boy and that will probably mean a new space eventually. Little things bug me a bit (like crooked lamp shades but he's knocked them over so many times I can't keep them straight). So the wall groupings that fit well in the old room seem a bit small on these great big new walls. Still lovely. Still a perfect spot for my sweet boy.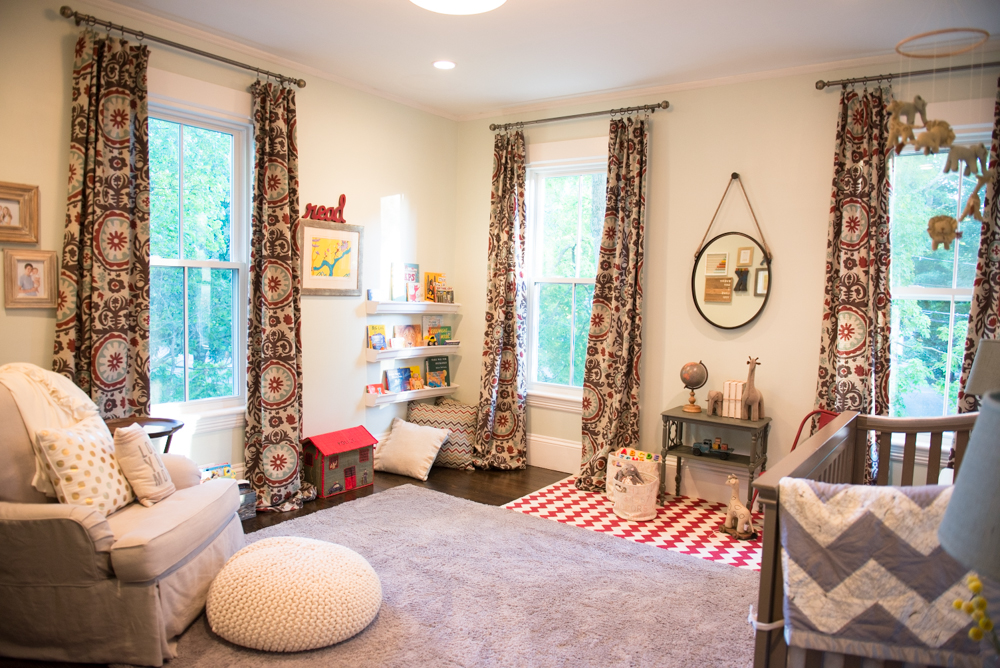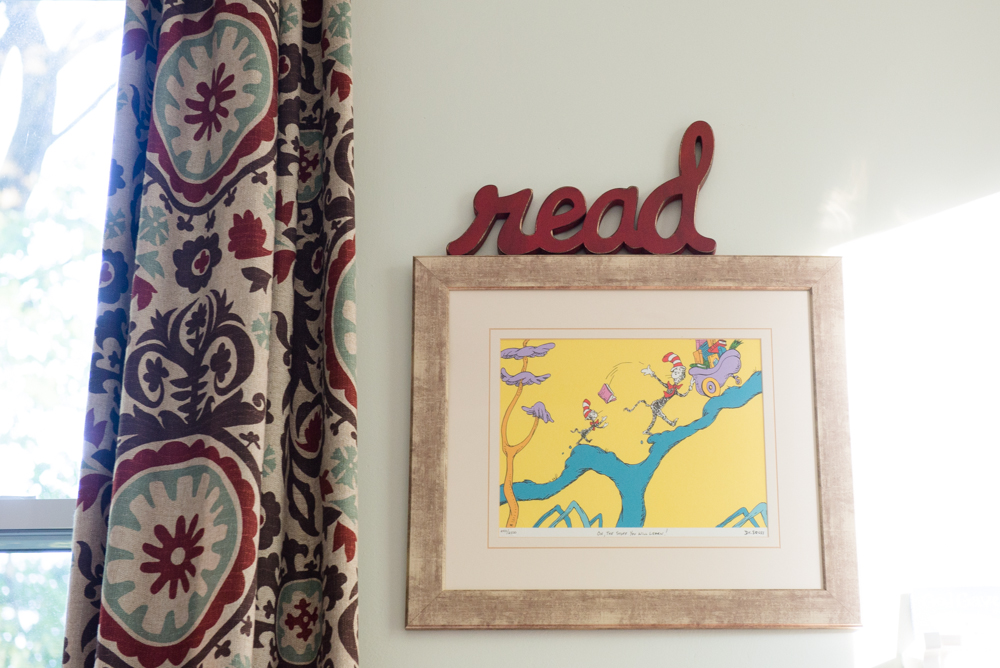 We're big proponents of reading and so each of my boys' nurseries have reading nooks. The Dr. Seuss print was a gift from Nana and Poppie. A good bit of art makes any room pop. The bookshelves were another DIY made of rain gutters. Pinterest for the win. They worked well in our old house but these old house walls are plaster and much harder to install on. We will eventually take them down and replace them with the picture ledges from Pottery Barn. Much more stable for crazy boy toddlers. The plastic rain gutters have started to sag under the weight of all the books and climbing. Still a fun project and super cheap.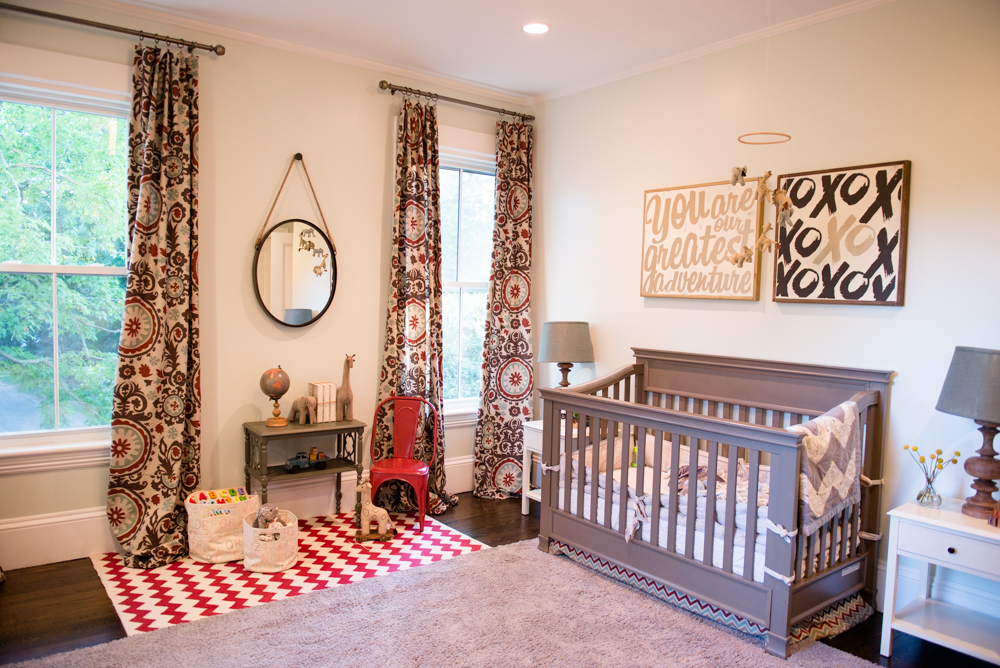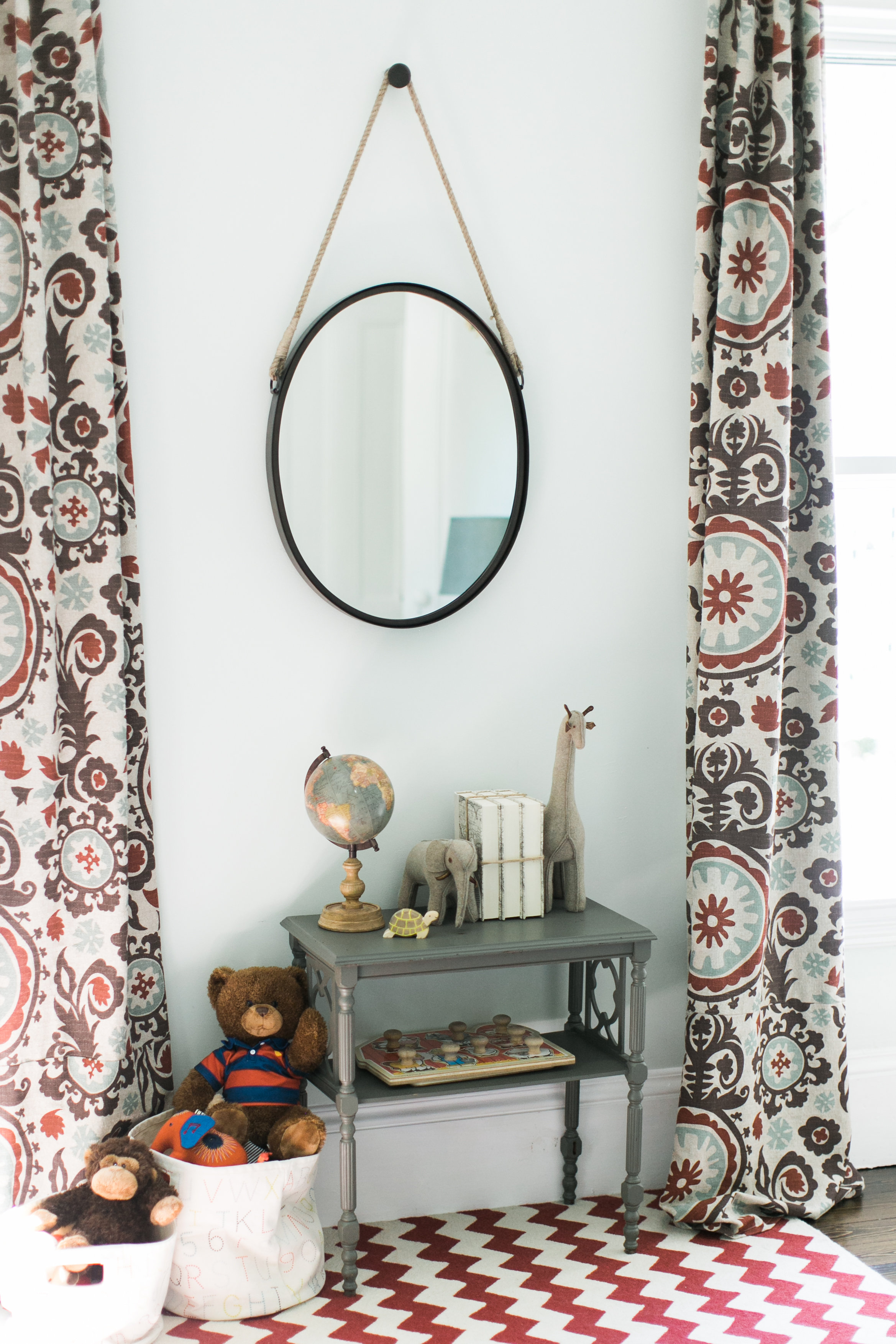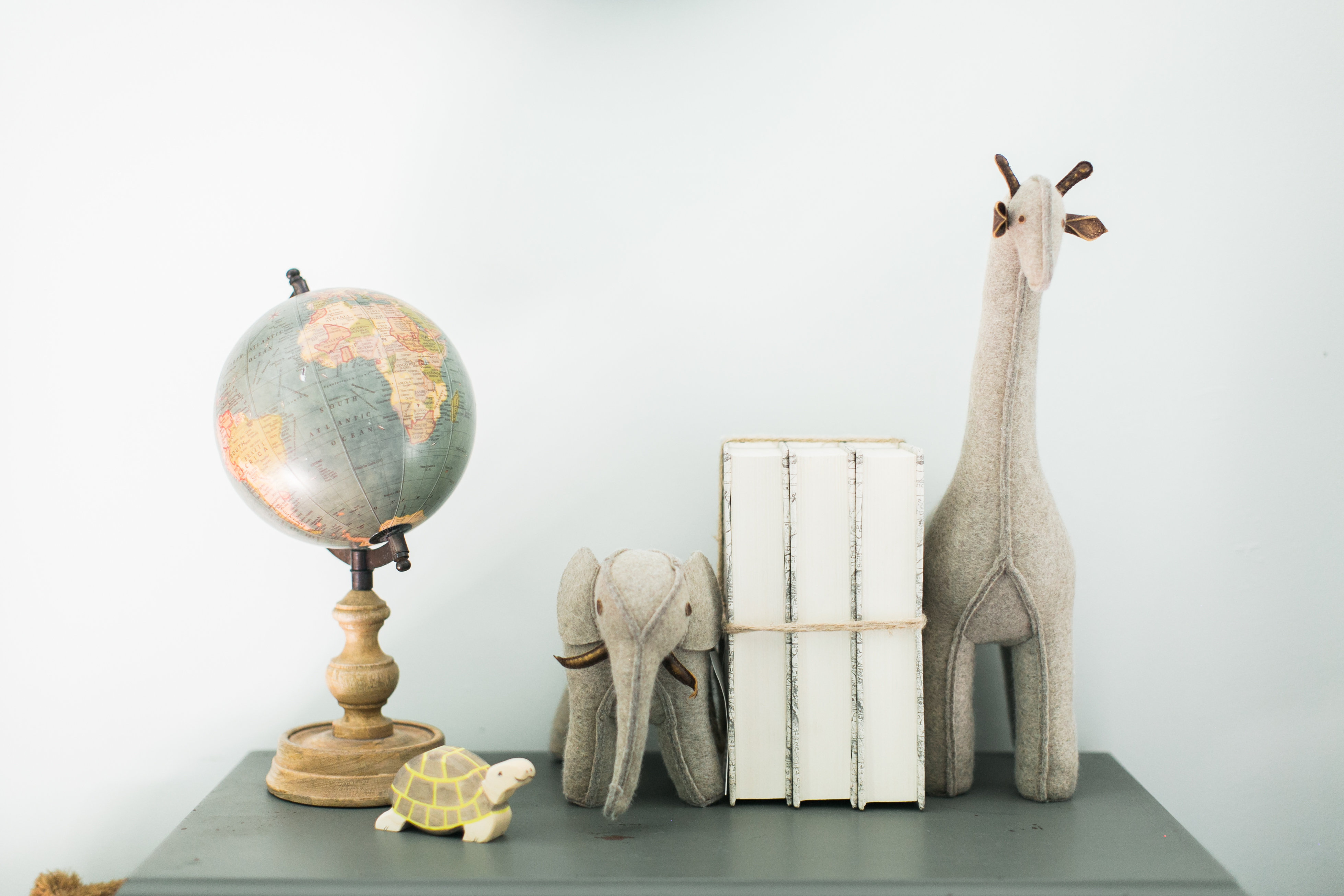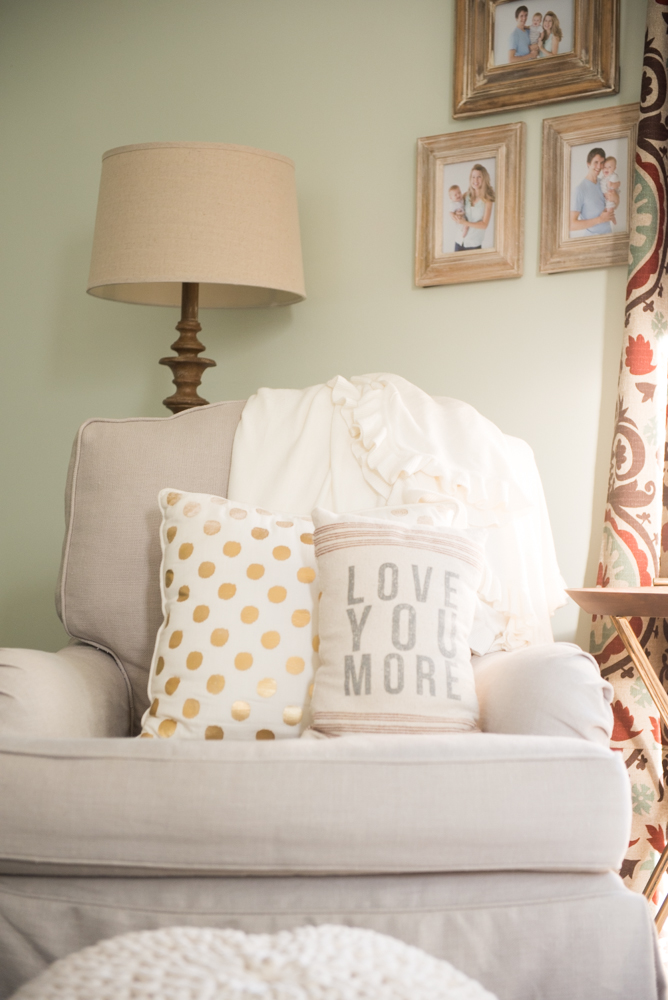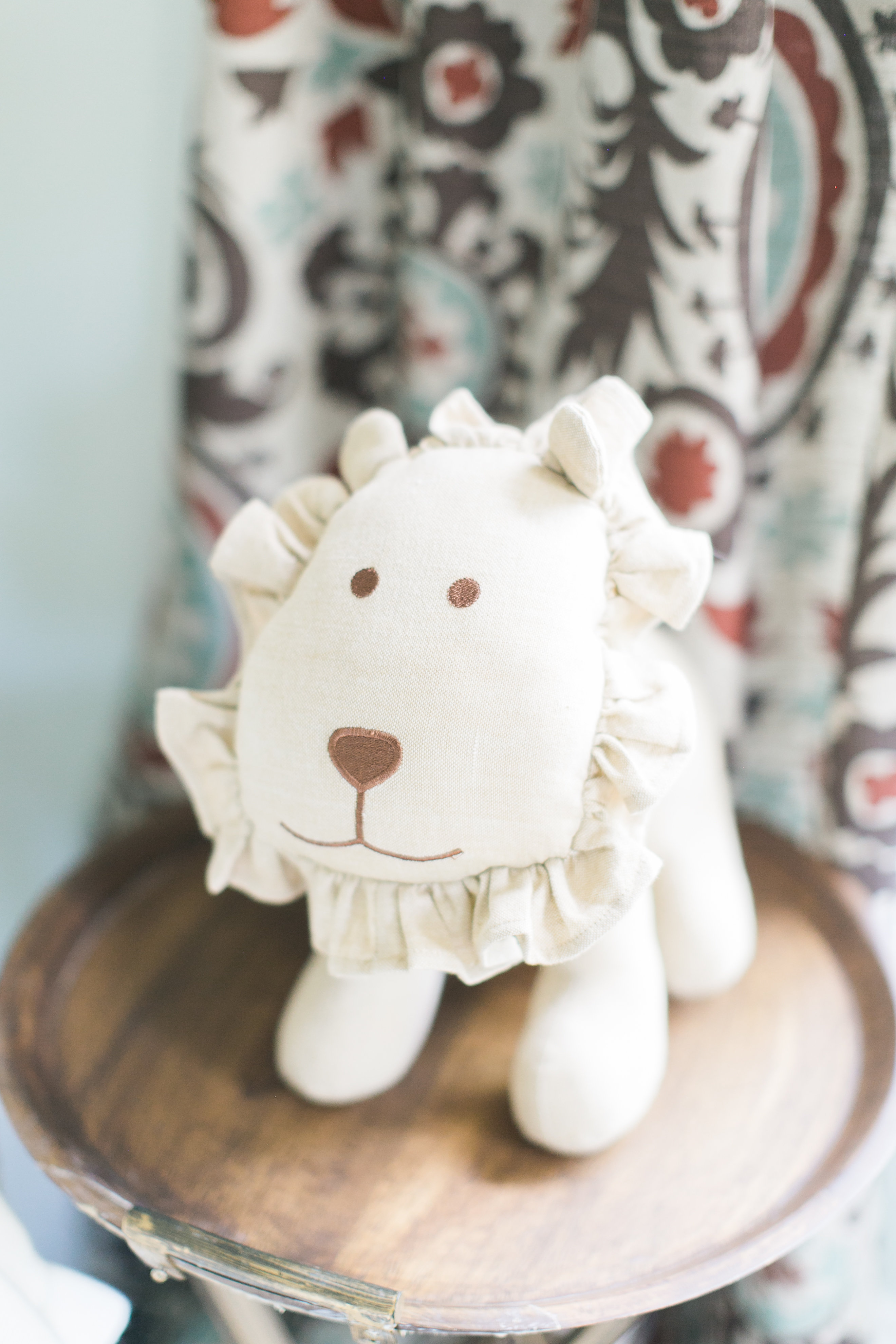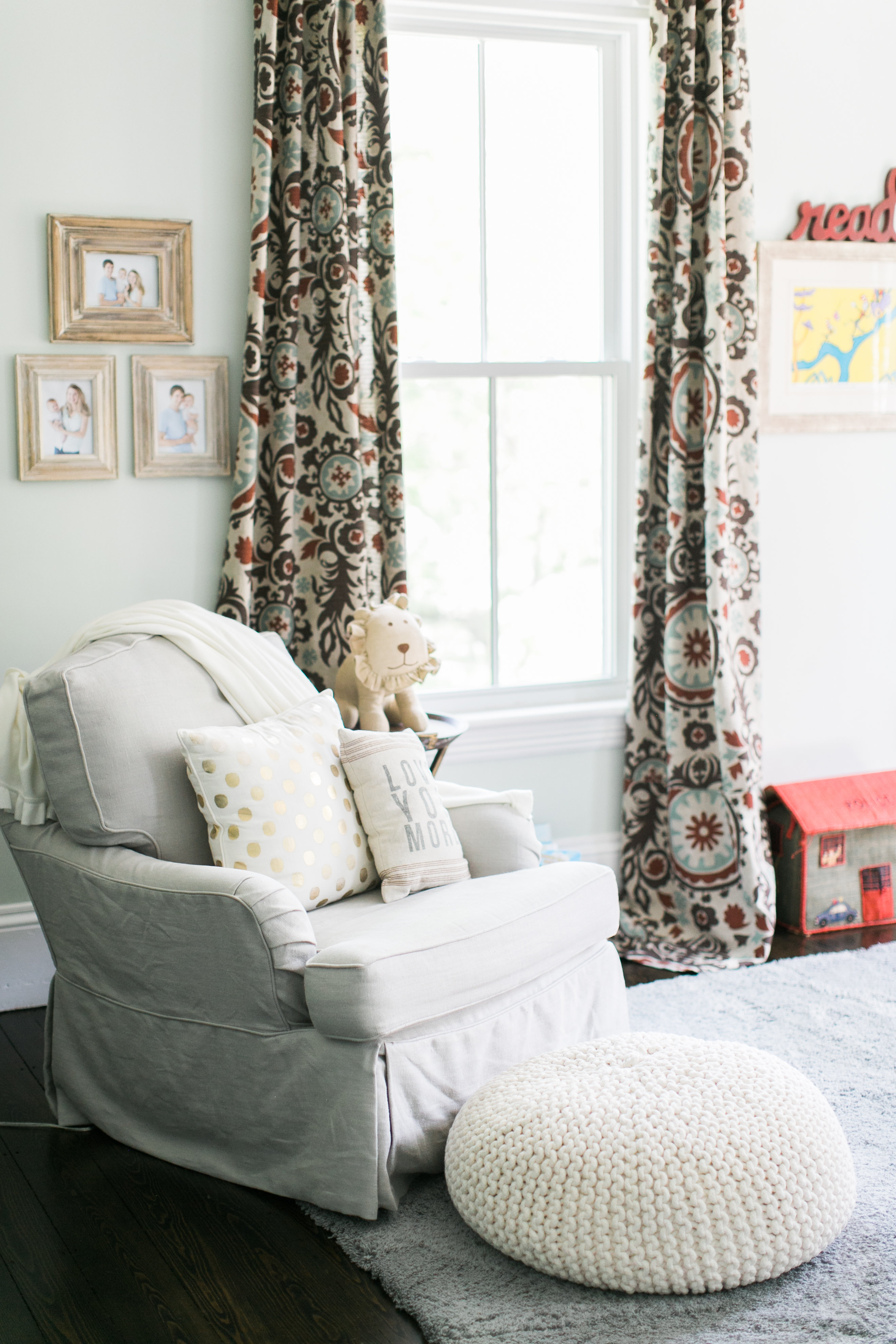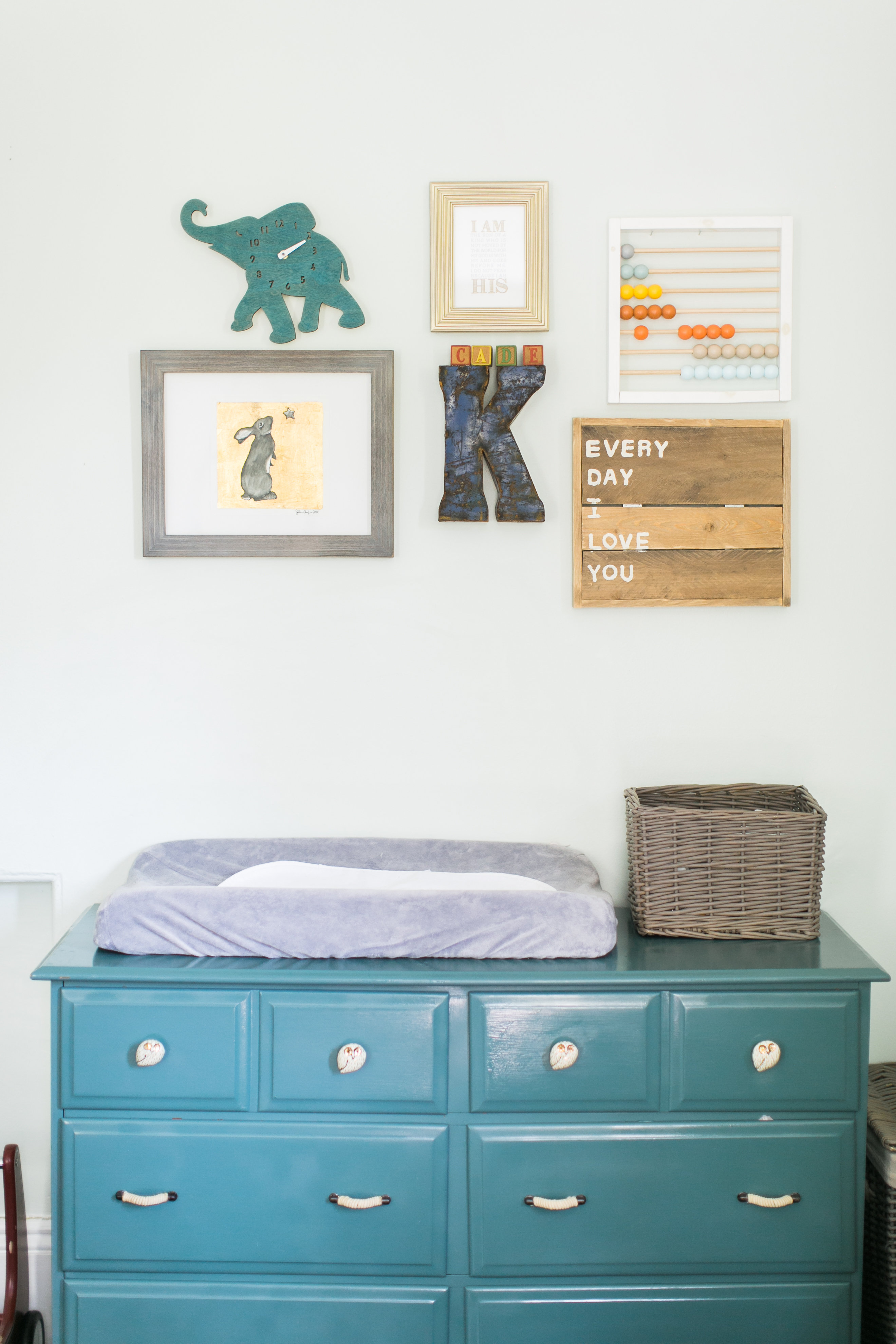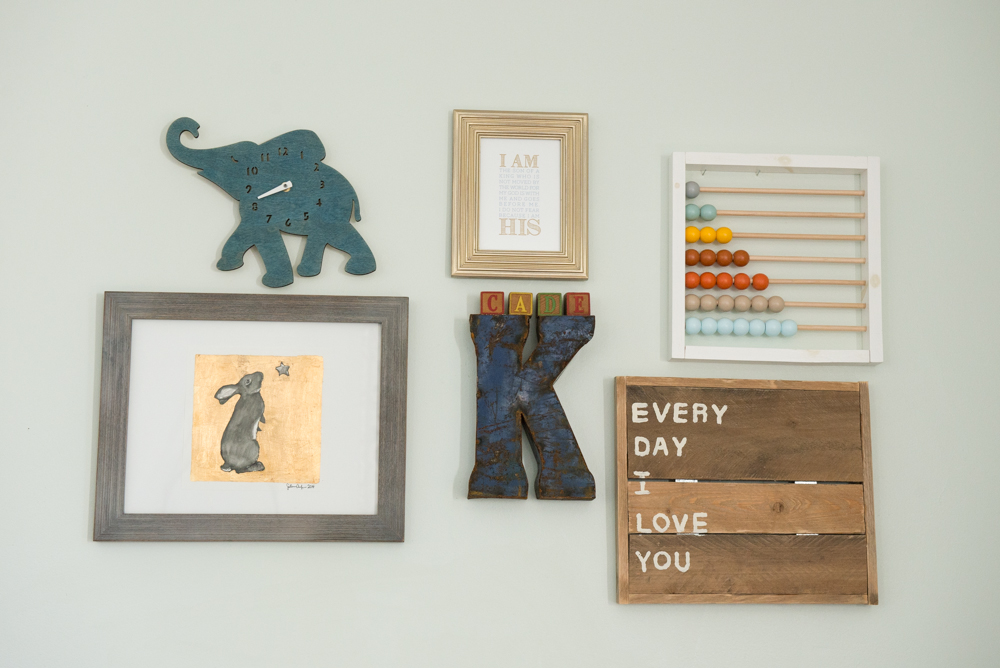 Pictures by Ruth Eileen Photography and Bethany Carnes Photography
Sources:
Curtains: Suzani Nile/Denton from onlinefabricstore.com (now out of stock but I'd follow)
Rug: HomeGoods
Rabit Print Art: Anthropologie
Elephant clock: Etsy (it was a gift so I'm not sure the maker)
Every day I love you art: A DIY out of pallet wood and paint
"I am His" print: Etsy-HazelandBright
Red Letter READ: Etsy-Duanes Workshop
Handmade Abucus: Etsy-Threadbarebydejong (custom colors)
Wood signs above crib: Etsy-House of Belonging
Crib: Million Dollar Baby Target
Crib bedding: RH Baby and Child
Mobile and matching stuffed animals: RH Baby and Child
Glider: RH Baby and Child
Gold dot pillow: Anthropologie
Wood and brass side table: Target
White Side Tables: Target
Dresser knobs: Anthropologie
All lamps: Target
ZigZag red rug: Purchased in Camden Maine from Joellen Designs (joellendesigns.com)
Mirror: Cost Plus World Market
Paint Color: Behr Mystic Sea
Police Station Toy Box: (Purchased in Bergen Norway) by the brand: Rice
/wp-content/uploads/2017/04/finding-lovely-logo.png
0
0
Finding Lovely
/wp-content/uploads/2017/04/finding-lovely-logo.png
Finding Lovely
2016-09-17 20:59:28
2017-06-21 21:19:49
Caedmon's Nursery