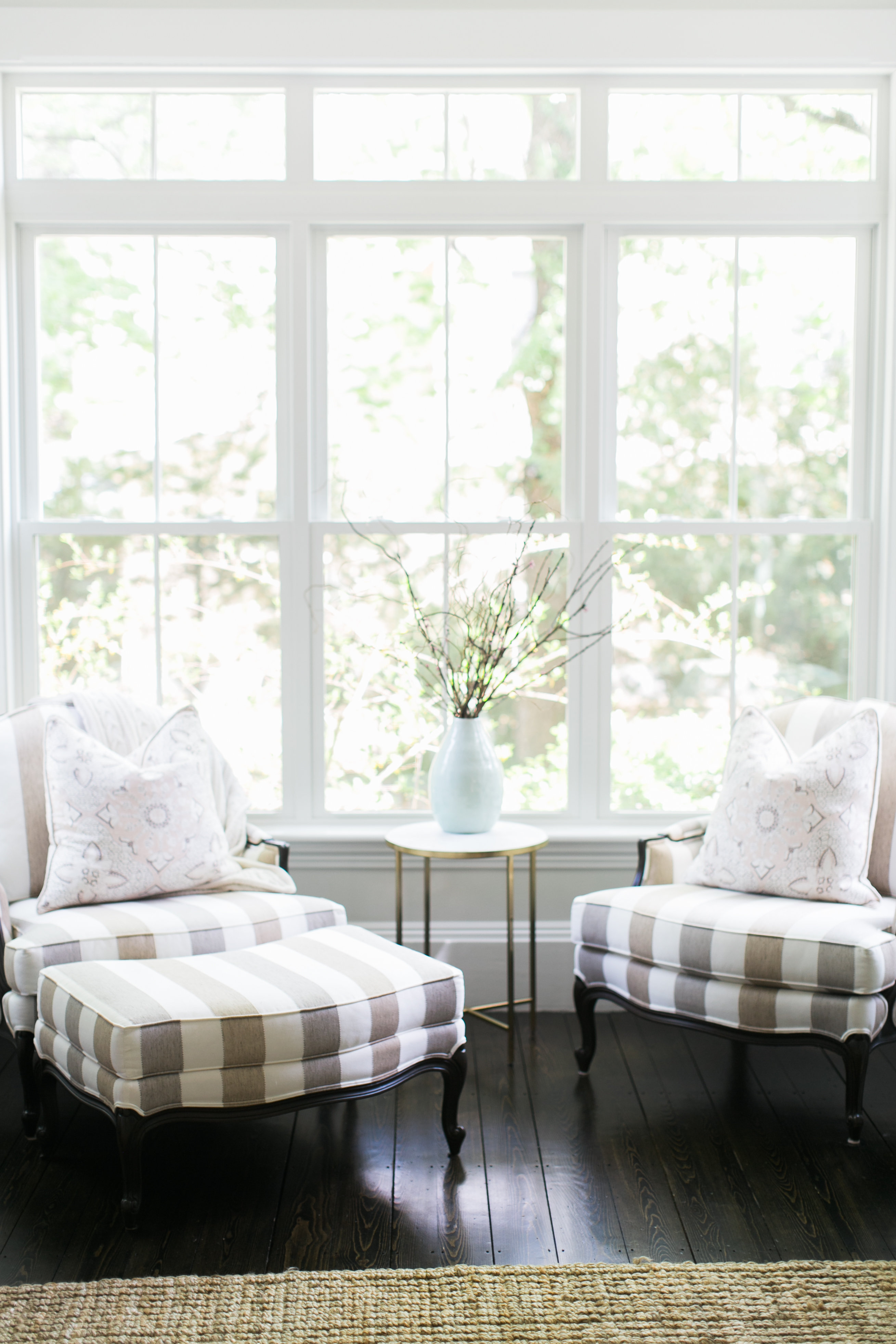 You wouldn't know it now but this room was pretty horrible. Well yellow. Very horribly yellow. There were awkward windows in the nook and cracked plaster on the walls. It was tired and just needed love. We knew this space could be something great. Those ceilings are almost 10 feet high and the windows are equally impressive. But every corner needed help. And it got a lot of it.
The very first project we took on was refinishing the hard wood floors. We had to do something, they were so worn, so beat up that they would actually give you splinters and, to make matters ten times worse, the previous owners had cats. Perhaps a small zoo of cats. It smelled and there was NO WAY I was letting my crawling one year old explore that floor. So we thought we'd have someone come in and sand down the old floors and stain them darker. Start fresh. What we hadn't anticipated, while leading the wood floor guy through the house explaining our woes, was being told there was no more wood left to sand. It had been refinished too many times. Oh no. Fate smiled on us however when he got down in the floor vent and discovered a possibility. My friends there is always possibility but he said, "I can't be certain and I certainly do not know the shape they're in, but, I think you may have the original floors underneath." The WHAT! Original. Pine. Floors. Go ahead, take a moment of silence for the greatness of this news!
Apparently in the 1940s it was in vogue to cover the wider planked pine floors with the trendy, skinny board oak. So for these last 80 years, the beautiful pine floors sat untouched, waiting for us. And they are spectacular. We did a 50/50 stain of Minwax Ebony and Jacobean with a satin clear coat. And the cat smell is gone. Crawl away babies, crawl away.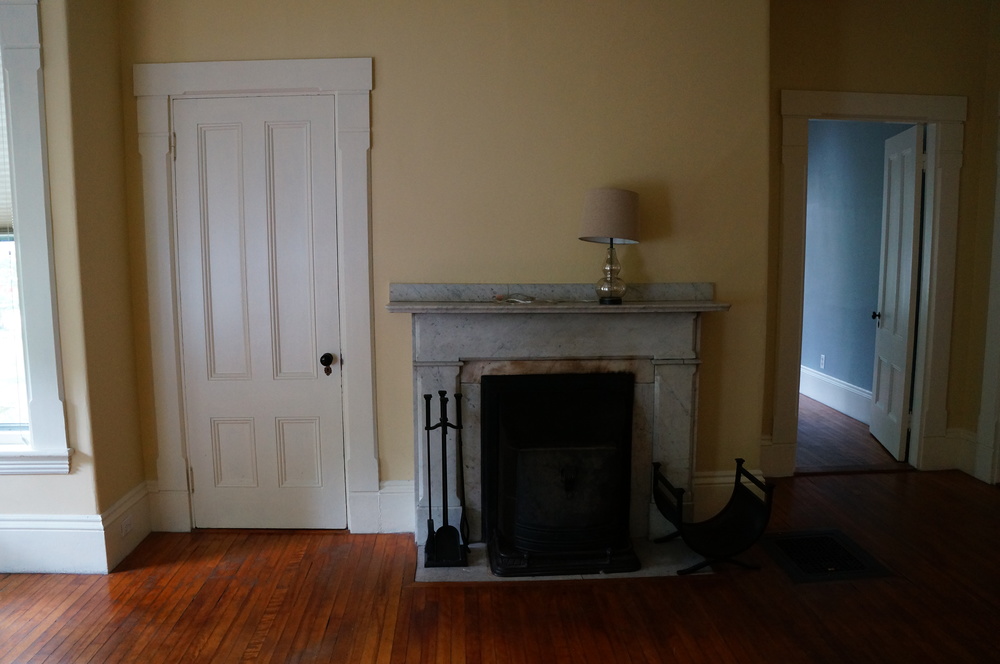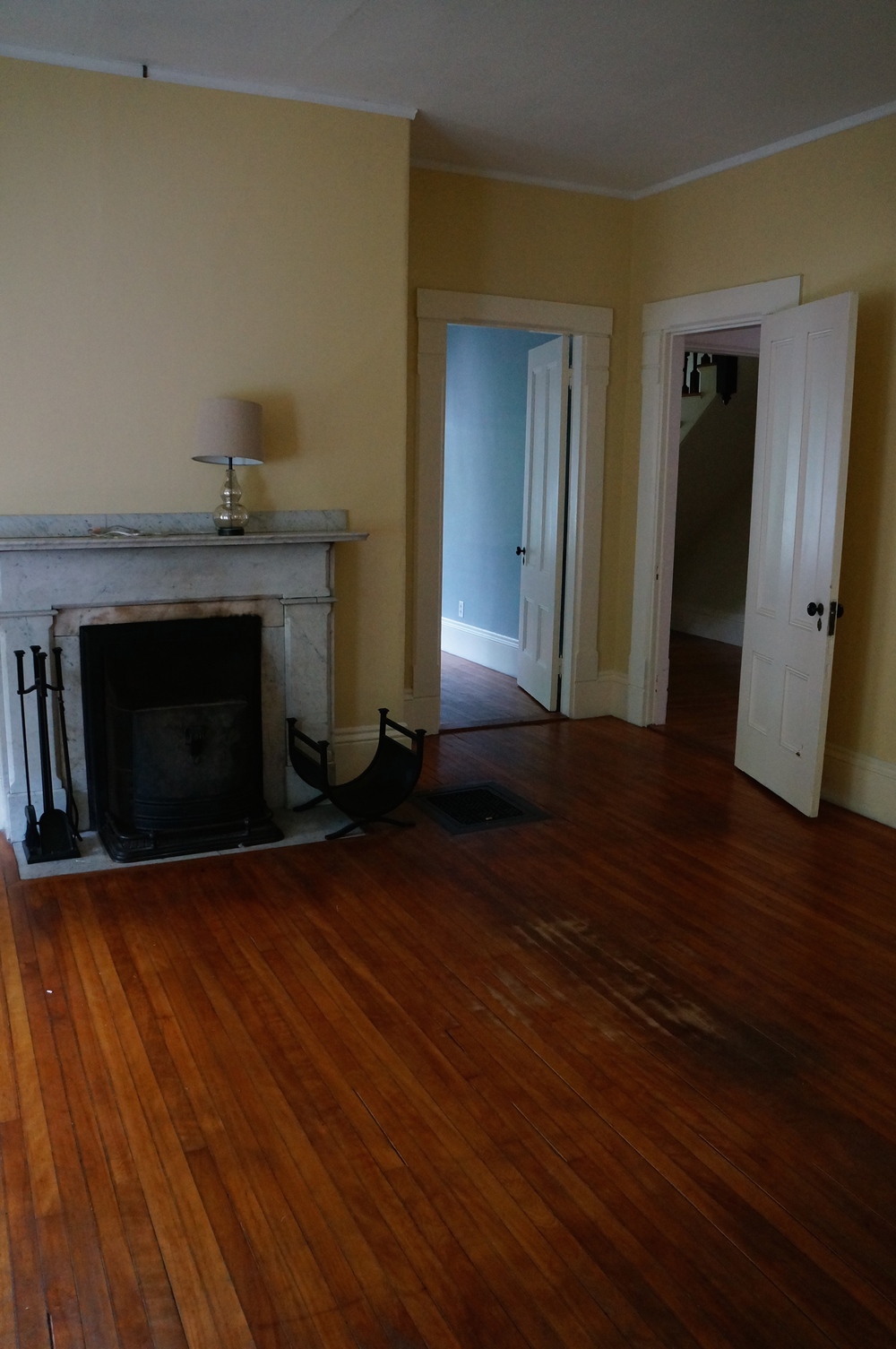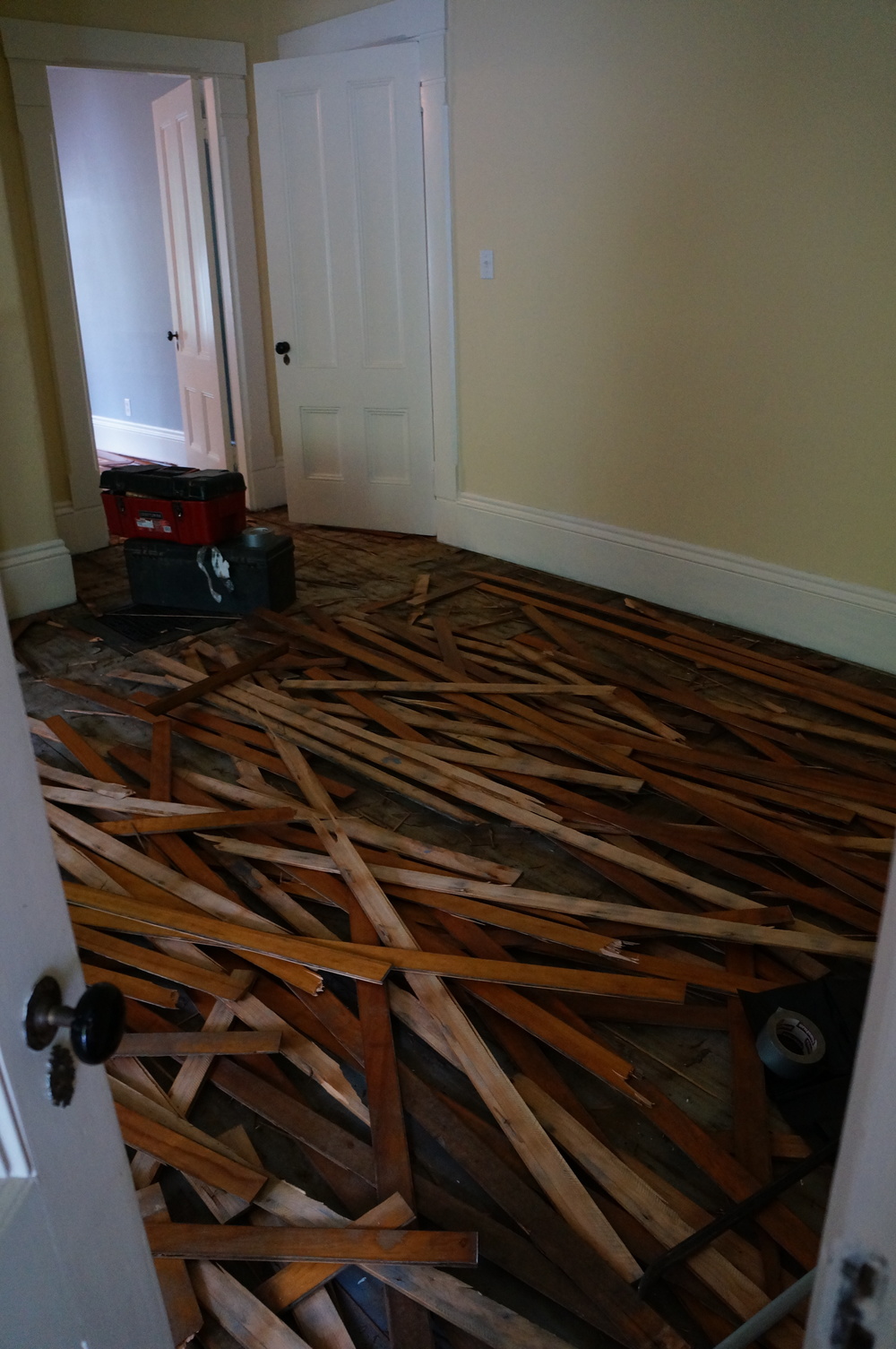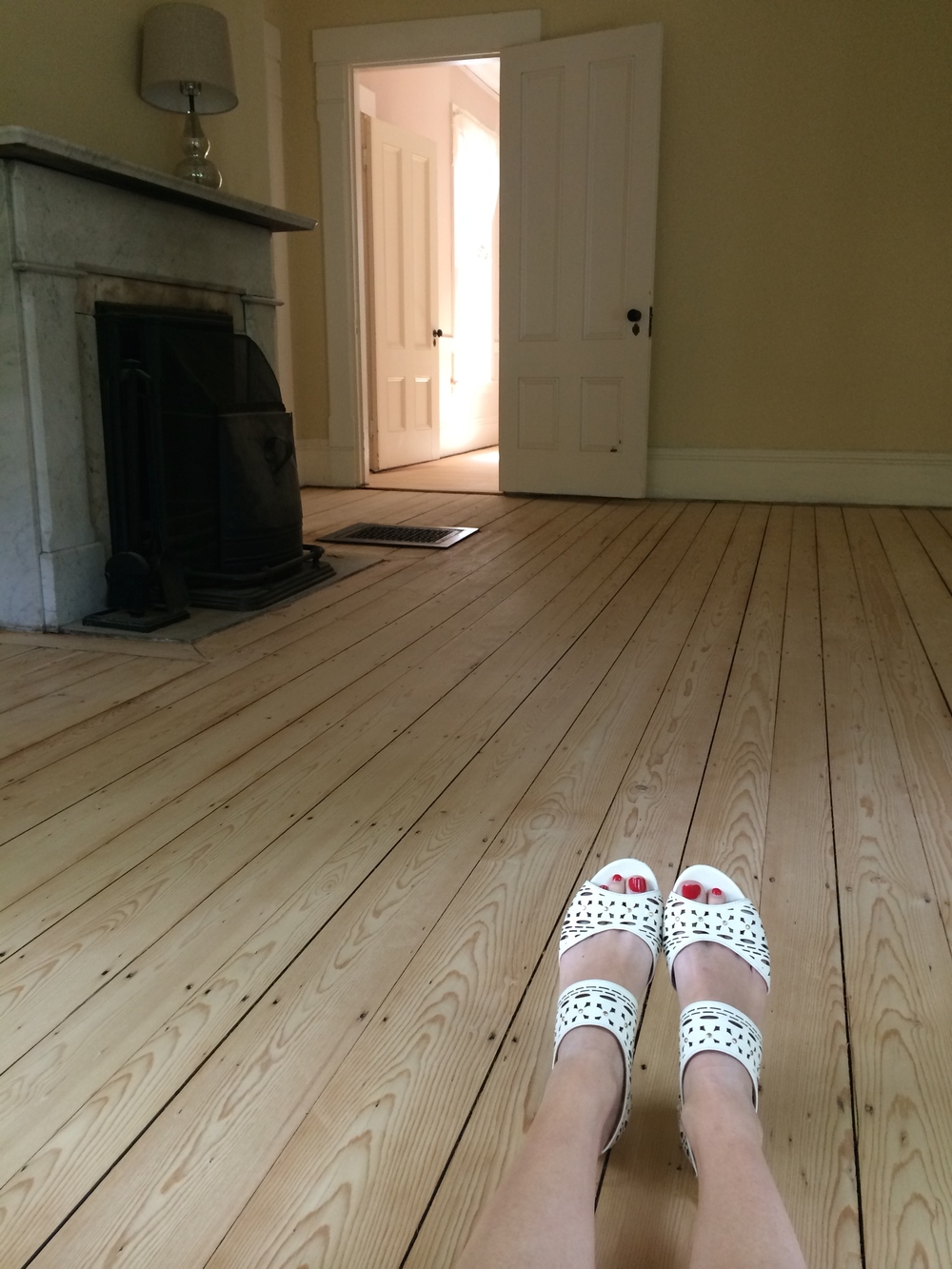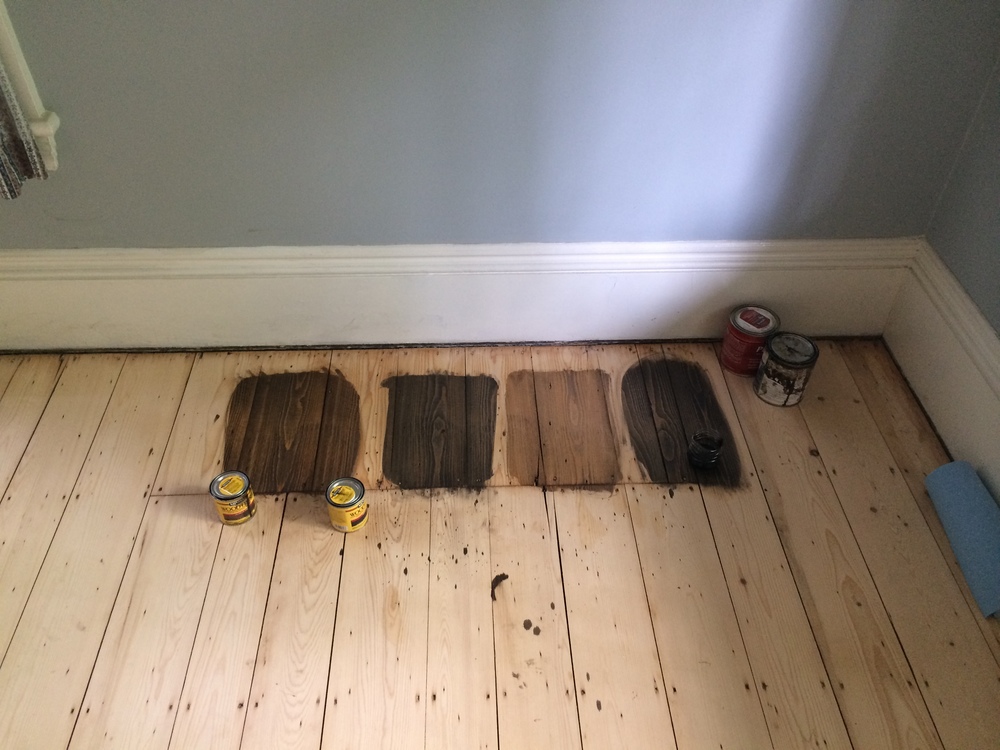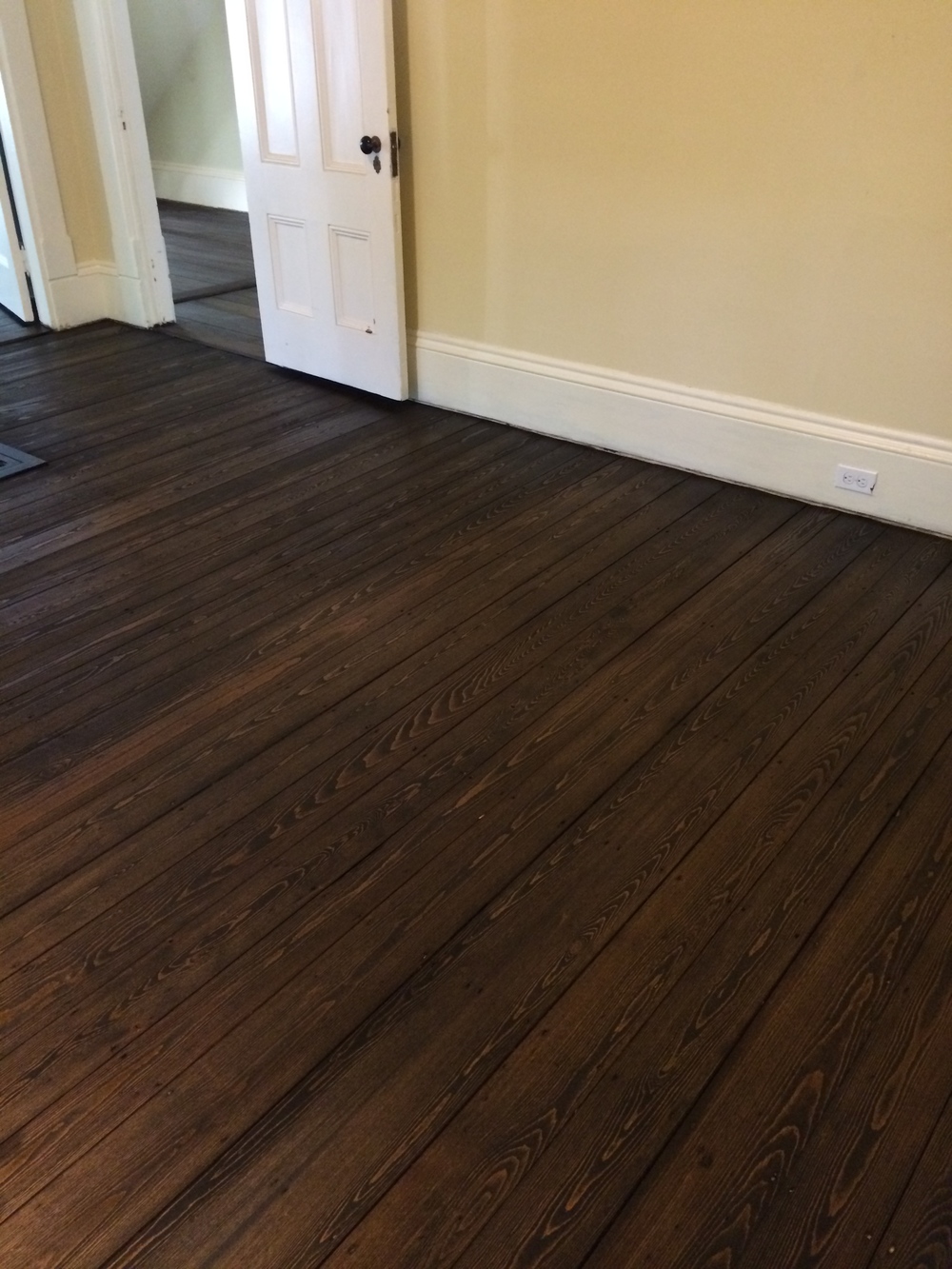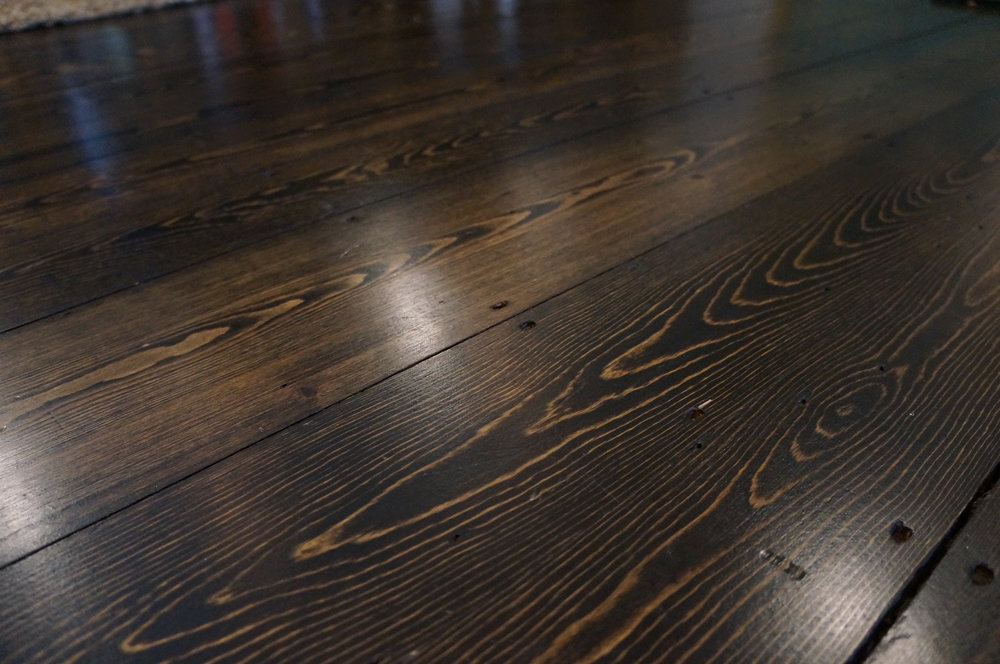 So with these beautiful floors finished to perfection we decided a few short months later to take down to the studs the entire family room and playroom. We did things a bit backwards. So they covered the floor in plywood and were very careful. All the walls came down, new dry wall and plaster, insulation and the most glorious windows you've ever seen were installed. They also doubled the doorway into the dining room for a more "open concept" feel. This was the big project to date and took 6 weeks in the middle of a New England February. I took the babies to California for 5 weeks to avoid construction dust knowing old houses have lead. Perfect time to get away.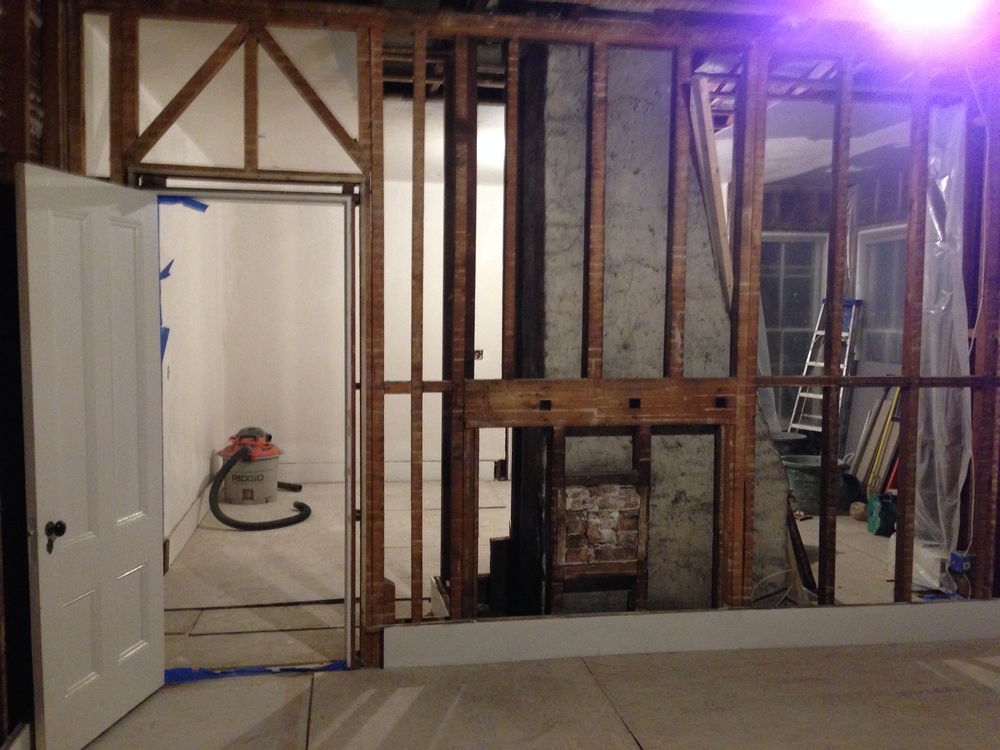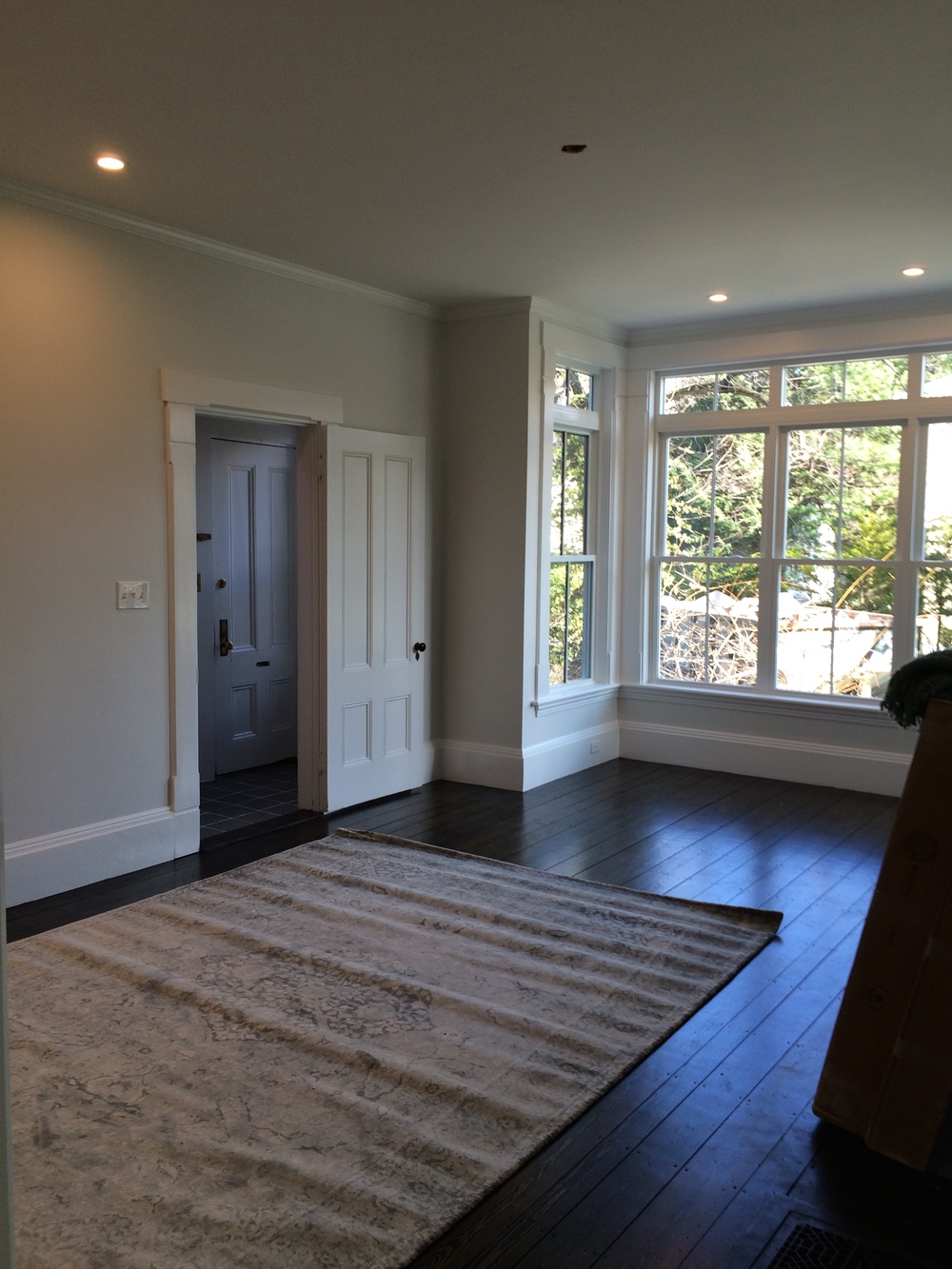 A completely new space called for a completely new color. It had previously been BM Revere Pewter and I loved it but I must have painted 12 colors on the wall wanting something lighter. It had to go with our couch, a creamy woven material and rug. So after the samples were up, the winner was Benjamin Moore Winter White. It is a shade lighter than Paper White, which is in the playroom. Its light and airy with a tinge of grey. The upper left in the picture below.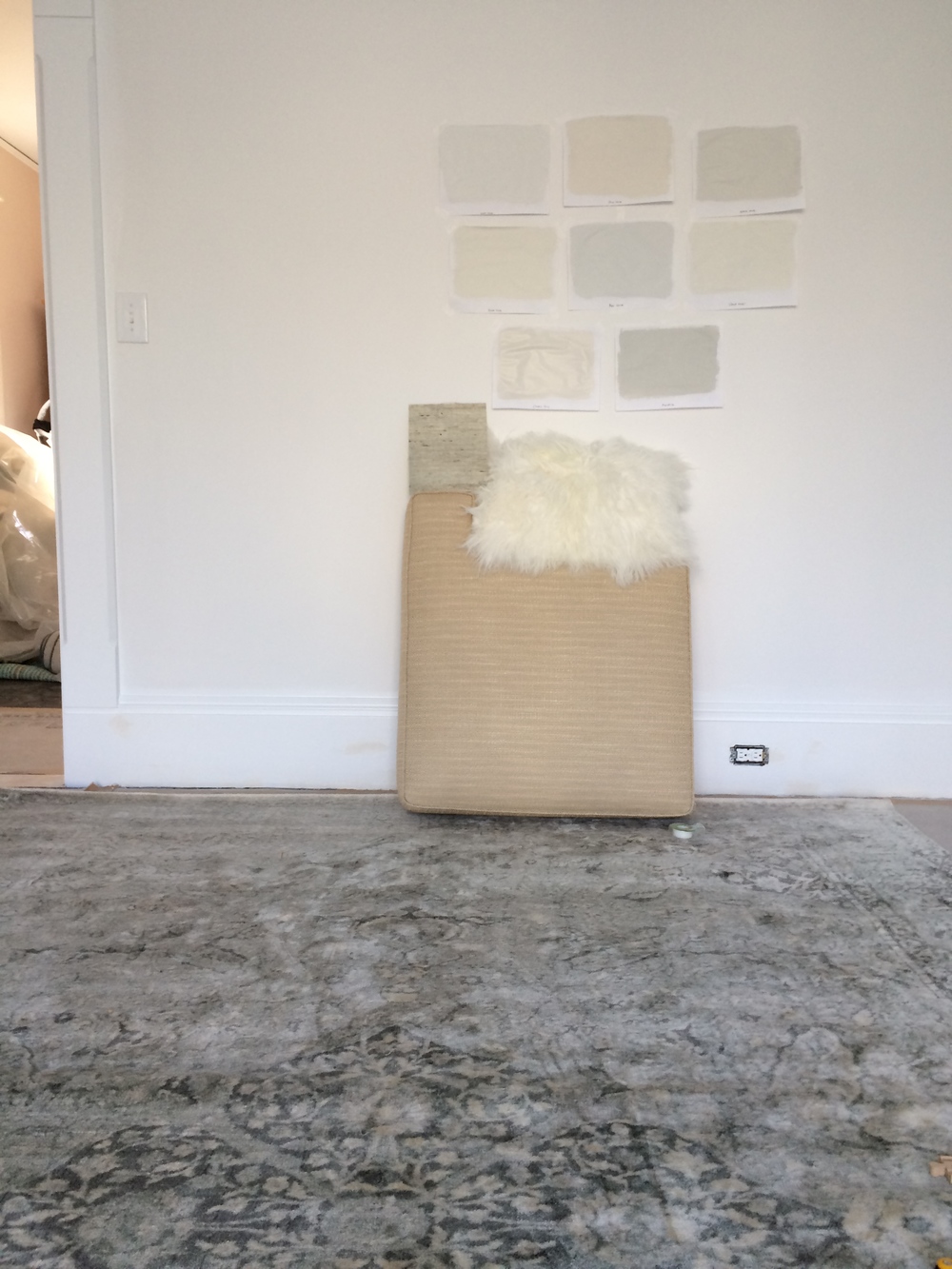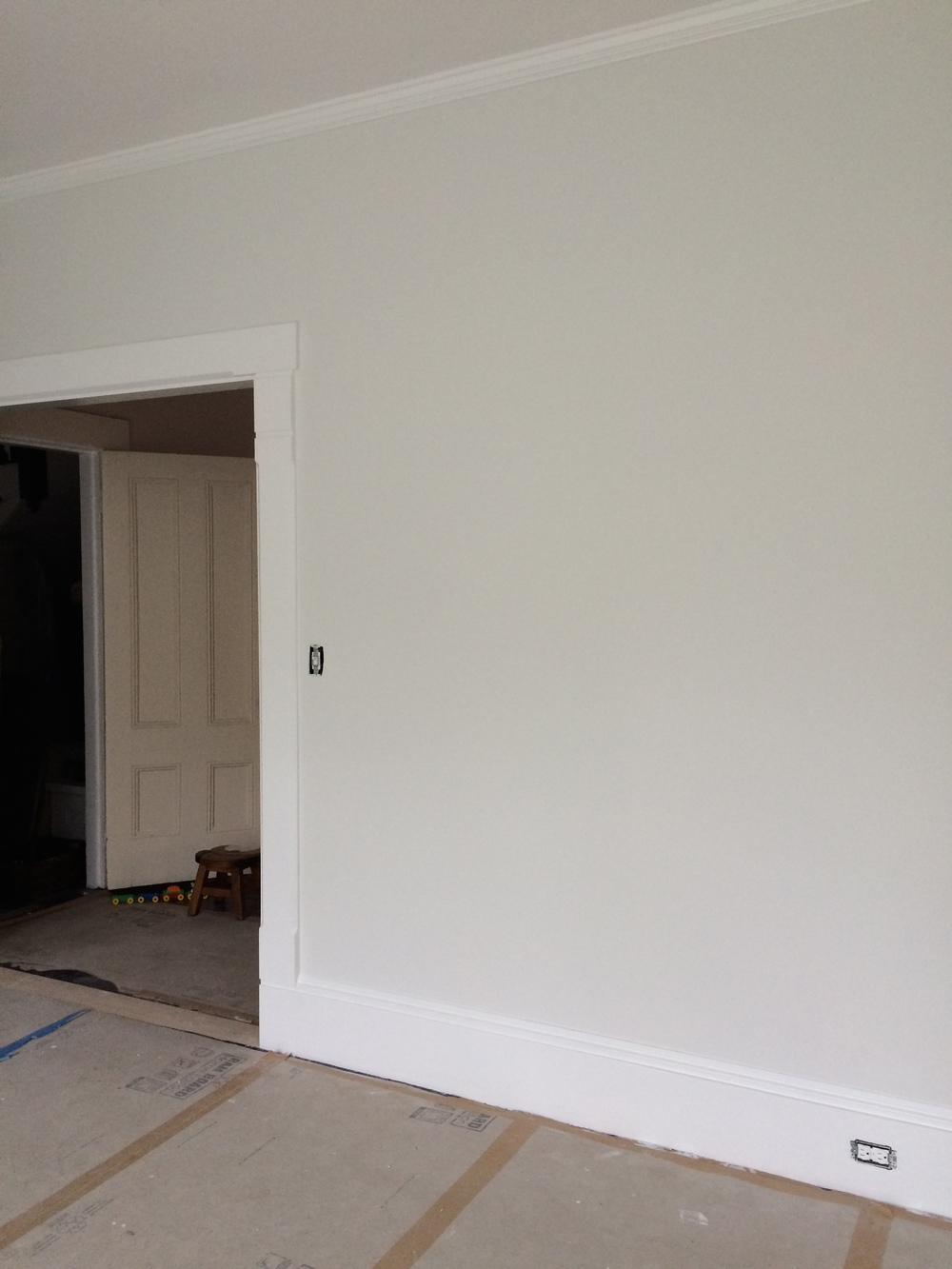 Needham Woodworking built custom built-ins, slyly hiding a TV in the bottom left cabinet. At the touch of a button it rises out of the cabinetry. It is a lift system by Peerless-AV. It swivels out so we can watch it from all angles in the room. We aren't big TV people and lets be honest, TVs are just not that attractive. I don't care how big or fancy or skinny your TV is, should it really go directly above the fireplace? As the center point of a room? Now clearly sometimes you don't have a choice but here we did and I like this subtle option much better.  The room is pretty AND functional. Plus hiding a TV means little toddlers don't see it and ask to watch Thomas all day long (win win).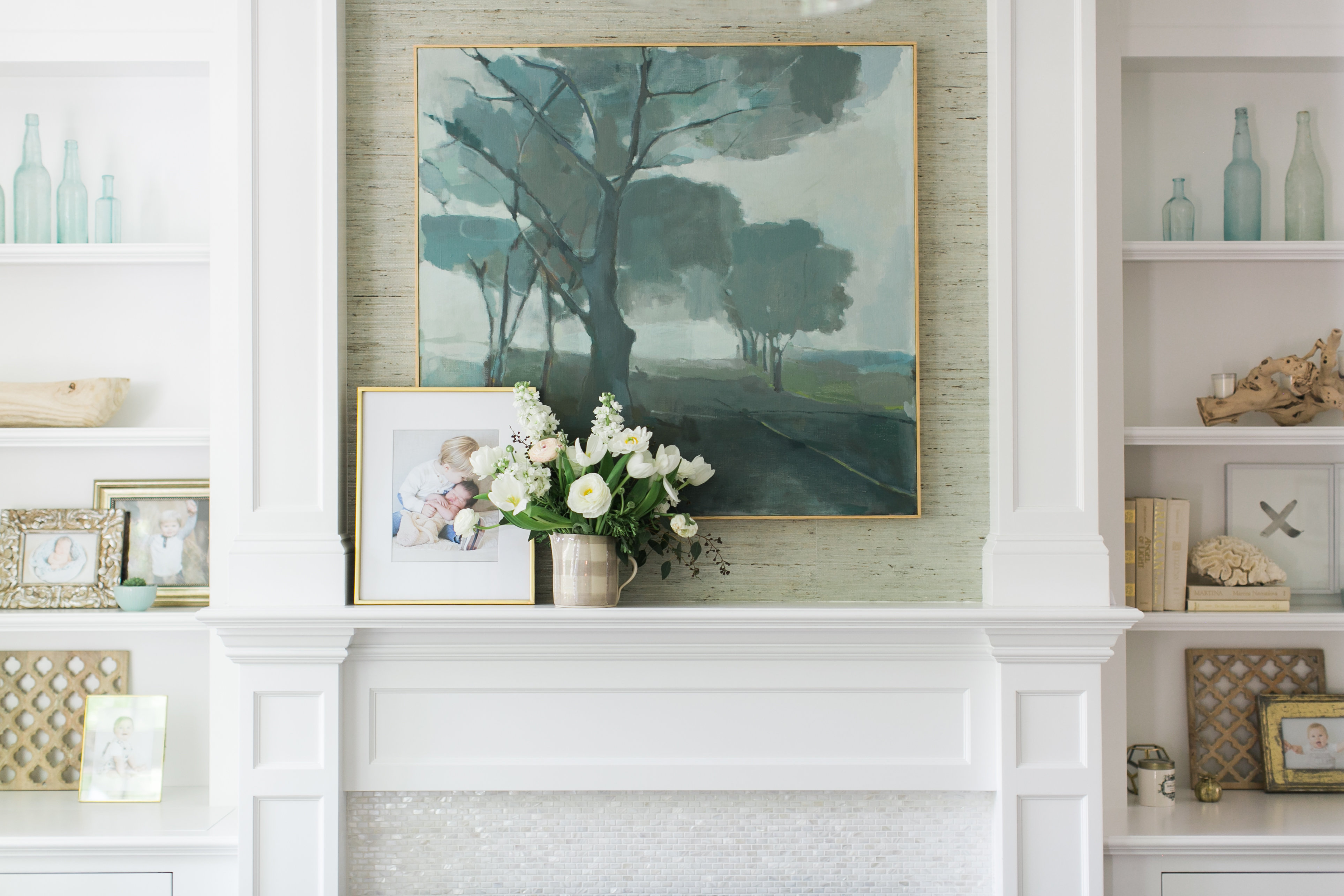 We added a gas fireplace insert by Heat n Glow. To lose the original wood burning marble fireplace gave me pause but with the new fireplace installed, I'm not even sure why I gave it a second thought. It is spectacular. And it turns on when you press the start button. No more lugging in wood. It's safe for little hands to touch and burns without hassle all day long.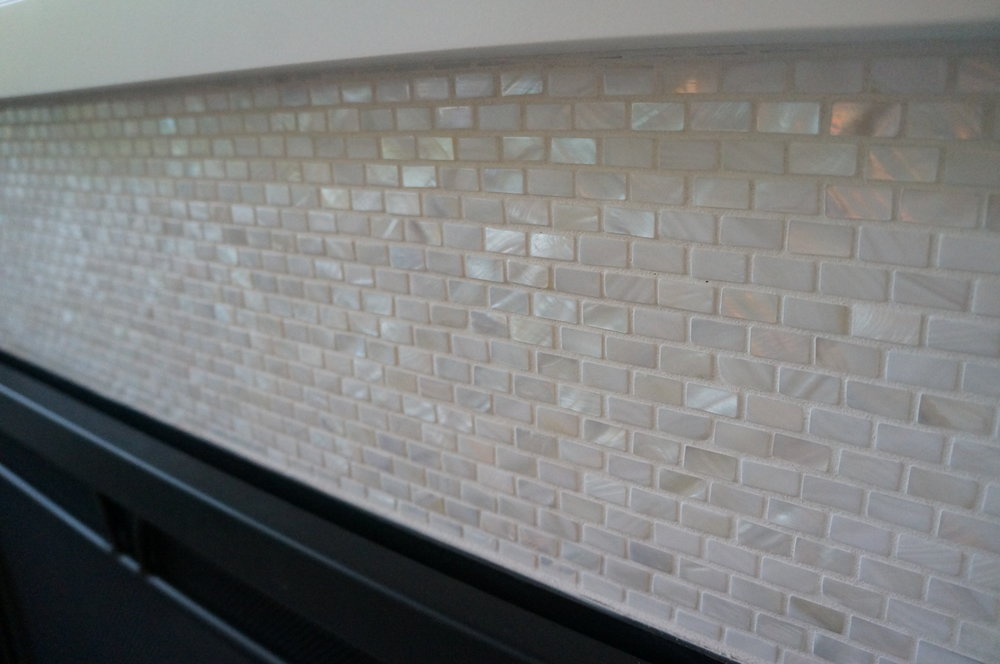 We framed it in mosaic mother of pearl mini brick tiles from The Tile Bar. It exudes comfort and loveliness. I fought tooth and nail, however, for the black fireplace surround that came with the fireplace insert, to be cut off as close to the actual insert as possible. We would have lost 3 inches of tile all the way around if we hadn't trimmed it. It was a hassle but the best fight ever. Our contractor had to take the iron fireplace surround to a metal worker to have him trim it to the exact measurements of the insert. It set the project back a few days but for a few hundred dollars and a whole lot more lovely, it was worth every penny.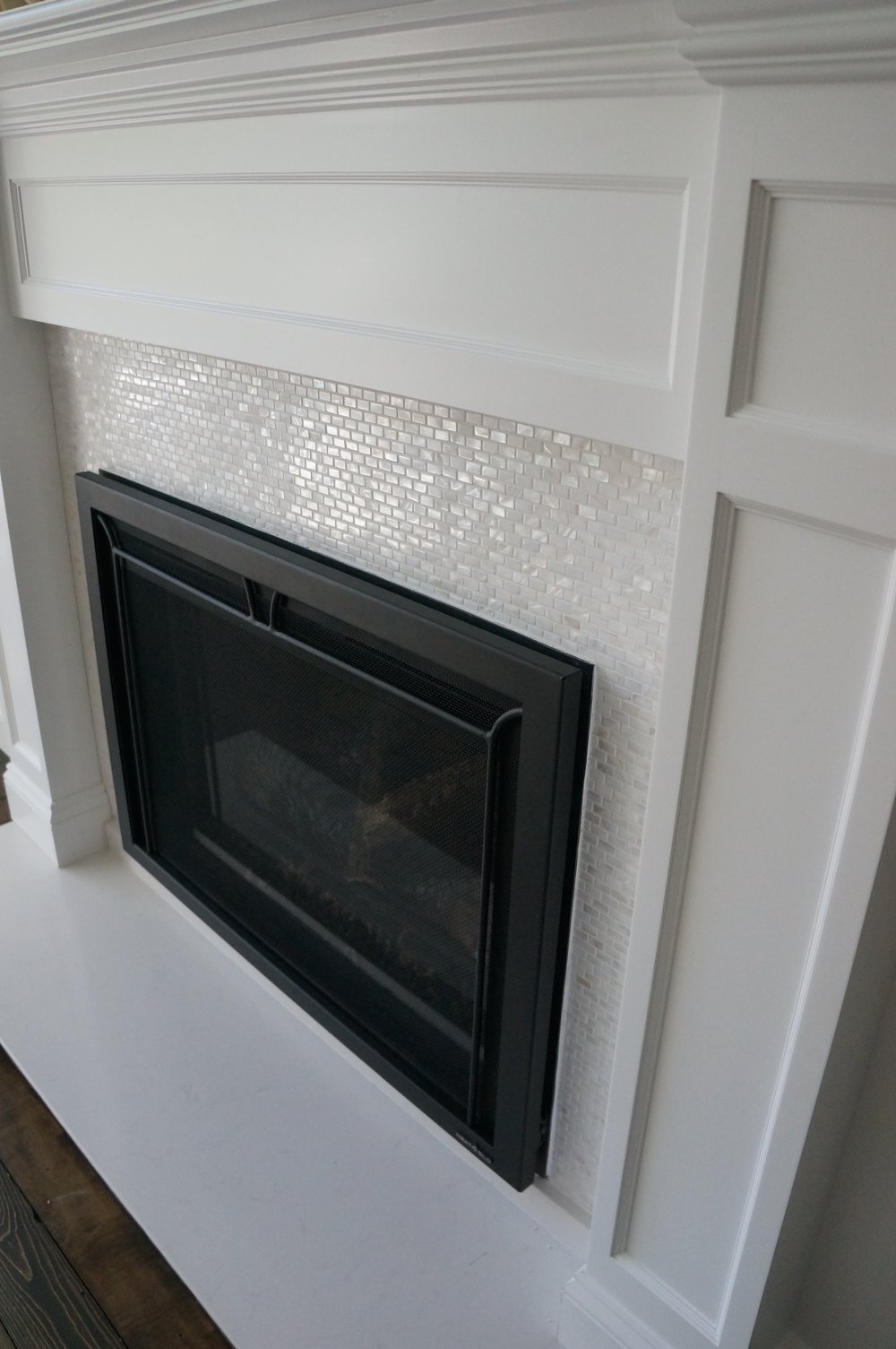 Matt installed the aqua grasscloth above the mantel to frame off the area. It nicely balances the room and frames our beautiful art (my 8th wedding anniversary present) and pictures of babies. Such a pretty spot. I call it my lovely place.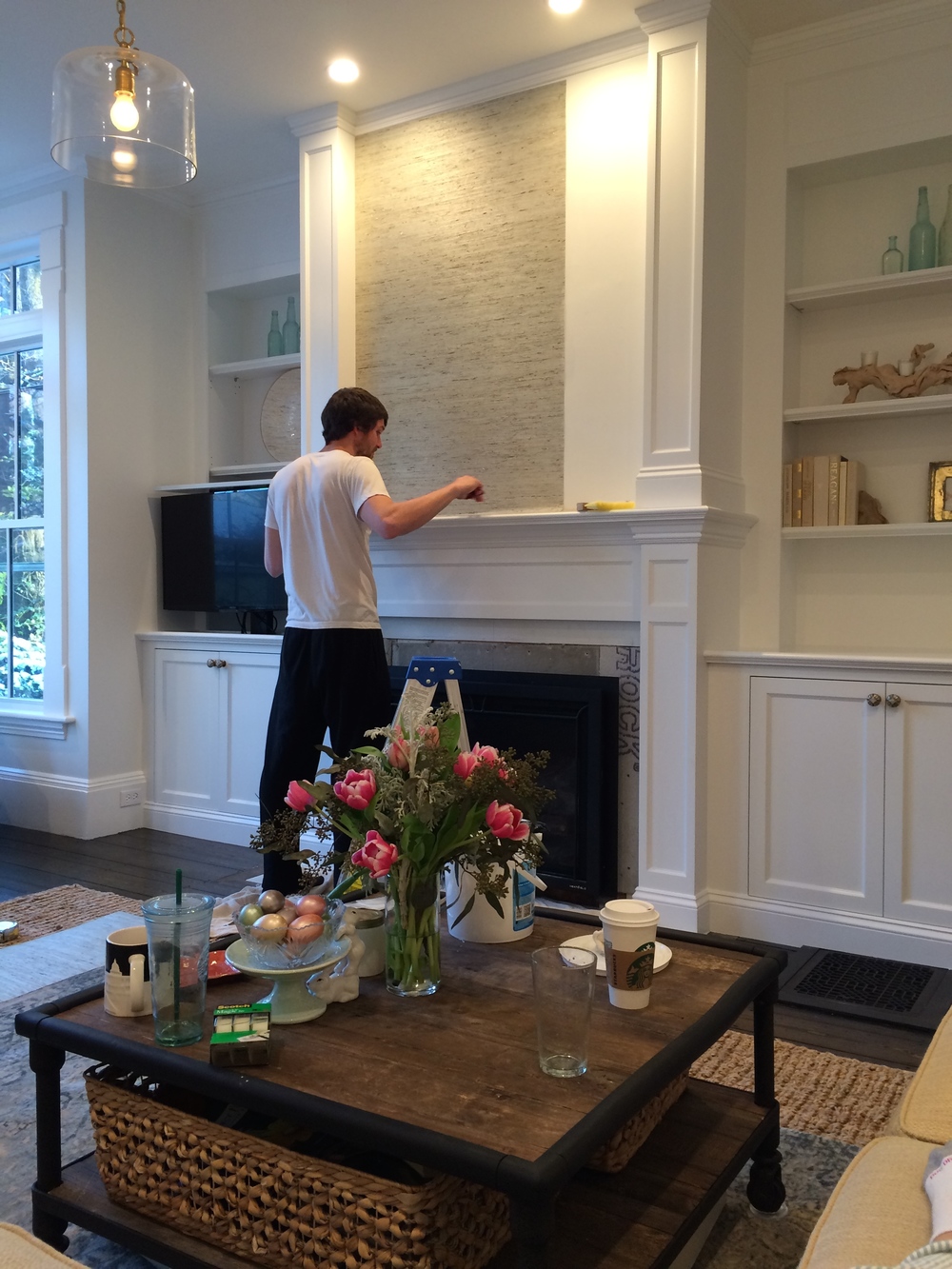 The new windows add so much more light to the room. We choose matching Ethan Allen chairs to fill the nook. I'm a firm believer in investing in quality furniture where it counts. The pillows are from Home Goods and NapaStyle. My joy chair…where quiet times are attempted, cuddles are had, and a whole lot of tea drinking commences.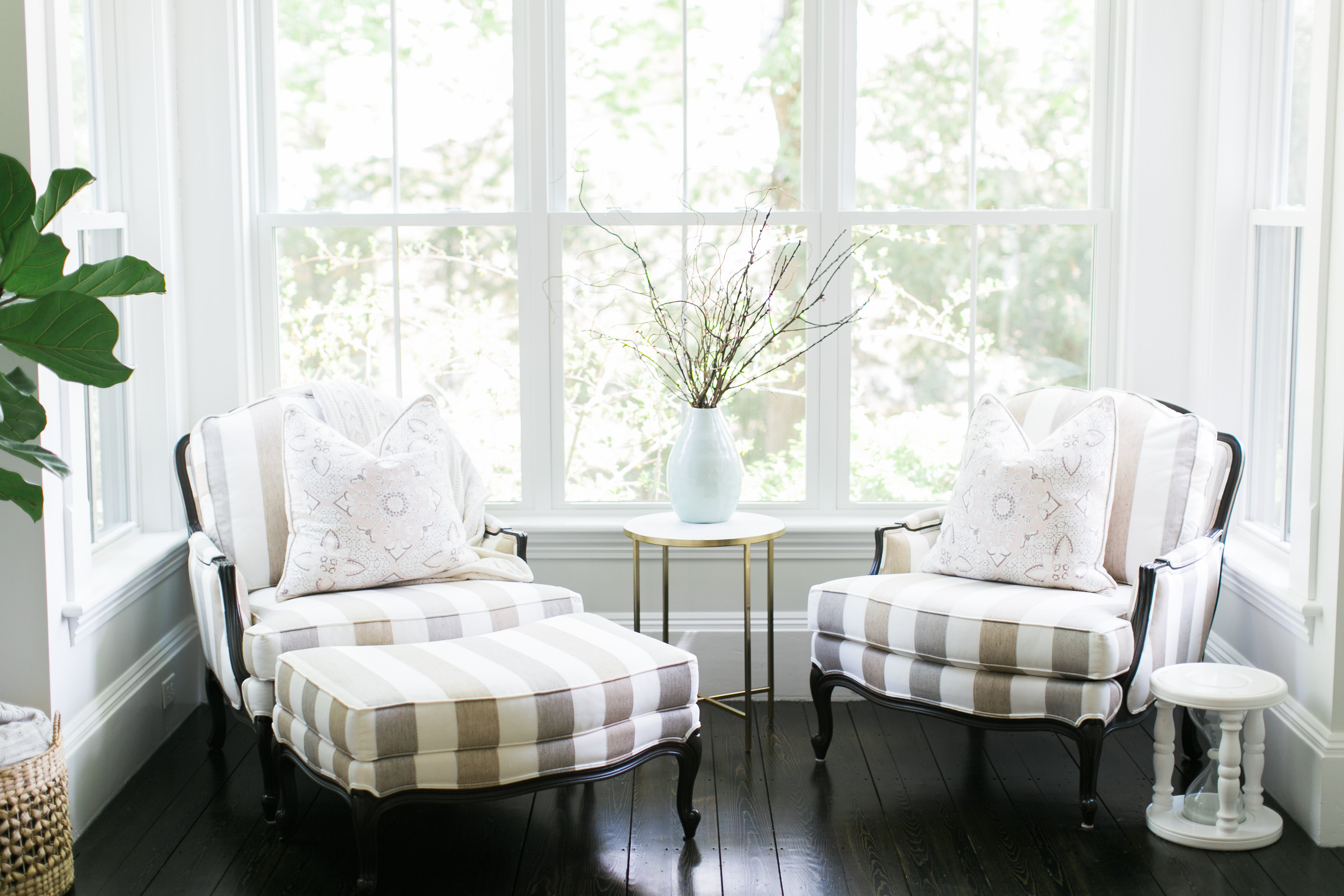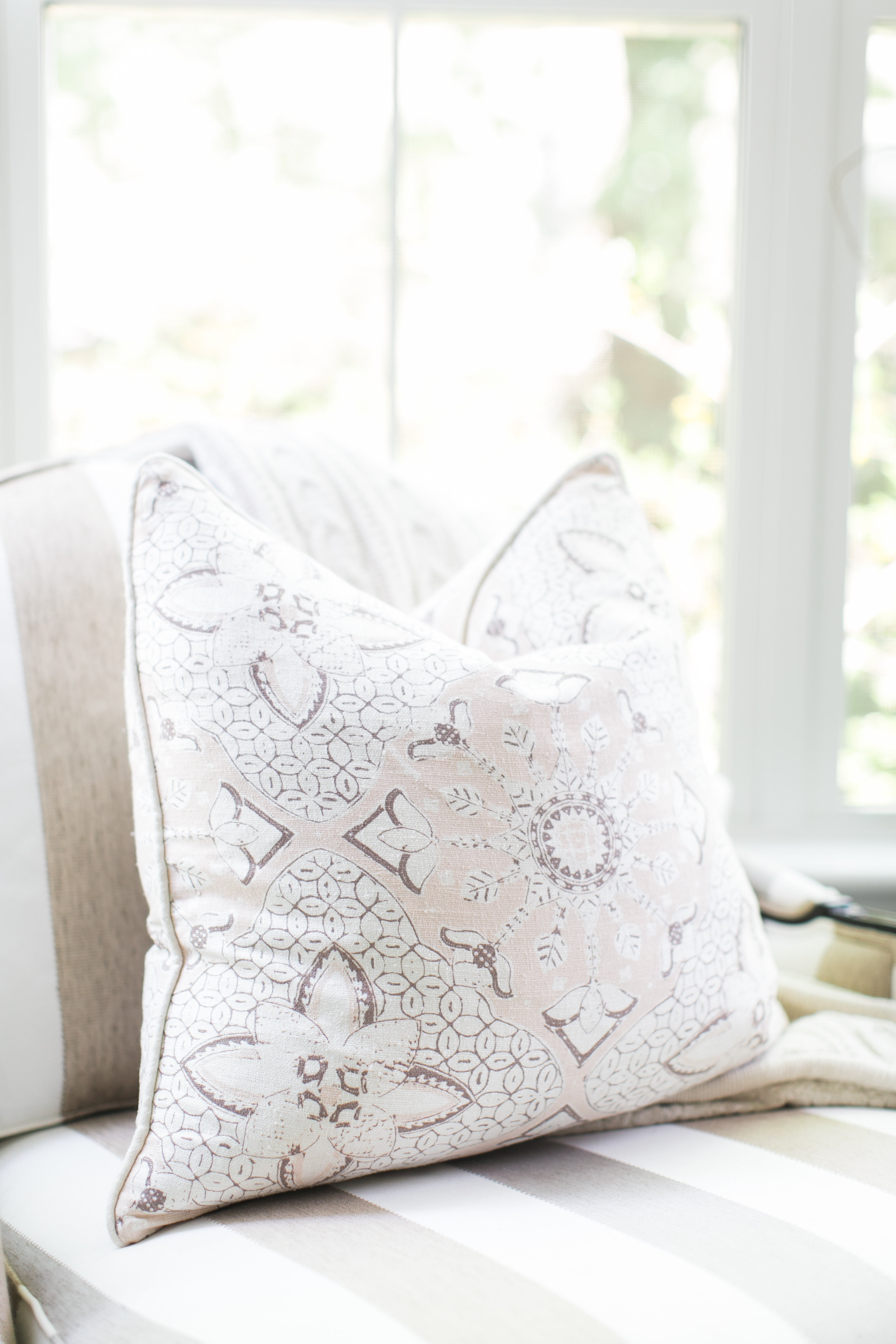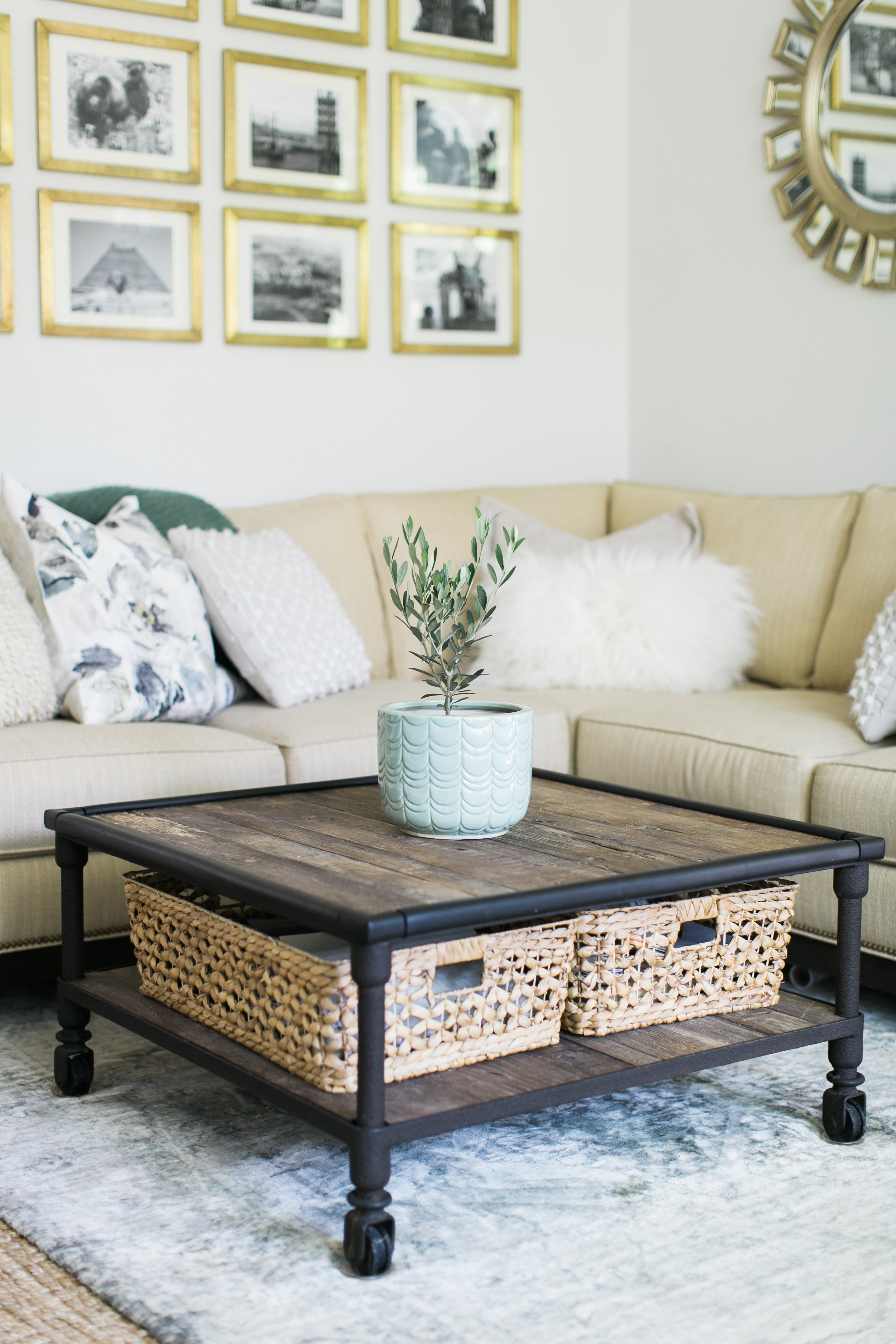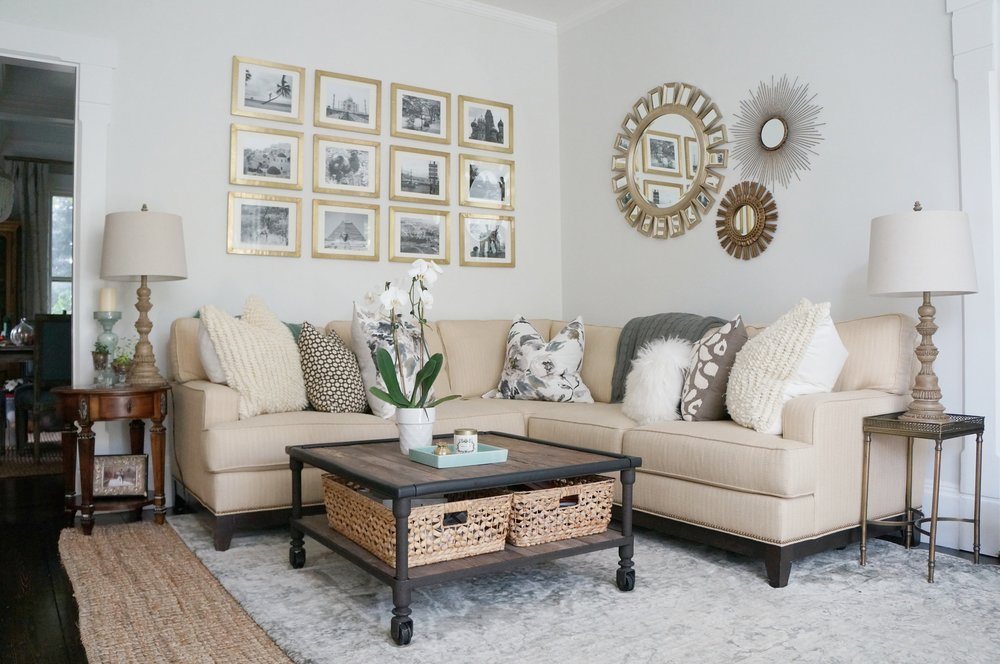 The sectional is from Ethan Allen. It was in our last house and happened to fit the new house arrangement perfectly. I wish it was a bit less beige and more grey but I'm not about to reupholster it yet. Maybe down the road. The coffee table is a perfect rustic barn wood from Restoration Hardware.  After a few bonked heads, we opted to add a soft foam "trim" around the edge, just until babies are out of the falling stage.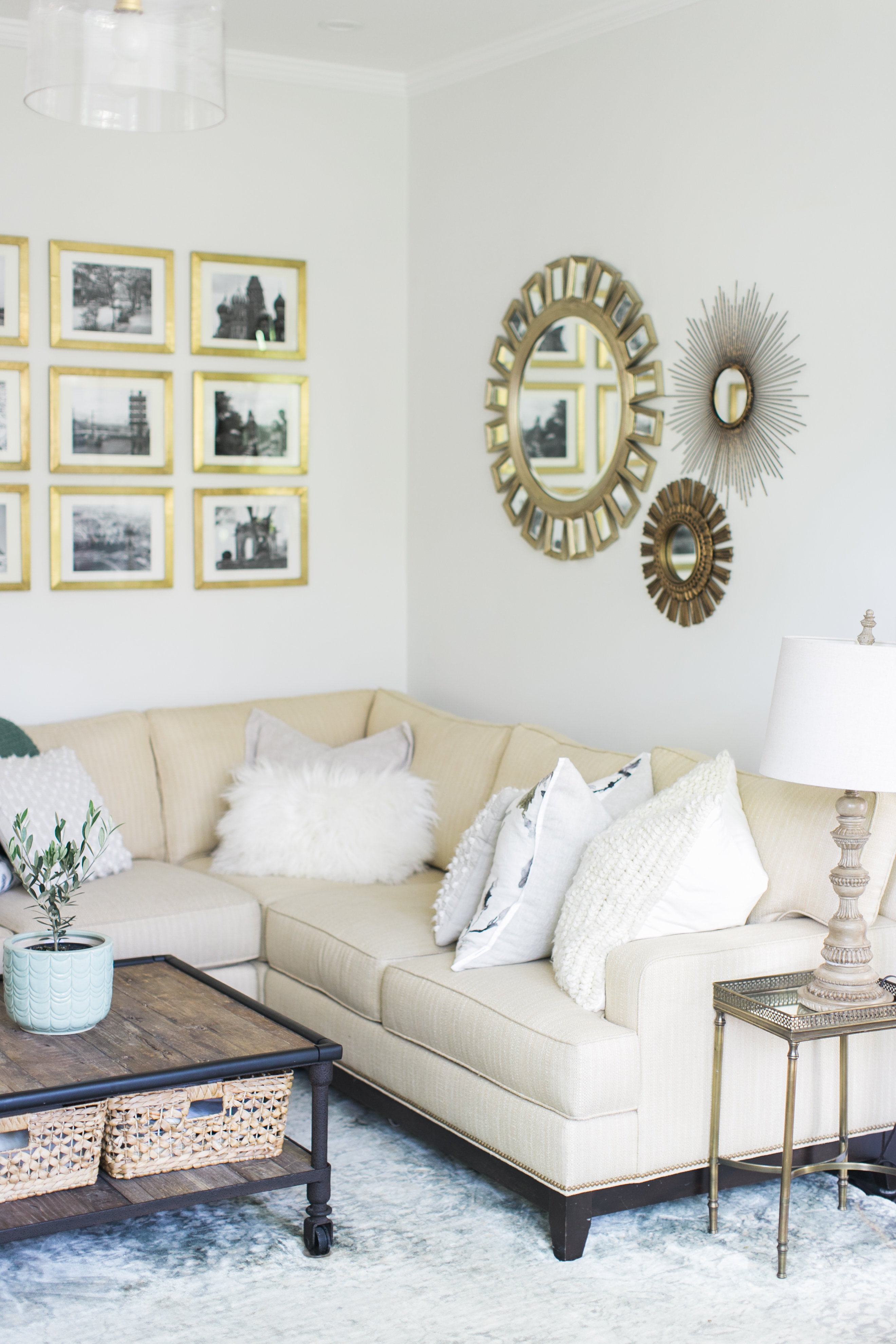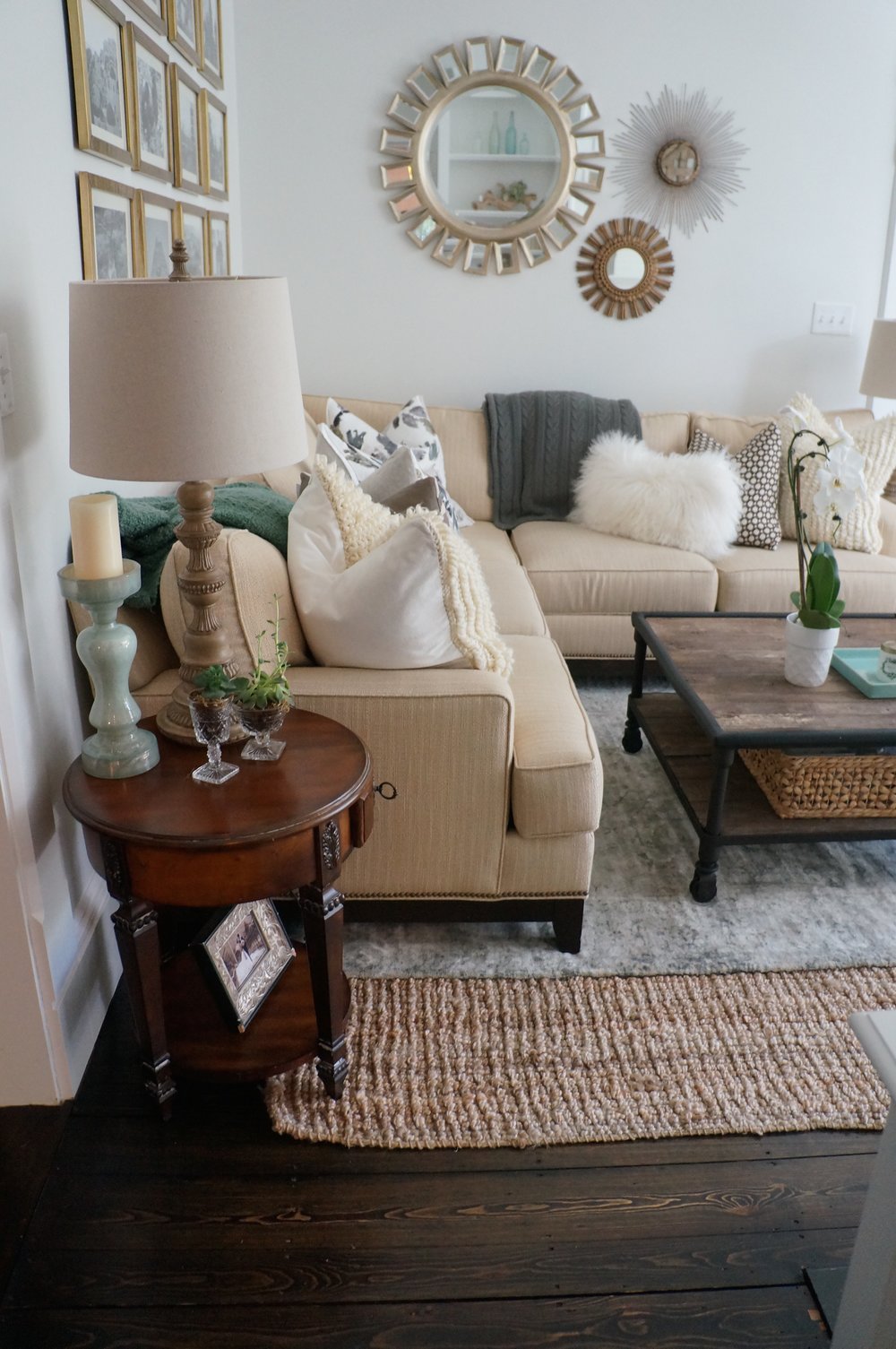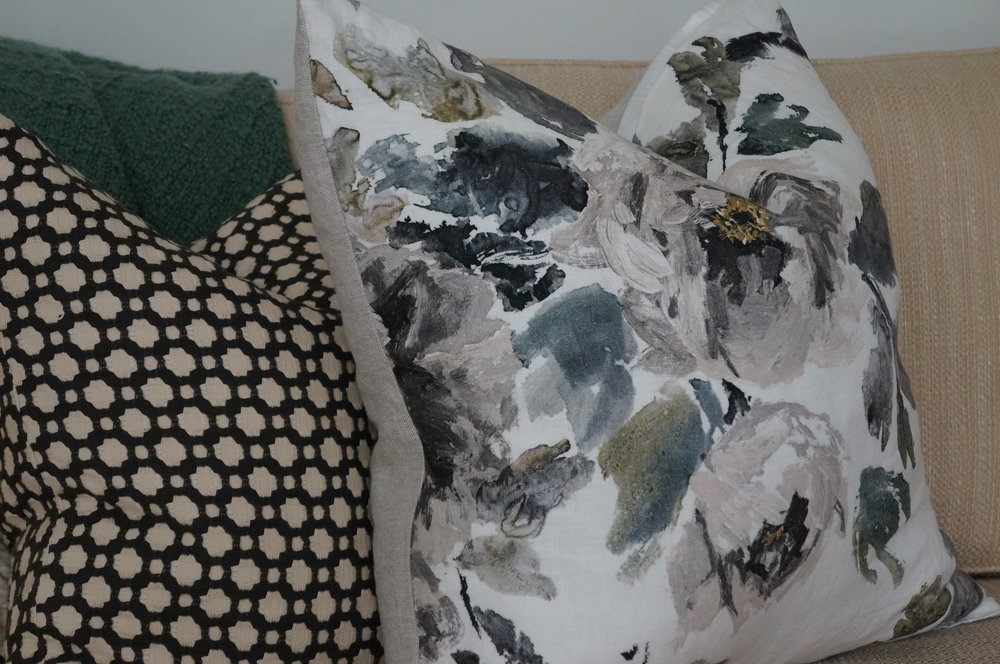 The major DIY project was the travel photo wall. We have traveled the world prior to adventures in babyland and that needed to be highlighted. Anthropologie frames, a whole lot of patience and photoshop to turn colored pictures B&W did the trick. In the midst of a colicky baby, looking at travel pictures while bouncing on a yoga ball all day long reminded me that that kind of adventure will happen again. We will survive all the tears and chaos and it will likely be the biggest adventure of all. All in all, it is my lovely place.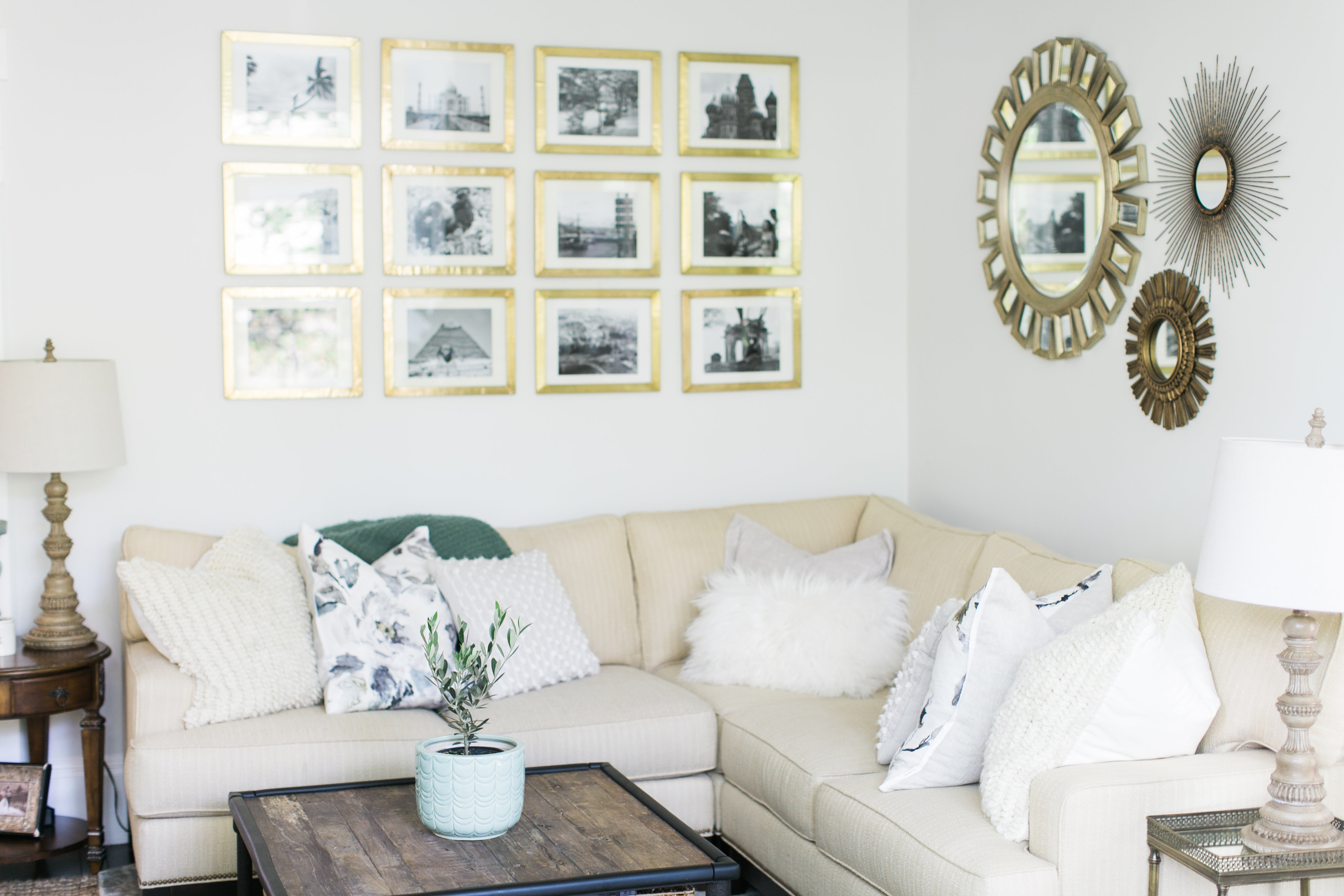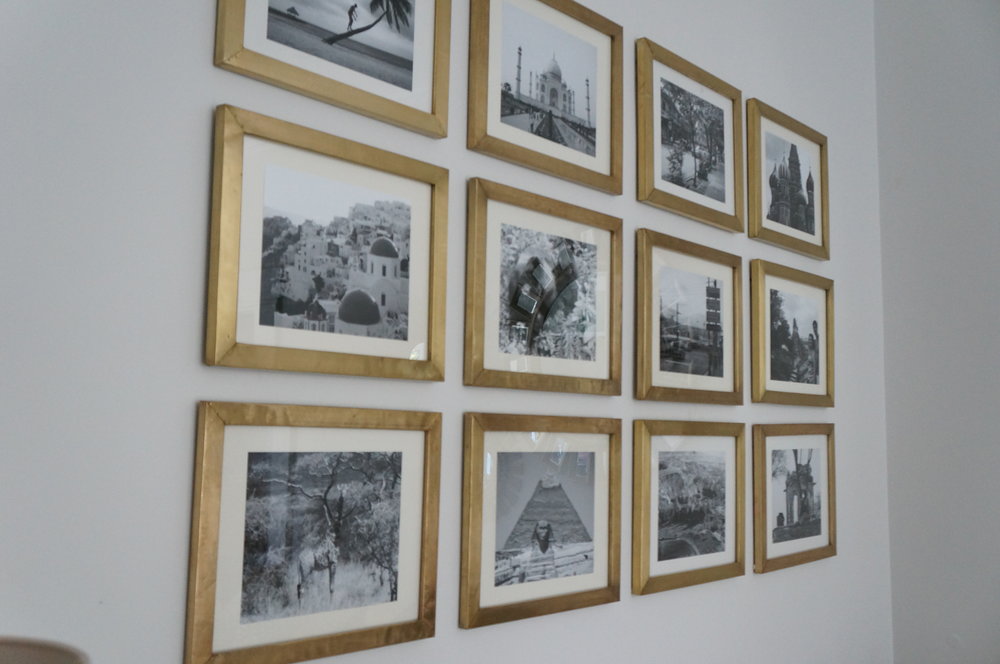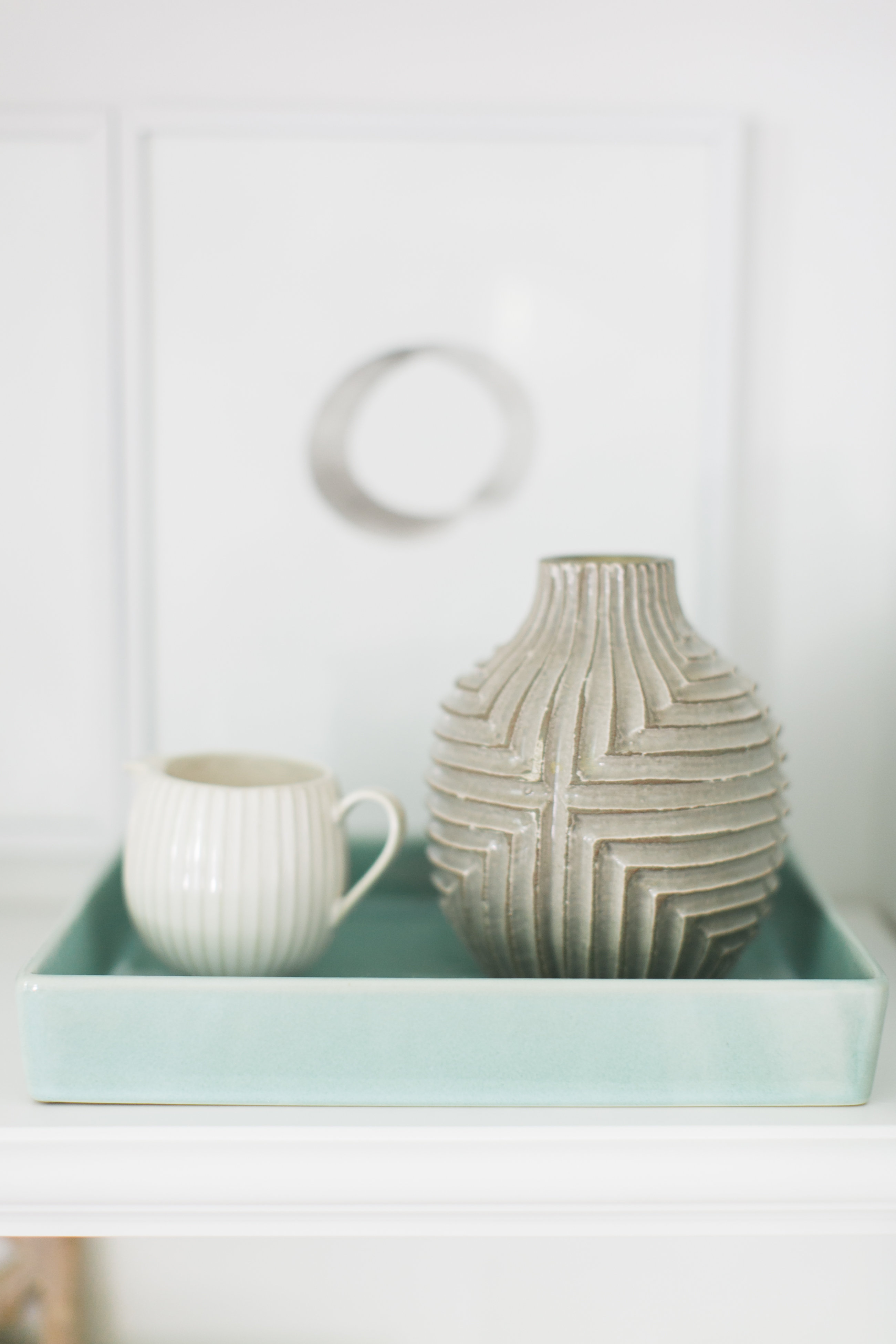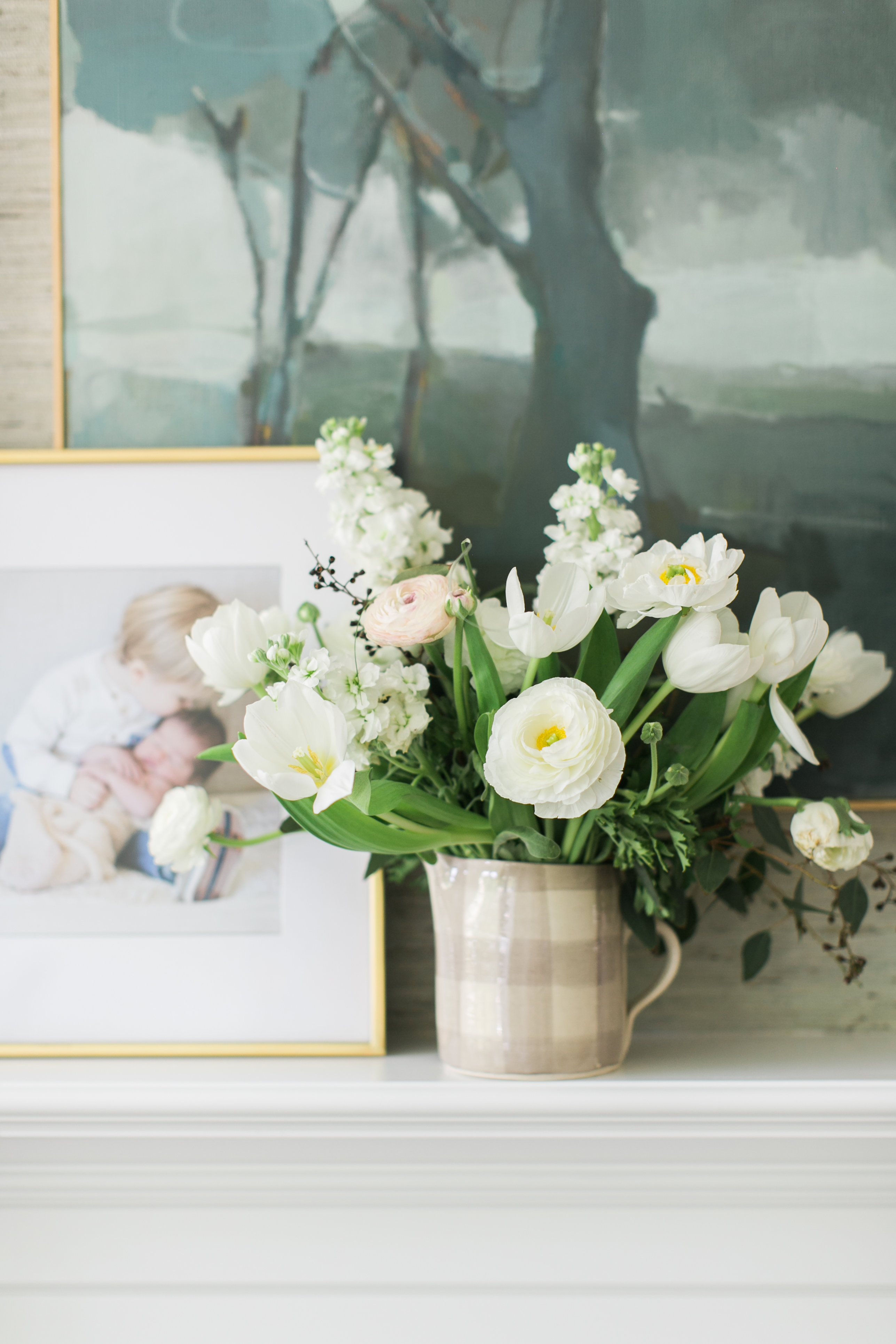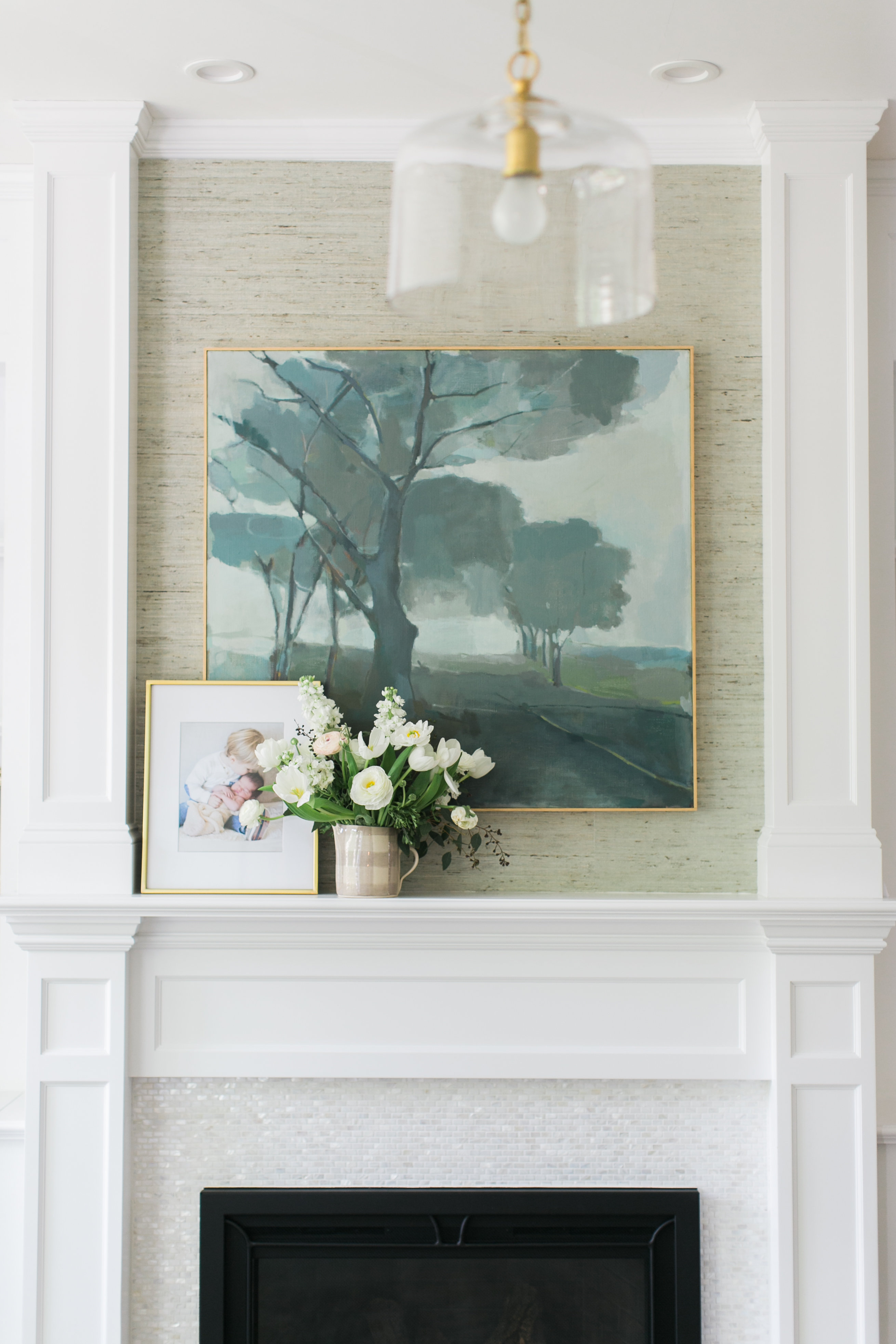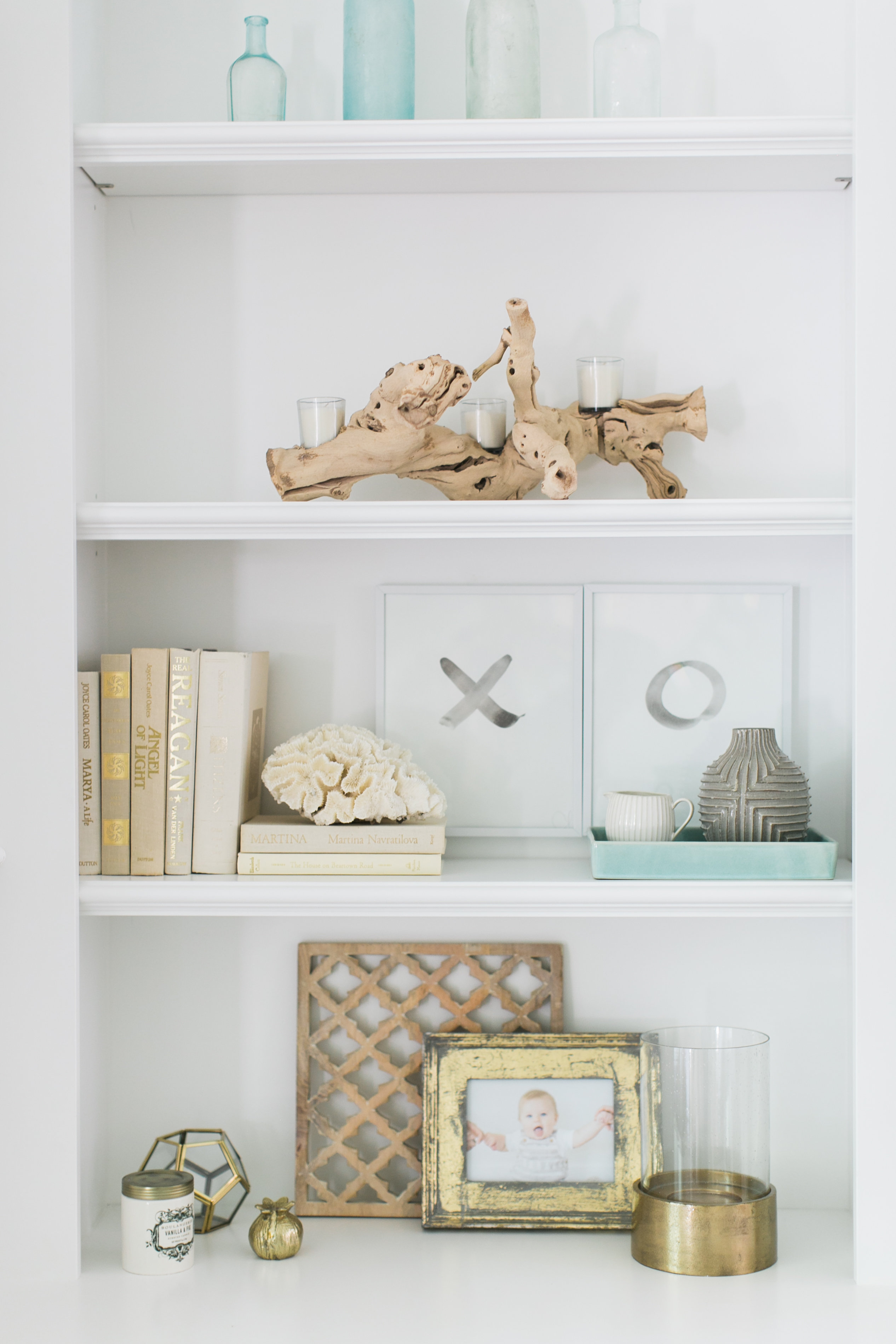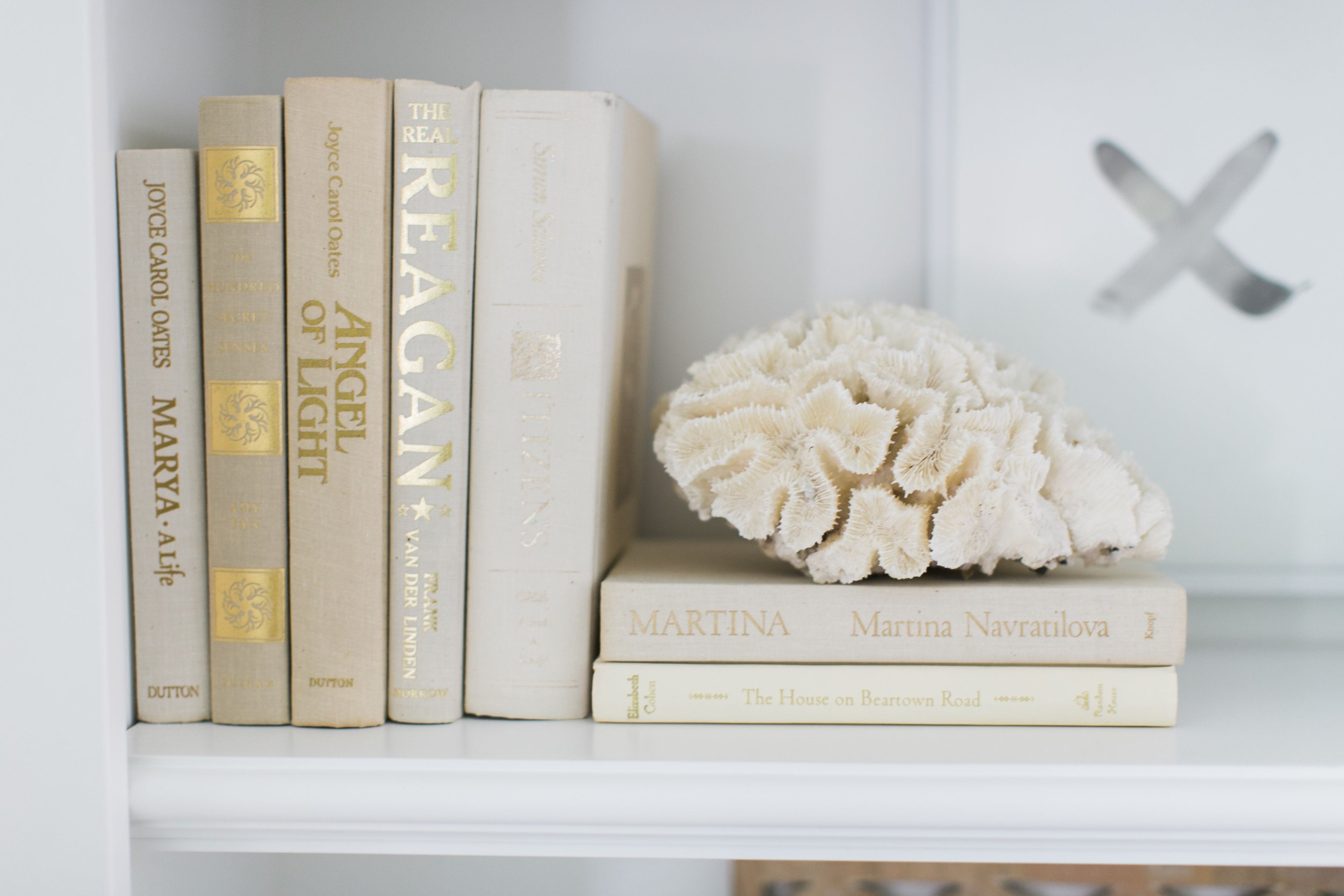 The pretty pictures are by Ruth Eileen Photography
Sources:
Colored Rug: One Kings Lane (now available on McGee & Co)
Natural Fiber Rug: Joss and Main
Coffee Table: Restoration Hardware
Photo wall frames: Anthropologie
Cabinetry Hardware: Anthropologie
Grasscloth: Kravets
Art: Serena and Lily
Sectional: Ethan Allen
Chairs: Ethan Allen
Lamps: HomeGoods
Frame of boys on mantel: Westelm in brass
Paint Color: Benjamin Moore Winter White
Shop This Post

/wp-content/uploads/2017/04/finding-lovely-logo.png
0
0
Finding Lovely
/wp-content/uploads/2017/04/finding-lovely-logo.png
Finding Lovely
2016-09-20 02:54:05
2017-06-21 21:11:00
Family Room